Workforce Development
UpSkill Houston, a Regional Partnership to Address Local Skills Gap
December 2014
The Greater Houston Partnership (GHP) is currently addressing the Houston area's shortage of workers to fill middle-skills jobs in the booming regional economy. GHP is an economic development organization serving 10 counties: Harris, Austin, San Jacinto, Brazoria, Chambers, Fort Bend, Galveston, Liberty, Montgomery and Waller. It was formed in 1989 with the merger of the Houston Chamber of Commerce, the Houston Economic Development Council and the Houston World Trade Association. Today, GHP has over 2,000 members that work to tackle important issues impacting Houston-area communities and the regional economy.
Houston Economy Growing; Shortages in Some Jobs
According to Jesse Thompson, business economist at the Houston Branch of the Dallas Fed and author of Houston Economic Indicators:
"Since the end of Houston's recession in third quarter 2009, 409,400 jobs were added to metropolitan statistical area (MSA) employment—that's growth of 16.3 percent. In perspective, that's nearly enough jobs to employ the entire Tulsa, Okla., MSA. This boom has been broad-based across many industries. However, a common refrain from contacts throughout the region is that wages for many trades and other middle-skill occupations are rising as a result of shortages."
Middle-skills jobs are those requiring more than a high school diploma but less than a four-year degree. As Houston's economy has grown substantially over the past few years, employers have faced a shortage of middle-skilled workers. In the Houston region, there are currently 1.4 million middle-skills jobs, and between 2012 and 2017, 74,177 job openings in these occupations are expected annually.[1] On average, middle-skill job wages are higher than low-skill occupations in the Gulf Coast region (Table 1).
Table 1
Moving From Low-Skill to Middle-Skill Jobs Doubles Hourly Wages
| | | | |
| --- | --- | --- | --- |
| Category | Mean wage | Entry wage | Experienced wage |
| Low-skill occupations | $12.42 | $  9.10 | $14.08 |
| Middle-skill occupations | $24.47 | $15.25 |  $29.08 |
| High-skill occupations | $44.27 | $26.41 | $53.20 |
SOURCE: Gulf Coast Workforce Board, Workforce Solutions
---
GHP Addresses the Skills Gap
To address the skills gap and promote training for the jobs of tomorrow, in 2013, the GHP created a Regional Workforce Development Task Force.  Answering a survey on most critical workforce needs of employers, the 79 task force members cited improving the region's ability to produce a pipeline of talent as one of the most urgent needs. The task force released its plan, "Addressing Houston's Middle Skills Jobs Challenge," this summer. The plan details the Houston region's workforce challenges and includes a strategy to address these issues over the next five years as well as an inventory of regional workforce organizations and a national compendium of best practices.
To address its critical need for middle-skills workers, the GHP has launched its UpSkill Houston initiative. UpSkill Houston takes a comprehensive, industry-led approach to filling gaps in the region's workforce by connecting leaders from industry, education and social service organizations.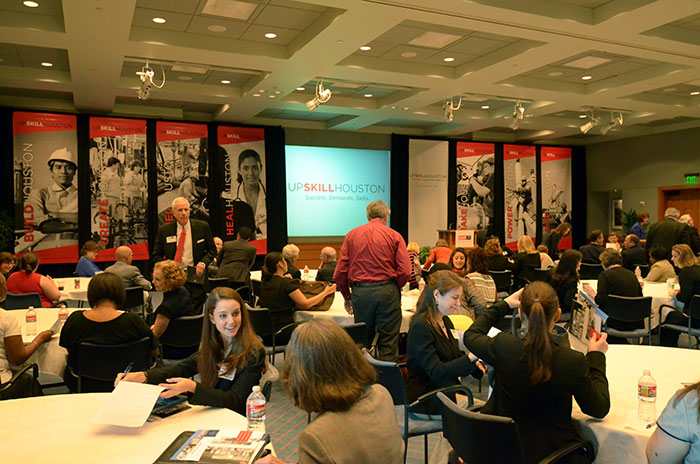 2014 UpSkill Houston launch, held at the Dallas Fed's Houston Branch.
---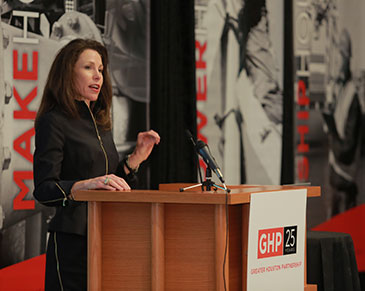 Gina Luna of the Greater Houston Partnership and JPMorgan Chase. Photo credit: Greater Houston Partnership
---
With a goal of matching employers with individuals meeting the needed skillsets, UpSkill Houston focuses on seven key sectors in the Houston economy: [2]
Oil and gas
Advanced manufacturing
Petrochemical
Health care
Construction
Ports and maritime
Utilities
Because hiring and training needs vary greatly by industry, the program has created sector-specific councils to improve coordination among employers, community colleges, school districts, training facilitators and nonprofits. This approach seeks to improve data sharing between employers and educational institutions to match hiring needs with curricula.
Overall, six strategies will be used to implement UpSkill Houston: [3]
Create UpSkill Houston sector councils to oversee the specific needs of each sector. The councils ensure training classes for each region are in place to meet the sector's demands.
Develop and launch a public UpSkill Houston campaign to change the awareness and perception of middle-skill career opportunities.
Encourage the adoption of common tools and curricula to assess individuals and provide training to address weaknesses in basic skills and employability. The potential employees would gain hands-on learning experience that will further help with the hard and soft skills of their occupation.
Facilitate connections between stakeholders and the dissemination of information throughout the system to assist in transparency, efficiency and effectiveness of a business.
Develop tools to collect better demand-side and supply-side data to ensure that UpSkill is matching the potential employees with the employers' specific needs.
Work with education and training providers to establish networks to enable the efficient dissemination of information, sharing of best practices and strengthening of industry partnerships and in consequence create networks and leaders.
"Employers tell us every day they need more workers with better and more diverse skills," says Gina Luna, chairman of the Greater Houston Partnership board and chairman of JPMorgan Chase in the Houston region. "Helping people gain skills they need to compete for jobs will transform lives and strengthen our economy. Through UpSkill Houston, we can ensure the supply of skilled workers required to sustain our booming business environment. It will also provide great careers for our citizens and continued economic prosperity for the Houston region."[4]
For more information on the UpSkill initiative and the Greater Houston Partnership, visit Houston.org.
Notes
About the Author
Jackie Hoyer is a senior community development advisor at the Houston Branch of the Federal Reserve Bank of Dallas.