Inclusive Economy Accelerator

Advance Together: Our Program
Our Program
Advance Together™ serves as a leadership academy for regional cross-sector partnerships that show potential for growth. It provides training, technical assistance and funding in two phases:
Design Phase (2020)
Develop plan to accelerate progress
$15,000
Up to 14 grantees
6 months
Implementation Phase (2021–2024)
Put plan into action
$300,000
Up to 7 grantees
3 years
During the Design phase, grantees receive $15,000 to use to assess their efforts and develop a plan to accelerate their progress. They can then apply for the Implementation phase, which provides $300,000 over three years to put their plan into action.
Lessons learned and best practices will be shared in both phases, building robust networks in participating communities and across Texas to drive future collaboration and policy initiatives.
Core Principles
We connect cross-sector partnerships in a learning community and provide data sharing and evaluation. We help participants grow in key areas that drive success:
Capacity
Systems thinking and results
Partnership composition

Community members with lived experience
Industry/employers

Culture of learning

Focus on continuous improvement toward shared outcomes

Data-driven decision-making
Participant Selection
Advance Together invited selected community partnerships in Texas to apply for our Design phase. We used the following considerations to help identify potential candidates:
Recommendations from program partners and community leaders across Texas
Focus on educational attainment and workforce development
Established partnerships that are beyond early stages, ready for accelerator (not incubator)
Geographic diversity (no more than one partnership per community)
Our independent selection committee reviewed applications and selected nine Design grantees. Completion of the Design phase will enable participating partnerships to apply for the Implementation phase.
The Dallas Fed does not fundraise, provide grants or participate in the selection of grantees.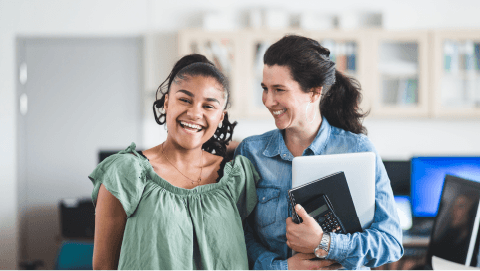 For More Information
AdvanceTogether@dal.frb.org
Media Contact
Jennifer Chamberlain
Federal Reserve Bank of Dallas
214-922-6748
jennifer.chamberlain@dal.frb.org


Advance Together