Regional
Texas Economy Grows Rapidly Despite Labor, Supply-Chain Constraints
November 09, 2021
Regional economic activity accelerated sharply in September and October following a summer and early-fall peak of a COVID-19 wave tied to the Delta variant.
The outlook for growth through the rest of the year and into 2022 has strengthened despite global supply-chain constraints and difficulties hiring and retaining workers.
Recent Texas Employment Accelerates
Texas payrolls increased a sharp, annualized 8.8 percent in September, up from the downwardly revised 3.0 percent in August and well above the nation's 2.6 percent growth (Chart 1). In the third quarter, Texas jobs expanded 6.9 percent, above the nation's 5.3 percent, and in contrast to the state's lagging performance in the second quarter.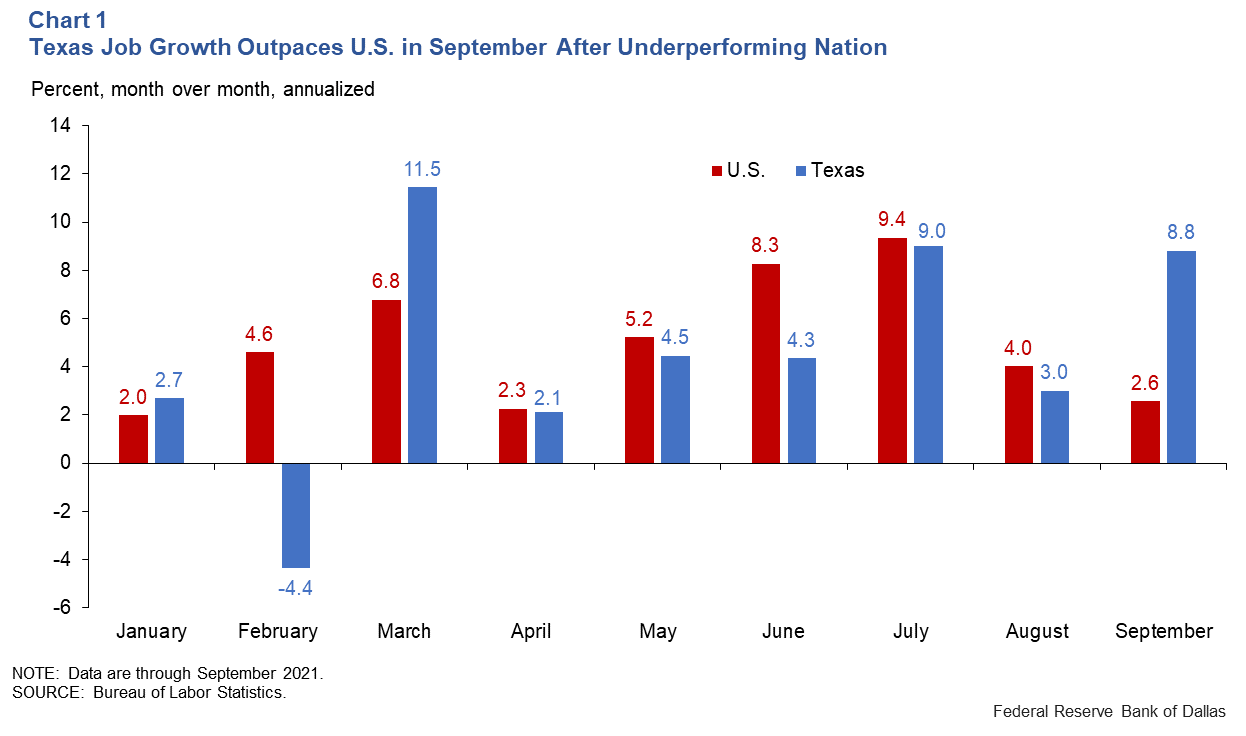 Growth was broad based across most industries, with leisure and hospitality and construction reversing their August declines to lead in September. Leisure and hospitality jumped an annualized 22.9 percent in September after falling 18.4 percent in August; construction payrolls edged up 18.4 percent in September after slipping 3.2 percent the prior month.
Other sectors advancing strongly included energy (17.2 percent); trade, transportation and utilities (10.0 percent), and professional and business services (8.9 percent).
Manufacturing, Services Remain Strong While Retail Slumps
Manufacturing production continued expanding, and service sector revenues grew during September and October, according to the Federal Reserve Bank of Dallas Texas Business Outlook Surveys (TBOS). In October, the headline production index, a key measure of state manufacturing conditions, registered a healthy reading of 18.3, compared with 24.2 in September. The new orders index trended upward in October, indicating further strengthening of demand.
The indexes are the difference between the percentage of respondents reporting a decrease and those noting an increase. A positive number suggests growing activity over the prior month; a negative number indicates less activity.
Service sector performance advanced from September to October. The headline revenue index, a key measure of state service sector conditions, increased from 14.5 in September to 19.6 in October. Labor market indicators also suggest a significant expansion of hiring and lengthening of average hours worked. The employment index rose from 9.2 in September to 14.2 in October, and the hours worked index jumped nearly nine points to 14.0 in October.
October retail activity was a significant drag on the headline retail sales index, which dropped from 7.3 in September to -9.3, the lowest level since July 2020. Firms also experienced a sharp decline in inventories, with the inventories index reversing course from September, plummeting nearly 21 points to -9.0 in October.
Labor Tightness Remains Pervasive
Most firms face a lack of applicants, recent TBOS results show. An increasing share of companies reported that a growing number of candidates on the market sought more pay than was offered (Chart 2). From April to October 2021, the share of firms that cited the pay offered as a hiring constraint increased nearly 17 percentage points to 50.6 percent.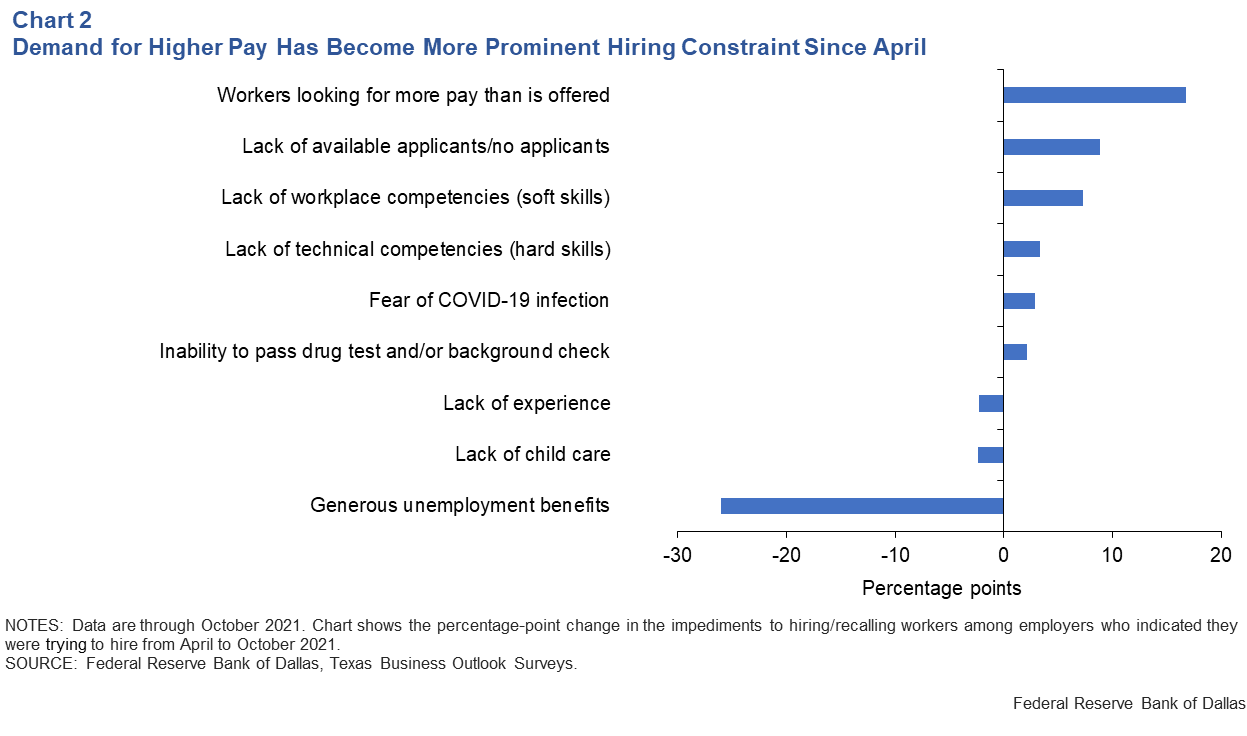 Lack of skills among applicants has also become an increasing concern, particularly soft skills related to operating in the workplace. At the same time, a decreasing share noted COVID-19-related limitations—particularly payment of unemployment benefits that some survey respondents said dissuaded people from searching for work. Those constraints were more prominent in the first half of the year.
U.S. Labor Market Tighter than Texas
While labor markets are tightening in Texas, the U.S. situation is more challenging. The Texas unemployment rate fell to 5.6 percent in September from 5.9 percent in August, and the labor force expanded at a 3.3 percent annualized pace—a high for the year. The U.S. labor force declined at a 1.4 percent rate.
The Bureau of Labor Statistics' Job Openings and Labor Turnover Survey (JOLTS) includes the quits rate—a measure of how many employees voluntarily left their jobs as a share of total employment. Typically, it increases when workers feel more comfortable about their prospects in the labor market; a high quits rate indicates a relatively large number of job openings per worker and a tight labor market.
This measure is generally higher in Texas than the U.S. because of several demographic and policy factors. The state's roughly 3 percent quits rate, while elevated, is in line with previous episodes of labor tightness (such as 2017–18), while the U.S. rate is at a historical high (Chart 3). This suggests that the regional labor market is not currently tightening as rapidly as the U.S. overall, which may lessen the drag on growth in the near term.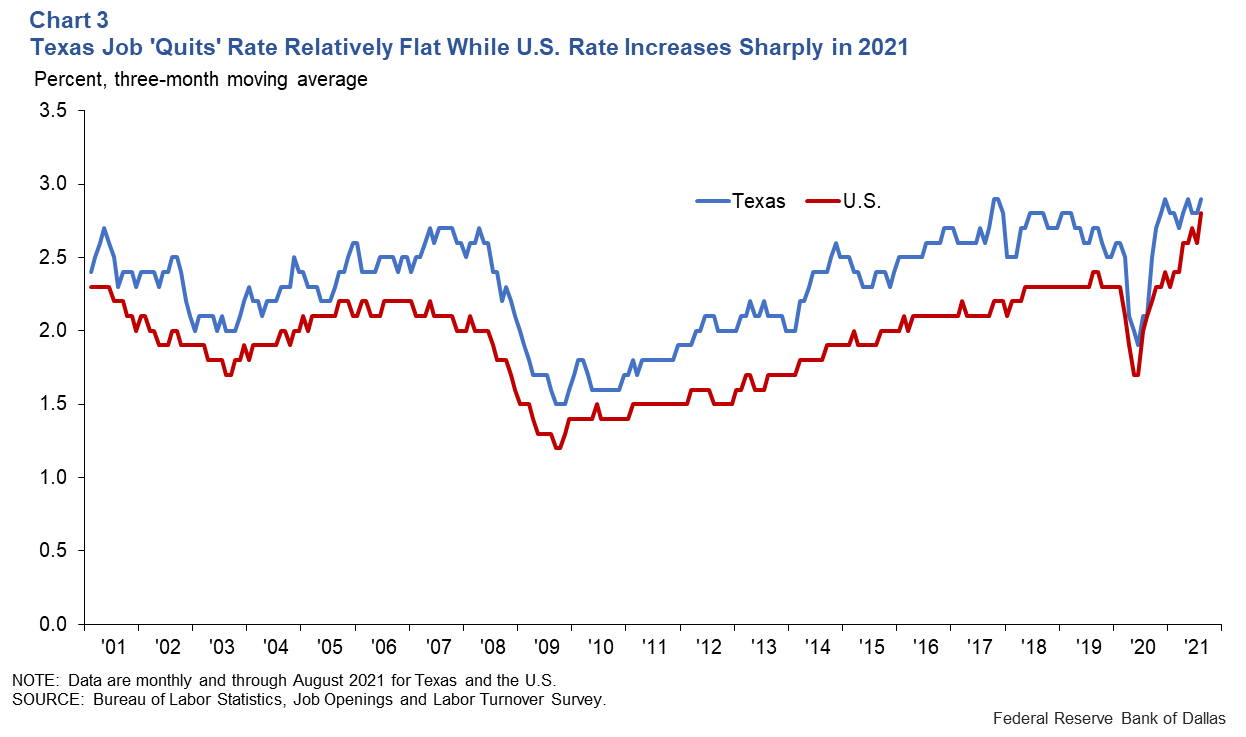 Price and Wage Pressures Persist
Labor and supply-chain shortages have significantly boosted wage and price pressures.
The Texas Manufacturing Outlook Survey input price index dipped from 80.4 in September to 76.3 in October, signifying steady growth near record highs in October. Nearly 80 percent of survey respondents reported increases relative to the prior month (Chart 4). Prices for finished goods surged to an all-time high.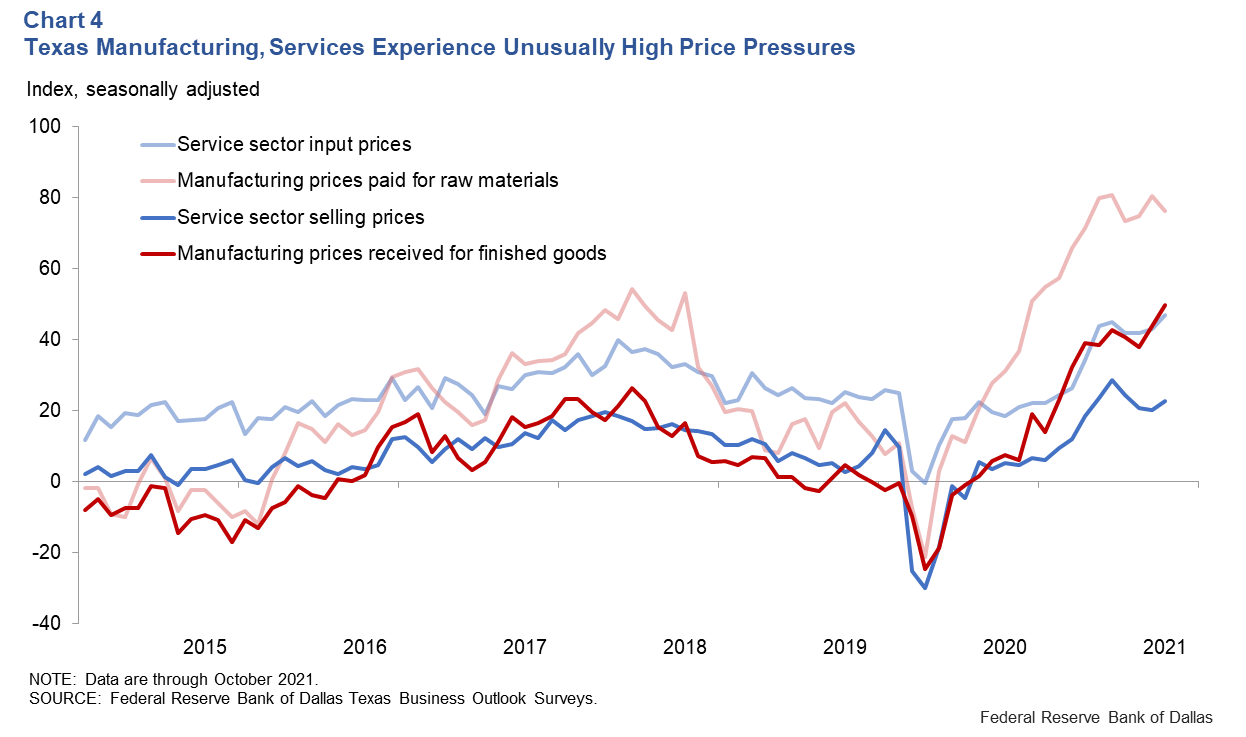 Within services, wage pressures soared to a record, while price inflation plateaued at a very high level. The wages and benefits index surged to 34.7, a record since the survey's inception in 2007; the selling prices index climbed to 22.7, and the input prices index climbed to 47.0, the highest since 2008. Retail price pressures were similarly elevated, while wage pressures accelerated.
Outlook Positive for Rest of 2021
The Texas economic outlook is positive through year-end. Based on data through September, the majority of leading indicators for the Texas economy are positive, and the recent gains in the Texas Leading Index suggest strong growth through early 2022.
Factoring in uncertainty arising from tight labor markets and possible further COVID-19 waves, the Dallas Fed's Texas Employment Forecast anticipates 5.1 percent growth for 2021. Economic expansion is expected to significantly outpace the state's long-term trend rate of 2.0 percent in 2022.
About the Authors
The views expressed are those of the authors and should not be attributed to the Federal Reserve Bank of Dallas or the Federal Reserve System.