Regional
Texas Job Growth Moderates as Price Pressures, Supply-Chain Issues Persist
May 12, 2022
Texas employment growth eased in March, though it remained steady in the first quarter and exceeded U.S. job gains. Price pressures continued to be elevated as supply-chain issues persisted amid indications of moderating business optimism.
The Russia–Ukraine war and China's COVID-19 restrictions have exacerbated already disrupted supply chains and contributed to price pressures, posing risks to global growth. Surging oil prices since the conflict began in February are negatively affecting the U.S. outlook, though pricier energy is a net positive for the Texas economy. Additionally, rising interest rates and tighter monetary policy represent key downside risks.
After accelerating in February, Texas job growth moderated in March, with the economy adding 25,000 jobs. The state's 2.3 percent annualized growth rate for the month compares with the U.S. rate of 3.5 percent.
Despite the deceleration in March, Texas added 175,000 jobs in the first quarter. Employment grew an annualized 5.5 percent, compared with 4.6 percent for the U.S. First-quarter growth was broad based across major sectors, with almost all experiencing employment gains (Chart 1).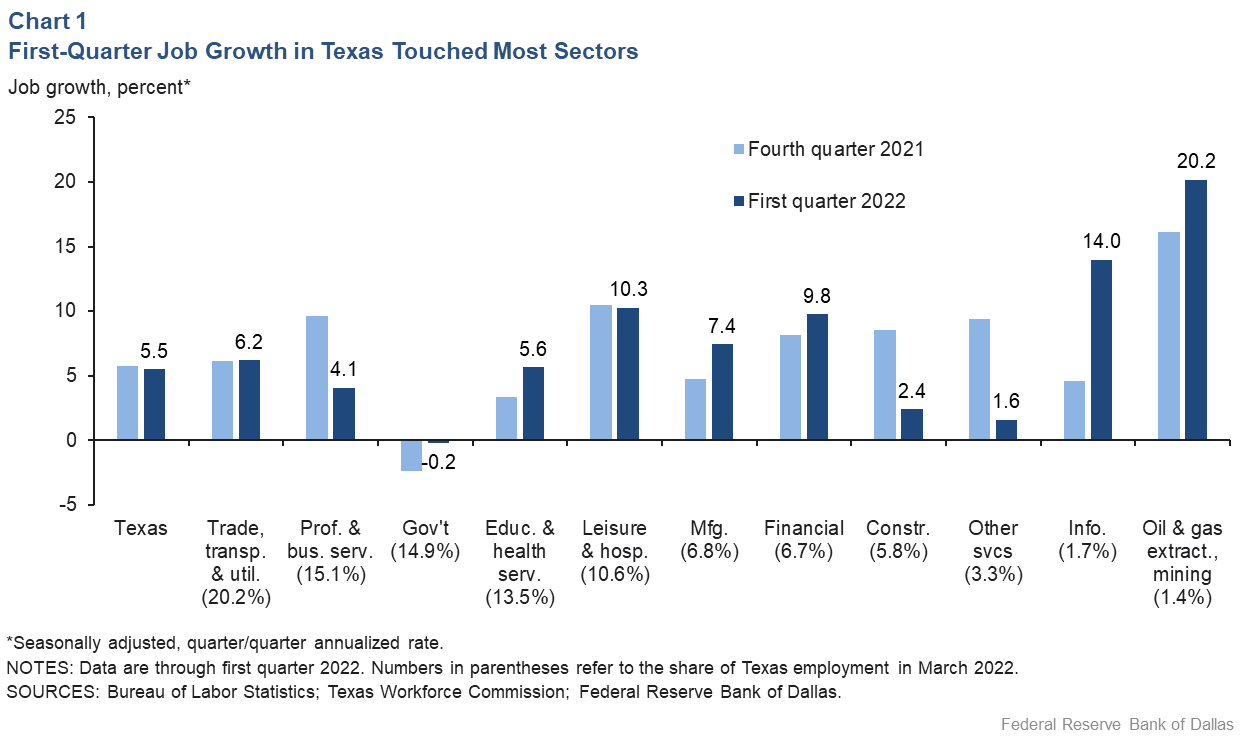 Two years after the onset of COVID-19, Texas employment has moved 1.6 percent ahead of prepandemic levels, while the nation remains 1.0 percent behind. However, the Texas recovery has been more uneven than that of the U.S. The state's service sector employment is 2.5 percent above pre-COVID-19 levels, while the goods-producing sector remains 3.4 percent below prepandemic highs.
Unemployment Rate Improves, Remains Higher than U.S. Rate
The Texas unemployment rate declined 0.3 percentage points to 4.4 percent in March but remained above the national rate of 3.6 percent. Household survey employment grew at a 7.3 percent annualized rate in the state, while the labor force expanded at a solid 3.5 percent rate.
The Texas unemployment rate remains higher than the national rate primarily because relatively more people in the state returned to the labor force following the onset of COVID-19 in 2020. The 63.4 percent labor force participation rate in Texas compares with 62.4 percent nationally. Notably, the Texas labor force is 3.3 percent higher than pre-COVID-19 levels, while the U.S. labor force still lags prepandemic levels.
Demographic differences do not seem to explain the higher official unemployment rate in Texas. Indeed, improvements in Black and Hispanic unemployment in the state exceed those of the nation, while white joblessness has improved less in the state than in the U.S. (Chart 2).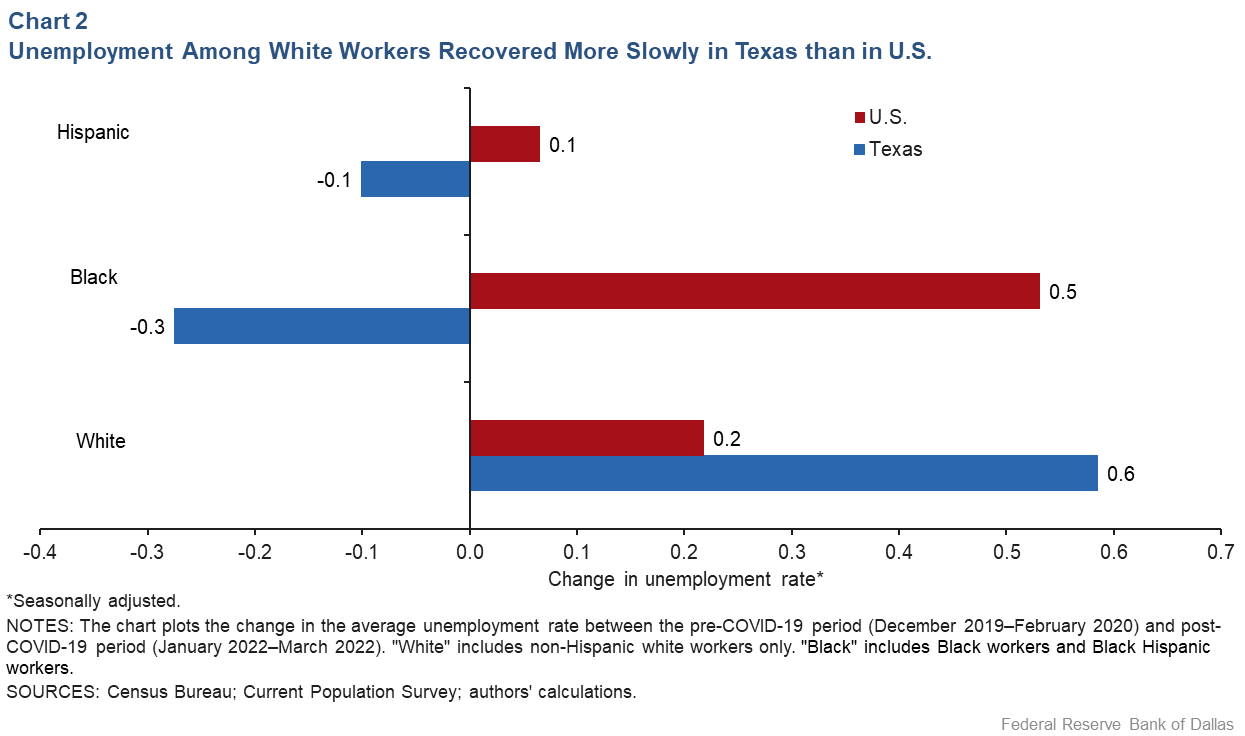 A likely explanation for the sluggish improvement in unemployment in Texas is the slow-to-recover goods-producing sector, particularly energy, which has been a greater drag in the state than nationally (Chart 3).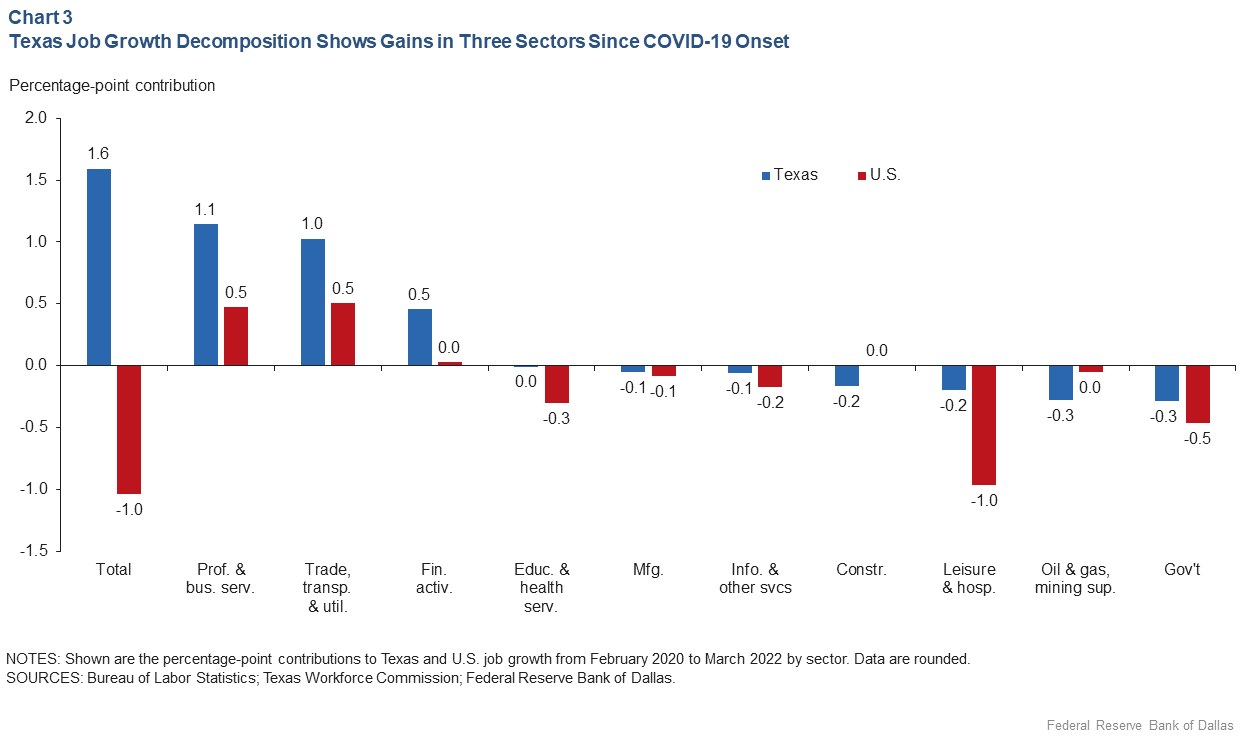 Price Pressures Remain Elevated; Supply-Chain Concerns Persist
The Dallas Fed's Texas Business Outlook Surveys (TBOS) suggest that manufacturing's expansion remained robust in April, though service sector growth decelerated to a more average pace, and retailers experienced declining sales.
Despite the mixed movements, TBOS surveys indicated steady employment growth. Perceptions of broader business conditions remained generally positive, but optimism trended down from previous highs and uncertainty rose. Optimism has waned more among Texas' manufacturing firms. The company outlook index from the Texas Manufacturing Outlook Survey reflected pessimism in April, slipping to its lowest reading in two years.
Price and wage pressures remain highly elevated, though they have eased from historical highs (Chart 4). The surveys also indicated that supply-chain issues, worsened by the Russia–Ukraine war and China's COVID-19 restrictions, remain the most pressing concern among Texas businesses.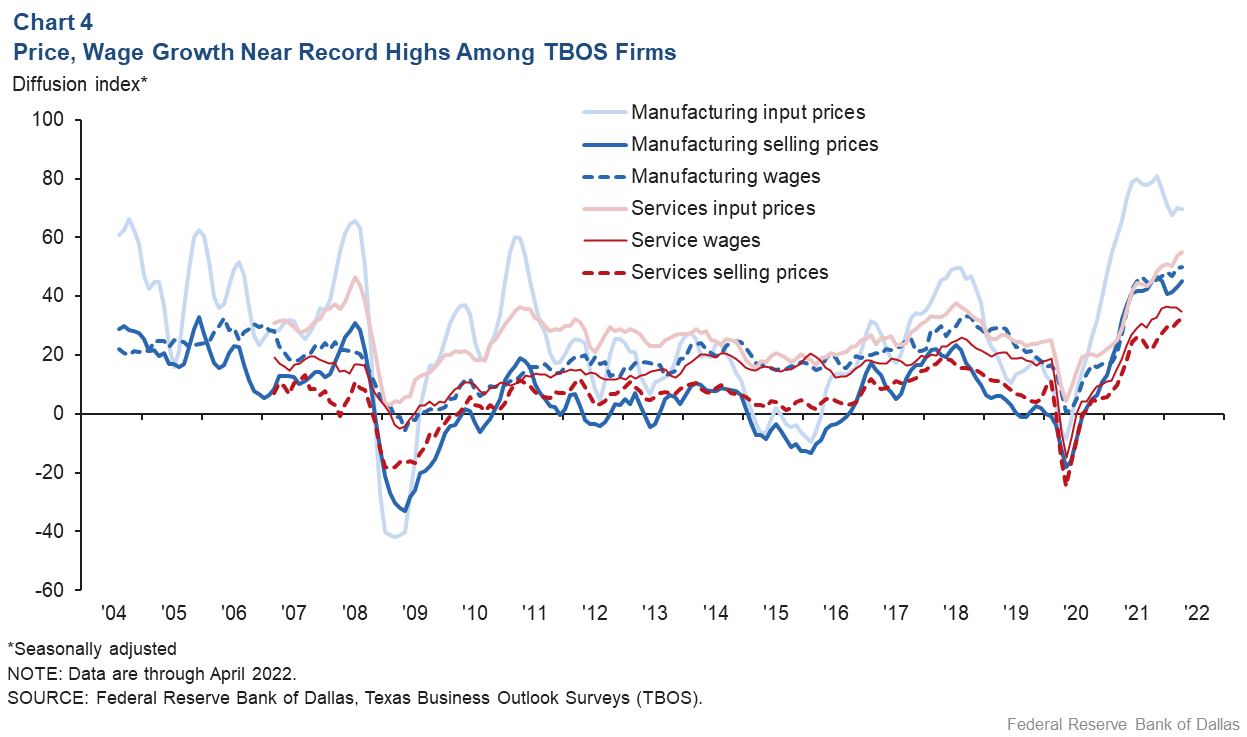 TBOS special questions in April provided insights on hiring challenges and remote work trends among Texas businesses. A lack of applicants remains the key hiring impediment among surveyed firms, edging up to 76 percent in April from 75 percent in January.
The special questions also reveal that the increased prevalence of remote work since the onset of the pandemic could be the new normal. Before COVID-19, Texas firms noted that 8.3 percent of employees were working remotely. The share rose to 35.0 percent in August 2020, held at 35.2 percent as of February 2021 and now stands at 39.3 percent.
It is expected that 36.1 percent of employees will continue to work remotely after the pandemic ends, up from respondents' 20.6 percent estimate as of August 2020. About 40 percent of all remote workers in April were fully remote, with the remainder in a hybrid mode.
Construction Activity Mixed; Housing Markets Still Tight
Residential construction has been solid, with housing permits and starts trending up. Notably, permits, residential contract values and housing starts exceeded pre-Great Recession highs recently. The heightened activity comes after years of sluggish new construction contributed to persistent housing market tightness. However, nonresidential construction has been a pocket of weakness, remaining well below prepandemic levels.
Dallas–Fort Worth house prices kept accelerating even as the appreciation rate nationally appeared to be leveling off, according to Case-Shiller's house price index for February. DFW house prices surged 28.8 percent year-over-year in February, while U.S. increases were about 20 percent.
Rising house prices along with recently rising mortgage rates could pose significant headwinds for home sales. Existing-home sales in Texas declined in February and March, and the six-month moving average points to sales growth flattening at high levels.
Apartment vacancy rates rose slightly across most major Texas metros in the first quarter, though they remain very low.
Commercial real estate conditions improved slightly, with office vacancy rates edging lower in most metro areas in the first quarter.
Energy and Export Indicators Point to Continued Growth
With oil prices remaining near multiyear highs, Texas rig counts and energy employment are rebounding. Texas exports climbed 5.8 percent (nonannualized) in February, indicative of a strong upward trend, led by a pickup in petroleum and coal products exports. On a year-over-year basis, Texas exports were up 20.2 percent in February.
Looking ahead, the Texas employment forecast for 2022 (December to December) dipped to 3.3 percent (from 3.4 percent previously), primarily due to slowing job growth in March and modestly lower U.S. GDP and oil price forecasts.
About the Authors
The views expressed are those of the authors and should not be attributed to the Federal Reserve Bank of Dallas or the Federal Reserve System.