Energy Indicators

March 2019
OPEC production cuts and U.S. sanctions on Venezuela have helped global oil prices partly recover from 2018 declines this year, and increased pipeline capacity is lifting West Texas Intermediate (WTI) prices in Midland. While the higher prices are a boon upstream, refinery and petrochemical margins in the U.S. have eroded, additionally pressured by product inventories and increased production capacity.
Prices
Global crude prices rose in February, thanks largely to support from the OPEC supply cuts and Venezuela sanctions (Chart 1). OPEC, Russia and a number of non-OPEC countries partially followed through on an agreement to cut production by a combined 1.2 million barrels per day (mb/d) in January, realizing a reduction of 0.8 mb/d, according to data from the International Energy Agency (IEA). Saudi Arabia is bearing the brunt of the cuts, having reduced output by 0.4 mb/d (122 percent of its target), and the kingdom recently promised to reduce output further to 9.8 mb/d (258 percent) in March.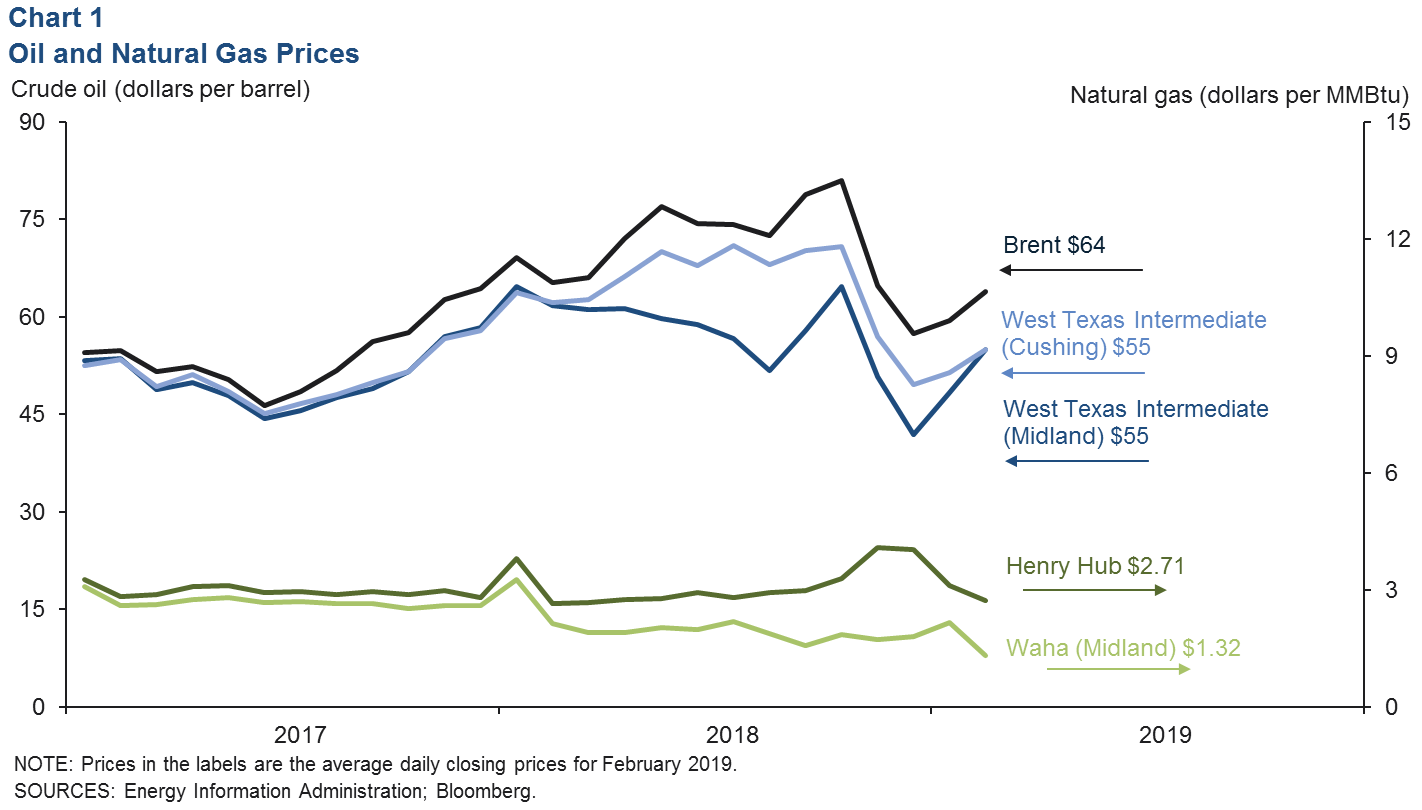 Warmer weather and rising production wore away Henry Hub natural gas' early winter gains. The spot price was driven down to $2.71 in February. Meanwhile, the price of Waha natural gas in West Texas averaged $1.32 in February, the lowest monthly average since the dataset began in 2001. As rising production in the Permian Basin runs into the limits of the region's takeaway capacity and permitted flaring, local prices have continued to erode.
Midland Crude Price Spreads
Unlike Waha gas prices, Midland crude oil prices have risen relative to benchmarks, thanks to the addition of the Sunrise pipeline in November 2018 and the announced conversion of the Seminole natural gas liquids pipeline to carry crude by the end of February 2019 (Chart 2). The additional takeaway capacity allowed Midland to trade at a slight premium to WTI priced in Cushing, Oklahoma, in February, and it substantially narrowed the gap between Midland and Louisiana Light Sweet crude on the Gulf Coast. Crude flows to the Gulf Coast propelled U.S. exports to a record of over 3 mb/d in the four weeks ending Feb. 22.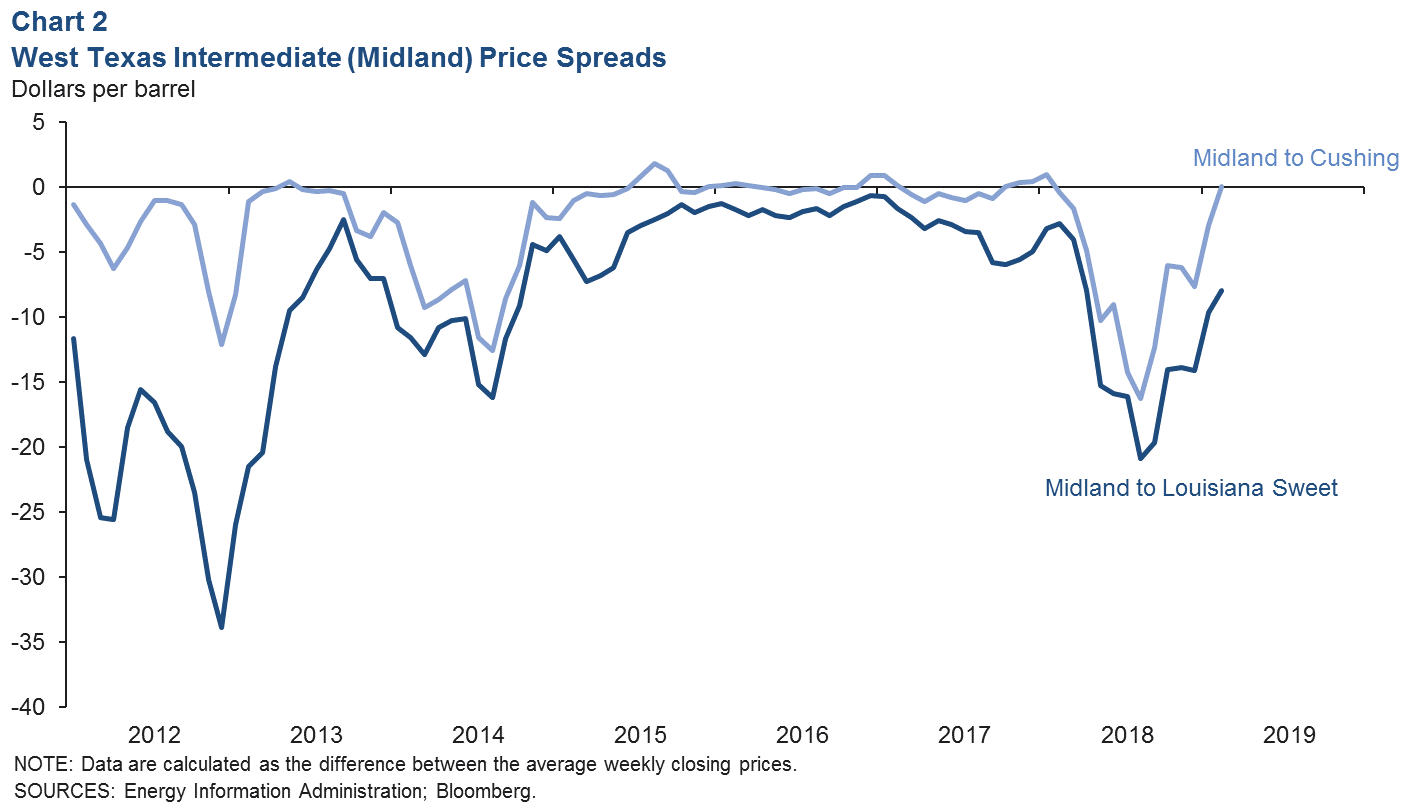 Heavy Crude–Gulf Coast Price Spreads
Diminishing Venezuelan supplies over the past few years and production cuts in Alberta, Canada, in December 2018—aimed at clearing out large inventories there—have helped heavy crude prices rise relative to Louisiana Sweet on the Gulf Coast (Chart 3). The discount on Western Canada Select fell to $22 the last week of February, up from the early January low of $15. (A $15-plus differential is needed to transport Canadian crude to the Gulf Coast by rail.) The imposition of sanctions by the Trump administration on Venezuela further lifted heavy crude prices in February, helping Arabian heavy crude trade at a modest premium to Louisiana Sweet in February.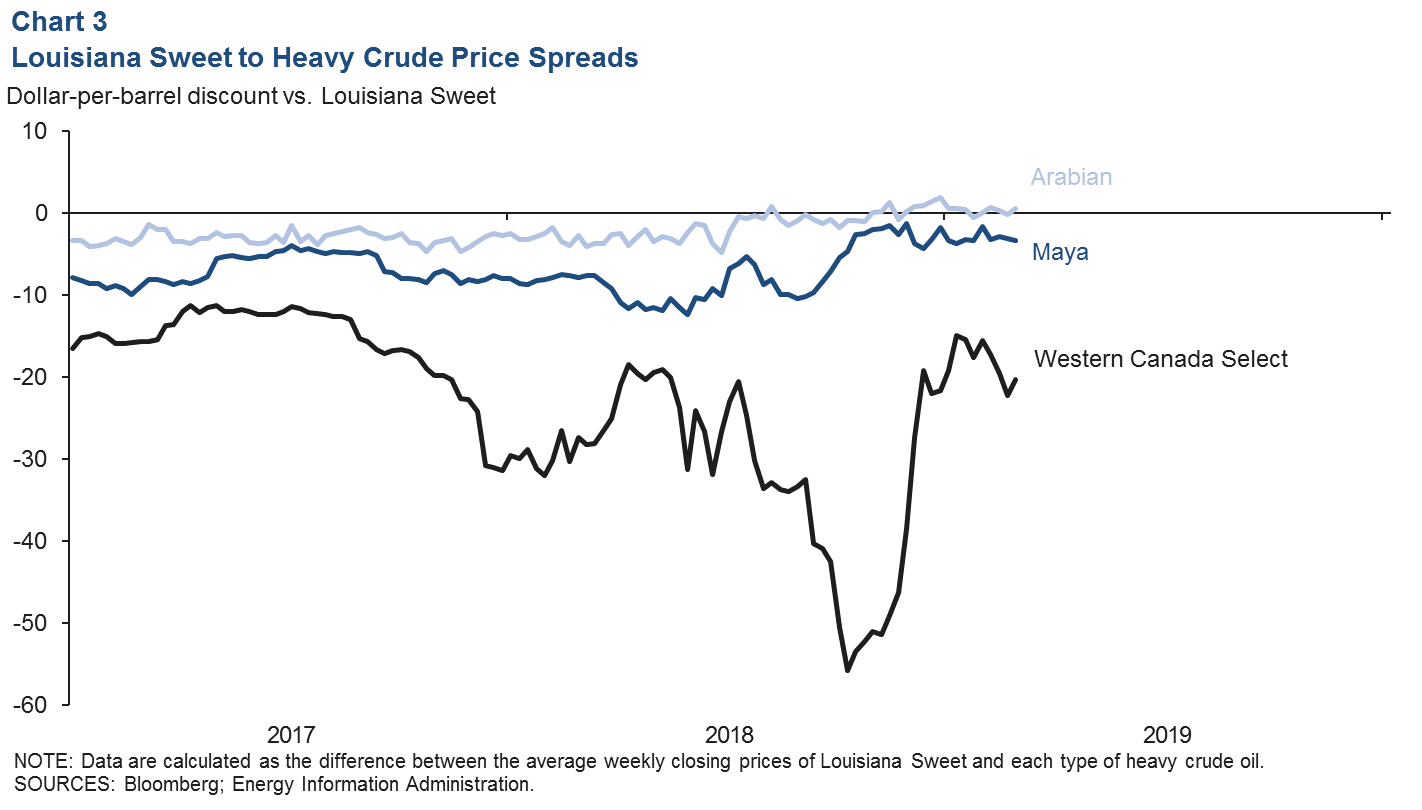 Days of Supply
U.S. inventories of gasoline continue to be elevated relative to the five-year average on a seasonally adjusted basis despite recent declines (Chart 4). The elevated inventories in the U.S. and Atlantic basin are keeping downward pressure on spot gasoline prices, which have risen $8 per barrel (bbl) from the end of December through the week of Feb. 22, compared with a $15/bbl increase in Brent crude over that same time frame.
Conversely, distillate inventories in the U.S. remain below their five-year average despite recent increases. Diesel spot prices have risen $13/bbl since December, tracking more closely than gasoline to benchmark Brent.
Refiner Margins
The relative shifts in crude oil, gasoline and distillate prices have driven down crack spreads and refiner margins the past few months (Chart 5). Gasoline crack spreads—the difference between the spot price of a barrel of crude and spot price of the gasoline it yields—went negative, while distillate cracks proved more resilient, thanks in part to lower inventories. The effect has been to pull down refiner margins, particularly on the U.S. Gulf Coast and East Coast. The effect may be significant enough to lower refinery utilization rates in coming weeks more than expected during the scheduled spring maintenance season.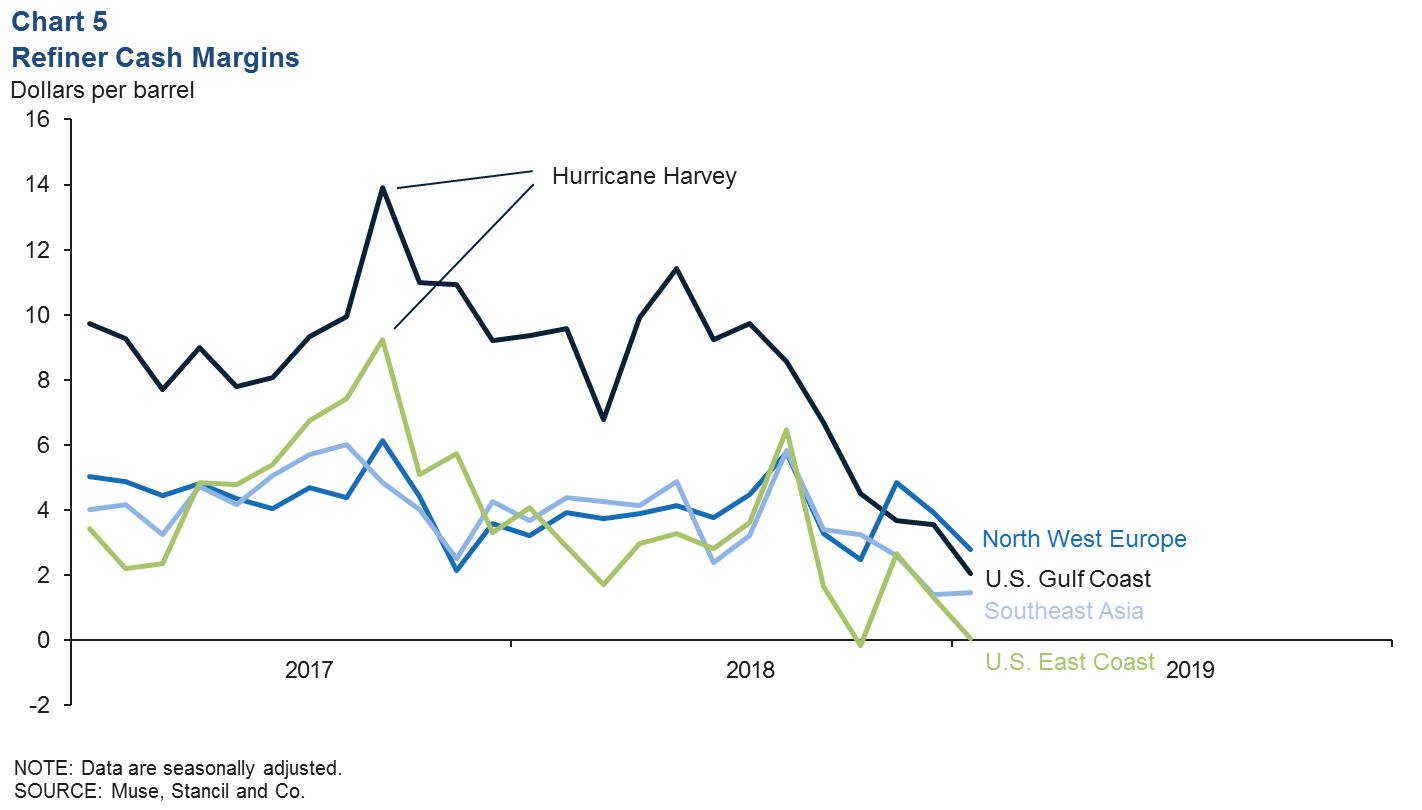 Gulf Coast Petrochemical Margins
A number of new chemical plants were completed on the Texas Gulf Coast in the past few years to capitalize on low-cost ethane supplies from U.S. shale to make ethylene—a key intermediate substance used in a variety of products including plastics. As increasing volumes of ethane are converted into ethylene, the cost of ethane has trended up while the price of ethylene has trended down (Chart 6).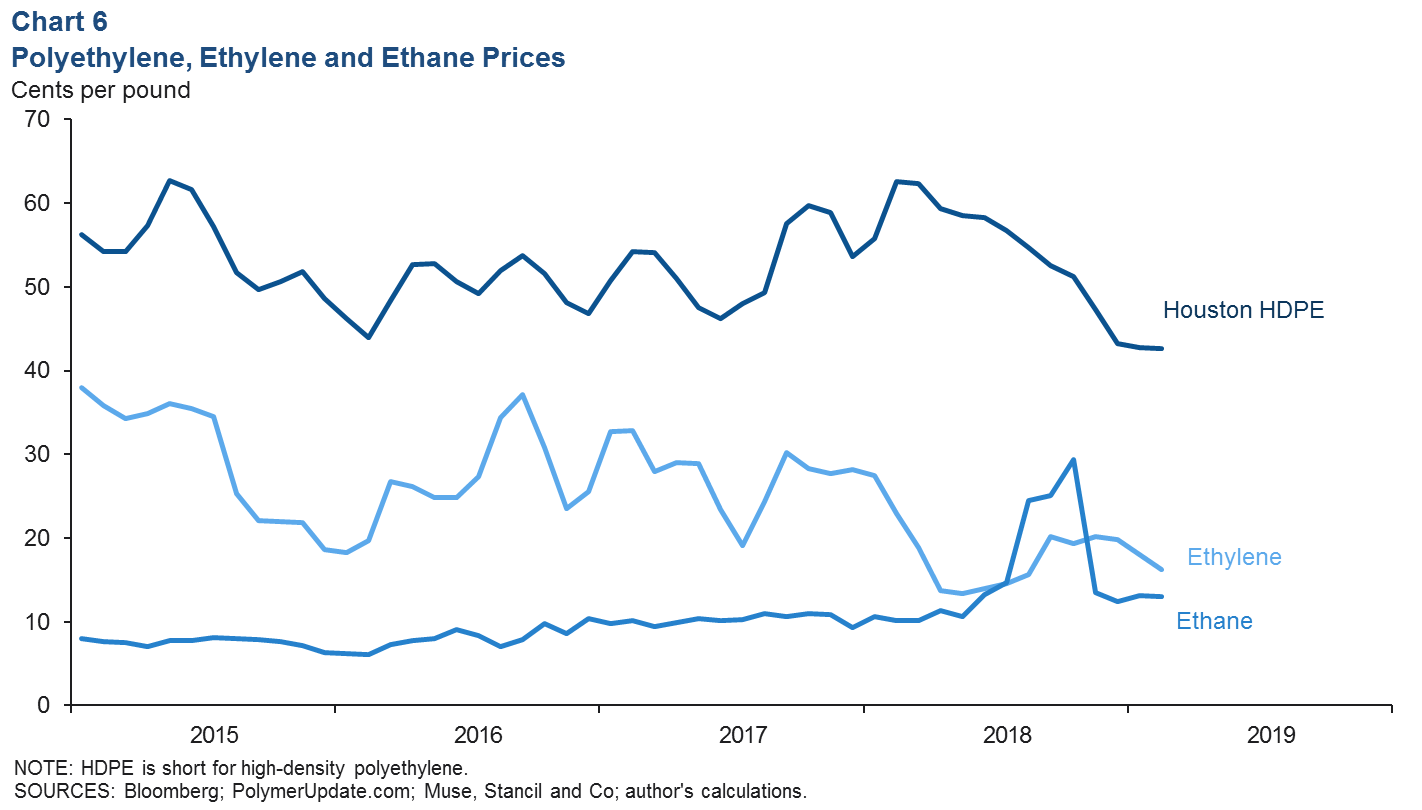 However, most of the world's petrochemical production (outside of the U.S.) is based on oil, which is relatively expensive compared with U.S. ethane. A drop in oil prices last year lowered costs for marginal producers, putting downward pressure on petrochemical prices and eroding the competitiveness of U.S. ethane-based producers. Looking at high-density polyethylene (HPDE, a plastic used in pipes, etc.) priced in Houston as an example, the price fell from around 52 cents per pound at the end of the third quarter to nearly 42 cents per pound in February. Also pressured by the rising value of the dollar and China's imposition of tariffs on U.S. plastics, petrochemical producers on the Gulf Coast have seen their margins narrow.
About Energy Indicators
Questions can be addressed to Jesse Thompson at jesse.thompson@dal.frb.org. Energy Indicators is released monthly and can be received by signing up for an email alert. For additional energy-related research, please visit the Dallas Fed's energy home page.
Energy Research
Economic Indicators