Energy Indicators

June 2019
In line with an eroding rig count, employment in support activities for mining fell in April. Oil prices slipped recently amid rising U.S. inventories and signs that global demand growth may slow. U.S. exports of crude oil and refined products continue to grow. The U.S. also imports a variety of energy and energy-related products, many from Mexico, whose trade relationship with the U.S. has been strained in recent weeks.
Employment and Drilling
Fluctuations in drilling activity—as with oil prices—are highly correlated with changes in mining and mining-related employment, particularly oilfield services. The U.S. rig count fell 4.9 percent over the three months ending in April, a drop of 52 rigs (Chart 1). Initial estimates of employment in Texas support activities for mining (mostly oilfield services) show a decline of 3,650 jobs over that period. Meanwhile, jobs in extraction (mostly exploration and production) remained essentially flat.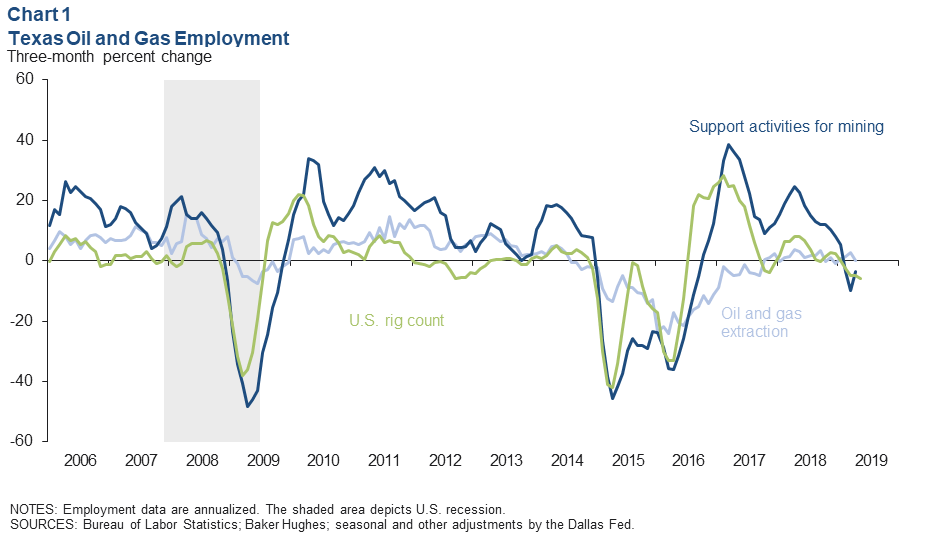 For the three months ending in May, declines in the U.S. rig count accelerated to a 5.9 percent rate—a drop of 62 rigs. Coupled with a recent softening in oil prices, this would tend to imply a tepid outlook for near-term hiring in the oilfield industry. However, the scheduled completion of new pipelines over the second half of 2019 will likely lift activity as producers fill the new transport capacity.
Prices
International benchmark Brent crude held steady near $71 per barrel in April and May despite the increasing tensions in the Middle East, particularly between the U.S. and Iran (Chart 2). U.S. benchmark West Texas Intermediate (WTI) crude oil priced in Cushing, Oklahoma, slipped from an average daily close of $64 in April to $61 in May. However, both benchmarks ended May much lower. Brent was less than $62 on May 31; WTI was less than $54. Closer to the West Texas wellhead, Midland WTI averaged $58 in May but closed May 31 at $52.50. The closing prices are still above the breakeven prices needed to drill new wells but on par with budgeting assumptions made by many firms earlier in the year.
The price of West Texas Waha natural gas averaged just under zero dollars per million British thermal units (MMBtu) for the second month in a row. The negative prices are a consequence of natural gas production in the region pushing past the limits of takeaway capacity and flaring permits. The Henry Hub benchmark in Louisiana was effectively flat at $2.64.
Inventories
Seasonally adjusted crude oil and petroleum product stocks have increased over the past two months, contributing to the recent price weakness. U.S. crude stocks jumped 15.8 million barrels from the last week of April to the last week of May (Chart 3). Other oils (including, for example, some aviation fuels, liquefied refinery gases like butane/butylene, and oxygenates like MTBE), motor gasoline and distillate inventories also surged during May. The rise in gasoline stocks followed seven consecutive month-over-month declines.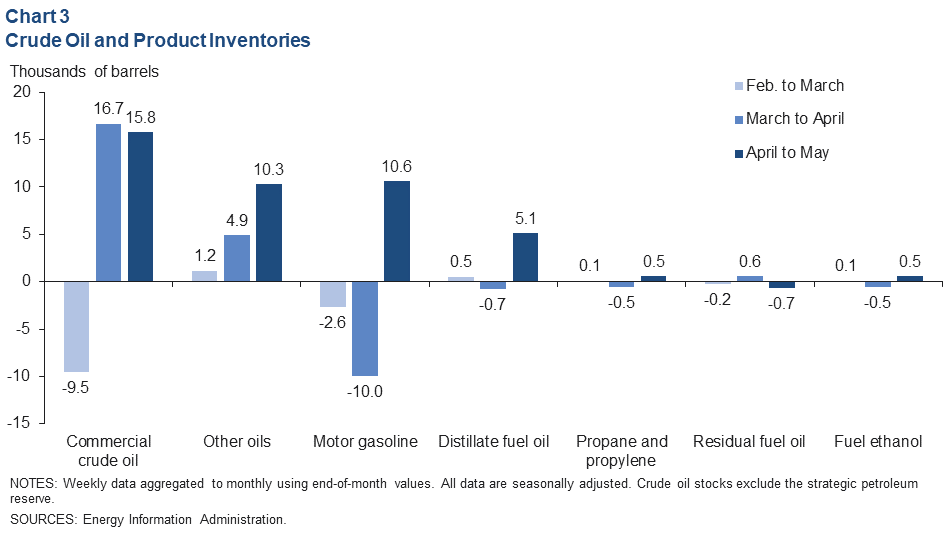 Global Energy Demand
Another factor contributing to recent price weakness has centered on global energy demand growth. Purchasing managers indexes (PMIs)—surveys of activity in the service and manufacturing sectors—are now signaling a slowdown in global economic growth (Chart 4).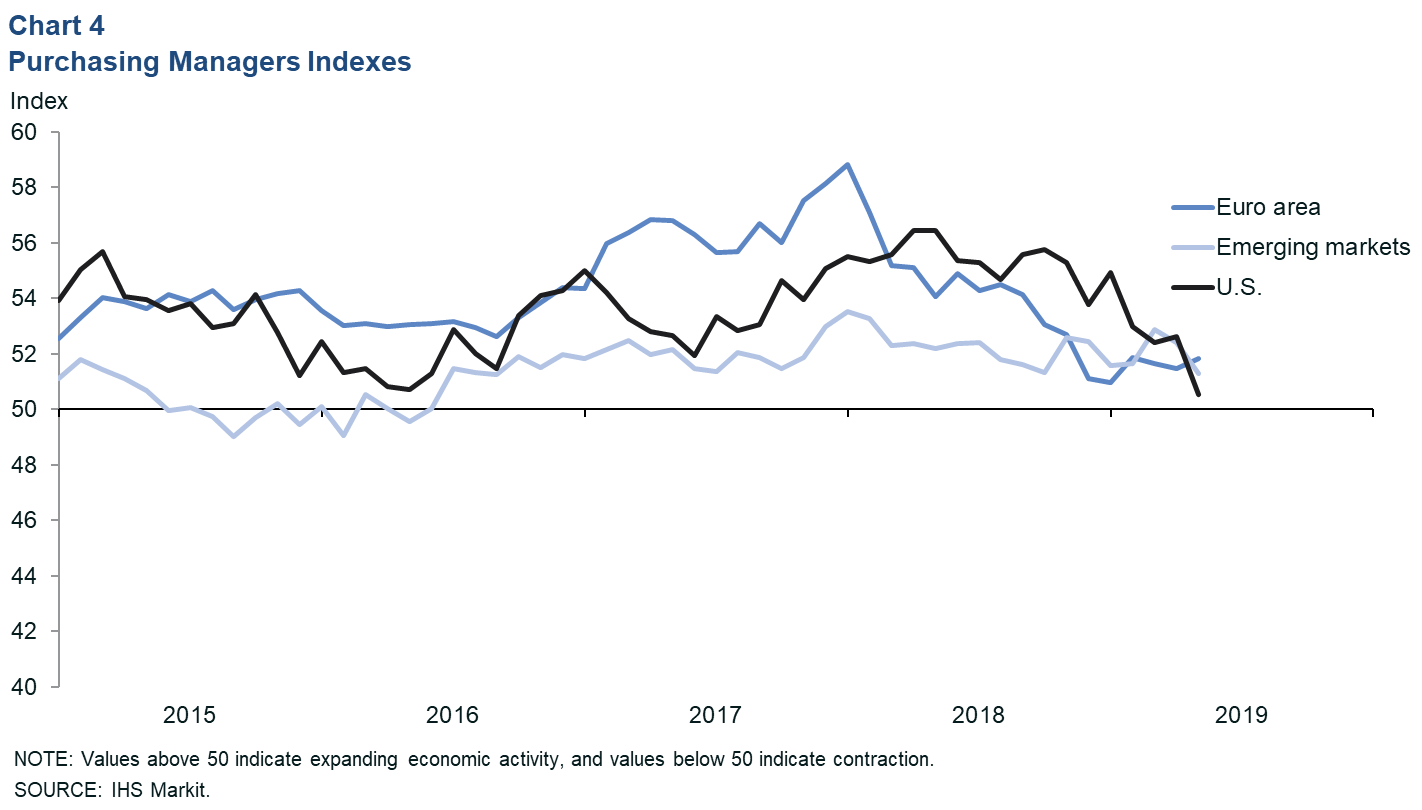 The U.S. PMI from IHS Markit dropped to 53 in April and 51 in May (readings above 50 imply growth). The euro area saw marked slowing over 2018 and had a composite score of 51.8 in May. That modest reading is being held aloft by the service sector; the manufacturing component of the euro-area index has been in outright contraction for four months. The emerging-market composite PMI has been treading water in the low 50s since mid-2016. In May, it slowed to 51.7.
Crude and Product Exports
Monthly crude oil exports set a record in May, coming in at 3.05 million barrels per day (mb/d) (Chart 5). Rising domestic crude production and ongoing infrastructure investment in pipelines and port capacity indicate that U.S. crude exports have several years of volume growth ahead.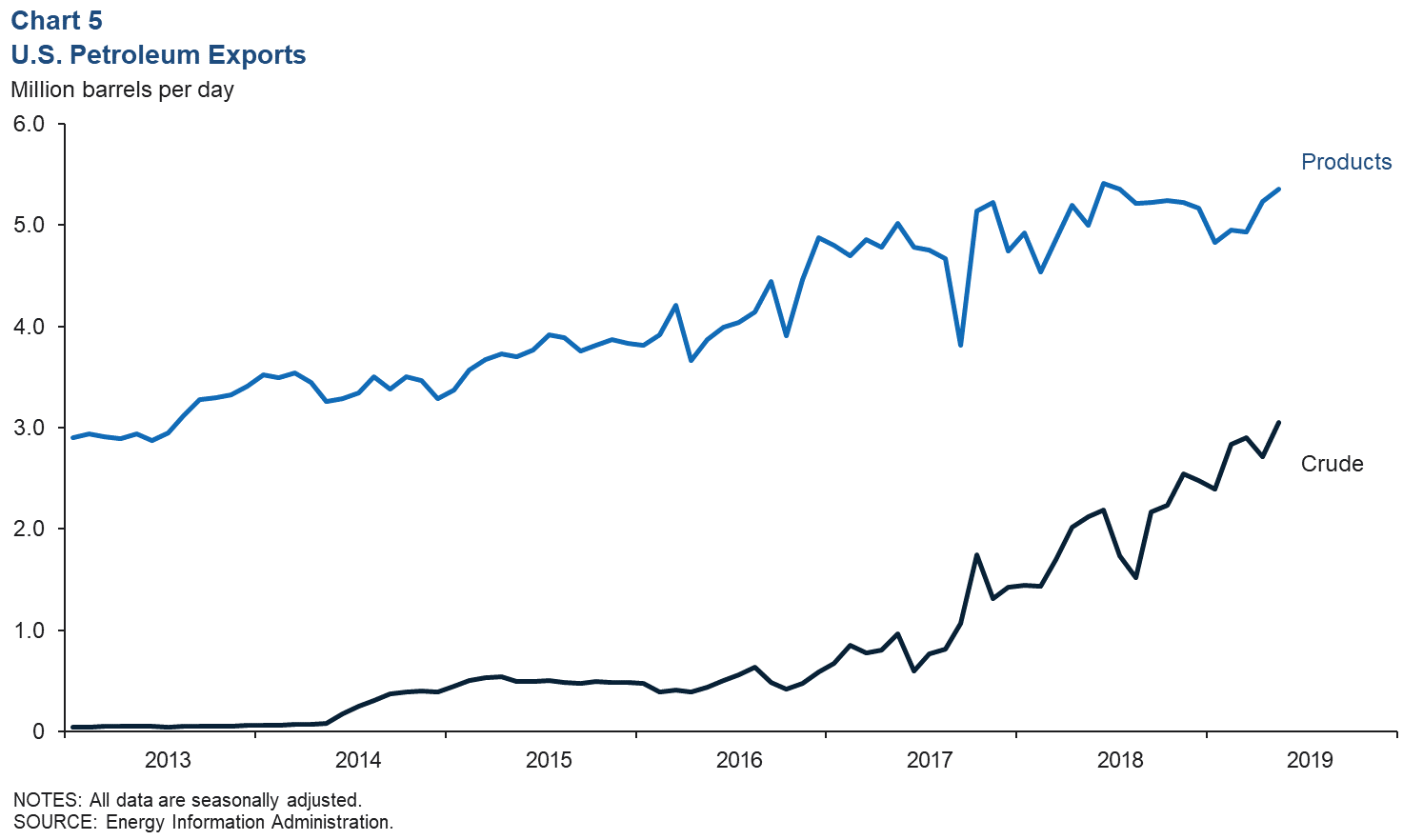 Petroleum product exports also set a record in May of nearly 5.4 mb/d on a seasonally adjusted basis. Rising exports the past two months have been driven by distillates and propane.
Mexico Energy Imports
Trade negotiations last week drew focus to imports from Mexico, a key supplier to U.S. energy markets. First quarter 2019 data, the most recent available, show that selected energy-related imports from Mexico totaled over $6.2 billion, or nearly 7.2 percent of the nominal dollar value of imports for consumption from Mexico (Chart 6). Nearly half of that came from roughly 624,000 barrels per day of relatively heavy Mexican crude oil imports to complex U.S. refiners and another 43,000 barrels per day of refined products. The products were mostly high-sulfur fuel oils.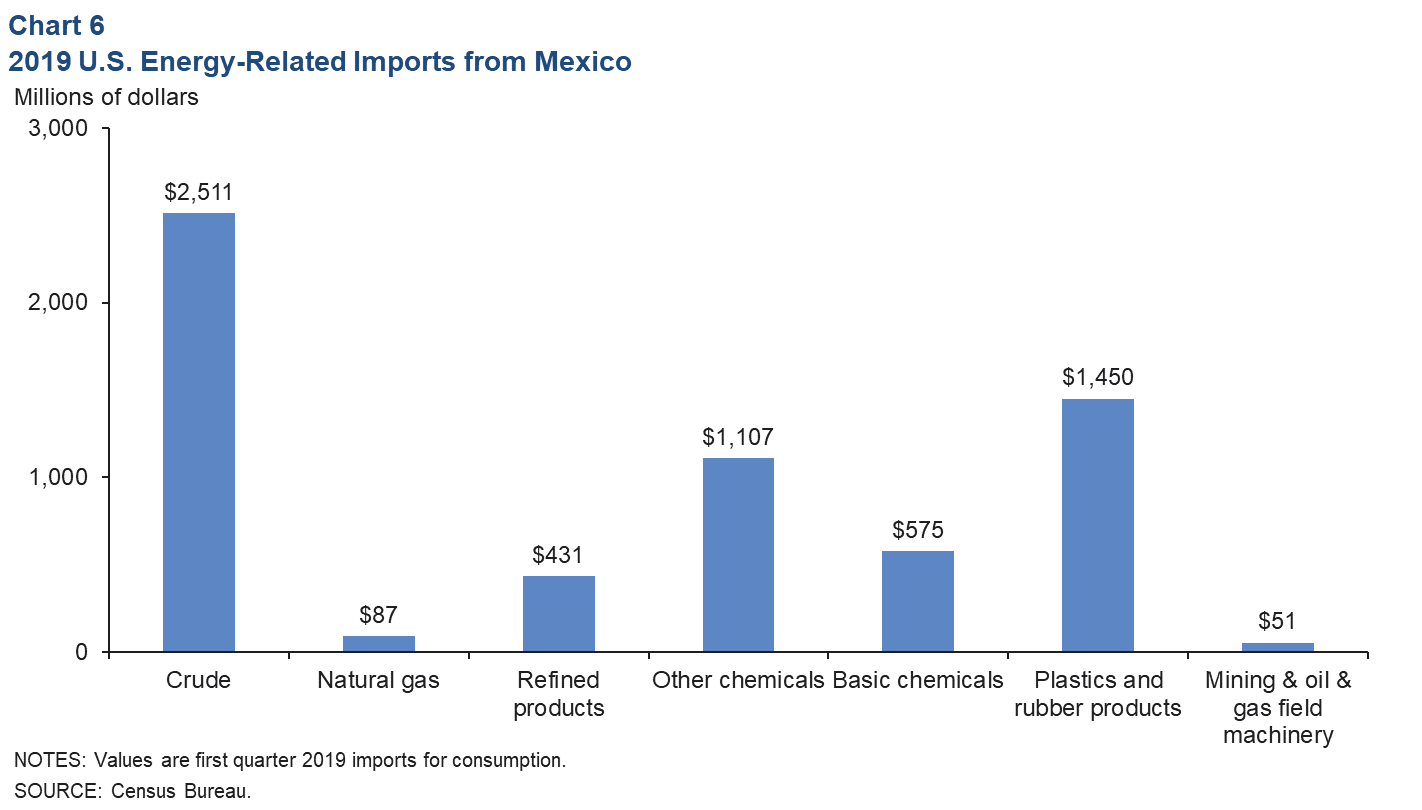 Of slightly greater dollar value were chemical imports. Basic chemicals (propylene, benzene and other related inputs to other products), other chemicals (synthetic fibers, adhesives, paints, pharmaceuticals and fertilizers), and plastics and rubber products (such as plastic bags, bottles and residential water pipes) accounted for over half of energy-related imports from Mexico to the U.S. in the first quarter. Many of the substances are part of integrated supply chains that cross the U.S.–Mexico border multiple times.
About Energy Indicators
Questions can be addressed to Jesse Thompson at jesse.thompson@dal.frb.org. Energy Indicators is released monthly and can be received by signing up for an email alert. For additional energy-related research, please visit the Dallas Fed's energy home page.
Energy Research
Economic Indicators