Energy Indicators

August 2019
Oil prices were mostly flat in July despite rising geopolitical tensions with Iran. West Texas natural gas prices averaged above zero as limited takeaway capacity continues to pressure pricing. Mining employment has leveled off. Refiner margins and crude oil input levels slipped in the most recent readings, as did Gulf Coast polyethylene prices and feedstock costs.
Prices
Brent crude was flat in July at $64, while West Texas Intermediate (WTI) priced in Cushing, Oklahoma, increased slightly to $57 (Chart 1). WTI priced in Midland, Texas—closer to Permian Basin wellheads—edged up at $56. Ongoing concern for global demand and robust projections for U.S. crude oil production growth continued to put downward pressure on prices in July, working against the effects of escalating geopolitical tensions between Iran and the U.S. and a brief shut-in of production on the Gulf Coast due to Tropical Storm Barry.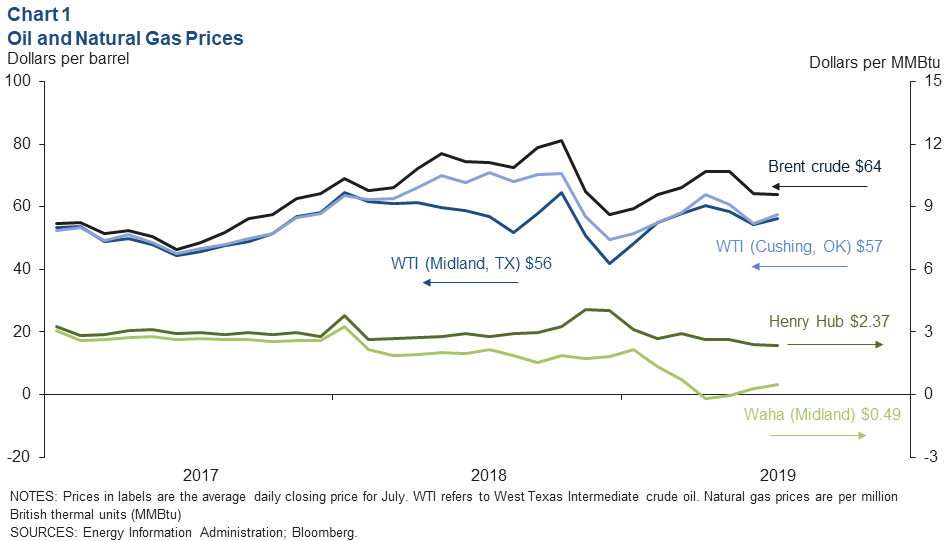 Natural gas benchmark Henry Hub (priced in Louisiana) was essentially flat in July at $2.37, whereas gas priced in West Texas continued to drift back into positive territory. Waha natural gas averaged 49 cents in July. Rising production of oil and co-produced natural gas is overwhelming transportation and storage capacity and contributing to surging volumes of gas flaring. As new pipeline capacity comes online through the end of the year, Waha prices are expected to rise relative to Henry Hub.
Employment
Oil and gas mining sector employment plateaued over the first half of 2019 in the U.S. and has begun drifting down in Texas despite a rise in Houston (Chart 2). Houston mining employment has only slightly recovered from the layoffs that occurred during the 2015–16 oil bust. Recovery since then has been dominated by support activities in producing areas like the Permian Basin, as opposed to the head offices in Houston. Nonetheless, Houston added over 2,700 mining jobs from December 2018 to June 2019 based on initial estimates. Industry employment in the rest of Texas fell by nearly 5,500 jobs over the first half, while employment outside of Texas was up by over 4,600.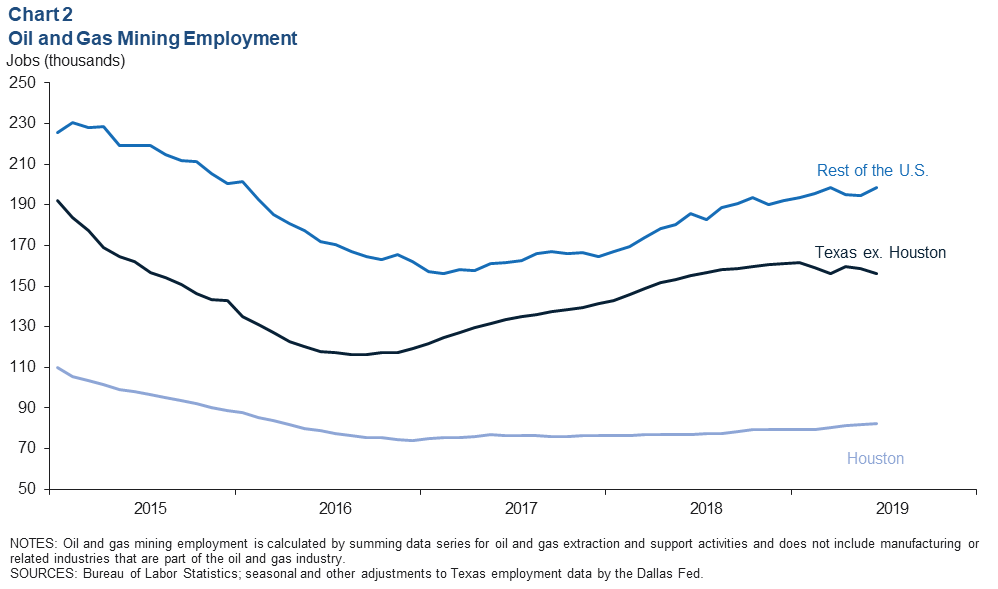 Refining
Crude Inputs Recover Through June, Slip in July
Seasonally adjusted crude oil inputs to U.S. refineries fell as low as 16.5 million barrels per day (mb/d) in March, in part due to a dip in margins and a heavy spring maintenance schedule. The drop in refinery inputs was most notable in the Gulf Coast area and Midwest, where regional demand and operations at some facilities were hampered by severe weather. Gulf Coast and Midwest utilization rates fell 3.7 and 6.4 percentage points, respectively, on a seasonally adjusted basis from December to April. Crude oil inputs to refineries recovered to 16.7 mb/d in June before slipping in July (Chart 3).
U.S. commercial crude inventories hit a high of nearly 462 million barrels in May on a seasonally adjusted basis. Stocks have fallen to 443.7 million barrels in July.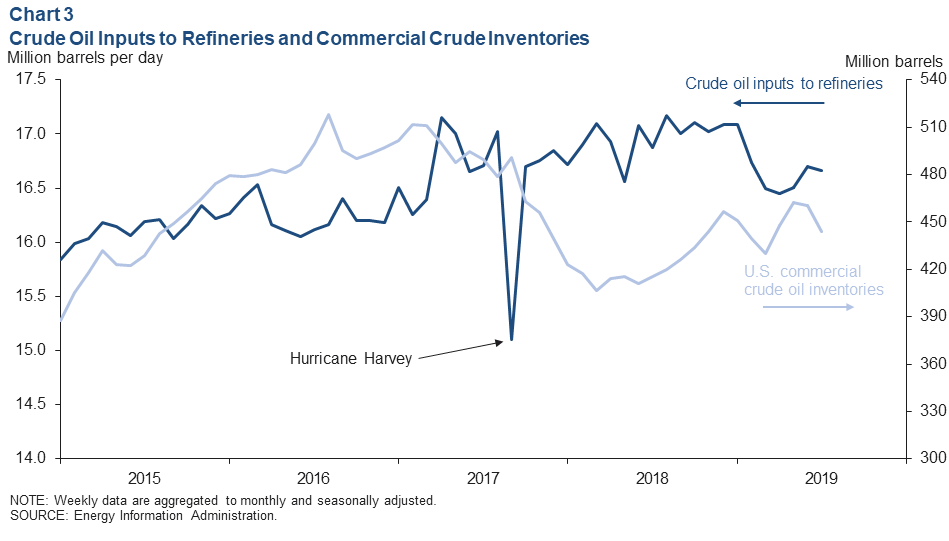 After Regaining Strength, Refiner Margins Fall in June
Gulf Coast refiner margins hit a near-nine-year low in February amid a collapse in the gasoline crack spread. Improved inventory and consumption numbers for motor fuel helped margins recover through May. However, June saw margins slip as demand concerns weighed on global fuel prices (Chart 4).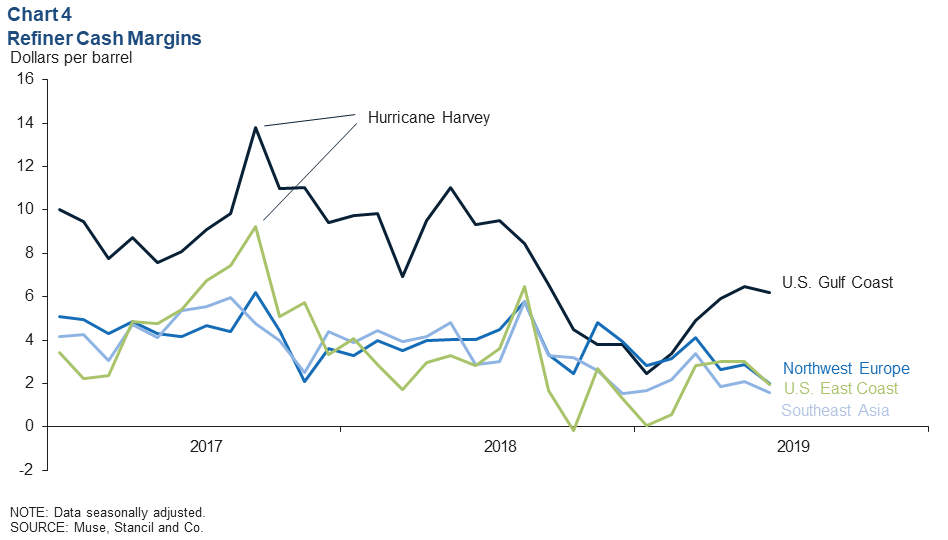 Exports
Exports of petroleum products slipped to 5.3 mb/d in July—down slightly from a near-record 5.4 mb/d in May—on a seasonally adjusted basis (Chart 5). Weaker exports were led by dips in distillate, propane and residual fuel oils. With new low-sulfur requirements for marine fuels taking effect in January 2020, residual fuel oil is likely to see lower production and export volumes for an extended period as refiners favor higher-margin distillates and lower-sulfur fuel oils.
Crude oil exports declined in July to 2.9 mb/d. However, as new pipeline capacity from the Permian Basin to the Gulf Coast becomes operational in the second half of the year, export volumes are expected to rise.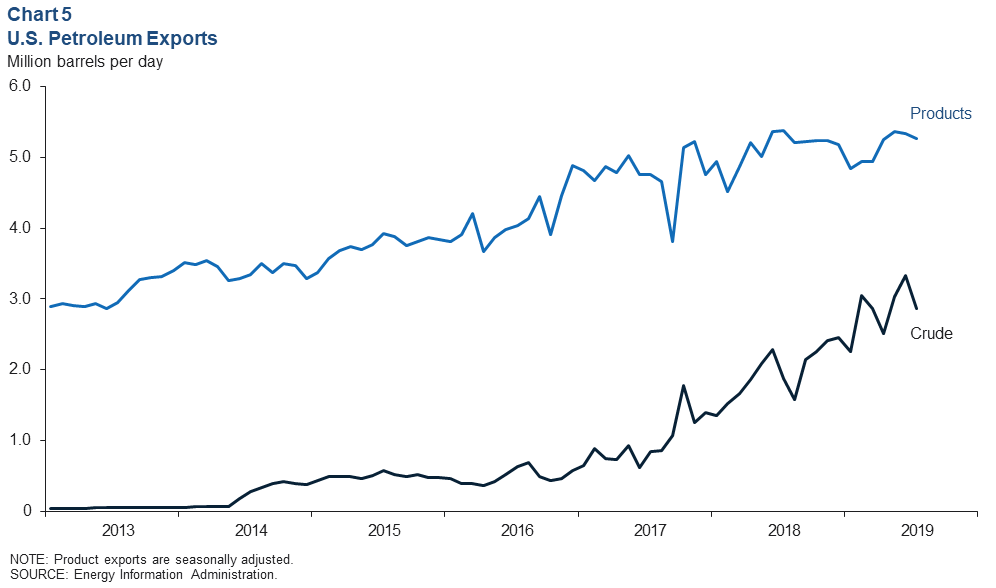 Petrochemicals
Polymer prices on the Gulf Coast have been falling since early 2018 as rising production volumes and increasing trade frictions have weighed on the market. Softer oil prices this year have also led to lower prices as petrochemical producers outside the U.S. have utilized oil products for feedstock. Domestic producers rely on natural gas (ethane) for feedstock and gain a cost advantage on the global market when oil prices are higher.
Rising exports, increased demand from new ethane crackers and logistical constraints led to an ethane price spike in 2018. Ethane prices have since fallen to near-record lows. The average Gulf Coast ethane spot price dropped to 14.4 cents per gallon in July, or a feedstock cost of 6.1 cents per pound (Chart 6). Ethylene was at 14.7 cents per pound, and high-density polyethylene polymer resin averaged 39 cents per pound.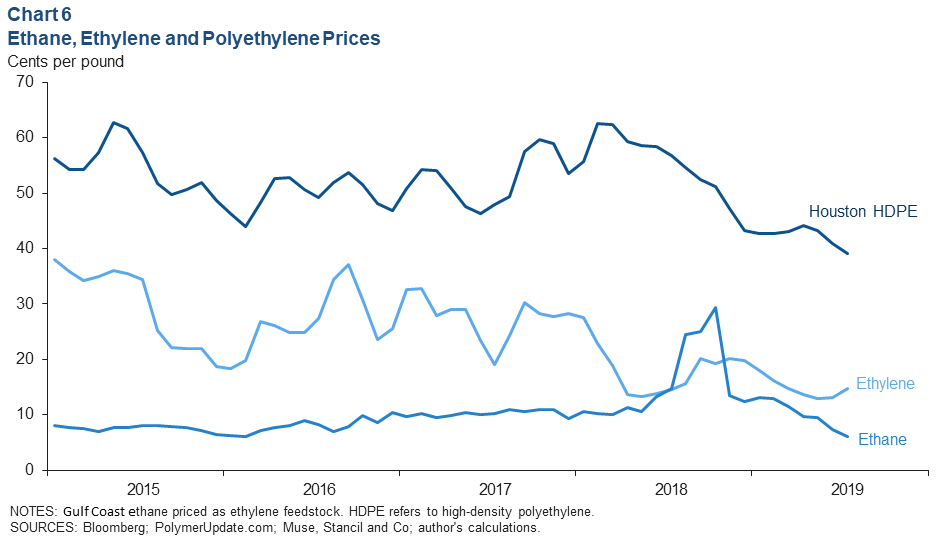 About Energy Indicators
Questions can be addressed to Jesse Thompson at jesse.thompson@dal.frb.org. Energy Indicators is released monthly and can be received by signing up for an email alert. For additional energy-related research, please visit the Dallas Fed's energy home page.
Energy Research
Economic Indicators