Energy Indicators

October 2019
Oil prices are on the downtrend again after a brief surge caused by recent attacks on Saudi Arabian oil infrastructure. Employment in the oil and gas sector is falling with the rig count. For the first time on record, the U.S. did not import any oil from Venezuela. Permian Basin wells drilled this year are starting to perform worse than wells drilled last year. The shift to low-sulfur fuel oil (LSFO) as required by International Maritime Organization regulations is underway.
Monthly Oil and Gas Prices
Oil prices surged briefly after air strikes on Saudi Arabian oil facilities on Sept. 14 (Chart 1). With redirected flows, Saudi inventory drawdowns and markets refocusing on weakening economic data, prices retreated to preattack levels within two weeks. New Permian pipelines cleared persistent bottlenecks and narrowed the spread between Midland prices and West Texas Intermediate/Henry Hub. Natural gas climbed 15 percent on increased power generation due to warmer-than-expected weather in September.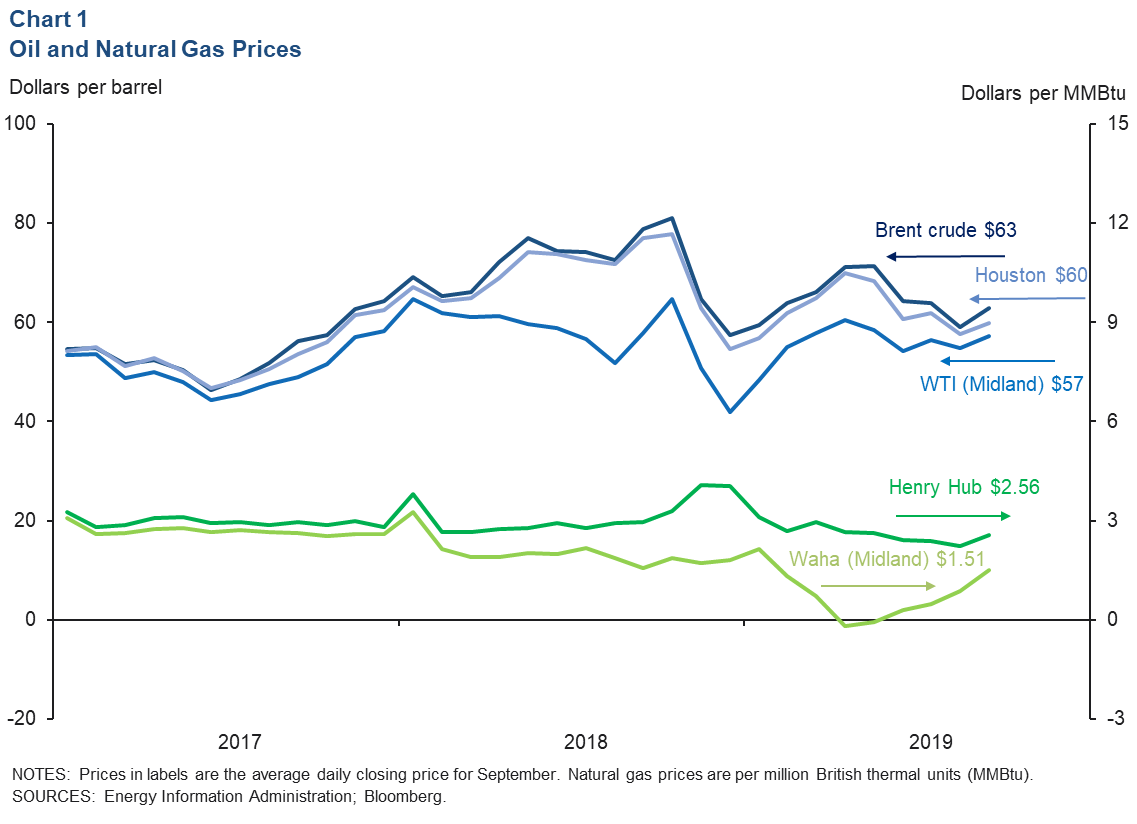 Employment
Continued cuts to capital expenditures among shale operators and efficiency improvements contributed to a lower rig count and fewer jobs in the sector (Chart 2). According to the third quarter 2019 Dallas Fed Energy Survey, half the respondents do not expect the rig count to bottom out until the fourth quarter this year or first quarter 2020. The survey also showed oilfield service companies reporting a worsening outlook for their firms, suggesting more employment declines may be coming.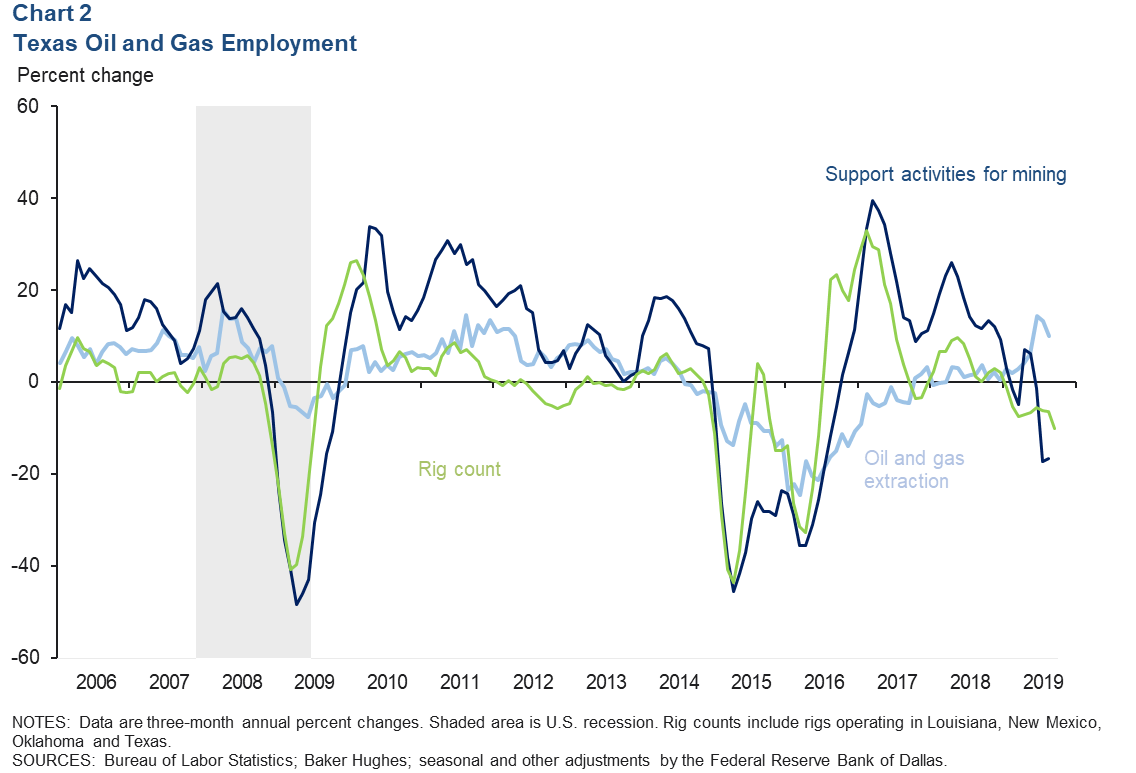 Oil Imports
In June and July (the latest available data), the U.S. did not import any crude oil from Venezuela for the first time on record (Chart 3). This is due to oil-sector sanctions imposed on Venezuela by the U.S. and faltering production in the country. However, growing imports from Canada more than offset the loss, as Canada produces similar heavy grades of crude that many U.S. refineries are calibrated to process. Imports from Saudi Arabia are at their lowest level since 1987, sliding below 500,000 barrels per day this summer, as domestic light and medium oil production continue to reduce U.S. demand for Saudi crude.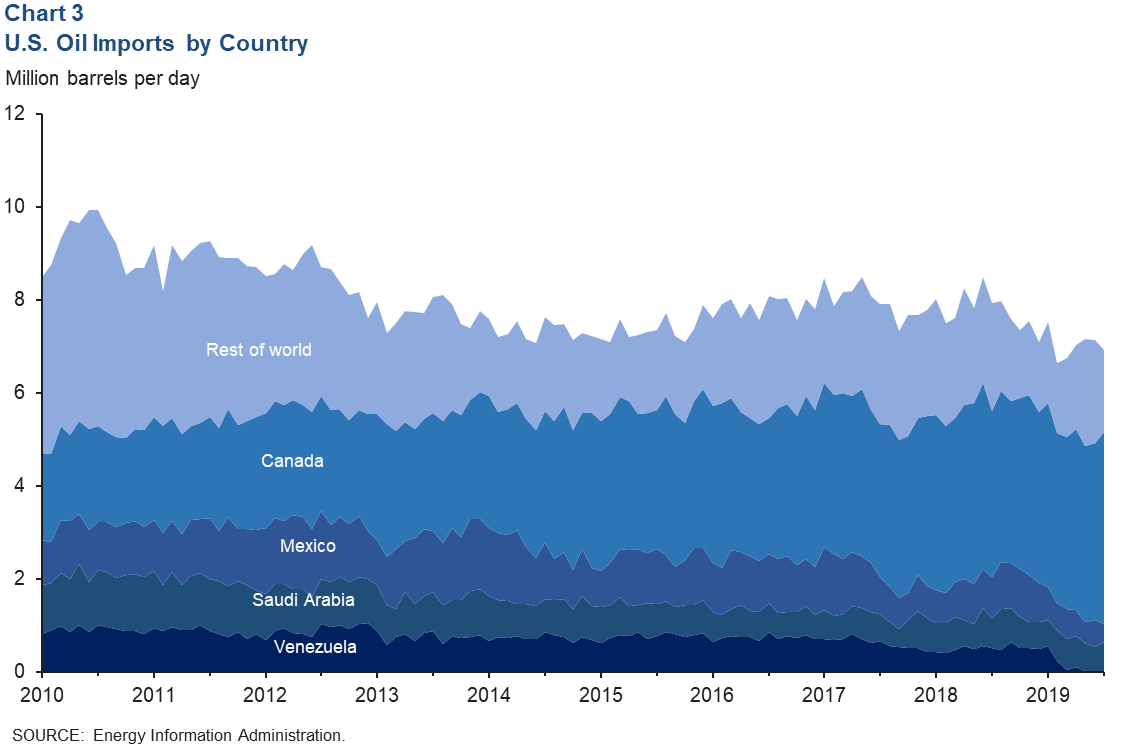 Permian Well Performance
Public filing data indicate the average Permian well drilled in 2019 may have a higher initial rate of production than the average well in 2018 and 2017 (Chart 4). However, the 2019 well actually produces less than the earlier wells within six months of coming online. This is likely due to a combination of the declining inventory of top-tier drilling acreage and the problem of "well communication"—when a well that is drilled too closely to another impairs the flow rate of both. As a result, the decline rate of existing production is in the process of steepening, meaning more drilling and completions are required each year to maintain and grow production.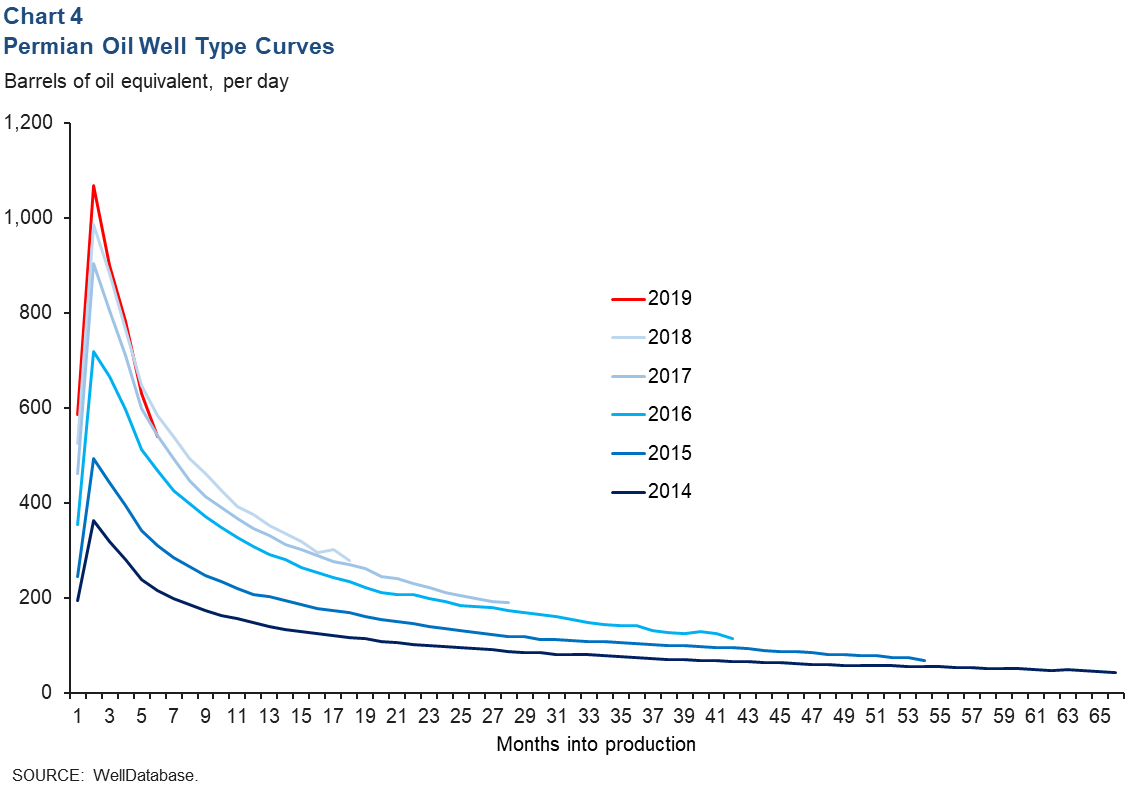 Petroleum Product Markets
Although International Maritime Organization rules requiring ships to use LSFO goes into effect Jan. 1, 2020 (also known as the "IMO 2020" rule), the transition begins in earnest in October. This was reflected in the crack spread—or the difference between the refined product price and price of crude oil—of soon-to-be noncompliant high-sulfur fuel oil (HSFO) futures over the past two months (Chart 5). The HSFO discount to benchmark Brent crude oil increased from $6 at the end of July to over $15 throughout most of August and September, indicating shippers are starting to move away from HSFO.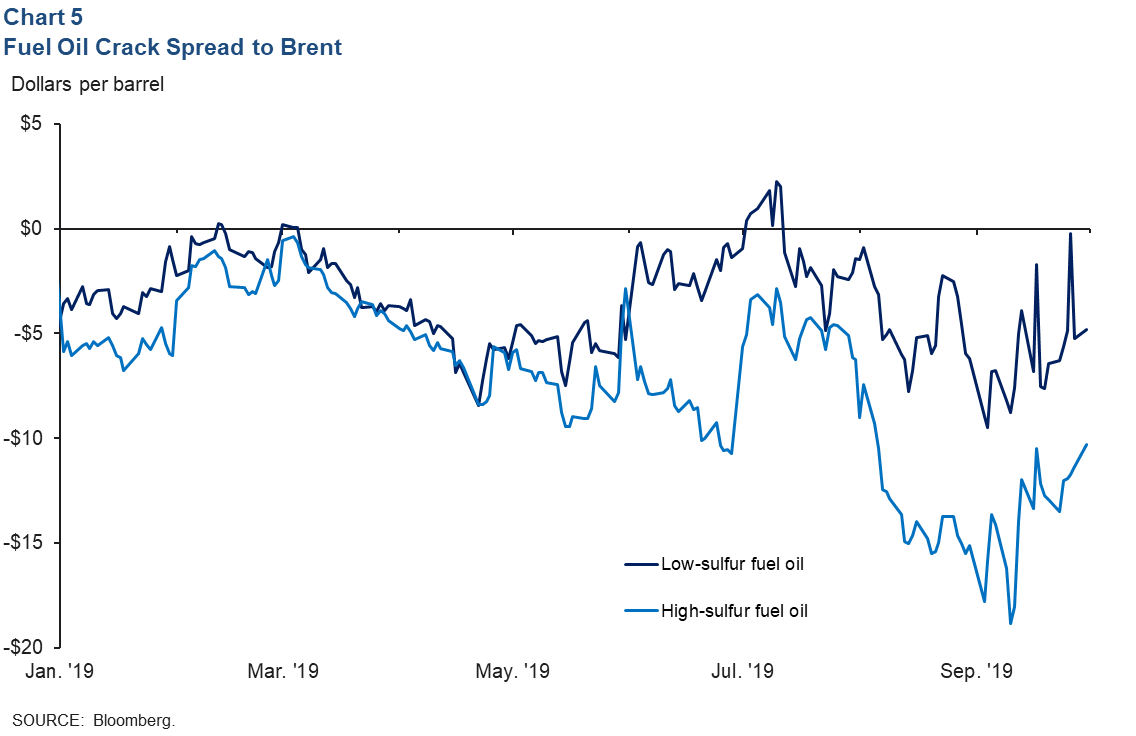 About Energy Indicators
Questions can be addressed to Garrett Golding at garrett.golding@dal.frb.org. Energy Indicators is released monthly and can be received by signing up for an email alert. For additional energy-related research, please visit the Dallas Fed's energy home page.
Energy Research
Economic Indicators