Energy Indicators

December 2019
Oil prices ticked up in November, receiving some additional support from OPEC-plus countries in early December when they announced lower crude oil production targets for 2020. Tepid third-quarter consumption growth for global liquids (crude, condensate and natural gas liquids) matched trends in global industrial production. Recent data revisions show Texas oil and gas job losses to be worse than initially estimated. Bankruptcy filings ticked up in the third quarter.
OPEC
The Organization of the Petroleum Exporting Countries and a few other nations, including Russia (OPEC-plus), gave an early Christmas present to the U.S. oil industry at the start of December as the group agreed to deepen their collective cuts to 1.7 million barrels per day (mb/d) below their baseline production level of nearly 45.7 mb/d. Most of the reduction is to be borne by Saudi Arabia, and the kingdom has indicated it will voluntarily reduce output by an additional 0.4 mb/d relative to the volumes in the agreement. Assuming all parties comply, global crude supplies in 2020 would drop more than 0.5 mb/d from November production levels.
Spot and futures prices for crude rose modestly on the news, likely muted in part by concerns for the global economic outlook as well as uncertainty around the willingness of member countries to comply with the new agreement. OPEC-plus countries plan to review the new policy in March 2020.
Global Consumption
Recent data from the International Energy Agency (IEA) show that year-over-year growth in global liquids consumption increased modestly to 0.8 mb/d in third quarter 2019—in line with recent trends in global industrial production growth (Chart 1). In December, the IEA forecast that consumption growth in 2020 would average 1.2 mb/d, a slight increase from 1.0 mb/d in 2019. The projections incorporate forecasts from the International Monetary Fund, which call for accelerating global gross domestic product growth in 2020, fueling the projected pickup in oil demand.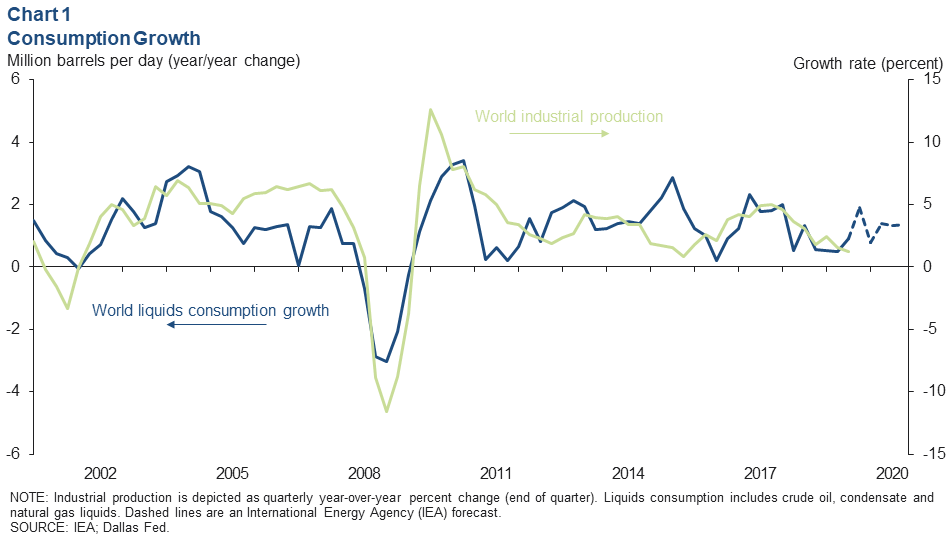 Prices
Average oil prices ticked up from October to November but failed to break from the range that has dominated in the second half of 2019 (Chart 2). Since November, crude prices have increased only slightly owing to the promised OPEC production cuts. Brent closed over $64 on Friday, Dec. 6, while West Texas Intermediate priced in Midland, Texas, closed over $60. The two benchmarks have remained near those levels in the days since.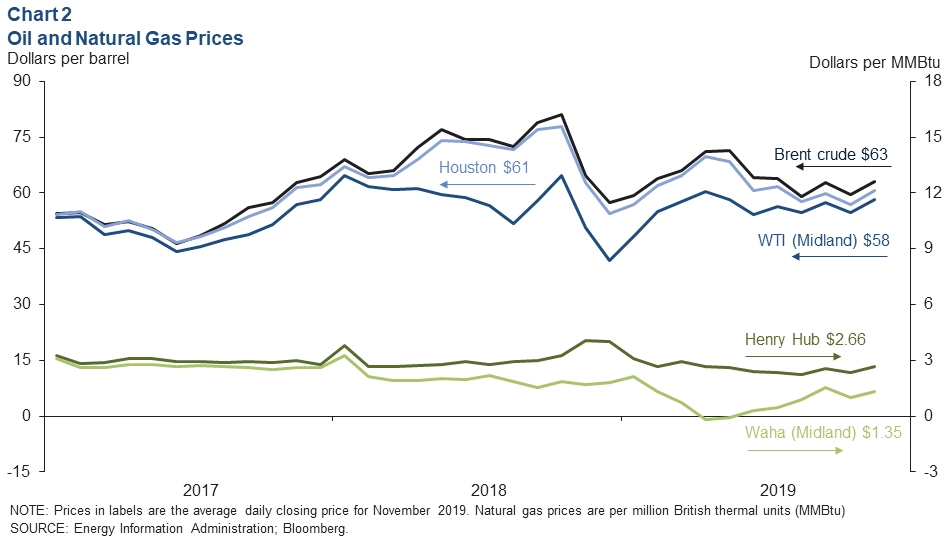 The Henry Hub natural gas price ticked up only modestly in November to average $2.66. West Texas natural gas—the Waha hub—continues to be priced at a discount to Henry Hub due to limited takeaway capacity. However, new gas pipelines next year should help narrow the gap between West Texas and Henry Hub.
Employment
Support Activities Sector Leads Downturn in Mining Jobs
While oilfield activity has been supported by relatively healthy well completion activity in 2019, the rig count has been dropping. Support activities for mining (mostly oilfield services, the more cyclical component of oil and gas mining) has been following the rig count down in 2019 (Chart 3). Regional drilling fell at an annual rate of 30 percent through November, while support activities jobs declined an annualized 6.7 percent through October. Oil and gas extraction jobs (mostly exploration and production firms) were nearly flat in the first half of the year but have shot up the past few months. However, jobs data since June have not been benchmarked and may change with the next round of revisions in March 2020.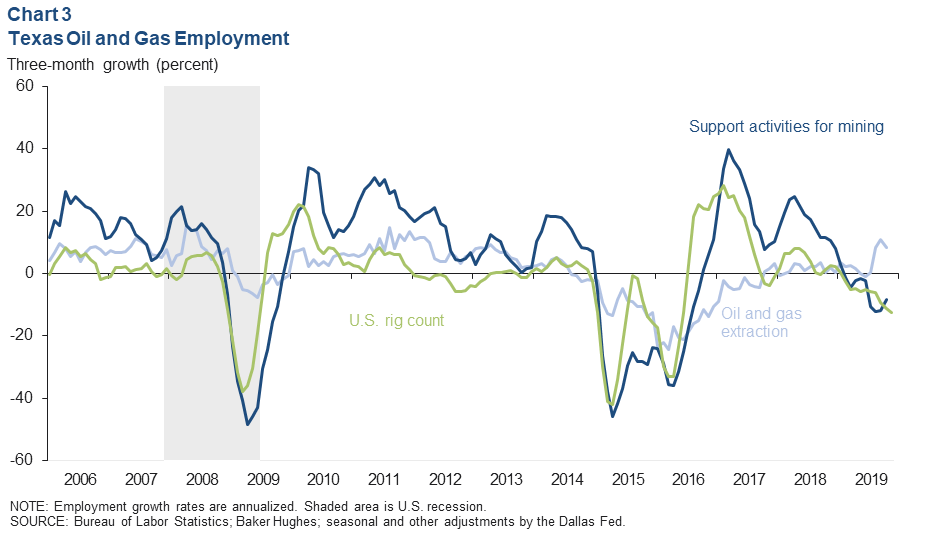 Texas Mining Job Losses Deeper than Initially Estimated
Revisions to employment data can be substantial. The Dallas Fed uses an early benchmarking procedure to improve its picture of the jobs market in real time. The most recent state benchmark—released in late November and incorporating more comprehensive data for the first half of 2019—erased a substantial number of Texas oil and gas jobs. The data now show the Texas mining sector shed 8,100 jobs from December 2018 to October 2019, double the nearly 4,000 losses seen in the unbenchmarked data from the Bureau of Labor Statistics (due for revision in March 2020) (Chart 4). Most of the change in year-to-date growth occurred in oil and gas extraction and "other" mining sector jobs.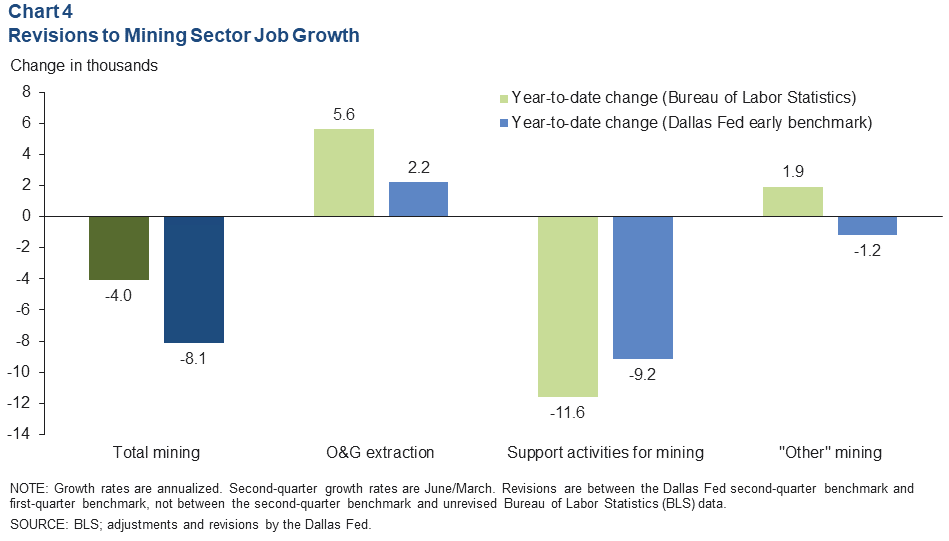 Bankruptcies
Energy firms' stock market performance, tightening credit conditions and increasing pressure to spend within cash flow put pressure on oil and gas firms in 2019. The number of bankruptcies filed by oil gas companies has been rising after hitting a low in the second half of 2018, according to Haynes & Boone LLP data (Chart 5). Through the third quarter, filings by oilfield services (OFS) firms in particular have picked up relative to year-ago levels. OFS bankruptcy filings in 2019 have totaled $7.8 of debt. That's a stark increase from 2018, but it's almost entirely due to the Weatherford International PLC filing in July. However, neither the number of bankruptcies nor the dollar value of the debt attached to it compares to the period during the 2015­–16 oil bust.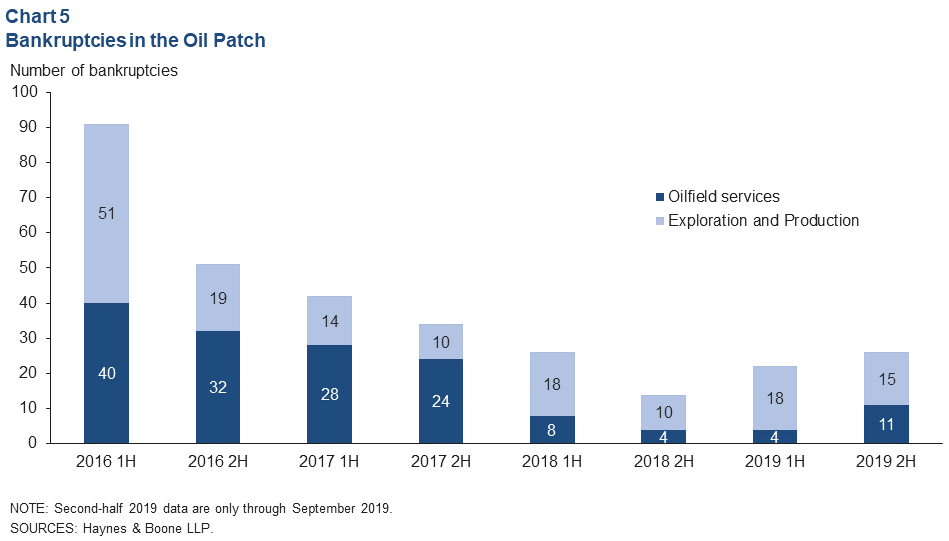 About Energy Indicators
Questions can be addressed to Jesse Thompson at jesse.thompson@dal.frb.org. Energy Indicators is released monthly and can be received by signing up for an email alert. For additional energy-related research, please visit the Dallas Fed's energy home page.
Energy Research
Economic Indicators