Energy Indicators

April 2017
The oil and gas sector continues to recover from its lows in early 2016. In March, prices for West Texas Intermediate (WTI) crude oil dipped from their recent highs, while natural gas prices rose slightly. Texas oil and gas employment expanded in February, primarily in support activities. Oil production in the Permian Basin continues to rise, and production in the Eagle Ford is starting to pick up. Drilled but uncompleted wells in the Permian have climbed to an all-time high. Rig counts in Texas have more than doubled since bottoming out the last week of May 2016, with counties in the Permian adding the most rigs.
Oil and Natural Gas Prices
The average WTI spot price decreased in March to $49.33 per barrel from $53.47 in February (Chart 1). WTI prices had been above $50 from January through early March following implementation of production cuts agreed upon by Organization of the Petroleum Exporting Countries (OPEC) members in November 2016. Prices dropped in the second week of March, likely driven by the continuing rise in U.S. crude oil inventories. In contrast, the average price of Henry Hub gas ticked up to $2.88 per million British thermal units (MMBtu) in March from $2.82 per MMBtu in February.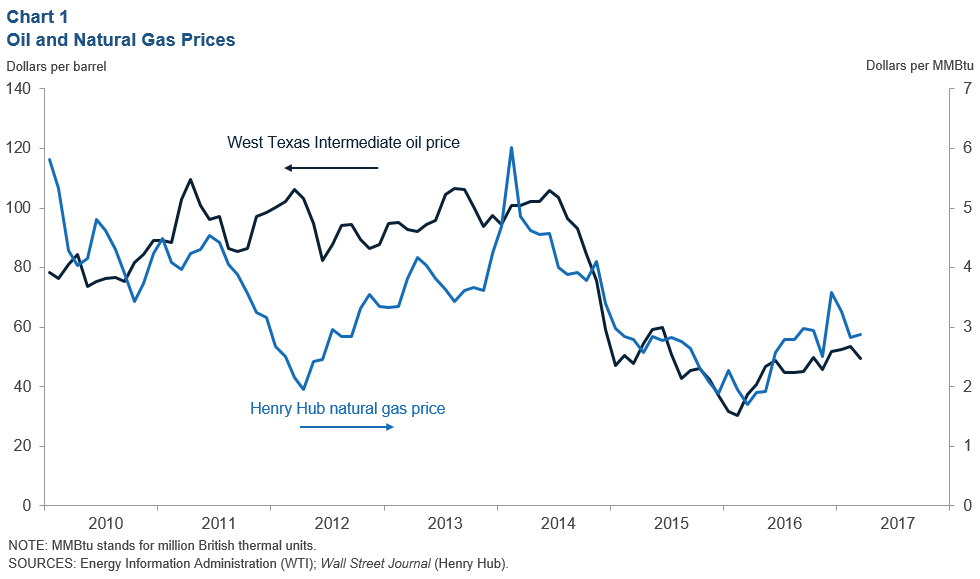 Texas Oil and Gas Employment
Texas oil and gas extraction employment increased slightly to 91,900 jobs in February, and payrolls in support activities for mining rose to 116,300 (Chart 2). Combined, total Texas oil and gas employment rose by 3,000 jobs to roughly 208,300. These values are marginally above the lows recorded in fall 2016.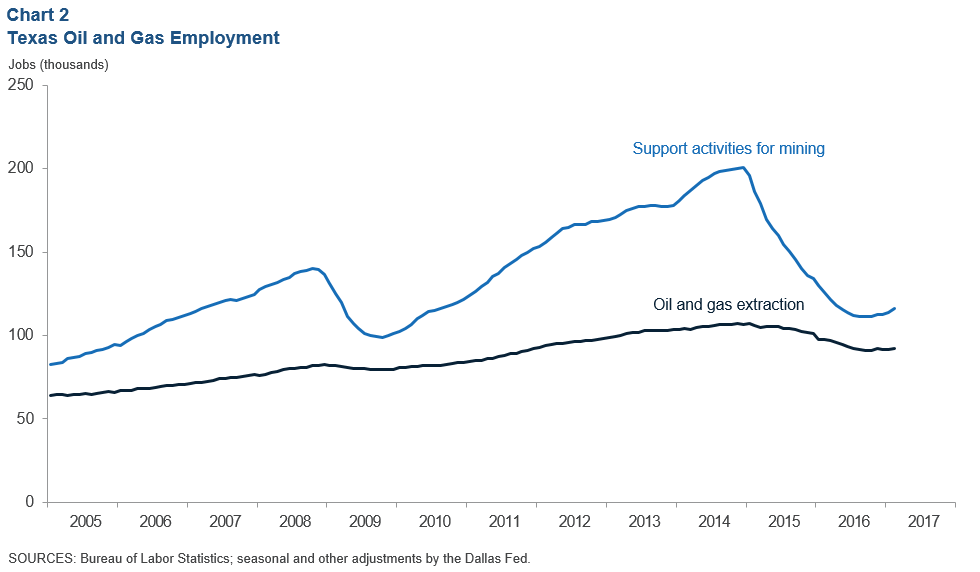 Eleventh District Oil Production
Permian Basin production increased in March by 57,700 barrels per day (b/d) to 2.21 million b/d, and Eagle Ford production rose by 13,200 b/d to 1.15 million b/d (Chart 3). Operating rigs numbered 310 in the Permian and 80 in the Eagle Ford as of March 2017. The recent pickup in rigs may positively impact production in both regions.
Permian Basin DUCs
Drilled but uncompleted wells (DUCs) in the Permian increased from 1,774 in February to 1,864 in March as the number of wells drilled exceeded the number completed by 90 (Chart 4). DUCs are at an all-time high in the region as far back as Energy Information Administration (EIA) data are available (December 2013). The firming of crude oil prices since the OPEC agreement has likely boosted confidence in the sector, which is reflected in the continuous increase in drilled wells in the Permian since the beginning of this year. The rising DUC count may imply that the basin can potentially respond with a large increase in production when market conditions are more favorable.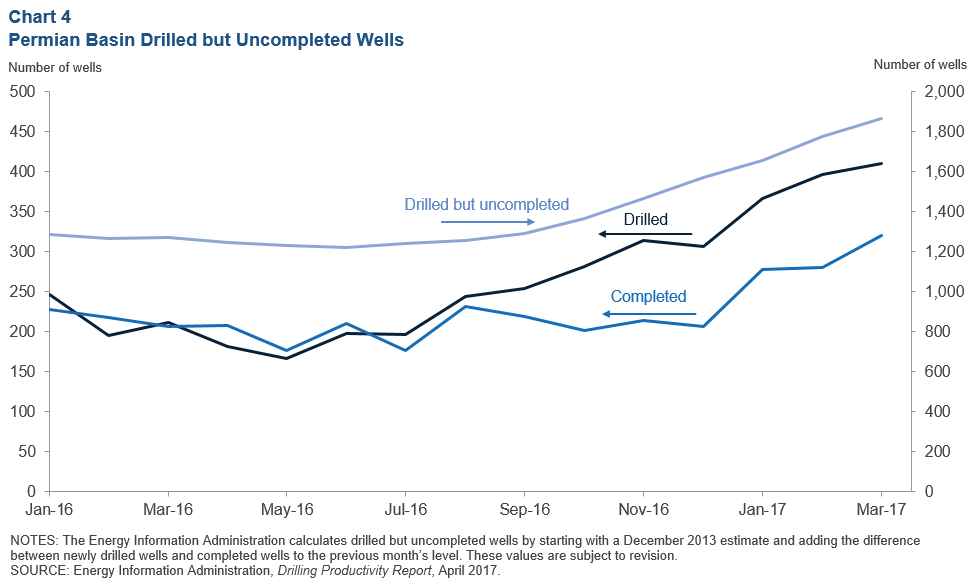 Business Activity
Business activity in the Eleventh Federal Reserve District's energy sector continued to rise in the first quarter, according to 153 oil and gas executives responding to the first quarter 2017 Dallas Fed Energy Survey. The business activity index—the survey's broadest measure of business conditions facing Eleventh District energy firms—was at 41.8, slightly higher than last quarter's 40.1 reading (Chart 5). Among respondents, 54.9 percent reported an increase, 32.0 percent no change and 13.1 percent a decrease. Business activity in the first quarter was particularly strong among oilfield services firms, with an index of 48.0.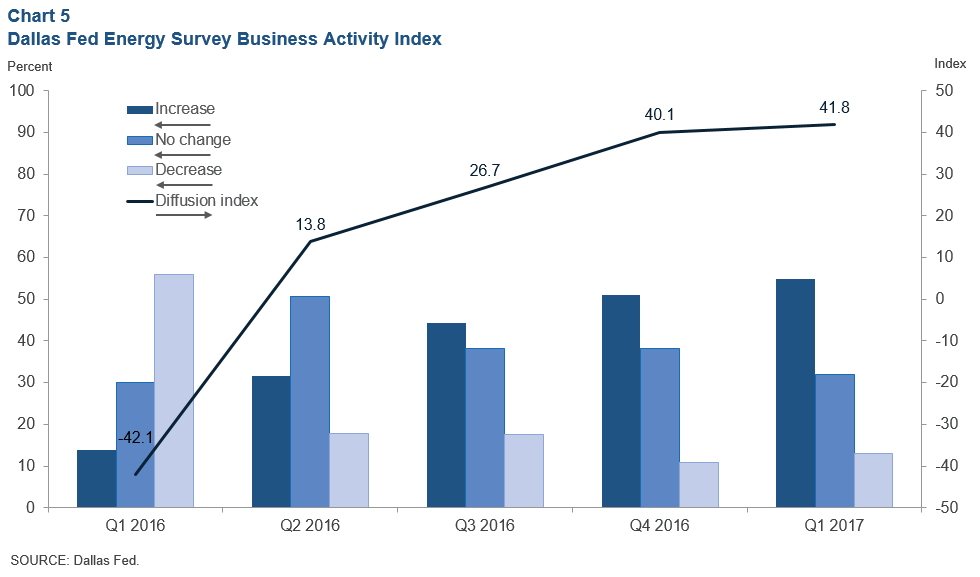 Texas Rig Count Change by County
There were 411 rigs operating in Texas as of the last week of March. Since the rig count hit bottom at 173 last May, it has been on an upward trajectory. Counties showing the largest increases over that time include Reeves (31 rigs), Martin (15) and Howard (14), all of which are in the Permian Basin (Chart 6).
About Energy Indicators
Questions can be addressed to Kunal Patel at kunal.patel@dal.frb.org. Energy Indicators is released every third Thursday of the month and can be received by signing up for an email alert. For additional energy-related research, please visit the Dallas Fed's energy home page.