Energy Indicators

May 2017
The oil and gas sector continued its recovery in April. Prices for West Texas Intermediate (WTI) crude oil slightly rebounded from the drop in March, and Henry Hub natural gas prices continued to rise. Texas oil and gas employment expanded further in March, with the expansion primarily in support activities. Oil production growth in Texas remained strong in April. Growth in the U.S. rig count continues to be concentrated in the Permian Basin. U.S. liquefied natural gas (LNG) exports have picked up and are significantly higher than last year, and they are expected to remain so throughout this year with the support from increased export capacity. Natural gas exports to Mexico continue to show strength.
Oil and Natural Gas Prices
The average WTI spot price increased in April to $51.06 per barrel from $49.33 in March (Chart 1). Production outages in Libya and Canada helped propel prices higher in early April. However, the continuing high level of U.S. crude oil and petroleum product inventories led to some pricing weakness toward the end of the month. All eyes are on the upcoming May 25 Organization of the Petroleum Exporting Countries (OPEC) meeting, where members will vote on whether to extend production cuts agreed upon in November 2016. The average price of Henry Hub gas rose further to $3.08 per million British thermal units (MMBtu) in April from $2.88 per MMBtu in March.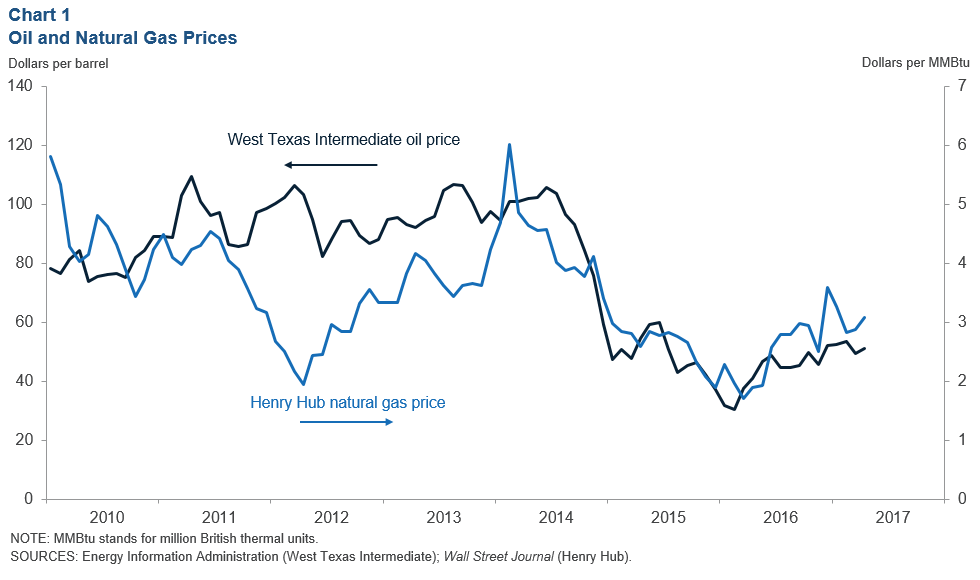 Texas Oil and Gas Employment
Total Texas oil and gas employment rose again in March by 3,500 jobs to roughly 211,700 jobs (Chart 2).  Texas oil and gas extraction employment increased slightly to 92,500 jobs, and payrolls in support activities for mining rose to 119,200. This is the third consecutive month of increases in total Texas oil and gas employment.
Eleventh District Oil Production
Permian Basin production increased in April by 61,200 barrels per day (b/d) to 2.36 million b/d, and Eagle Ford production rose by 26,000 b/d to 1.21 million b/d (Chart 3). For the Eagle Ford, this is the second monthly increase in production. Operating rigs numbered 337 in the Permian and 89 in the Eagle Ford as of April 2017.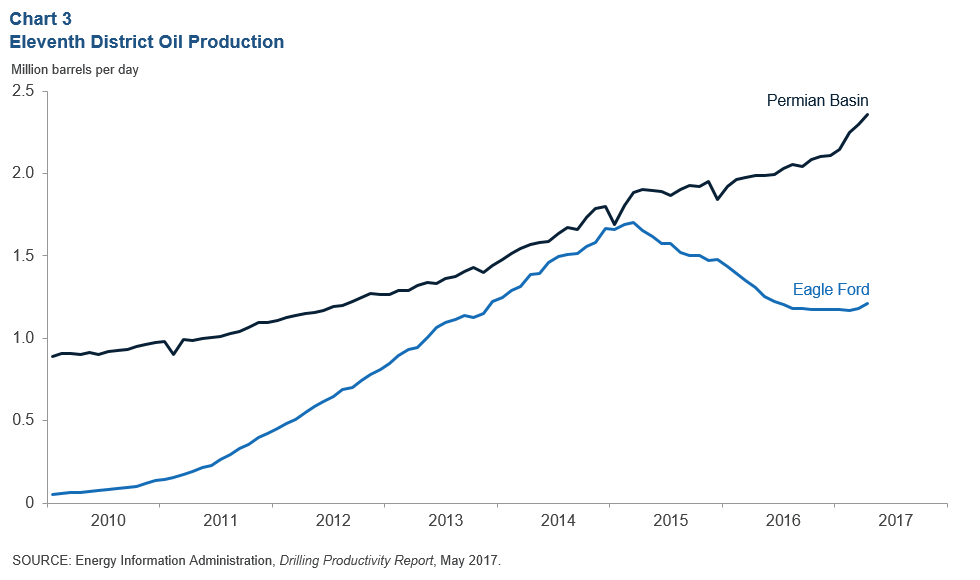 Permian Basin and Eagle Ford Rigs
Rig counts in the Permian Basin increased from 310 in March to 337 in April (Chart 4), while those for the entire U.S. rose from 789 to 853 over the same period. The rebound in drilling activity from the lows seen in May 2016 has been concentrated in the Permian, raising its share of total active rigs in the U.S. from 33.7 percent to 39.5 percent. Better economics and higher interest due to the region's favorable geology have likely contributed to the rise; many shale formations in the Permian are stacked, making it efficient to drill into different reservoirs from the same location. Rig counts in the Eagle Ford have also increased from 80 in March to 89 in April. The continuous increase in the rig count will likely impact production positively in both regions.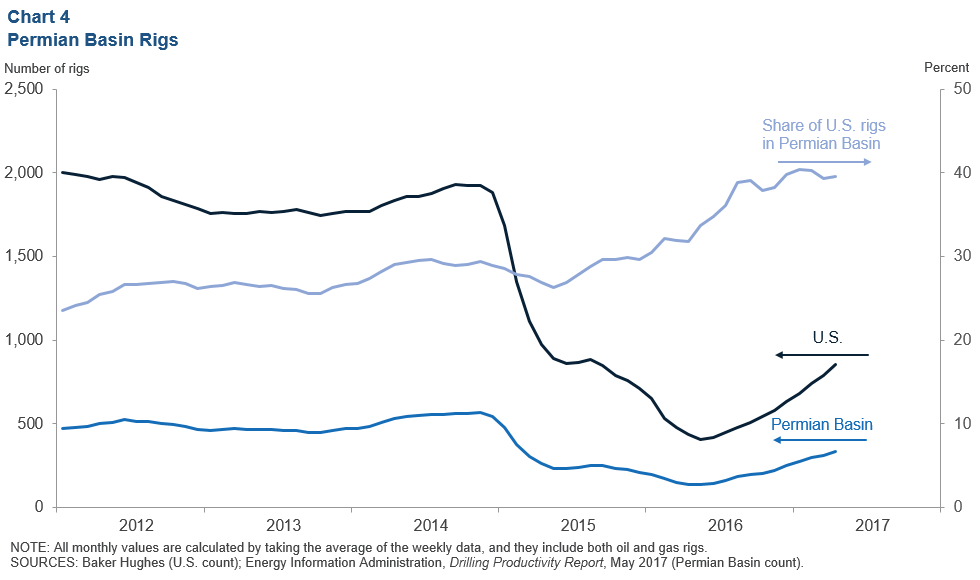 U.S. LNG Exports
U.S. LNG exports ticked up to 1.7 billion cubic feet per day (bcf/d) in April from 1.6 bcf/d in March, according to the Energy Information Administration's (EIA) May Short-Term Energy Outlook (Chart 5). The EIA projects U.S. LNG exports will average 1.9 bcf/d in 2017, indicating a significant jump from 2016 when the U.S. exported 0.5 bcf/d. LNG in the United States is primarily exported through Cheniere Energy's Sabine Pass export facility in Louisiana. Since coming online in 2016, the facility has greatly expanded to accommodate demand for exports. According to the EIA, the top three destinations for U.S. LNG exports in 2016 were Chile (29.4 billion cubic feet (bcf) or 16 percent of total), Mexico (27.5 bcf or 15 percent of total) and China (17.2 bcf or 9 percent of total).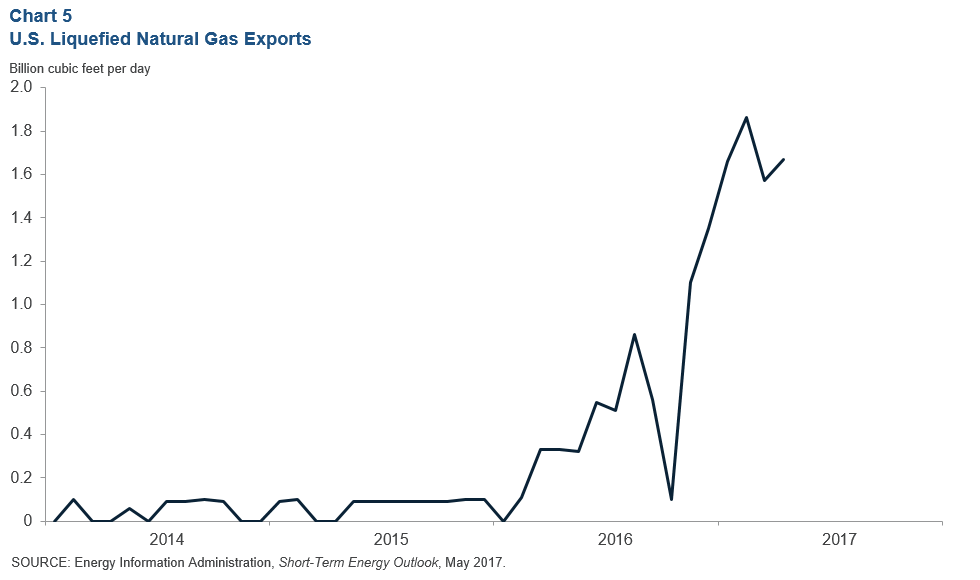 U.S. Natural Gas Exports to Mexico
U.S. total natural gas exports to Mexico increased to 4.0 bcf/d in February from 3.9 bcf/d in January (Chart 6). Mexico has been increasing gas imports from the U.S. in order to fuel its growing gas-fired power generation fleet and due to relatively cheap natural gas prices in the U.S. Almost 2 bcf/d of exports flow through Rio Grande City, Texas, accounting for 49 percent of total natural gas exports to Mexico for February 2017, according to the EIA.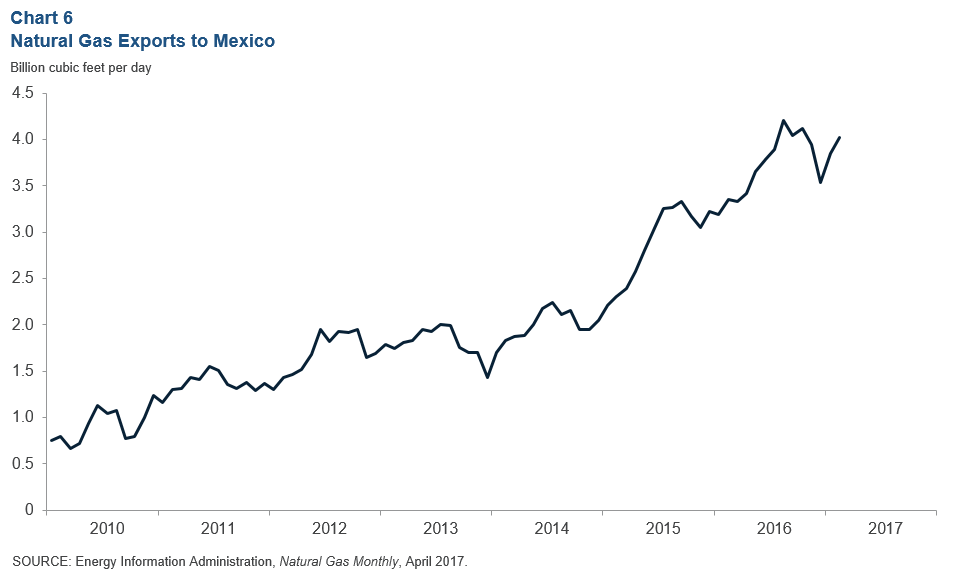 About Energy Indicators
Questions can be addressed to Kunal Patel at kunal.patel@dal.frb.org. Energy Indicators is released every third Thursday of the month and can be received by signing up for an email alert. For additional energy-related research, please visit the Dallas Fed's energy home page.