Energy Indicators

July 2017
Prices for West Texas Intermediate (WTI) crude oil declined further in June, and Henry Hub natural gas prices also fell after a recent run-up. However, most indicators for the oil and gas sector continued to increase. Texas oil and gas employment continued to rise in May. Oil production growth in Texas remained strong in June, particularly in the Permian Basin. Since bottoming out in May 2016, the oil rig count has continued to rise, with most of that growth coming in the Permian Basin. Estimated U.S. refinery utilization in June was at its highest level since July 2015. The second-quarter Dallas Fed Energy Survey also shows activity continued to expand but at a slightly slower pace than in the first quarter.
Oil and Natural Gas Prices
The average WTI spot price decreased further in June to $45.18 per barrel from $48.48 in May (Chart 1). Prices declined as the Energy Information Administration (EIA) reported significant increases in total U.S. inventories of crude oil and petroleum products for the weeks ending June 2 and June 9. Market sources also noted production increases in Libya and Nigeria. However, total U.S. inventory levels started to stabilize and decline toward the end of the month, offsetting some of the earlier price drop.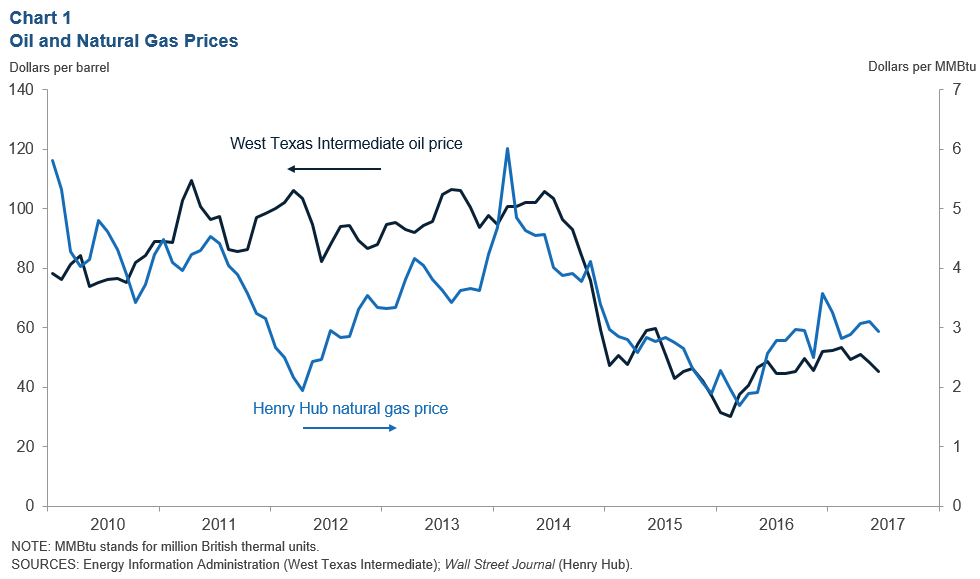 Henry Hub natural gas prices were $2.94 per million British thermal units in June, down from $3.10 in May. Working gas in underground storage in the lower 48 states was 6.9 percent above the five-year average at 2,888 billion cubic feet for the week ending June 30. June weather was also milder relative to last year.
Texas Oil and Gas Employment
Texas oil and gas employment expanded in May by 3,300 jobs to roughly 217,700, driven by gains in support activities for mining (Chart 2). This marks the sixth consecutive monthly increase in Texas energy sector employment.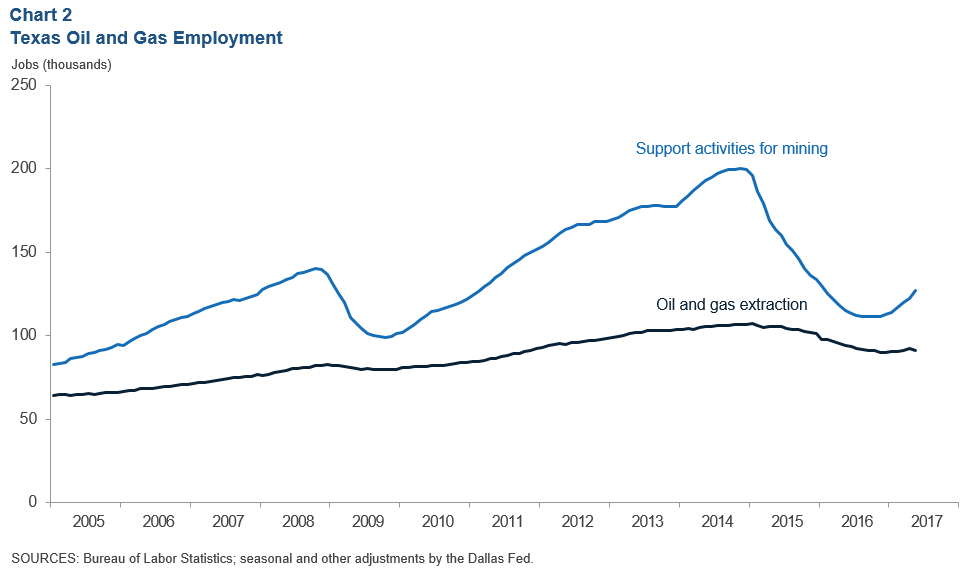 Eleventh District Oil Production
Permian Basin production rose in June by 63,000 barrels per day (b/d) to 2.40 million, and Eagle Ford production was up by 36,100 b/d to 1.32 million (Chart 3). For the Eagle Ford, this was the seventh consecutive monthly increase since production bottomed out in November 2016.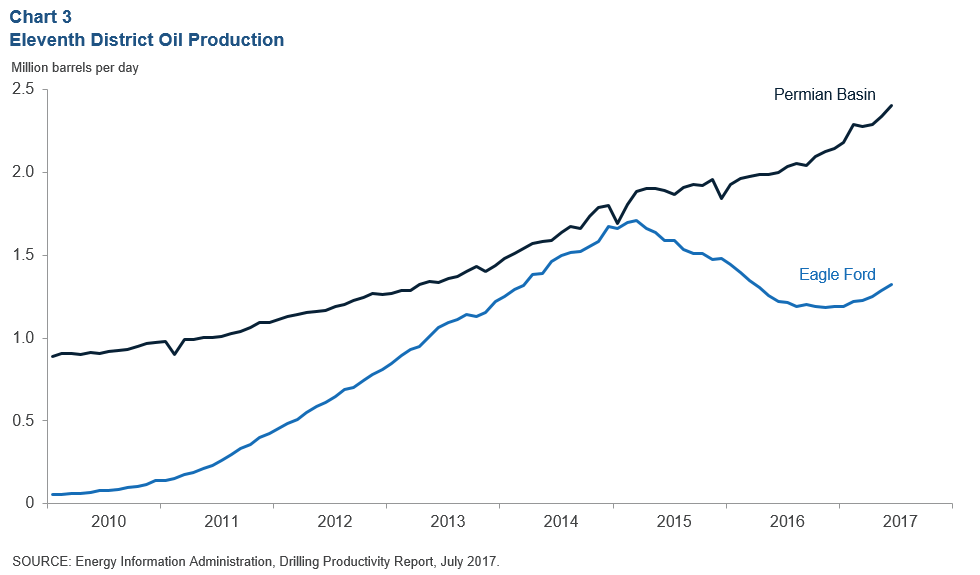 Operating rigs numbered 370 in the Permian Basin and 84 in the Eagle Ford at the end of June. Drilled but uncompleted wells (DUCs) in the Permian rose in June to 2,244, an all-time high in the region as far back as EIA data are available (December 2013). DUCs in the Eagle Ford rose to 1,406. DUCs across key domestic production regions now exceed 6,000, out of which the Permian and the Eagle Ford make up roughly 60 percent.
Rig Count Change by County
According to the Dallas Fed's second-quarter Energy Update, of the 145 U.S. counties that saw a change in drilling activity between the end of May 2016 and the end of June 2017, 14 counties (in dark blue) accounted for nearly 52 percent of the rise in the U.S. oil-directed rig count (Chart 4). Counties showing the largest increases over that time include Reeves (47 rigs), Lea (22) and Martin (20), all of which are in the Permian Basin. In line with the rising rig count, the EIA has revised its year-end 2017 U.S. crude production projection in its Short-Term Energy Outlook from 9.2 million b/d (January 2017) to 9.8 million (July 2017).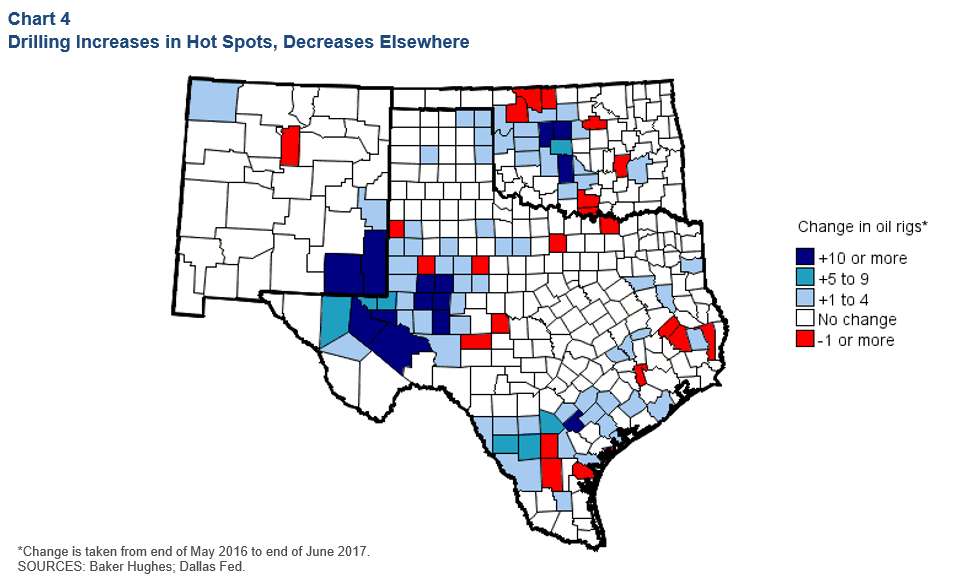 U.S. Refinery Utilization
U.S. refinery utilization increased from 93.4 percent in May to 93.7 percent in June, its highest level since July 2015 (Chart 5). The increase follows heavy maintenance in February, which kept refinery utilization rates low and, coupled with rising production, boosted crude inventories to record levels in March. The current higher utilization levels have helped U.S. crude inventories decline from 512.7 million barrels in May to an estimated 502.9 million barrels in June.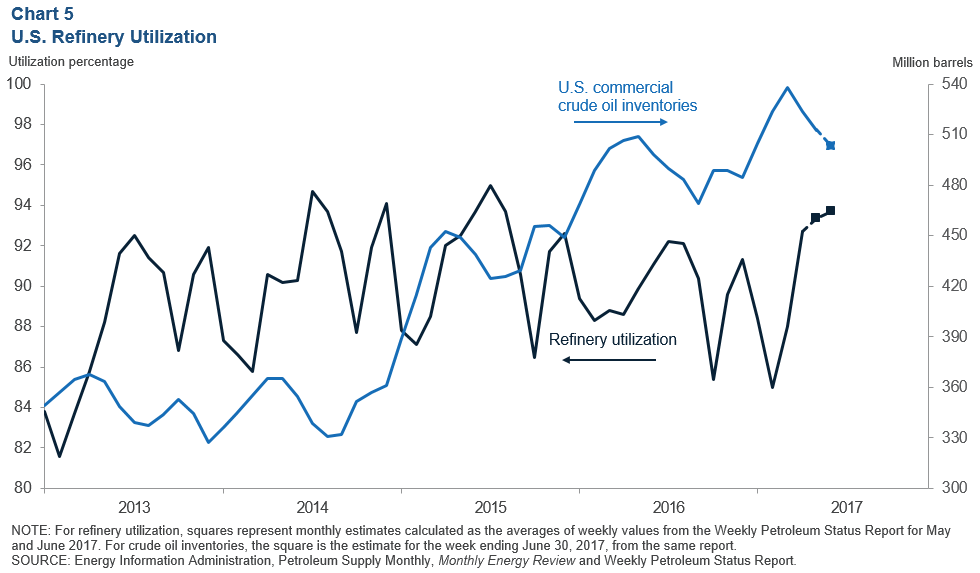 Business Activity
Activity in the Eleventh Federal Reserve District's energy sector continued to rise in second quarter 2017, according to the Dallas Fed Energy Survey. The business activity index—the survey's broadest measure of business conditions—remained robust at 37.3, slightly below the 41.8 and 40.1 readings the previous two quarters but substantially higher than the third quarter 2016 level (Chart 6). This signifies a continued, but slower, expansion in the sector. Business activity in the second quarter was particularly strong among oilfield services firms.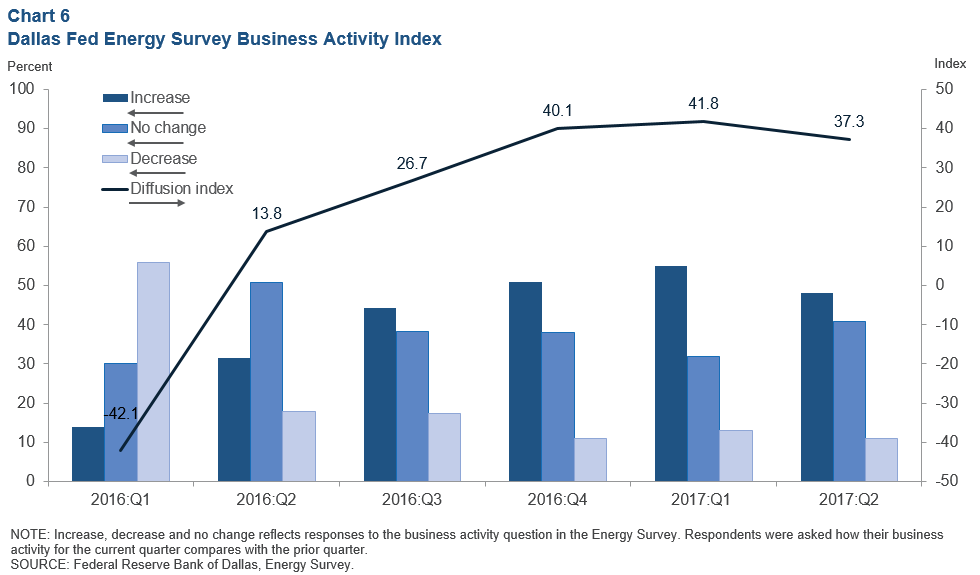 About Energy Indicators
Questions can be addressed to Kunal Patel at kunal.patel@dal.frb.org. Energy Indicators is released every third Thursday of the month and can be received by signing up for an email alert. For additional energy-related research, please visit the Dallas Fed's energy home page.