Energy Indicators

August 2017
Prices for West Texas Intermediate (WTI) crude oil rose slightly in July, while Henry Hub natural gas prices changed little. Texas oil and gas employment continued to rise in June. Oil production growth in both the Permian Basin and the Eagle Ford remained strong in July. U.S. crude imports from Saudi Arabia have fallen recently, but increased imports from Iraq have partially counterbalanced the decline. Drilled but uncompleted wells (DUCs) in the Permian have climbed to an all-time high. Gas rig counts have been rising, particularly in the Haynesville Shale.
Oil and Natural Gas Prices
The average WTI spot price increased to $46.63 per barrel in July from $45.18 in June (Chart 1). Prices found support as the Energy Information Administration (EIA) reported declines in U.S. inventories of crude oil throughout July. Additionally, the Baker Hughes oil-directed rig count was largely unchanged toward the end of the month, lowering concerns that U.S. drilling would continue to rise.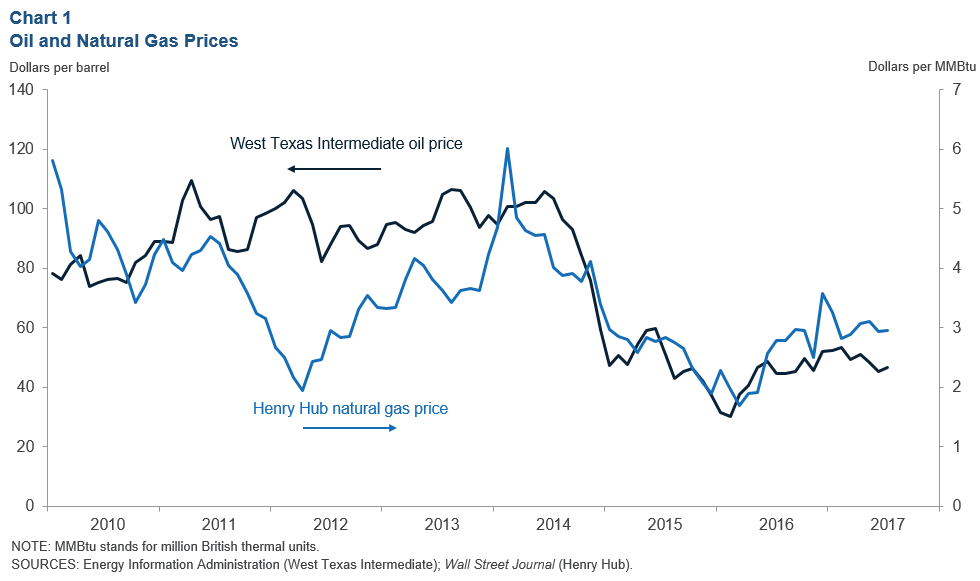 Henry Hub natural gas prices were $2.96 per million British thermal unit in July, compared with $2.94 in June. The level of working natural gas in underground storage was at 2,999 billion cubic feet in the lower 48 states for the week ending July 28—2.6 percent above its five-year average. This coupled with expectations for cooler weather in August has likely weighed on prices.
Texas Oil and Gas Employment
Texas oil and gas employment expanded in June by 4,300 jobs to roughly 223,300, driven by gains in support activities for mining (Chart 2). This marks the seventh consecutive monthly increase in total Texas energy sector employment. Support activities for mining added 4,400 jobs, while payrolls in oil and gas extraction fell by 200 jobs.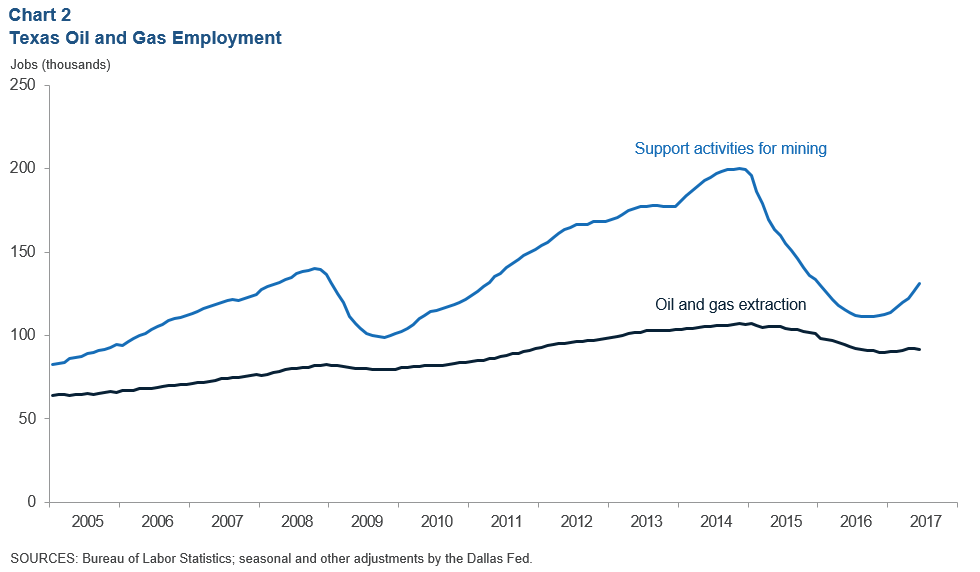 Eleventh District Oil Production
Permian Basin production rose in July by 68,100 barrels per day (b/d) to 2.47 million, and Eagle Ford production was up by 41,400 b/d to 1.35 million (Chart 3). Recent expansion in the capacity of the BridgeTex Pipeline, from 300,000 b/d to 400,000 in second quarter 2017, will likely help support growth in the Permian. Eagle Ford production has been on an upward trend since it bottomed out in November 2016. Operating rigs numbered 379 in the Permian Basin and 76 in the Eagle Ford at the end of July.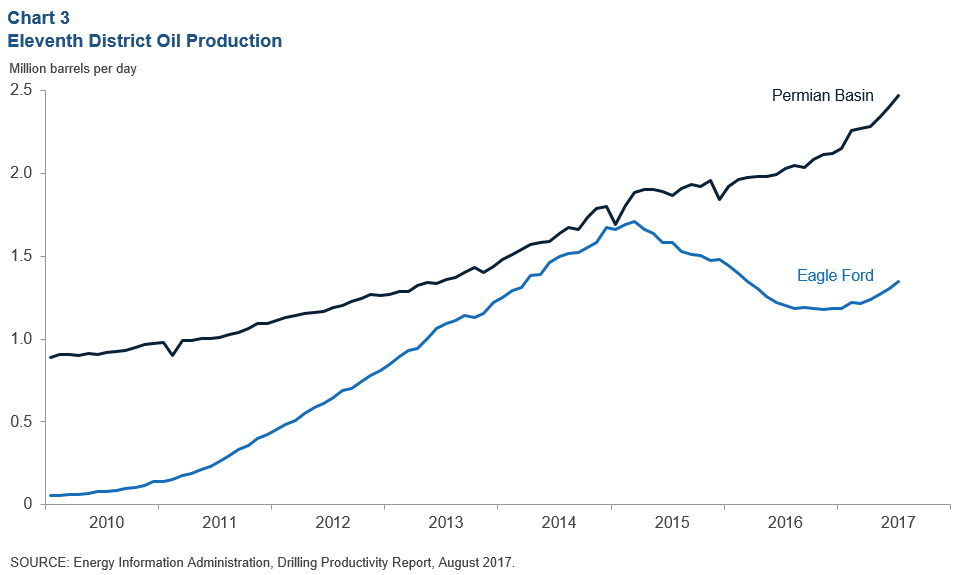 U.S. Crude Imports
U.S. crude imports from Saudi Arabia decreased from 876,000 b/d in June to 870,000 in July, the lowest level since September 2015 (Chart 4). Meanwhile, U.S. crude imports from Iraq increased from 702,000 b/d in June to 710,000 in July. Imports from Saudi Arabia averaged 1,097,000 b/d in 2016, whereas imports from Iraq averaged 417,000 b/d. A rise in crude imports from Iraq since the beginning of 2017 has partially offset a drop in imports from Saudi Arabia over the same period, hampering the U.S. inventory draw.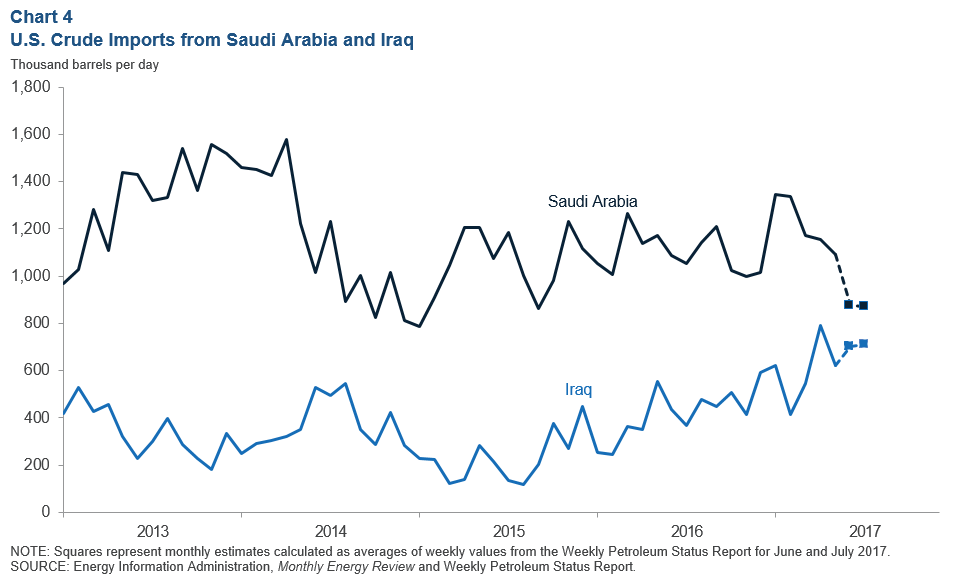 Permian Basin DUCs
DUCs in the Permian increased from 2,195 in June to 2,330 in July as the number of wells drilled at 485 exceeded that of wells completed at 350 (Chart 5). While DUCs are at an all-time high in the region as far back as EIA data are available (December 2013), the number of monthly completions is also increasing. The DUC-to-completion ratio (the total number of DUCs divided by the number of wells completed in a specific month) was 6.7 in July—matching the average for 2017. The ratio signifies the number of months it would take for the inventory to be depleted, assuming no new wells are drilled.
Haynesville Gas Rigs
In the Haynesville in East Texas and parts of northern Louisiana, gas-directed rig counts rose from 40 in June to 42 in July (Chart 6), while the number for the U.S. went up from 184 to 189 over the same period. Since May 2016, Haynesville's share of U.S. gas-directed rigs has been trending upward, rising from 16 percent to 22 percent. Better economics in specific "sweet spots" in the region and its geographic proximity to current and future liquefied natural gas export terminals and to the Henry Hub distribution hub have likely contributed to the rise. Henry Hub gas generally trades at a premium compared with gas from locations in the Marcellus and Utica basins in Pennsylvania and Ohio, allowing producers to get a higher price.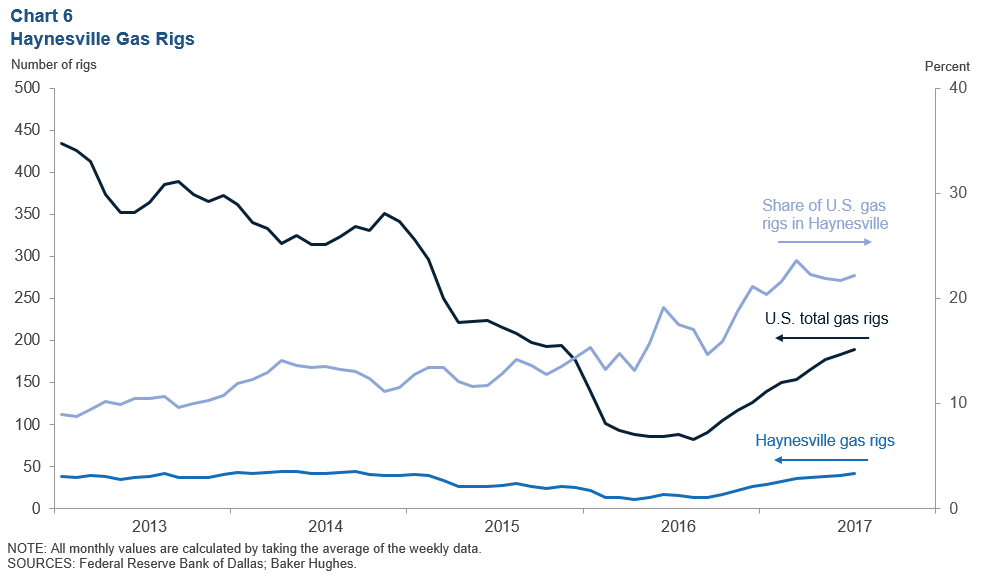 About Energy Indicators
Questions can be addressed to Kunal Patel at kunal.patel@dal.frb.org. Energy Indicators is released every third Thursday of the month and can be received by signing up for an email alert. For additional energy-related research, please visit the Dallas Fed's energy home page.