Austin Economic Indicators

October 5, 2017
The Austin economy expanded at a moderate pace in August. Growth in the Austin Business-Cycle Index continued to fall below its long-term trend as jobs declined in August, although the area unemployment rate remained flat at a low level. Data on real output growth show that Austin was the fastest-growing Texas metro in 2016.
Business-Cycle Index
The Austin Business-Cycle Index expanded at a 4.0 percent annualized pace in August, slowing slightly from 4.1 percent in July (Chart 1). This is below its long-term pace of growth and overall year-to-date growth. Weak job gains have dragged on the index.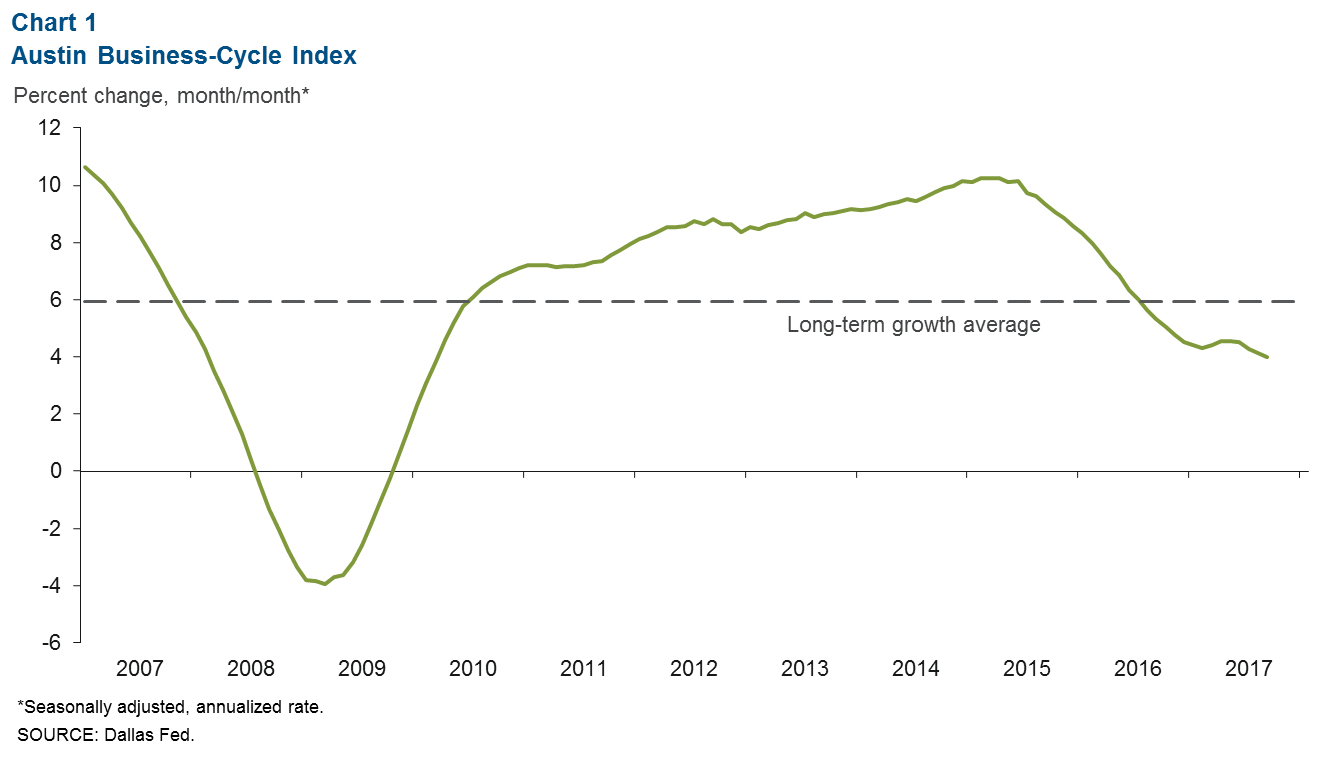 Labor Market
Unemployment Rate Holds Steady
The Austin unemployment rate remained at 3.0 percent in August (Chart 2). This is significantly below the state and national rates of 4.2 and 4.4 percent, respectively, putting the area behind only Amarillo and Midland for Texas metros with the lowest unemployment rate. The local labor force has grown at a 1.8 percent annualized rate year to date, below its long-term average but much faster than the state's 0.1 percent growth.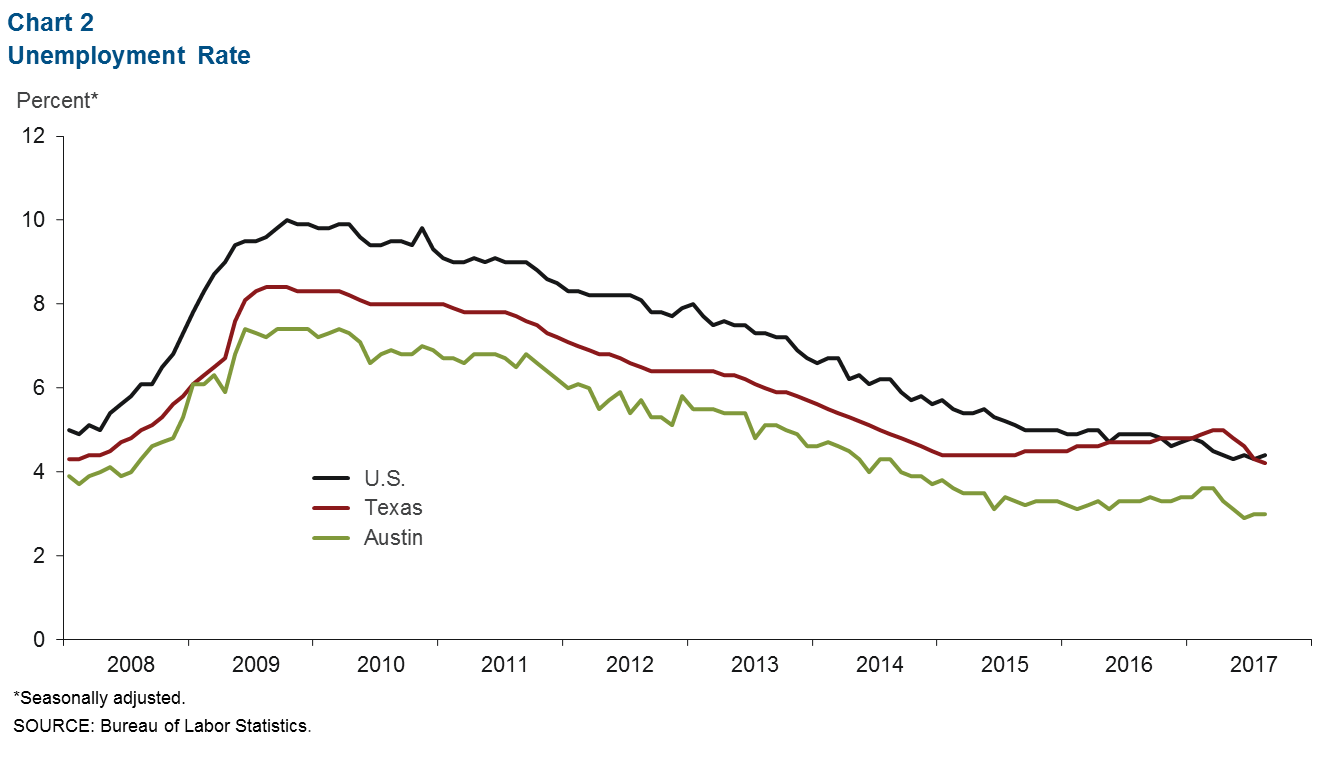 Job Growth Flat
Jobs in Austin were flat over the three months through August (Chart 3). Private-sector declines were concentrated in professional and business services—which saw a steep decline in scientific and technical services. The smaller job categories of financial activities and information services also declined. Public-sector jobs also fell, particularly state government, which declined at an annualized rate of nearly 20 percent. Construction led overall job growth, while manufacturing continued to accelerate despite weakness in computer and electronics production employment. Wholesale trade grew sharply, bolstering jobs in trade, transportation and utilities, and leisure and hospitality added 2,600 jobs, more than any other sector.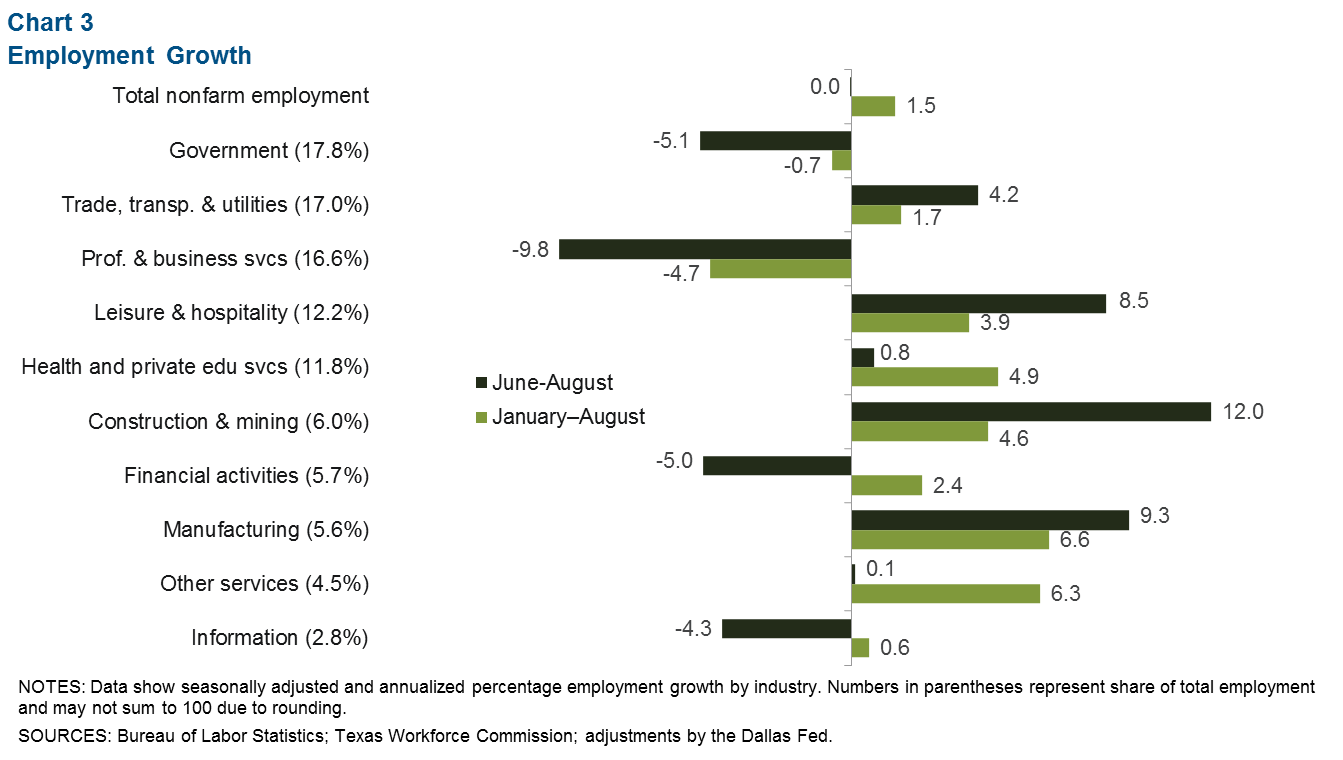 Hourly Earnings
Private-sector hourly wages in Austin continued to rise in August, with the three-month moving average increasing to $28.34 (Chart 4). While well above the state average, the year-over-year change in Austin is just slightly above Texas' 3.5 percent rate. Both continue to grow faster than the U.S. average of 2.5 percent.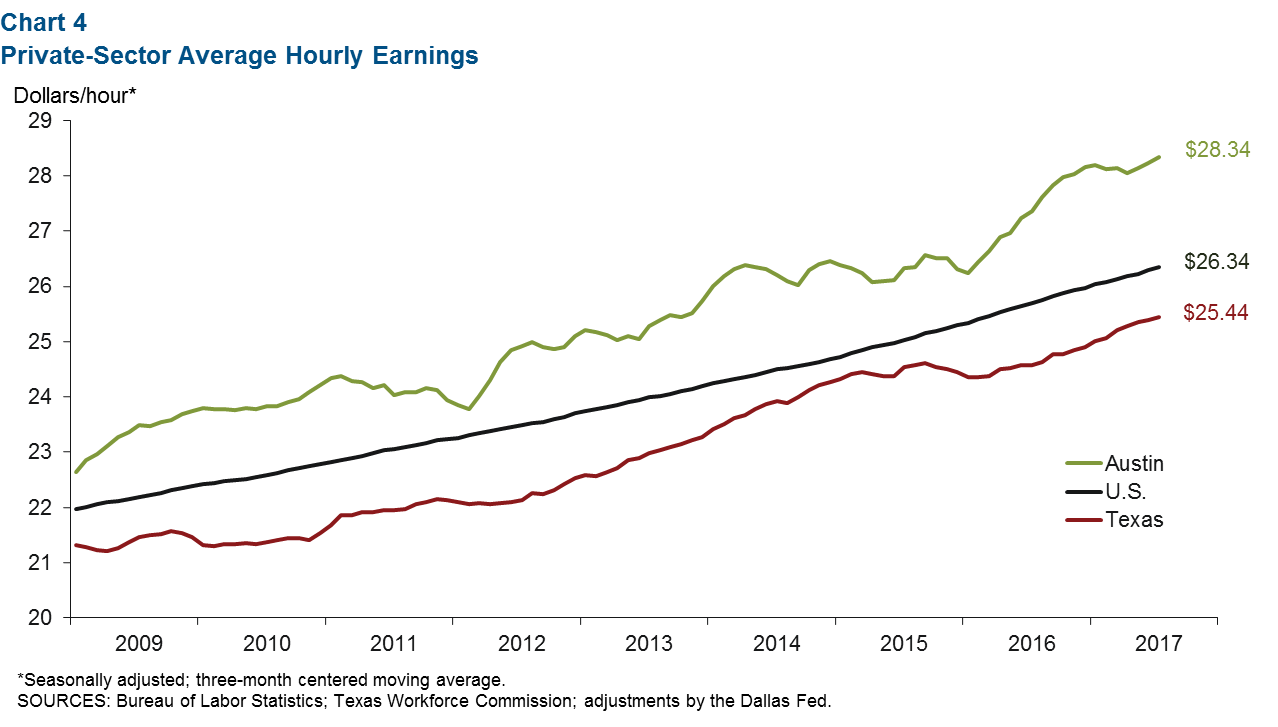 Real Estate
Permits for new-home construction in Austin dipped but remained elevated in August and year-to-date were over 21 percent higher than a year ago (Chart 5). This compares with a 9.1 percent rise in state permits over the same time. Inventories continued to be low at 2.7 months' supply, indicating that the tightness in residential home supplies has continued.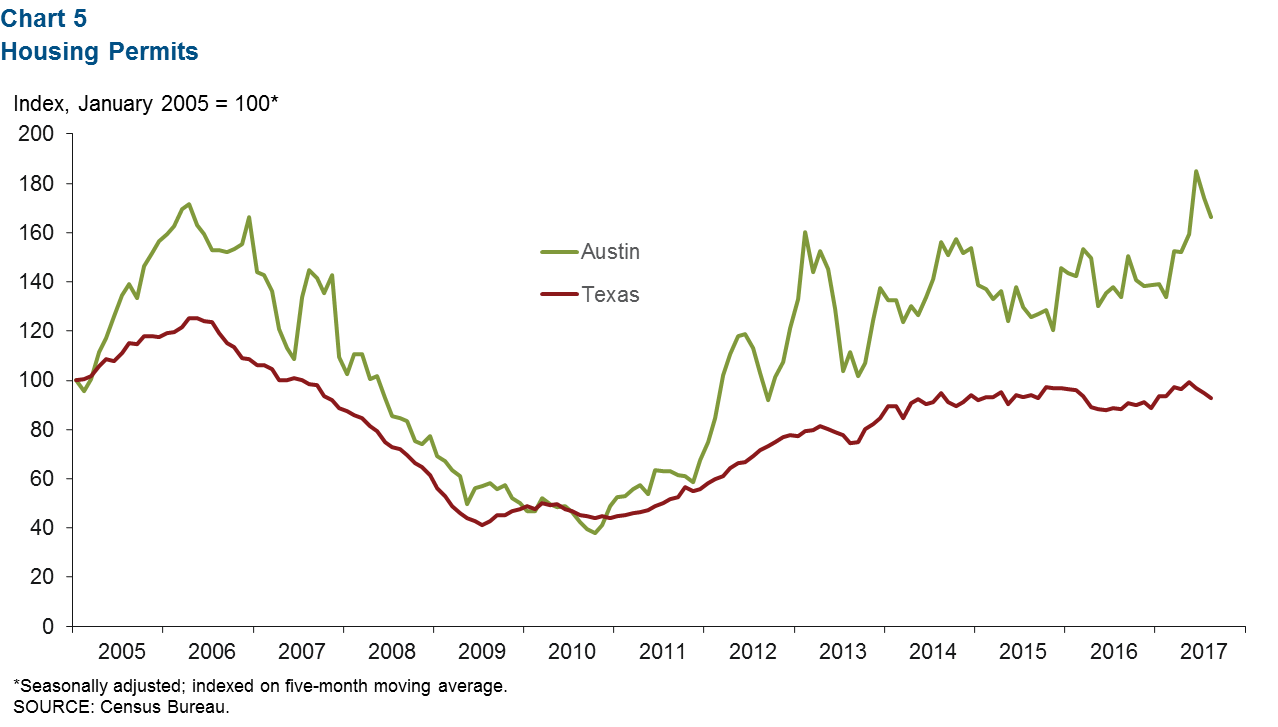 Gross Domestic Product
Austin inflation-adjusted gross domestic product (GDP) grew 4.9 percent in 2016, slightly above the average rate of 4.8 percent since 2001 but the weakest rate of growth in this decade (Chart 6). Most sectors saw output growth, with the expansion driven by construction, wholesale trade, real estate, and professional and business services, all of which grew by about 9 percent. Manufacturing was the largest major sector to see a decline, falling by a slight 0.1 percent. Austin had the second-highest rate of GDP growth among all the large metro areas in the country, behind San Francisco.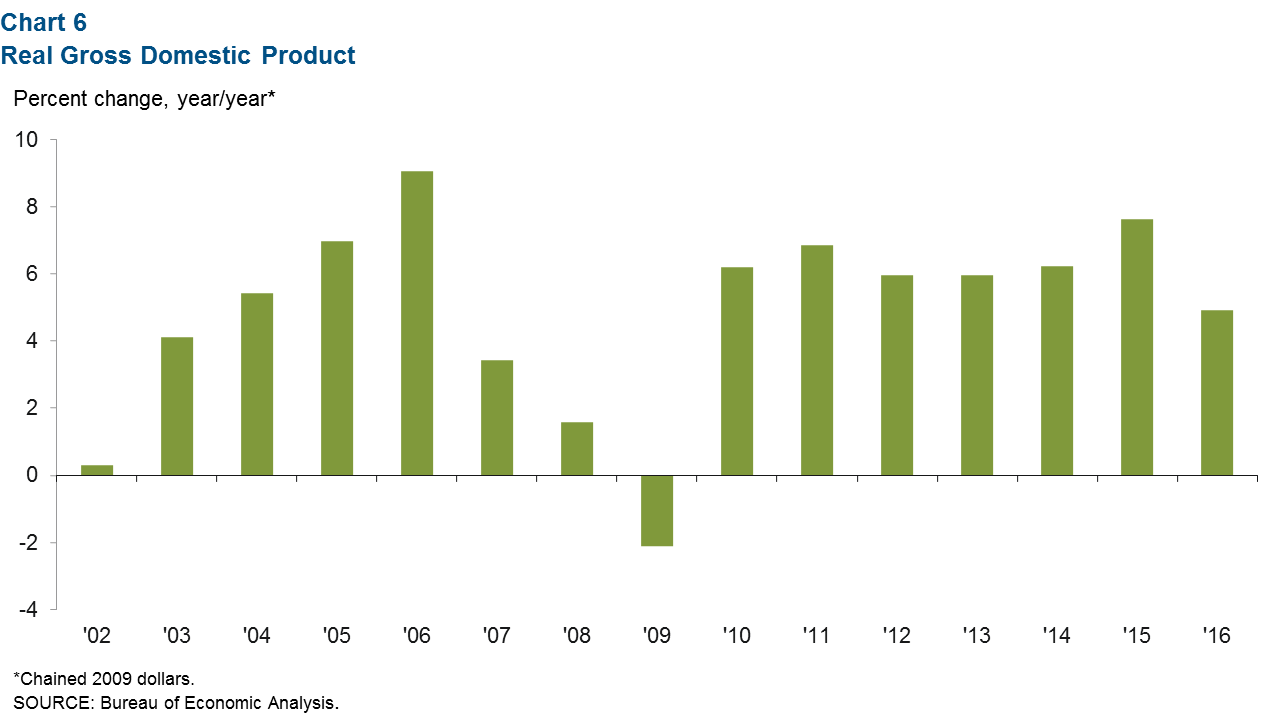 NOTE: Data may not match previously published numbers due to revisions.
About Austin Economic Indicators
Questions can be addressed to Christopher Slijk at christopher.slijk@dal.frb.org. Austin Economic Indicators is released on the first Thursday of every month.