Austin Economic Indicators

November 2, 2017
The Austin economy expanded at a robust pace in September. The Austin Business-Cycle Index grew above its long-term trend, buoyed by strong job growth and a further decline in the area unemployment rate. Trade data for 2016 show that Austin exports continued to rise even as they declined for the state overall.
Business-Cycle Index
Metro Business-Cycle Index Grows Above Trend
The Austin Business-Cycle Index grew at a 7.0 percent annualized pace in September (Chart 1). This is above its long-term pace of growth and the fastest the index has expanded since early 2016. Recent strong employment growth and continuing declines in the unemployment rate have propelled the index.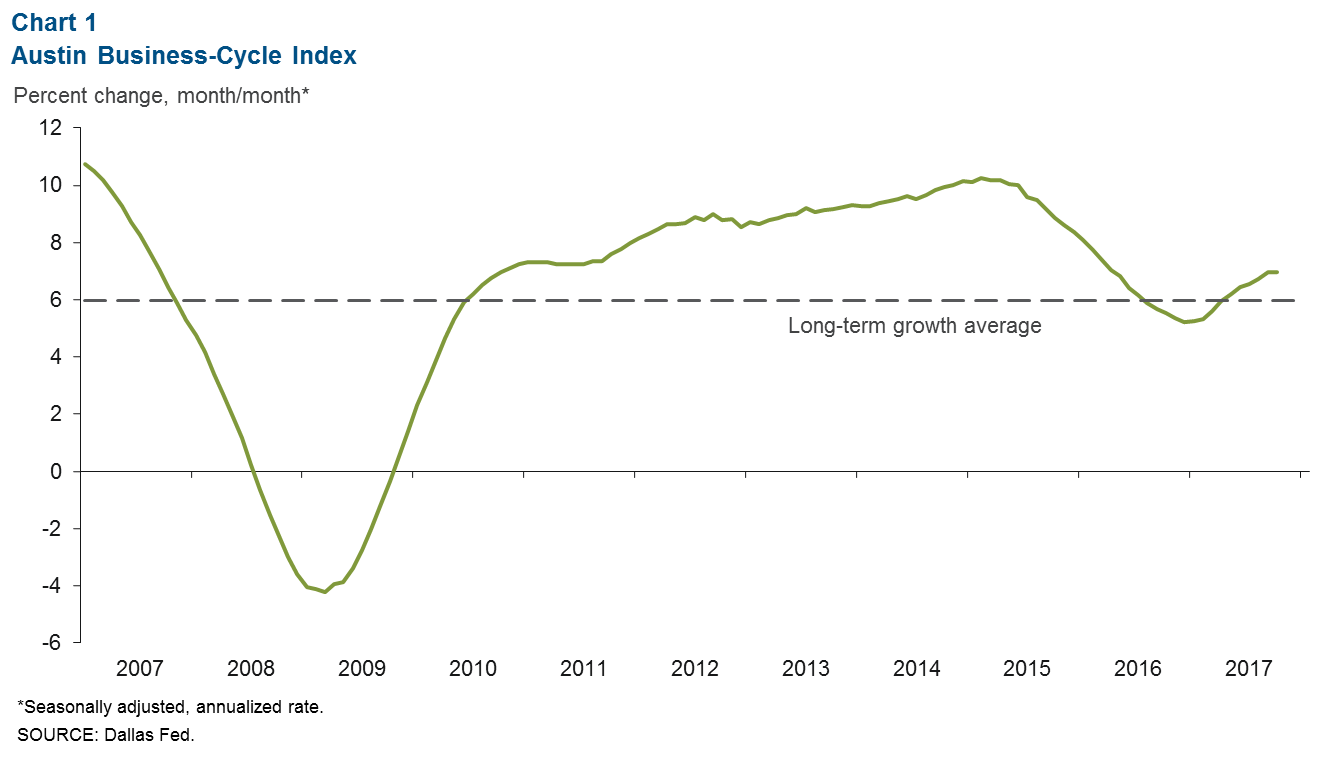 Business-Cycle Index Components Strong
Austin economic indicators suggest strong growth in September (Table 1). Employment accelerated to a 10 percent annualized rate, avoiding the negative impacts of the recent hurricanes that pushed state and national job growth slightly negative. The local unemployment rate fell to 2.7 percent, well below the state and national averages and near the low rates last seen in the 1990s. First-quarter retail sales data show a year-over-year decline in Austin; however, total real wages paid increased sharply, especially compared with the weak growth in Texas and the U.S.
Table 1: Business-Cycle Index Components
Austin
(percent)

Texas
(percent)

U.S.
(percent)

Annualized job growth (Sept.)

10.0

–0.4

–0.3

Unemployment rate (Sept.)

2.7

4.0

4.2

Year-over-year change in real retail sales (2017:Q1)*

–2.0

0.7

2.4

Year-over-year change in real wages paid (2017:Q1)*

9.2

–0.1

0.8

*Most recent data available for Austin.

SOURCES: Bureau of Labor Statistics; Bureau of Economic Analysis; Texas Comptroller of Public Accounts; adjustments by the Dallas Fed.


Labor Market
Jobs in Austin grew at a 3.0 percent annualized rate over the third quarter (Chart 2). With the notable exception of professional and business services, which fell primarily due to declines in administrative services, growth was broad based across most major industries. Construction and mining led overall growth, adding 1,600 jobs over this time, followed by financial activities and health care, which added a combined 3,900 jobs. A surge in transportation and wholesale trade employment propelled growth in trade, transportation and utilities, while manufacturing, government, and leisure and hospitality also grew over this time.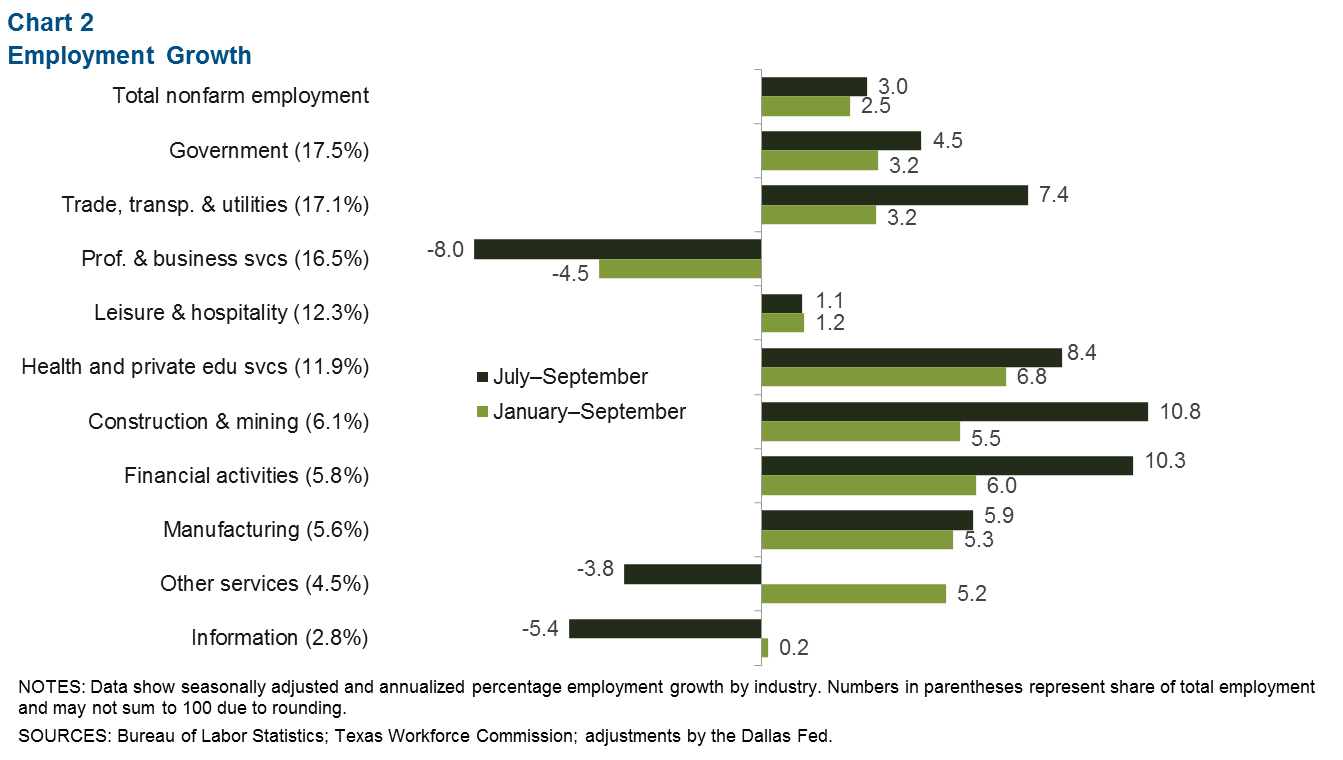 Hourly Earnings
Private-sector hourly wages in Austin rose in September, with the three-month moving average increasing to $28.48 (Chart 3). This is well above the state and national averages; however, Austin's year-over-year growth of 3.2 percent is below the 3.8 percent rate for Texas. Some of this slower growth may be due to the weakness in high-paying scientific and technical services jobs in Austin, which have flattened out year to date.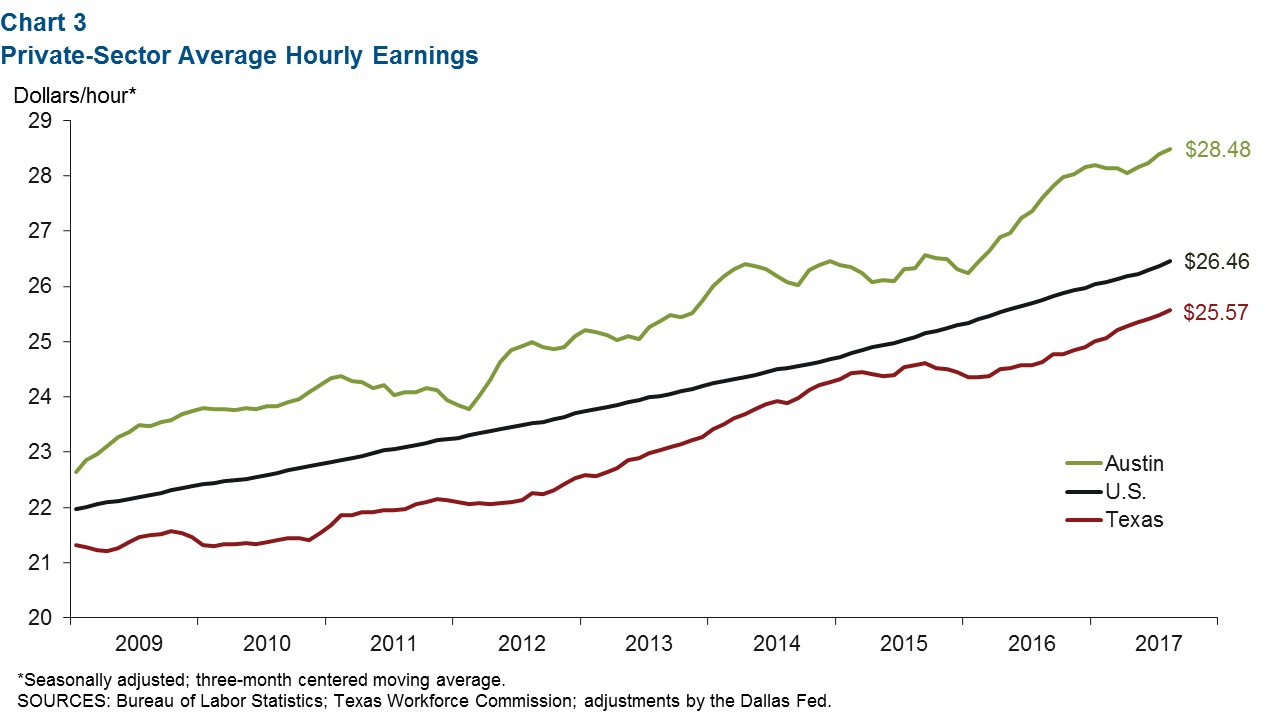 Real Estate
The median home price in Austin rose to an all-time high of $298,554 in September, compared with the state's $225,085 (Chart 4). Home inventories held steady at a low 2.7 months' supply, well below the six months' supply considered to be a balanced market. Existing-home sales dipped slightly in September but year to date were up 4 percent compared with 2016—close to the 4.1 percent growth for Texas.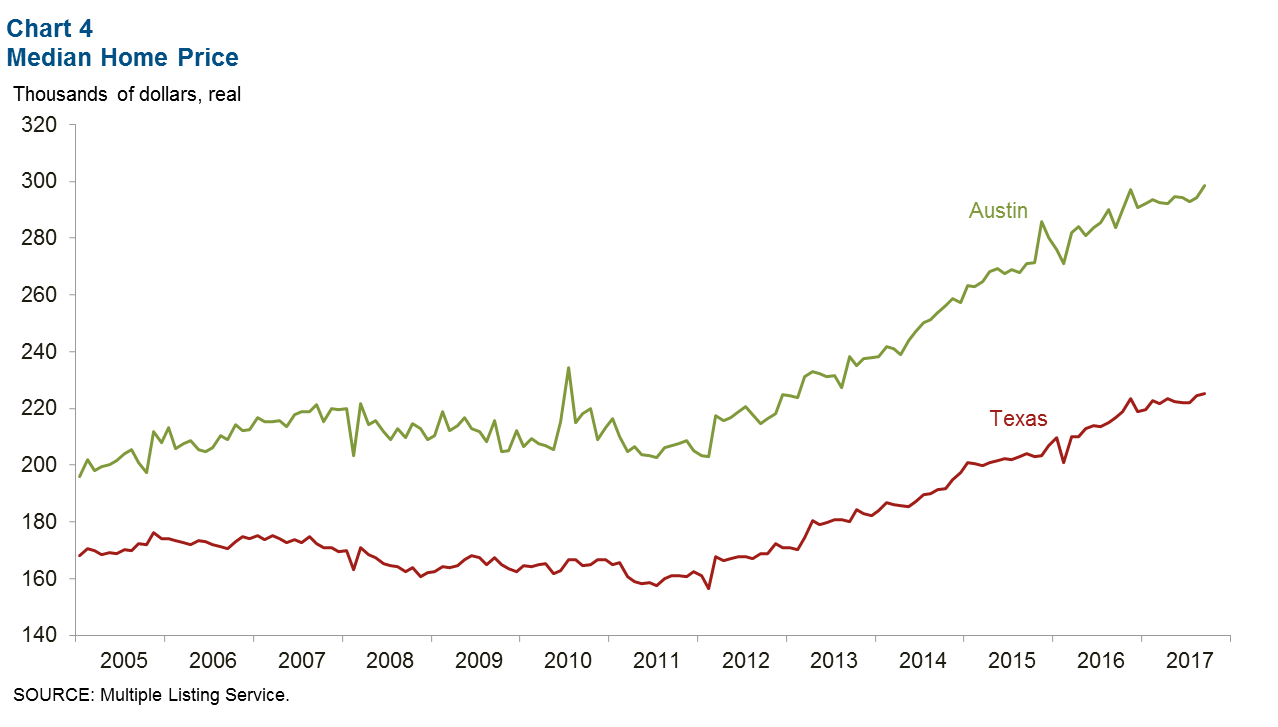 Exports
International exports from Austin continued to grow in 2016, rising 9.4 percent to $10.7 billion dollars, despite the decline for the state overall (Chart 5). Growth was driven by exports to Asia, and trade with Taiwan and South Korea made up more than half of total exports. Much of this is manufacturing related to computer and electronics, although other goods such as transportation manufacturing have grown rapidly over the past several years. Although 2017 trade data are not available for Austin, state data through August suggest that exports have grown nearly 10 percent year to date, bolstering manufacturing employment so far this year.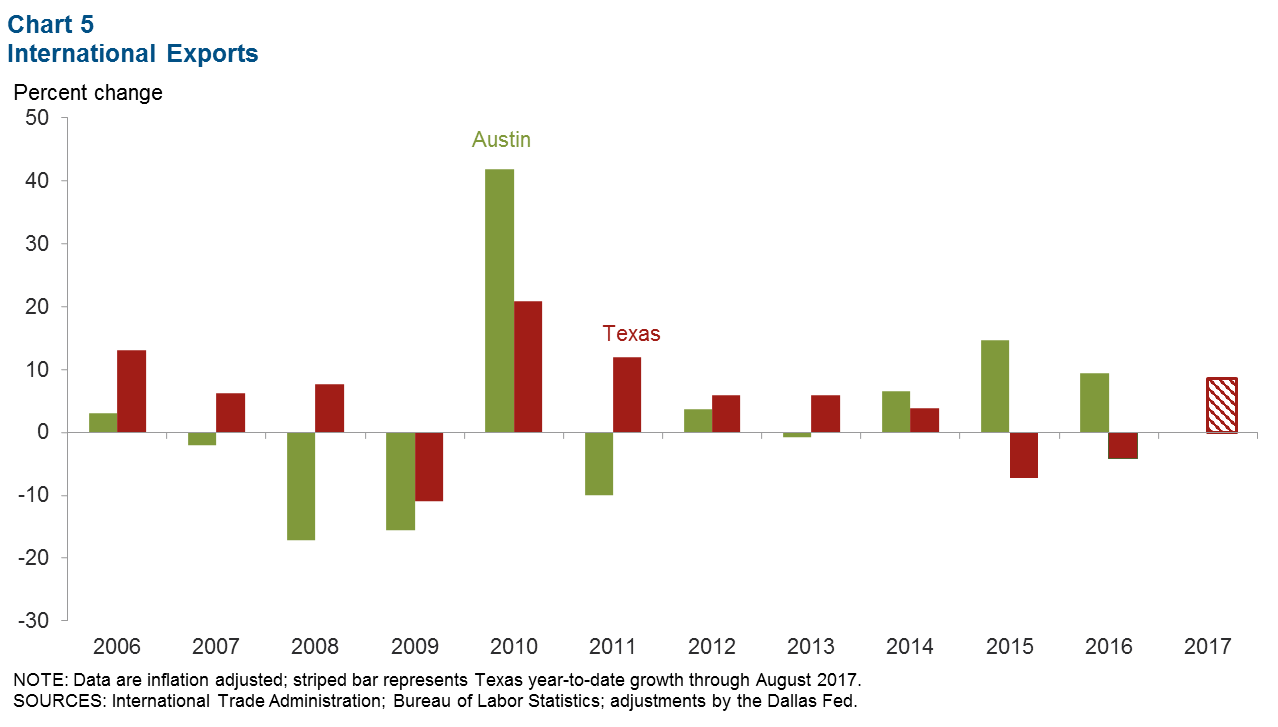 NOTE: Data may not match previously published numbers due to revisions.
About Austin Economic Indicators
Questions can be addressed to Christopher Slijk at christopher.slijk@dal.frb.org. Austin Economic Indicators is released on the first Thursday of every month.