Austin Economic Indicators

December 8, 2017
The Austin economy expanded at a robust pace in October. The Austin Business-Cycle Index continued to grow above its long-term rate, as jobs remained strong and the unemployment rate reached its lowest level since the late 1990s. High-tech employment remained strong in the second quarter. Home affordability rose in the third quarter, while home sales remained steady at a high level.
Business-Cycle Index
The Austin Business-Cycle Index grew at a 7.3 percent annualized pace in October (Chart 1). This is above its long-term trend of growth and the fastest the index has expanded since early 2016. Recent strong employment growth and continuing declines in the unemployment rate have propelled the index.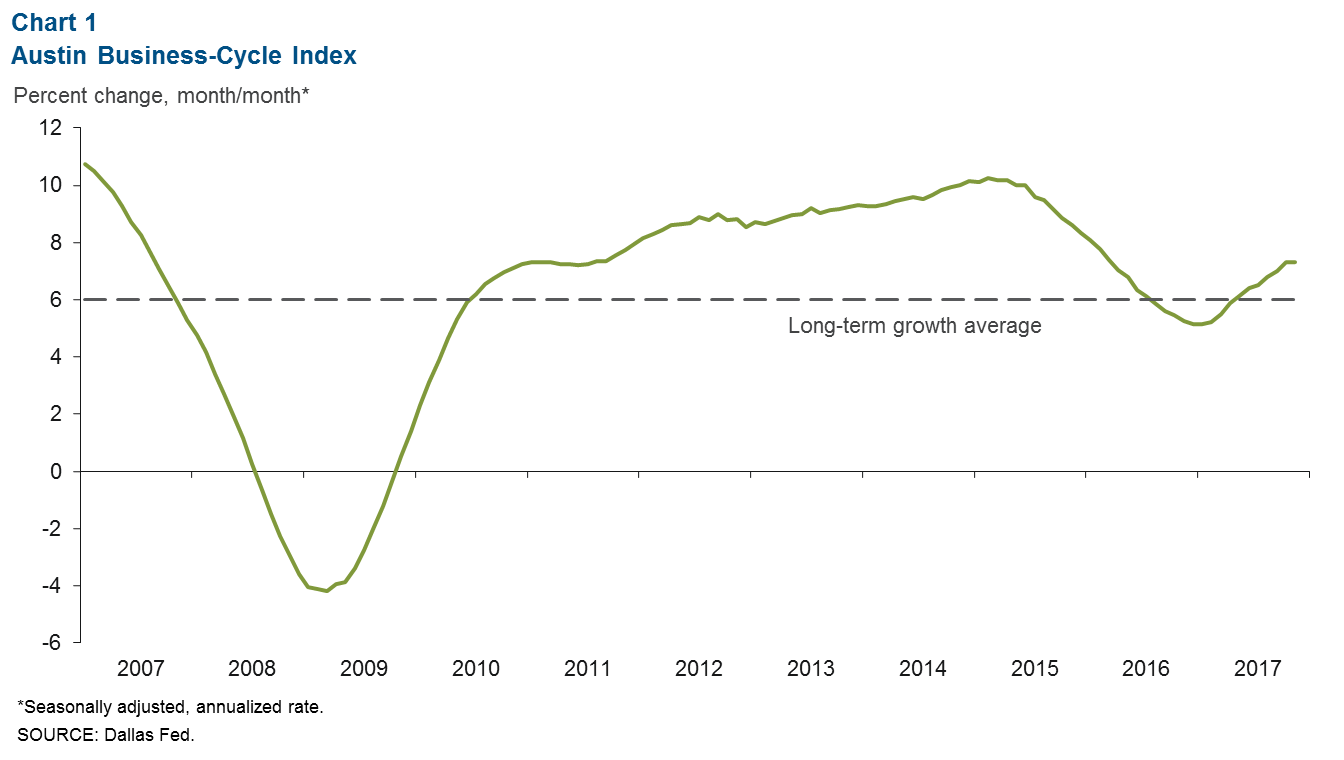 Labor Market
Unemployment Rate Nears Historic Lows
The Austin unemployment rate reached an 18-year low of 2.6 percent in October (Chart 2). This is significantly below the state and national rates of 3.9 percent and 4.1 percent, respectively. Labor force growth slowed in Austin, although year-to-date growth of 1.4 percent is more than double the state's 0.6 percent.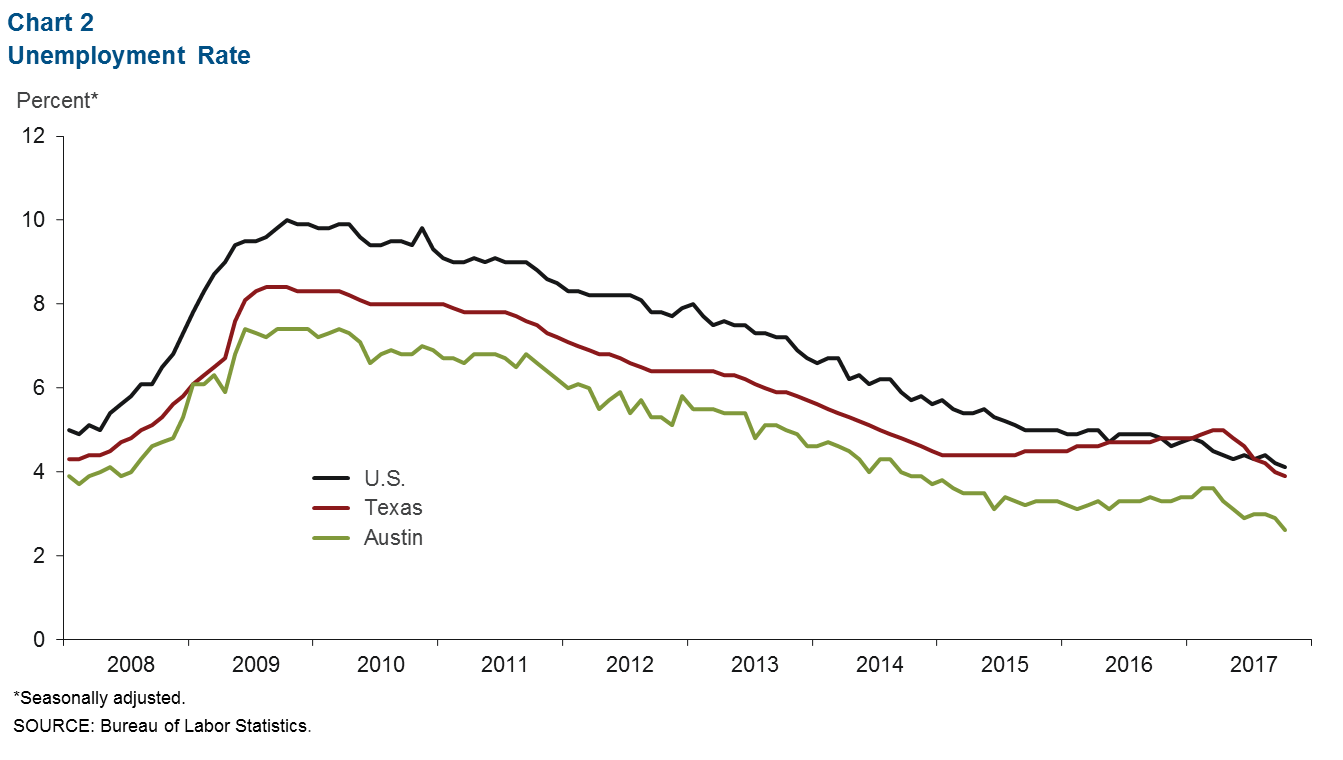 Job Growth Accelerating
Jobs in Austin increased at an annualized pace of 4.5 percent over the three months through October (Chart 3). While growth slipped in information, professional and business services, construction and other services, most other sectors saw strong acceleration. Leisure and hospitality led overall growth, expanding strongly in accommodation and hotel services. This was followed by health and private education services, government, and trade, transportation and utilities, which all accelerated from their pace earlier in the year. Manufacturing employment also remained strong.
The Dallas Fed's second quarter early benchmark revised growth upward in the first half of the year, rising from 2.2 percent to 3.4 percent. This pushed year-to-date growth up from 2.4 percent to 3.1 percent.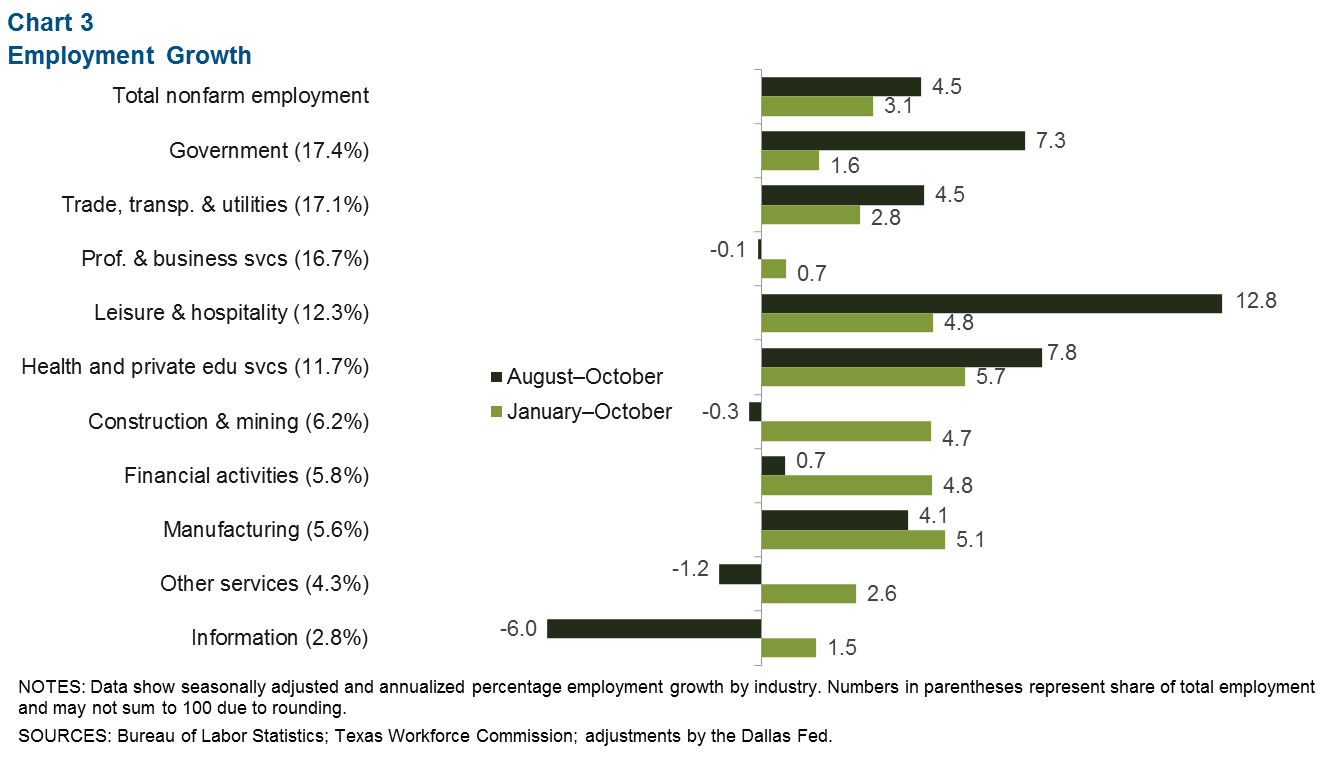 High-Tech Employment Expands
Recently released data suggest that high-tech employment in Austin continued to expand in second quarter 2017, rising overall by 4.7 percent (Chart 4). Tech services employment, which includes computer systems design, scientific research and development, and data processing, expanded at a 6.3 percent annualized rate in the second quarter. Meanwhile, high-tech manufacturing, which includes computer and electronics production, grew at a modest 0.7 percent. Broader industry data suggest modest declines in tech employment from July to October, with services falling by 1.7 percent and manufacturing falling by 1 percent.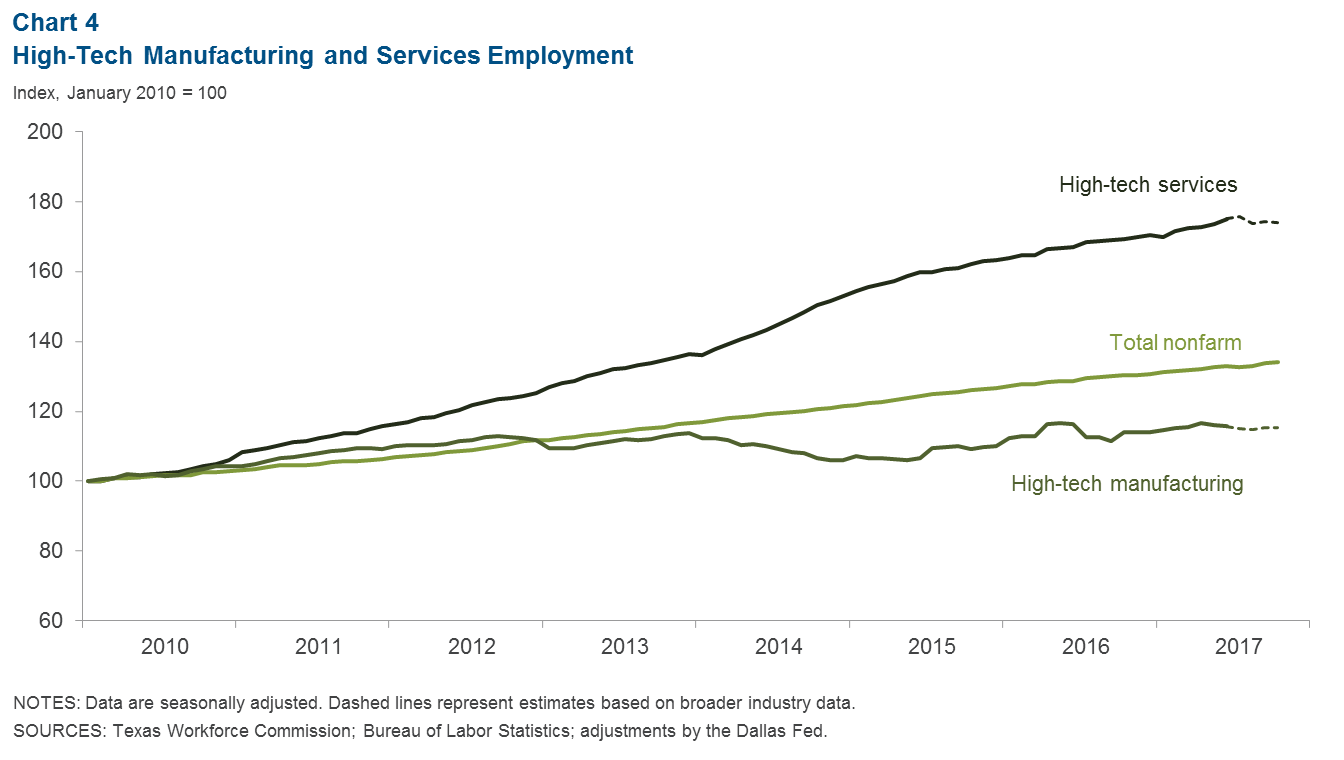 Real Estate
Home Affordability Ticks Up in Austin
Affordability of homes increased in Austin, as the percentage of homes sold that the median-income family could afford rose from 54.8 percent in the second quarter to 57.4 percent in the third quarter (Chart 5). This contrasts with the rest of the Texas triangle, which includes San Antonio, Dallas, Fort Worth and Houston, where overall affordability saw a slight decrease from 57.1 percent to 55.8 percent in the same time periods. Affordability fell in Houston and Fort Worth, with both declining to multiyear lows.
Home Sales Flattening Out
Austin existing-home sales remained steady in October, while sales in Texas slightly increased (Chart 6). Year over year, sales were flat in Austin and up 1.5 percent in the state. Inventories held at 2.7 months' supply, well below the six months considered a balanced market. Meanwhile, permits for construction of single-family homes declined slightly, suggesting continued tightening of regional residential housing.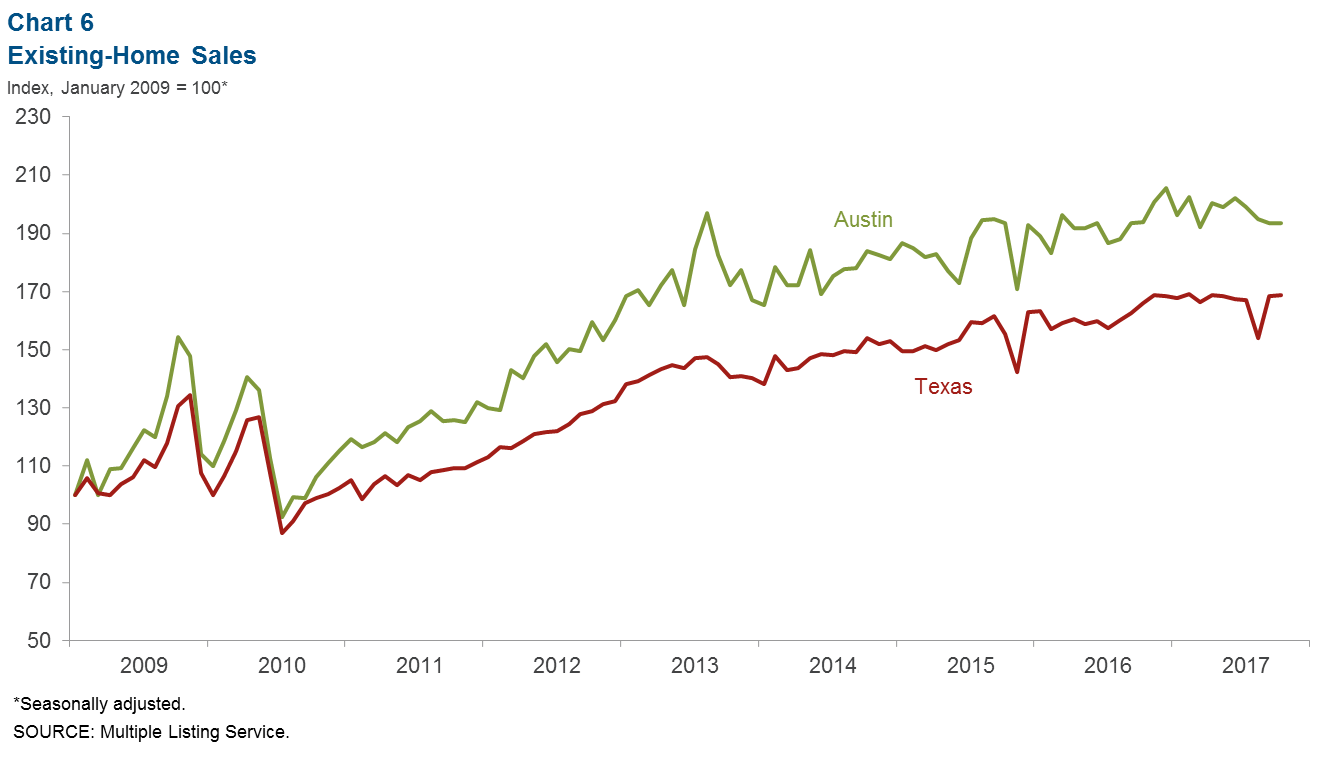 NOTE: Data may not match previously published numbers due to revisions.
About Austin Economic Indicators
Questions can be addressed to Christopher Slijk at christopher.slijk@dal.frb.org. Austin Economic Indicators is released on the first Thursday of every month.