Dallas-Fort Worth Economic Indicators

November 21, 2019
Dallas–Fort Worth's economic expansion slowed in October as payroll employment contracted after 17 straight months of growth. Unemployment edged up but remained near historical lows. The Dallas Business-Cycle Index expanded, and the Fort Worth index contracted. Apartment leasing and construction remained solid, and housing affordability improved in the third quarter.
Labor Market
Payrolls Contract
DFW employment fell an annualized 1.3 percent in October, down further from the strong growth in summer (Chart 1). Payrolls contracted 0.8 percent in Dallas, while employment dropped 2.4 percent in Fort Worth due largely to declines in transportation equipment manufacturing. Payroll gains in construction remained robust, and the education and health services and leisure and hospitality sectors continued to add jobs. Employment in several sectors including financial activities, professional and business services and government declined in the month.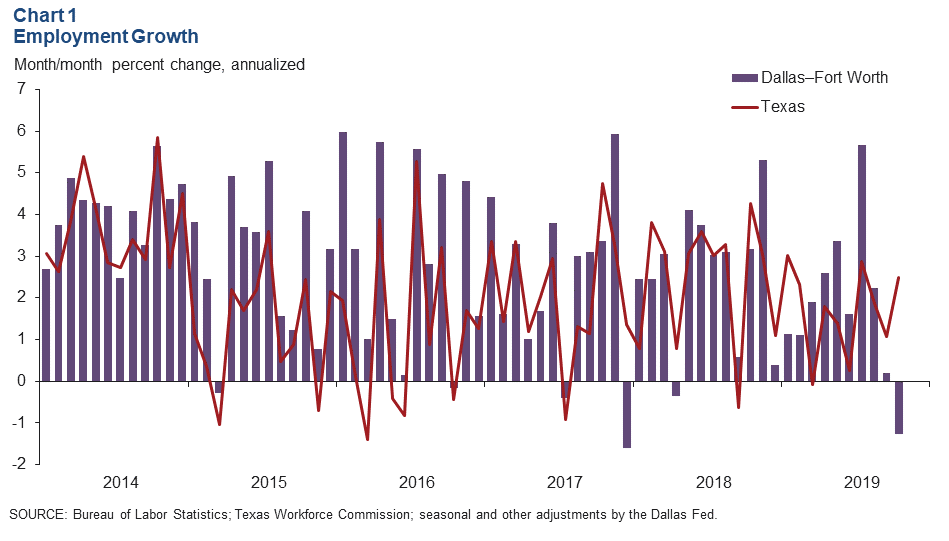 Year-to-Date Job Growth Slower than in 2018
DFW employment gains were moderate in the first 10 months of the year (Chart 2). Payroll growth in Dallas has fallen to 1.9 percent from last year's 2.7 percent pace, while growth in Fort Worth has slipped to 1.6 percent from 2.3 percent in 2018. Employment growth has slowed in most major Texas metros relative to last year's pace, with Houston seeing the largest decrease.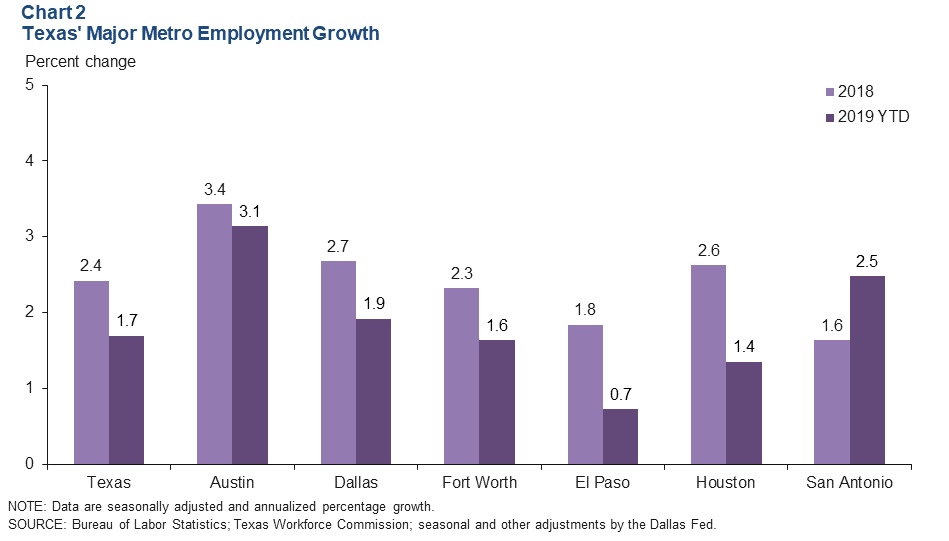 Business-Cycle Indexes
The Dallas Business-Cycle Index expanded in October despite negative job growth. The index rose an annualized 2.5 percent, slower than September's 3.2 percent rate. The Fort Worth index fell 0.5 percent following September's growth of 0.9 percent. Year over year in October, the indexes expanded an above-average 4.0 percent for Dallas and 2.7 percent for Fort Worth (Chart 3).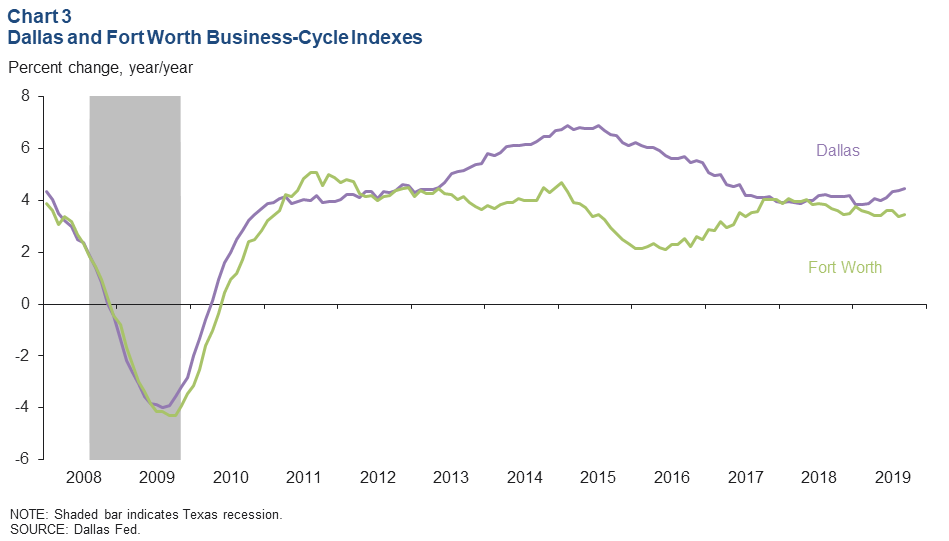 Housing
Apartment Demand Robust
The DFW multifamily housing market remained healthy in third quarter 2019, thanks to the area's expanding economy. DFW apartment absorption was robust at 9,600 units, second only to New York City (10,300 units), according to RealPage Inc. (Chart 4). Solid demand kept apartment occupancy high at 95.5 percent. Year-over-year rent growth in the third quarter was 2.9 percent, slightly behind Austin's 4.7 percent and San Antonio's 3.3 percent increases. Since 2010, rents in DFW have climbed 65 percent.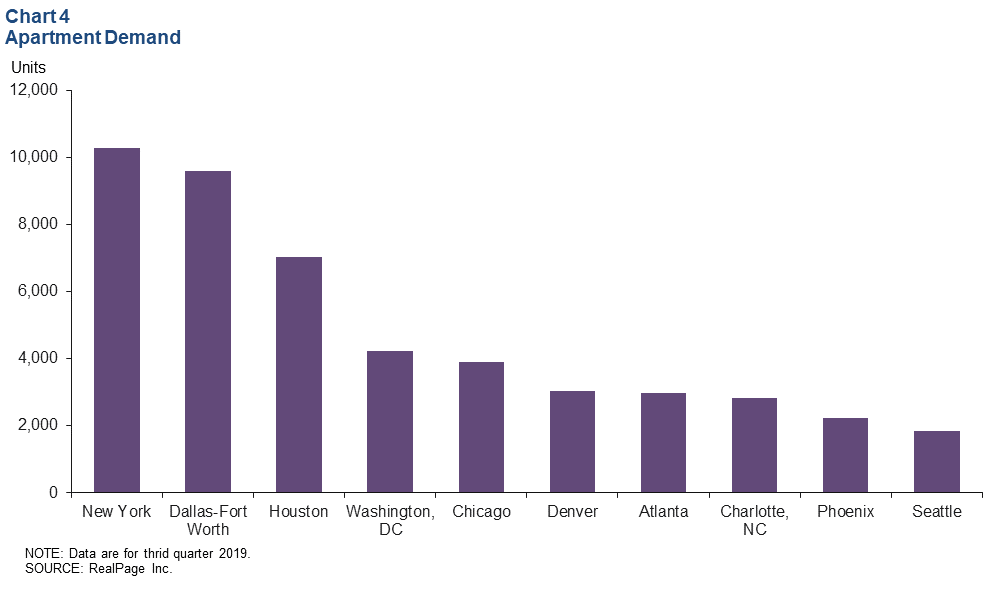 Multifamily Construction Booming
Multifamily permit issuance, which leads apartment construction, dipped in September based on a three-month moving average (Chart 5). In the first nine months of 2019, DFW multifamily permits were down 2.3 percent compared with the same period last year. By comparison, Texas multifamily permits climbed 14.9 percent. Still, construction in the metroplex is elevated at 44,000 units, with DFW remaining one of the busiest markets in apartment building among large U.S. metros. Since 2010, more than 130,000 new apartment units have been added just in Dallas—inventory growth of 27 percent.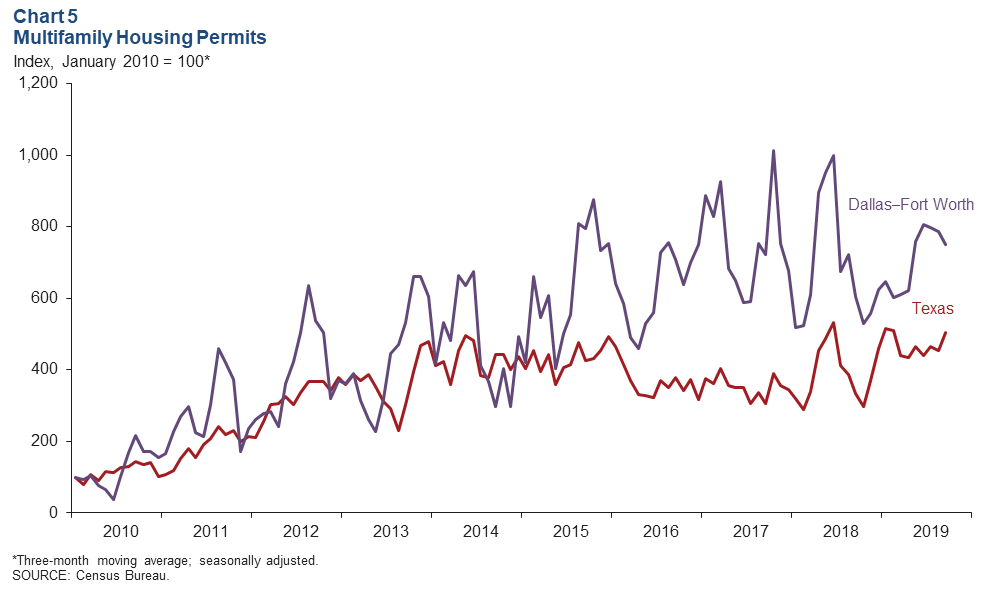 Housing Affordability Improves
Housing affordability continued to improve in all five major Texas metros and the U.S. in the third quarter, according to the National Association of Home Builders/Wells Fargo Housing Opportunity Indexes. Over half (58 percent) of new and existing homes sold in Dallas in the third quarter were affordable for the median-income family—up from 46 percent in the fourth quarter of 2018, when affordability was near record lows (Chart 6). Affordability in Dallas remains below the national figure of 64 percent. Housing affordability in Dallas is the lowest among major Texas metros, including Austin, which has a slightly higher median sales price. Affordability in Fort Worth stood at 62 percent in the third quarter, similar to most other major Texas metros.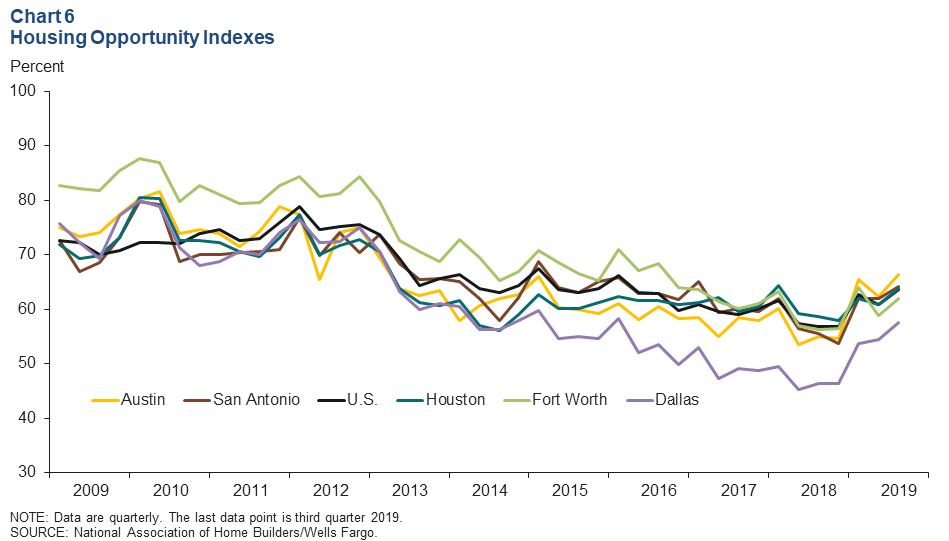 NOTE: Data may not match previously published numbers due to revisions.
About Dallas–Fort Worth Economic Indicators
Questions can be addressed to Laila Assanie at laila.assanie@dal.frb.org. Dallas–Fort Worth Economic Indicators is published every month on the Tuesday after state and metro employment data are released.