Dallas-Fort Worth Economic Indicators

August 22, 2017
The Dallas–Fort Worth economy strengthened in July. Job growth picked up, and expansion in the Dallas and Fort Worth business-cycle indexes accelerated. The unemployment rate fell in both metro areas. Home prices rose further in May, although the pace of appreciation decelerated. Existing-home sales increased in July, supported by an expanding DFW economy, and inventories remained tight at just above two months of supply.
Labor Market
Employment Growth Picks Up in July
DFW jobs grew at 4.1 percent annualized rate in July, which was markedly faster than June's upwardly revised 0.4 percent increase (Chart 1). Payrolls climbed an annualized 6.9 percent in Fort Worth and 3.0 percent in Dallas in July, with both metros outperforming the state's 0.9 percent increase. Year to date, employment growth in Fort Worth at an annualized 2.2 percent is twice that of its neighbor Dallas at 1.0 percent and leads gains in most major Texas metros except Houston.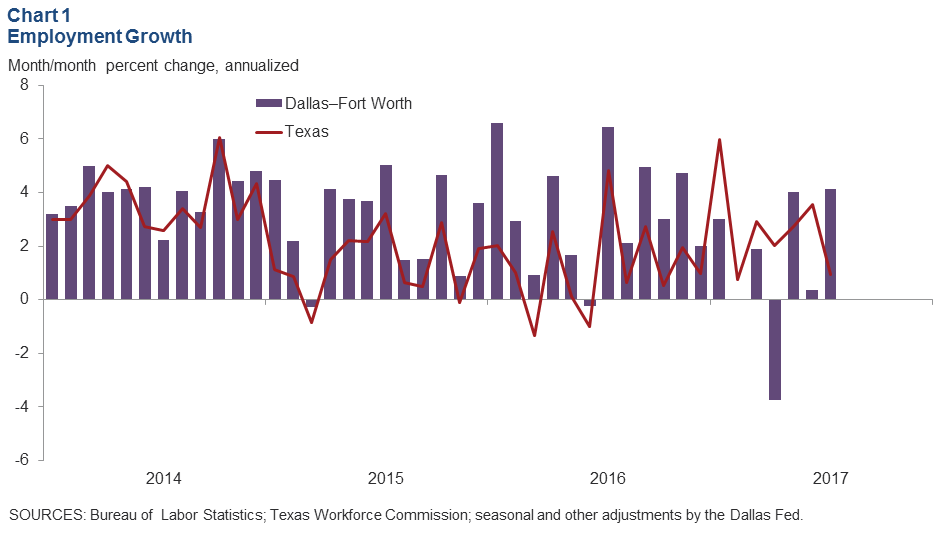 Unemployment Rate Dips
The metroplex labor market remained tight, with unemployment in Dallas lower than in the state and U.S. (Chart 2). The Dallas unemployment rate dipped in July to 3.7 percent, its lowest level in eight months. Unemployment in Fort Worth edged down as well, from 4.5 percent to 4.4. The Texas jobless rate fell from 4.6 percent to 4.3 percent and is now at the same level as the U.S. rate.
Business-Cycle Indexes
Growth in the Dallas and Fort Worth business-cycle indexes accelerated in July (Chart 3). The Dallas index rose an annualized 4.4 percent in July, ahead of June's 3.0 percent pace. Fort Worth's index climbed 7.5 percent, twice that of June's 3.6 percent rate. Year over year, the Dallas index was up a solid 4.8 percent in July and the Fort Worth index was 3.9 percent higher.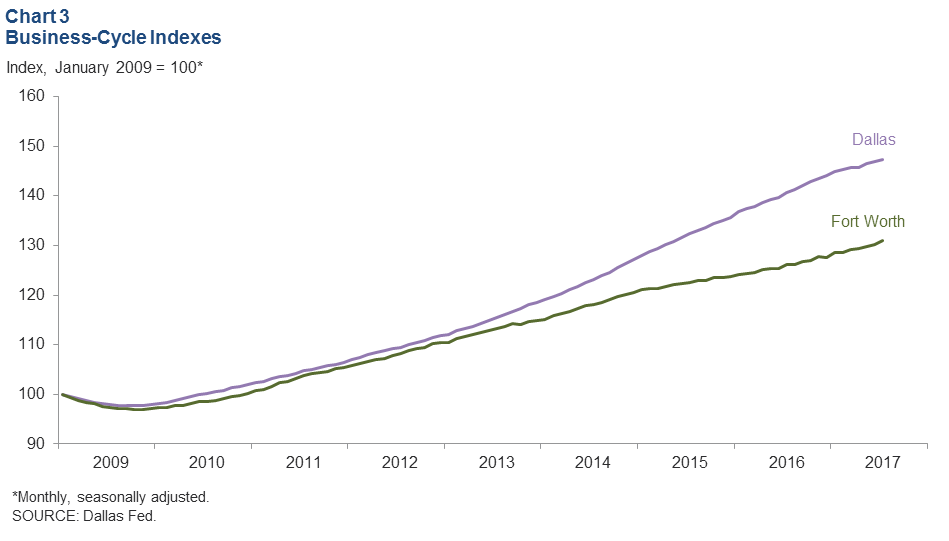 Housing Market
Home Price Increases Moderate
The pace of home price appreciation appears to be moderating in the metroplex. The S&P CoreLogic Case-Shiller Home Price Index for DFW ticked up an annualized 1.8 percent in May—its slowest monthly rate of increase in 10 months (Chart 4). The composite index for the U.S., which covers 20 major metros, rose 1.2 percent. Year to date through May, prices in DFW are up an annualized 7.2 percent, outpacing the nation's 5.6 percent increase. In 2016, home prices also jumped more rapidly in DFW at 8.1 percent than in the nation as a whole at 5.4 percent.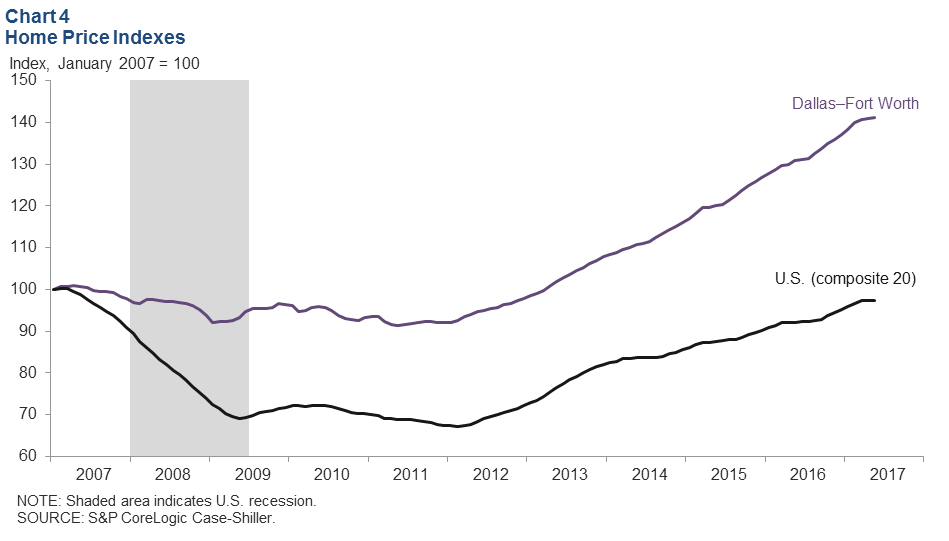 Existing-Home Sales Rise
DFW existing-home sales climbed in July, and five-month moving averages show slight increases in both metros (Chart 5). In July, sales rose 3.0 percent in Fort Worth, 1.5 percent in Dallas and 0.2 percent in Texas. New-home sales for lower-priced homes also remain healthy in the metroplex, according to Dallas Fed Beige Book contacts. Solid job growth is driving demand. Year to date through July, existing-home sales are up 3.9 percent in Dallas, 4.1 percent in Fort Worth and 5.4 percent in Texas compared with the same period last year.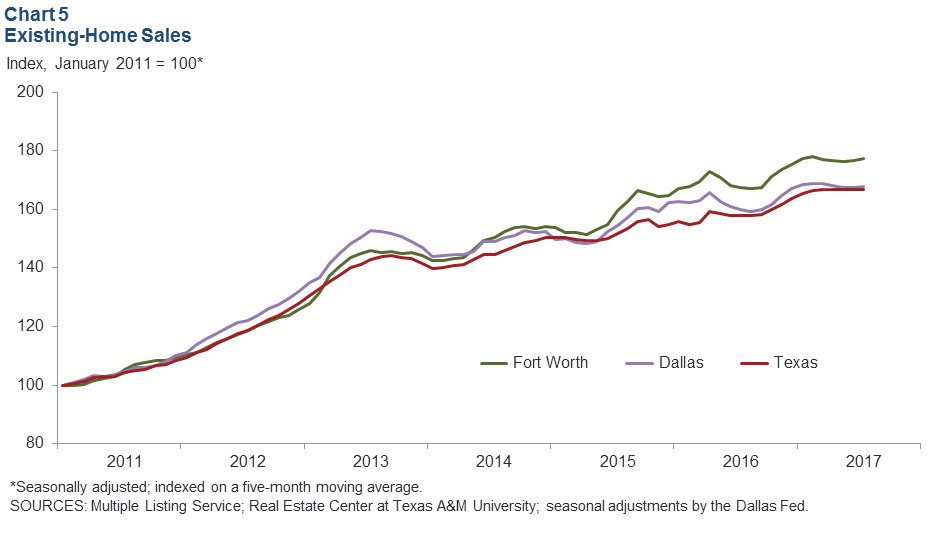 Existing-Home Inventories Still Tight
DFW existing-home inventories remain tight at just over two months, well below the six months' supply typically associated with a balanced market. In July, inventories were at 2.5 months in Dallas and 2.2 months in Fort Worth (Chart 6). Inven­tories in both metros have been under three months since late 2014. The supply of homes priced below $250,000 is even tighter at around one month.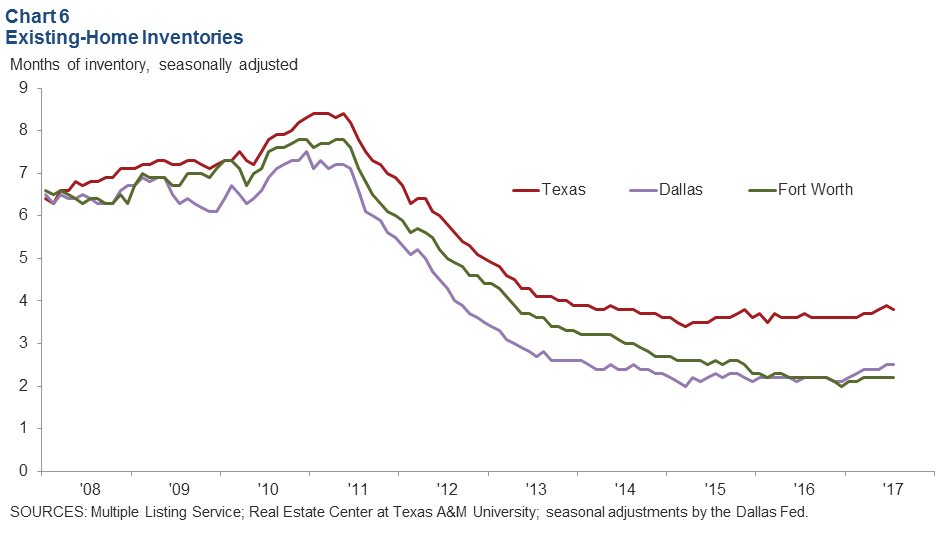 NOTE: Data may not match previously published numbers due to revisions.
About Dallas–Fort Worth Economic Indicators
Questions can be addressed to Laila Assanie at laila.assanie@dal.frb.org. Dallas–Fort Worth Economic Indicators is published every month on the Tuesday after state and metro employment data are released.