Dallas-Fort Worth Economic Indicators

October 24, 2017
The Dallas–Fort Worth economy strengthened in September. The Dallas and Fort Worth business-cycle indexes expanded further. Job gains were solid last month, and unemployment in both metros fell to its lowest level in nearly a year, pointing to further tightening in labor markets. Recently released data show DFW outpaced the U.S. in real median household income and real gross domestic product (GDP) growth in 2016.
Labor Market
Job Gains Solid in September
DFW jobs grew at a 4.7 percent annualized rate in September, a brisk pace compared with August's 0.3 percent dip (Chart 1). Payrolls in Dallas climbed 4.5 percent, and Fort Worth saw 5.3 percent growth. Through September, employment in DFW has expanded at a modest 1.5 percent pace, slower than the state's 2.2 percent growth.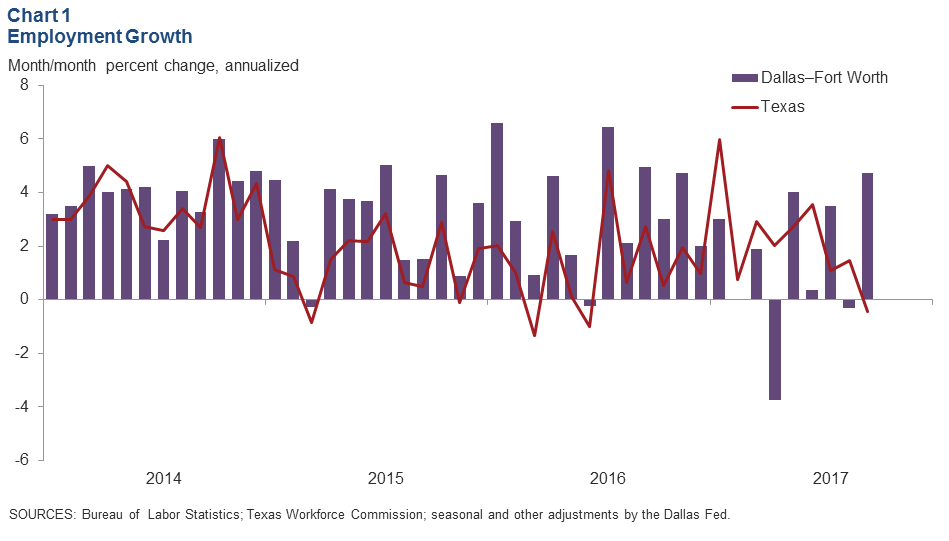 Job Growth Strengthens in Third Quarter
DFW jobs accelerated to an annualized 2.6 percent pace in the third quarter following flat growth in the second (Chart 2). Payrolls expanded an annualized 2.5 percent in Dallas and 2.9 percent in Fort Worth from June to September.
Job growth was broad based across major sectors in the three months through September, with payrolls in the construction and mining sector posting the fastest increase at 11.1 percent. Employment in trade, transportation and utilities—the metro's largest sector—rebounded, growing 2.7 percent. Job growth in other large sectors such as professional and business services, financial activities and manufacturing accelerated. Payrolls in information services continued to decline, while employment in the leisure and hospitality sector—a driver of job growth in the spring months—contracted sharply.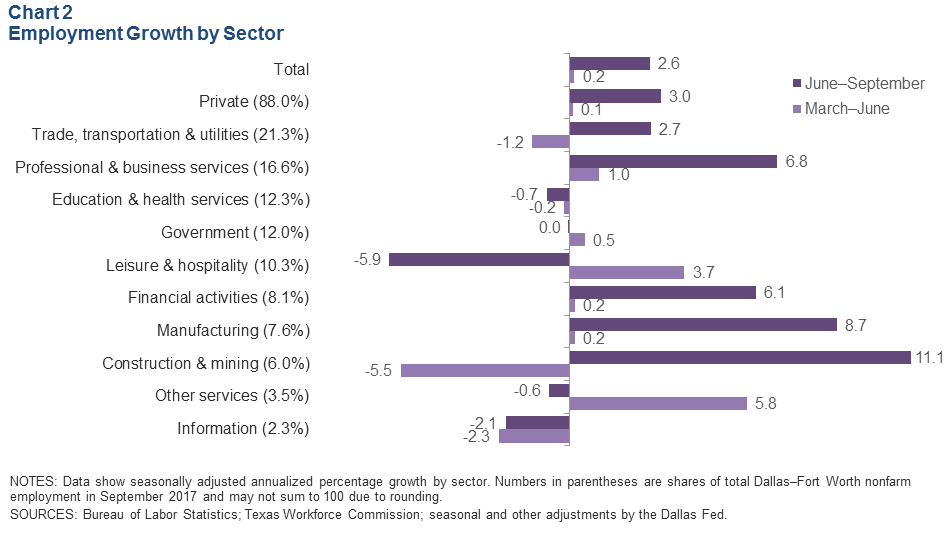 Unemployment Dips Further
The metroplex labor market tightened further. Unemployment in Dallas fell to 3.5 percent—its lowest level since May 2016—and remained well below the state and U.S. rates (Chart 3). The jobless rate in Fort Worth dipped to a 10-month low of 4.2 percent. Unemployment edged down to 4.0 percent in Texas and 4.2 percent in the U.S.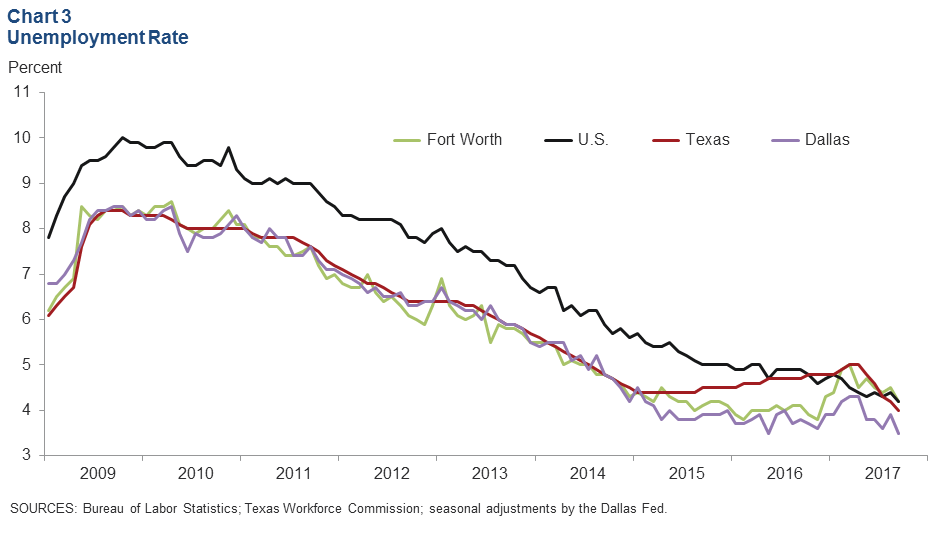 Business-Cycle Indexes
Growth in the Dallas and Fort Worth business-cycle indexes strengthened in September (Chart 4). The Dallas index rose an annualized 5.9 percent in September, up from August's 3.9 percent pace. Fort Worth's index climbed 6.8 percent, up markedly from August's 0.7 percent decline. Year over year, the Dallas index was up a solid 4.1 percent, and the Fort Worth index rose 3.1 percent.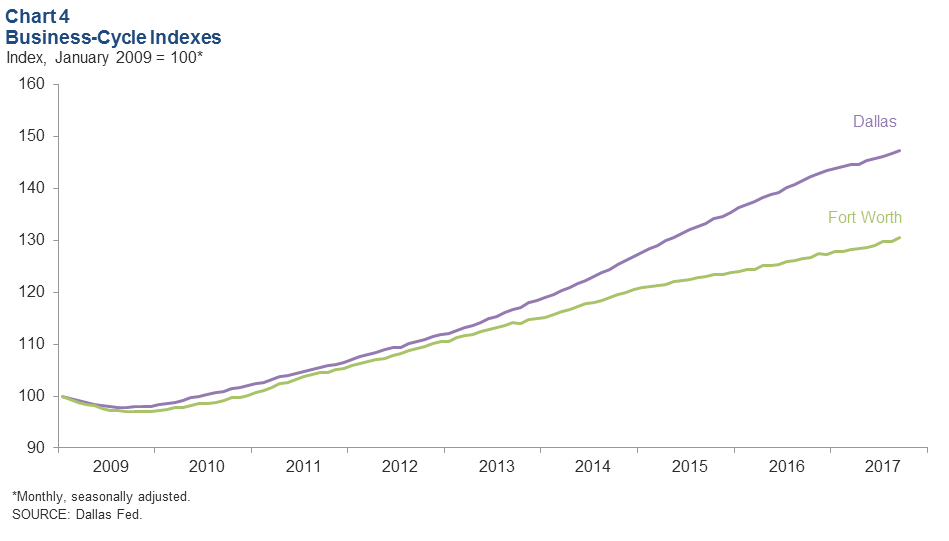 Median Household Income
Dallas-Fort Worth's inflation-adjusted median household income rose 2.2 percent in 2016 to $63,812 (Chart 5). This is markedly faster than the state's 0.4 percent increase and slightly ahead of the nation's 2.0 percent growth. DFW boasts a higher median-household income than both the state and U.S. From 2011 to 2016, DFW's 1.5 percent inflation-adjusted annual income growth slightly exceeded the state's 1.4 percent increase.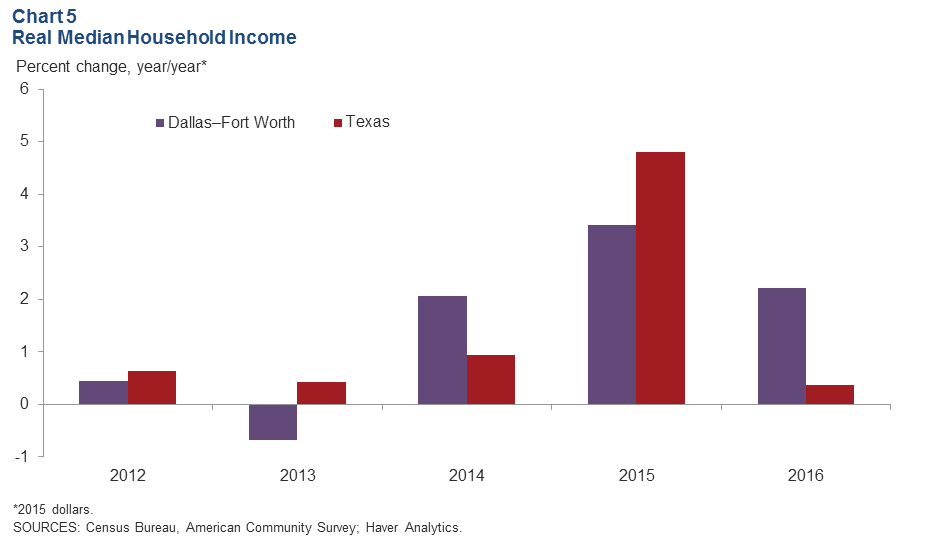 Gross Domestic Product
Inflation-adjusted GDP for DFW grew 3.0 percent in 2016, in line with its long-term average pace of 2.9 percent since 2001 (Chart 6). DFW outpaced the 1.7 percent increase for all U.S. metropolitan areas combined, placing DFW at No. 77 among the 382 metros in output growth last year. In comparison, Austin ranked 20th and San Antonio placed 72nd.
Last year, DFW GDP grew at its slowest rate this decade. Even so, most sectors saw output expand, including construction, information services, and professional and technical services, each of which grew over 6 percent. Output expansion was also strong in the real estate, rental and leasing category at 5.8 percent. Natural resources and mining was the only major sector to see a decline last year, falling 9.6 percent.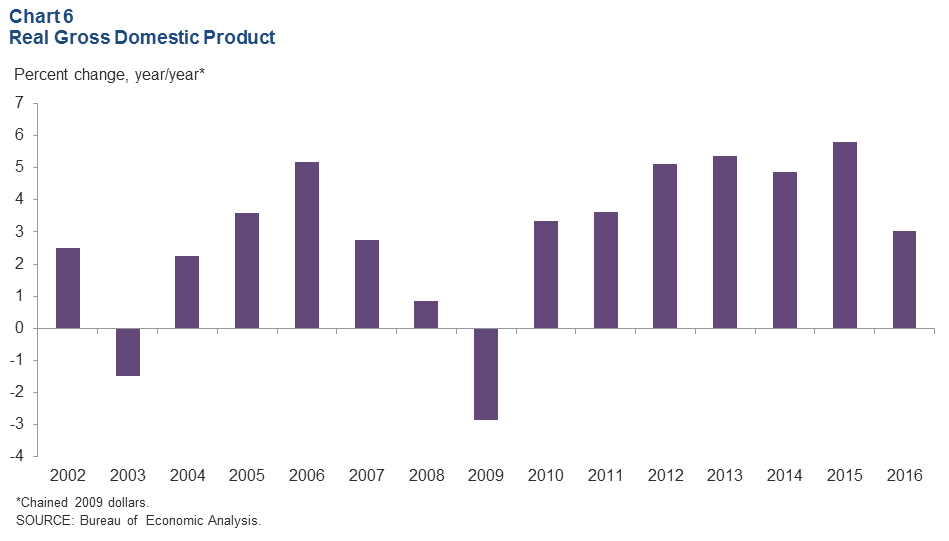 NOTE: Data may not match previously published numbers due to revisions.
About Dallas–Fort Worth Economic Indicators
Questions can be addressed to Laila Assanie at laila.assanie@dal.frb.org. Dallas–Fort Worth Economic Indicators is published every month on the Tuesday after state and metro employment data are released.