Dallas-Fort Worth Economic Indicators

November 21, 2017
The Dallas–Fort Worth economy continued to expand in October, with business-cycle indexes posting above-trend growth and payroll employment climbing in both metros. Unemployment in Dallas fell to its lowest level in nearly 17 years, pointing to further tightening in the labor market. Continued healthy job creation has been the driver for the DFW office and industrial markets.
Labor Market
Payroll Expansion Continues in October
DFW jobs grew at a 2.2 percent annualized rate in October (Chart 1). Payrolls in Dallas rose 2.2 percent, and Fort Worth saw 2.0 percent growth. Year-to-date employment in DFW has expanded at a modest 1.6 percent annual rate, slower than the state's 2.7 percent growth this year and the metro's 3.3 percent growth in 2016 (December/December).
Goods Sector Leads Job Growth
Job growth through October has been broad based in both metros, with payrolls in the goods-producing sector (manufacturing, construction and mining) expanding at a fast clip of 4.3 percent (annualized) in Dallas and 2.8 percent in Fort Worth (Chart 2). Job gains in the service-providing sector have been modest at 1.0 percent in Dallas and 1.8 percent in Fort Worth.
Payroll expansion in Dallas has moderated to an annualized 1.4 percent in the first 10 months of the year, compared with last year's robust performance of 3.9 percent. In contrast, growth in Fort Worth has been steady at an annualized 2.0 percent so far in 2017, similar to last year's 1.9 percent increase.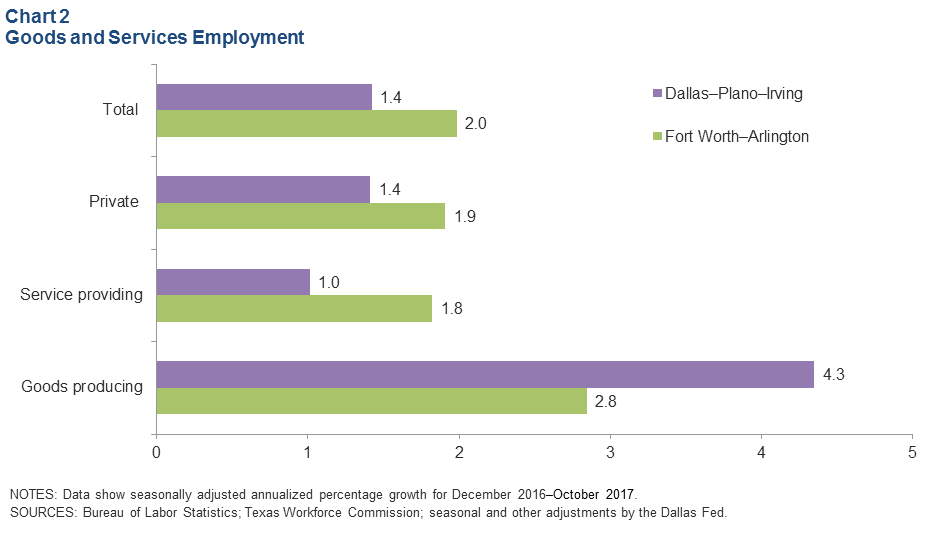 Unemployment Dips Further
The labor market in the metroplex tightened further. Unemployment in Dallas fell to 3.2 percent—its lowest level since December 2000—and remained well below the state and U.S. rates (Chart 3). The jobless rate in Fort Worth edged down to a one-year low of 3.8 percent. Unemployment dipped to 4.1 percent in the U.S. and 3.9 percent in Texas—a record low for the state.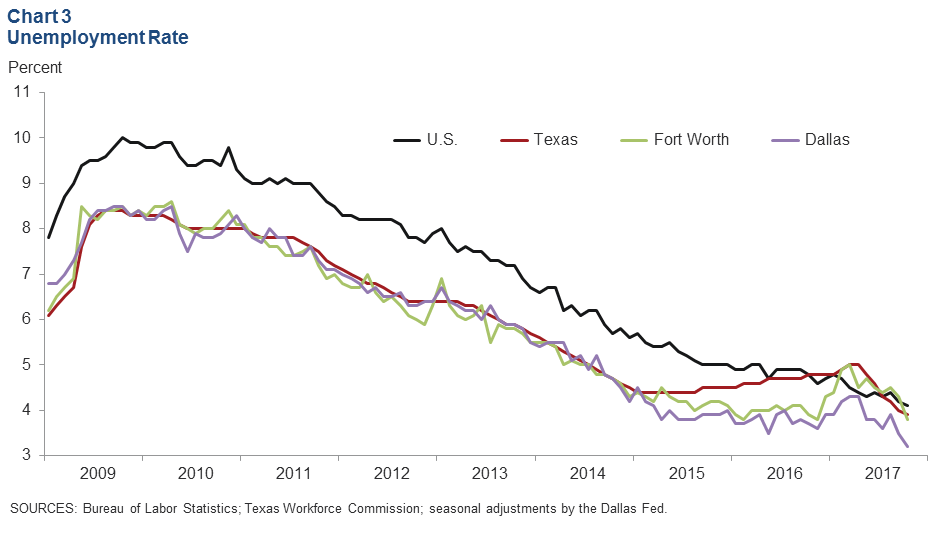 Business-Cycle Indexes
Growth in the Dallas and Fort Worth business-cycle indexes remained strong in October (Chart 4). The Dallas index rose an annualized 4.8 percent in October after September's 6.7 percent increase. Fort Worth's index climbed 4.4 percent after expanding 7.2 percent in September. Year over year, the Dallas index was up a solid 4.1 percent, and the Fort Worth index rose 3.4 percent in part due to continued job creation and declining unemployment.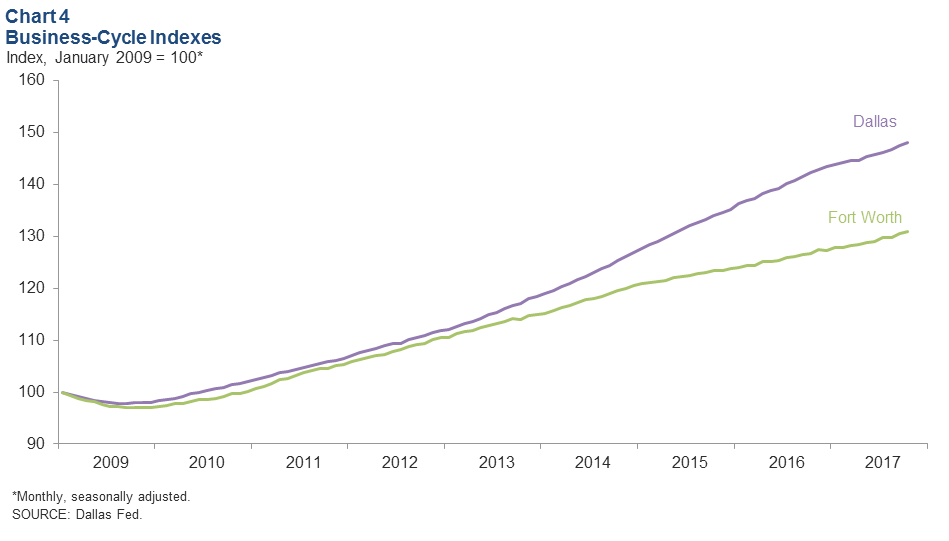 Office Market
The DFW office market saw solid leasing activity as healthy job creation drove demand for office space. Net absorption was just under a million square feet in the third quarter, and average asking rents rose further, according to data from CBRE. Office vacancy in DFW ticked up from 19.4 percent in the second quarter to 19.7 percent in the third (Chart 5). Office construction remains elevated in the metroplex at 5.5 million square feet, similar to last quarter's totals.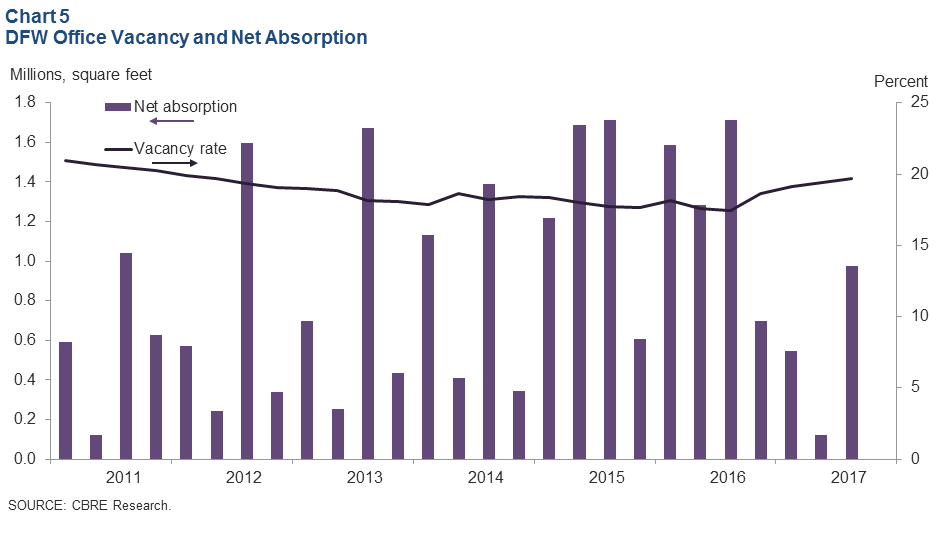 Industrial Market
Industrial leasing activity was strong in the third quarter, with 8.2 million square feet of space absorbed—the second-highest absorption in this expansion cycle after third quarter 2016, according to data from CBRE (Chart 6). Solid demand pushed vacancy down to 6.2 percent, which is near historic lows. Asking rents ticked up as well during the quarter. The construction pipeline stayed elevated at 16.4 million square feet, although it has been slowly declining since second quarter 2016.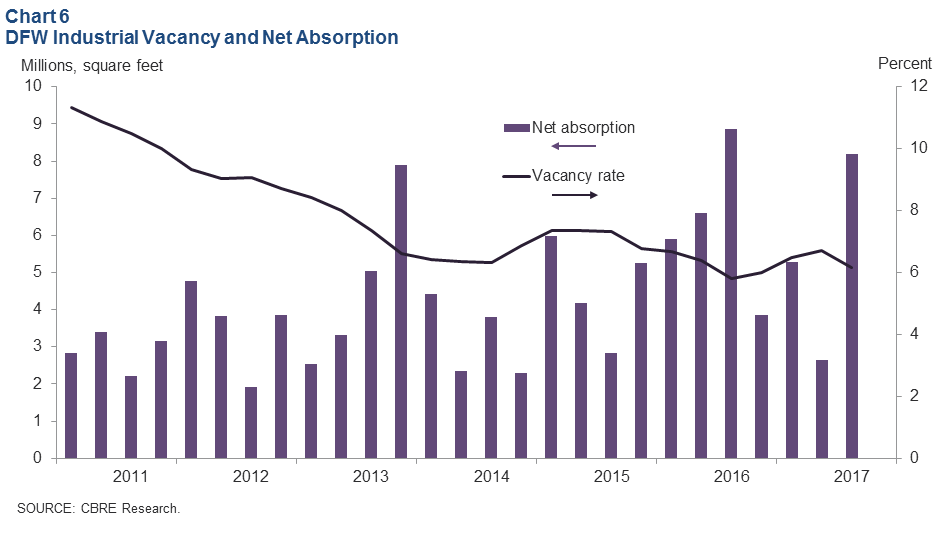 NOTE: Data may not match previously published numbers due to revisions.
About Dallas–Fort Worth Economic Indicators
Questions can be addressed to Laila Assanie at laila.assanie@dal.frb.org. Dallas–Fort Worth Economic Indicators is published every month on the Tuesday after state and metro employment data are released.