El Paso Economic Indicators

April 3, 2018
Economic activity in El Paso remains solid. Ciudad Juárez maquiladora employment is steady, while trade through the Port picked up, led by a strong gain in exports.
Business-Cycle Index
The El Paso Business-Cycle Index, which is based on employment, unemployment, retail sales and wages, posted annualized growth of 2.4 percent in February (Chart 1).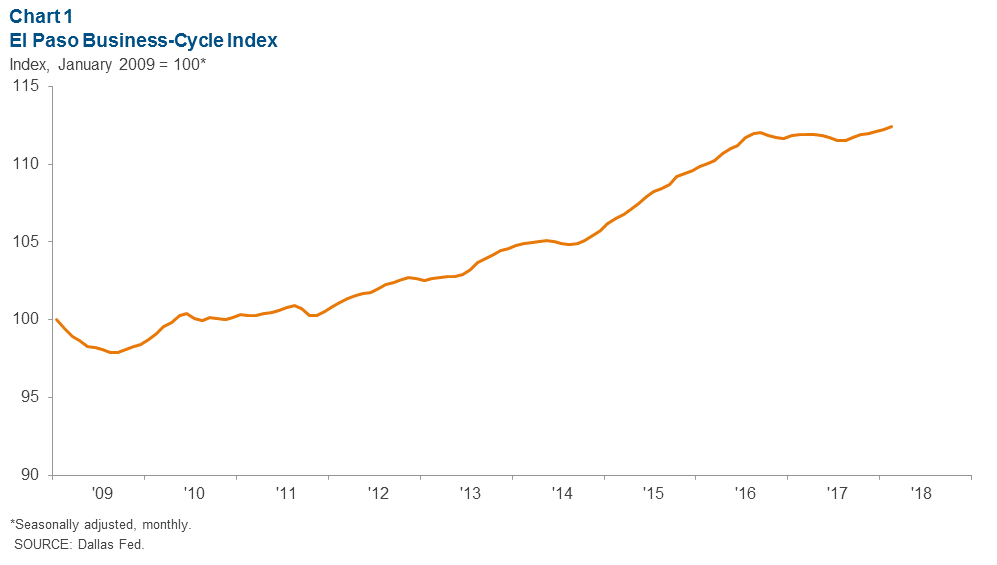 Labor Market
In February, El Paso employment grew an annualized 4.1 percent (Chart 2). Year to date, El Paso jobs rose at an annualized rate of 2.3 percent, adding over 1,000 jobs in the first two months of the year. The bulk of the gains are attributed to professional and business services, which added over 700 jobs.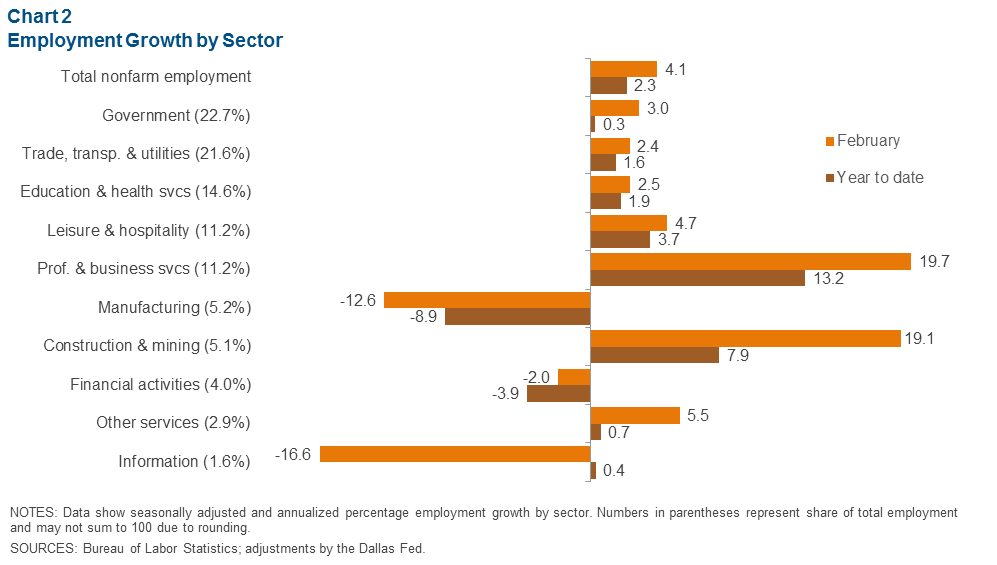 In February, the unemployment rate rose to 4.4 percent, above that of Texas (4.0 percent) and the U.S. (4.1 percent).
Population
Population growth has stagnated in El Paso. Recently released census population estimates show the metro had 844,818 residents in 2017, up only 0.4 percent from 2016 (Chart 3). The slowdown in population growth is due to both a slower natural increase and residents moving out of the city. El Paso ranks as the sixth largest metro in Texas, following McAllen.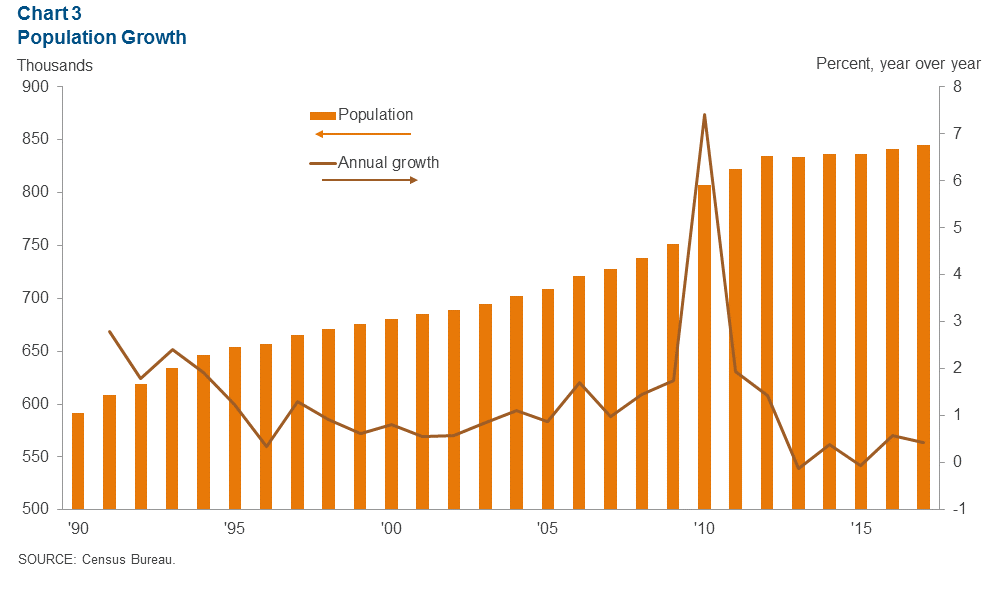 Trade
Annualized total trade in El Paso rose to $89.1 billion in January, up from $77.7 billion in January 2017 (Chart 4). The total trade gain was driven by export growth of over 26 percent year over year. Exports totaled $37.8 billion, accounting for 42.4 percent of total trade through the port. Imports totaled $51.4 billion (annualized) in January, up 7.5 percent from a year ago.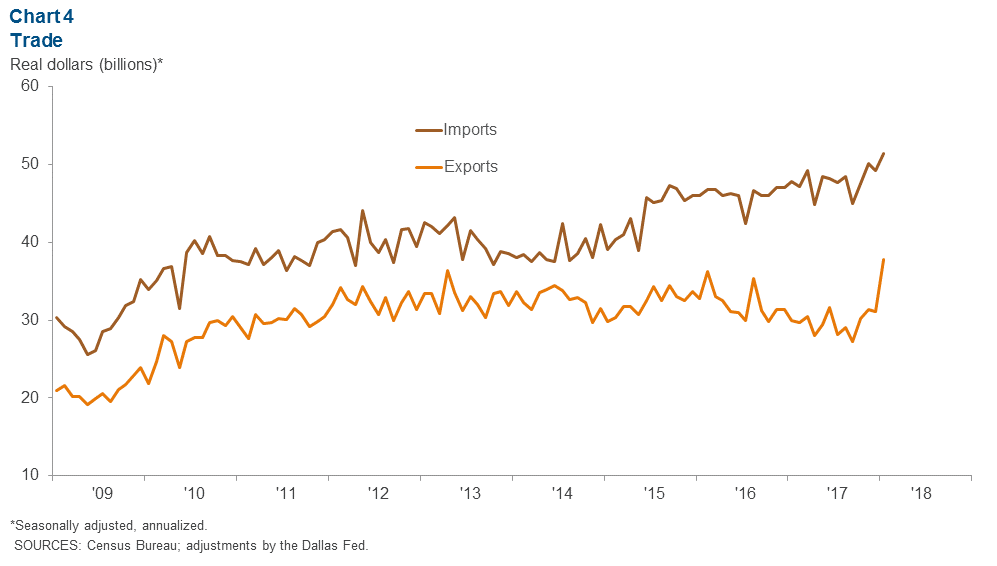 Juárez Maquiladora Activity
U.S. industrial production rose 4.3 percent year over year in February (Chart 5). Meanwhile, the Institute for Supply Management manufacturing index inched down to 59.3 in March from 60.8 in February. Its associated new-orders index—a leading indicator of industrial activity—edged down to 61.9 from 64.2.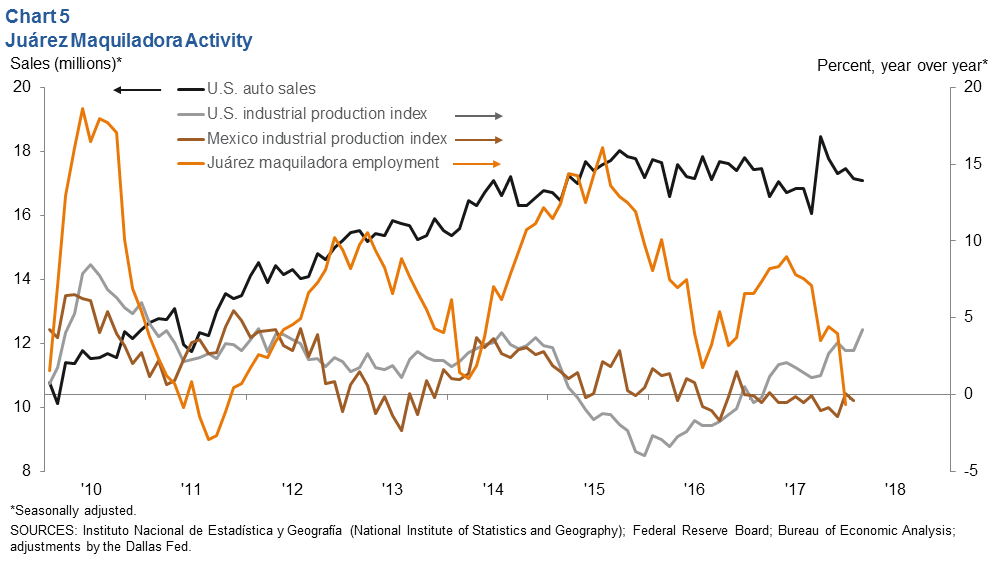 While the U.S. industrial sector continues to post growth, the Ciudad Juárez manufacturing sector has steadied. According to Mexico's IMMEX series, Juárez manufacturing employment totaled 264,490 in December, slightly below December 2016 employment of 266,251.
Auto sales are closely linked to the local economy because roughly half of maquiladoras in Juárez are auto related. U.S. auto and light-truck production declined to 11.1 million from 11.4 million a year earlier. Meanwhile, February auto sales of 17.1 million are also below year-ago levels.
NOTE: Data may not match previously published numbers due to revisions. The El Paso metropolitan statistical area includes El Paso and Hudspeth counties.
About El Paso Economic Indicators
Questions can be addressed to Marycruz De León at marycruz.deleon@dal.frb.org. El Paso Economic Indicators is released on the fourth Wednesday of every month.