El Paso Economic Indicators

January 25, 2019
El Paso jobs grew 1.5 percent in 2018, on pace with the metro's long-term average. Steady job gains have boosted the business-cycle index. Home sales remain robust, reaching a nearly three-decade high of 8,576 in 2018.
Business-Cycle Index
The El Paso Business-Cycle Index rose at a 1 percent annualized rate in December (Chart 1). The gains in the index are supported by job growth and healthy retail sales. Recently released data from the Texas comptroller show that El Paso retail sales in second quarter 2018 totaled $3.1 billion, up 8 percent from a year earlier.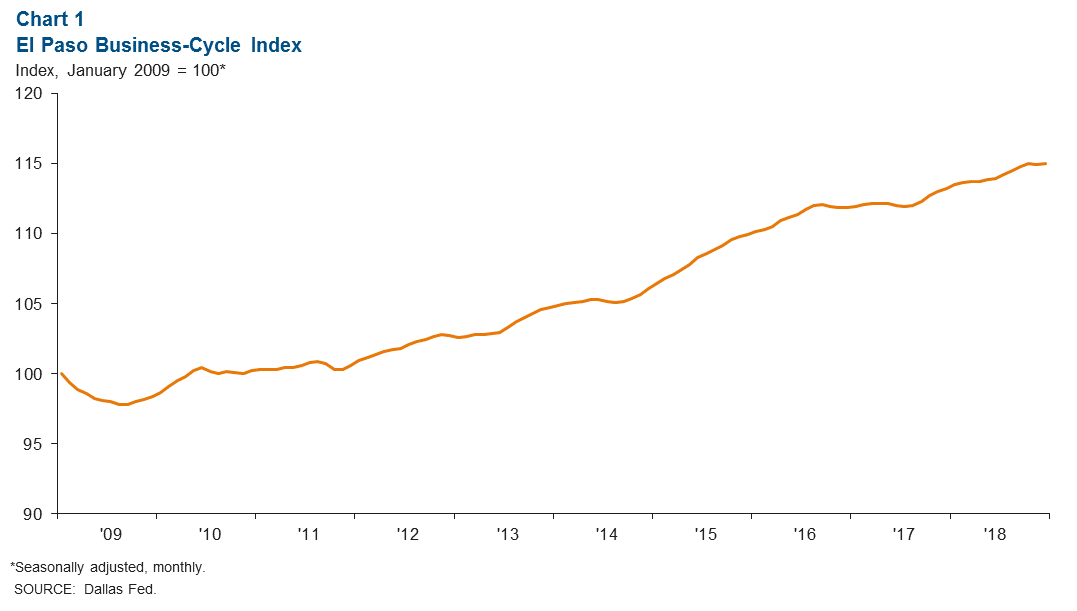 Labor Market
2018 Job Gains on Trend
El Paso payrolls expanded 1.5 percent in 2018, inching past 2017's growth of 1.4 percent (Chart 2). Payroll gains were broad based with all major sectors posting increases. Leisure and hospitality posted the fastest growth, followed by construction, mining and natural resources. These two sectors added over 2,000 jobs, accounting for approximately 40 percent of the 4,750 total jobs added in 2018.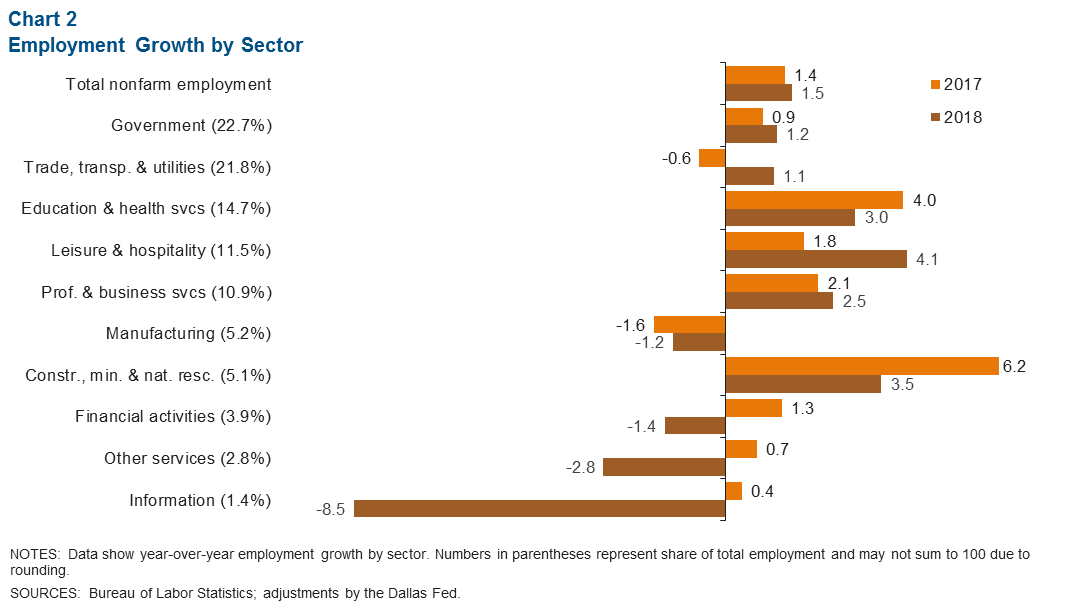 Unemployment Rate Falls in 2018
Solid payroll gains over the last few years have placed downward pressure on the El Paso unemployment rate. While the El Paso jobless rate remains above that for Texas as a whole, El Paso has made progress in narrowing the gap between the local and state rates. In December, the jobless rate was 4.3 percent, above Texas' 3.7 percent (Chart 3).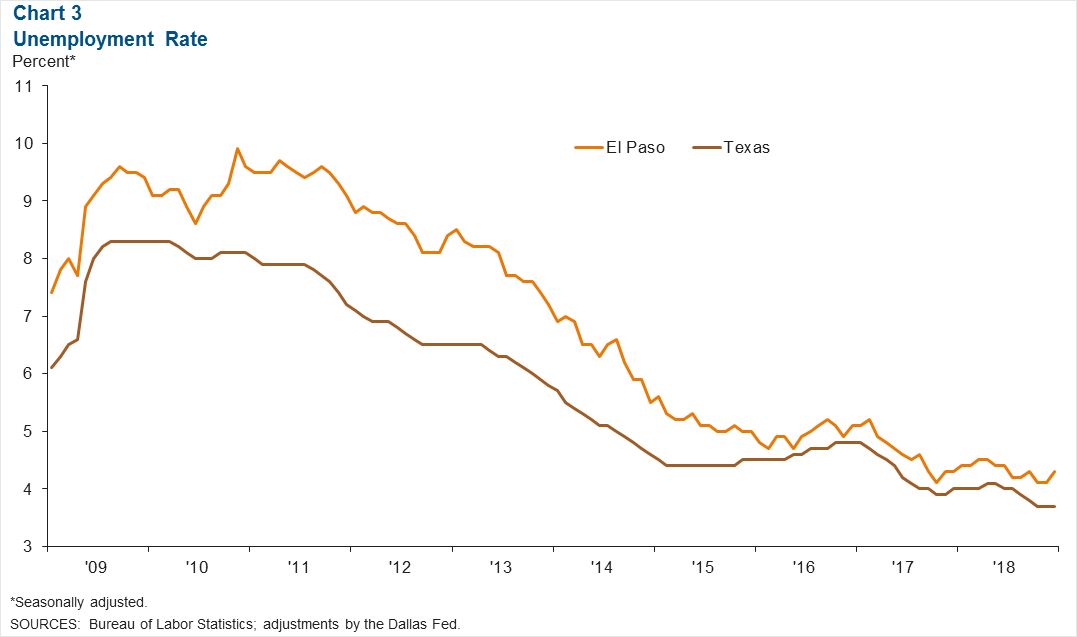 Average Weekly Wages Rise But Trail State
El Paso's weekly wages in the private sector averaged $680 in second quarter 2018 (latest data available) (Chart 4). While weekly wages have trended up since early 2014, they remain well below average wages in the state. In second quarter 2018, Texas' weekly wages in the private sector averaged $1,130.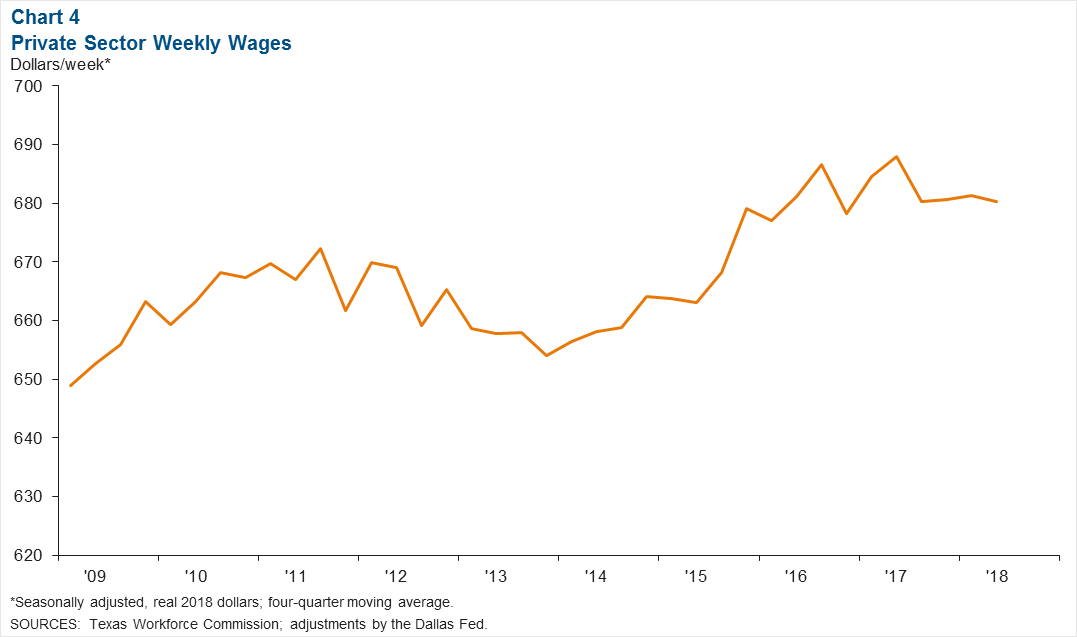 Housing
Existing-home sales in 2018 totaled 8,576—the highest level since 1990 and 9.3 percent above 2017 total sales. While sales have remained robust, the El Paso median home price has been relatively flat. In 2018, the median home price stood at $154,375, up 0.5 percent from a year earlier (Chart 5).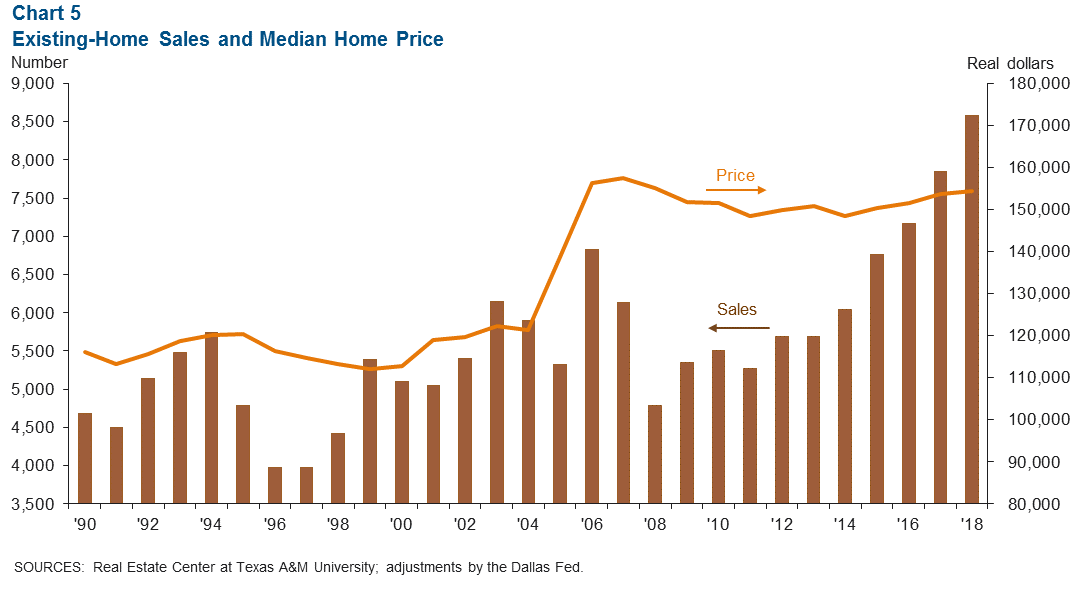 With existing-home sales remaining healthy, inventories have continued to edge down. In December, inventories stood at 3.9 months, well below the six months considered a balanced market.
NOTE: Data may not match previously published numbers due to revisions. The El Paso metropolitan statistical area includes El Paso and Hudspeth counties.
About El Paso Economic Indicators
Questions can be addressed to Marycruz De León at marycruz.deleon@dal.frb.org. El Paso Economic Indicators is released on the fourth Wednesday of every month.