El Paso Economic Indicators

September 24, 2020
The El Paso economy continued to improve in August. The El Paso Business-Cycle Index expanded thanks to monthly payroll gains and improvements in the unemployment rate. Consumer spending in El Paso County was still down relative to pre-COVID levels, while home sales reached new highs. Industrial production and auto sales continued to recover but were still depressed from a year prior.
Business-Cycle Index
The El Paso Business-Cycle Index increased for the fourth consecutive month in August but at a slower pace than in July. The index expanded an annualized 9.0 percent, compared with 13.0 percent in July. Since the beginning of the year, the index is down an annualized 8.6 percent (Chart 1).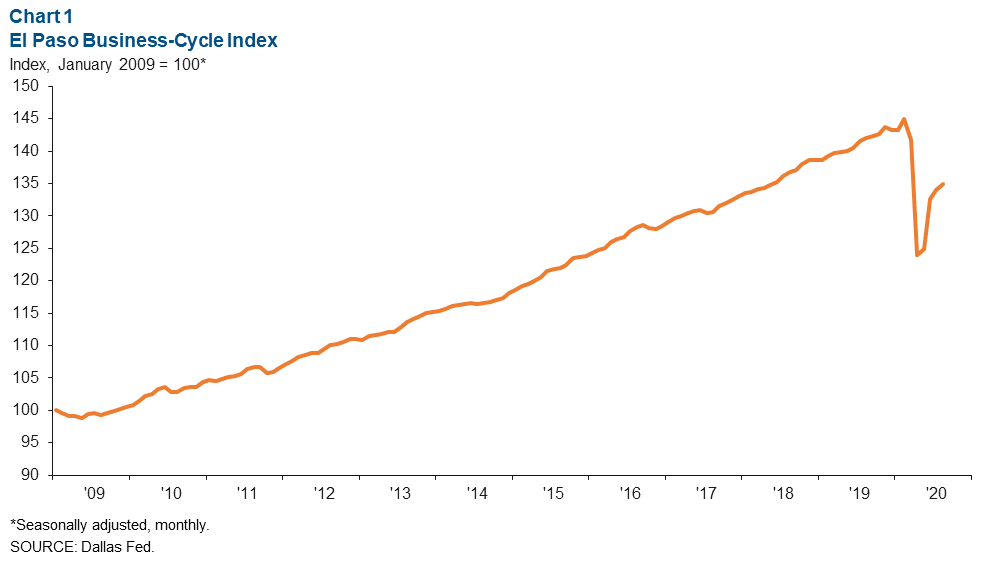 Labor Market
El Paso payrolls grew an annualized 12.8 percent, or by 3,085 net jobs (nonannualized), in August (Chart 2). Professional and business services and the trade, transportation and utilities sector posted the largest net job gains, together accounting for 2,684 jobs (nonannualized). Sectors that experienced payroll contractions were government (-7.3 percent, or 467 jobs), financial activities (-6.2 percent, or 70 jobs) and leisure and hospitality (-1.3 percent, or 33 jobs).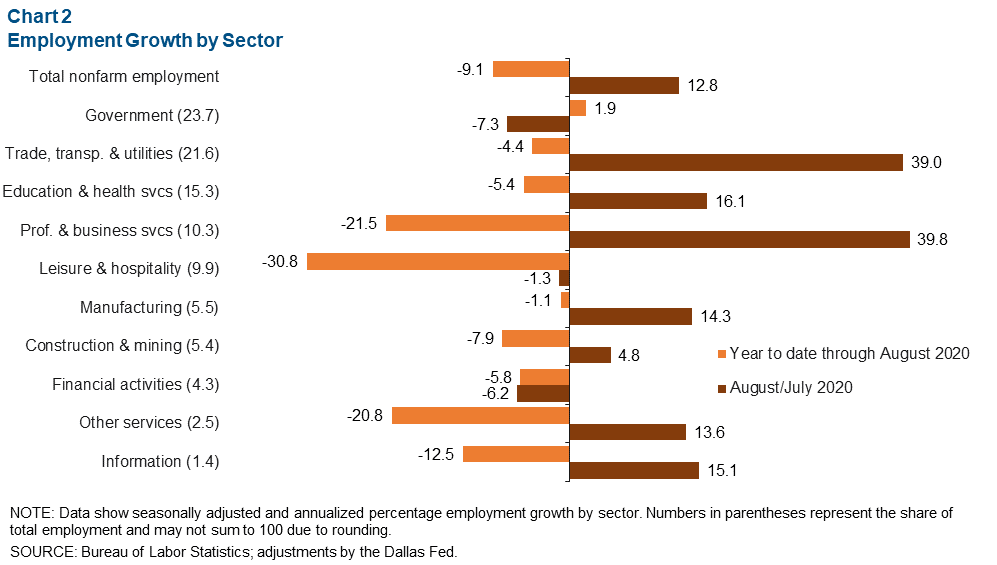 Year to date, the El Paso labor market contracted at an annualized rate of 9.1 percent (17,610 jobs, nonannualized). Losses were driven by leisure and hospitality (-30.8 percent, or 7,345 jobs), professional and business services (-21.5 percent, or 4,827 jobs), trade, transportation and utilities (-4.4 percent, or 1,780 jobs) and education and health services (-5.4 percent, or 1,555 jobs). Only the government sector experienced employment gains, adding 805 jobs year to date (1.9 percent annualized).
El Paso's unemployment rate declined from 8.1 to 7.2 percent in August. The unemployment rate in Texas and the U.S. also fell, to 6.8 percent and 8.4 percent, respectively.
Consumer Spending
El Paso County consumer spending (measured by credit and debit card spending) has recovered ground since bottoming out in mid-April, when spending was down 42.0 percent from January 2020 levels (Chart 3). As of Sept. 13, spending in the county was down 16.1 percent from January 2020, compared with an increase of 1.5 percent in Texas for that period.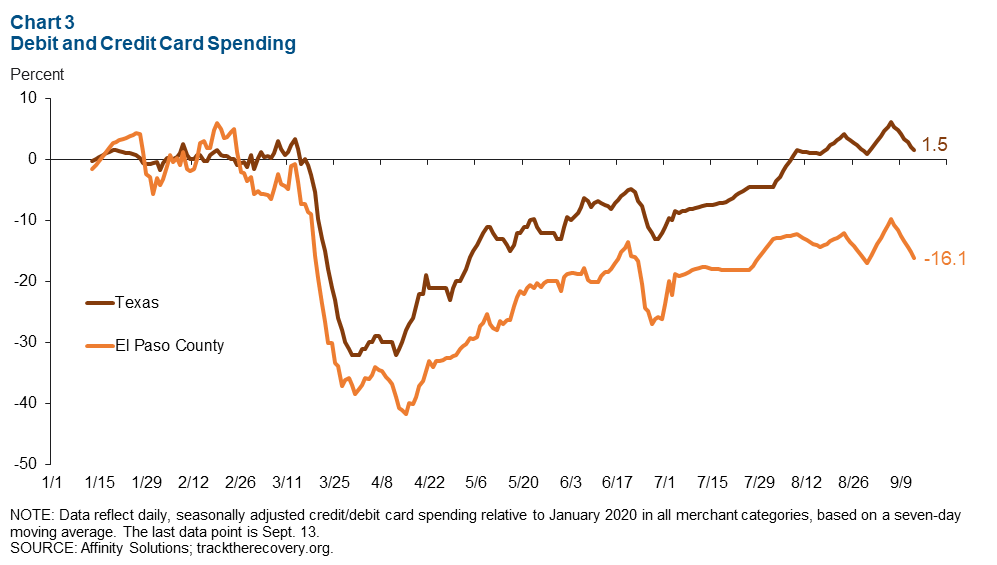 Housing Market
Annualized sales totaled 8,893 in August, or 3.0 percent above year-ago levels (Chart 4). Median home prices hit their highest level on record at $174,437, up 6.2 percent from August 2019. Existing-home inventories stood at 1.8 months in August, well below the six months of supply associated with a balanced market.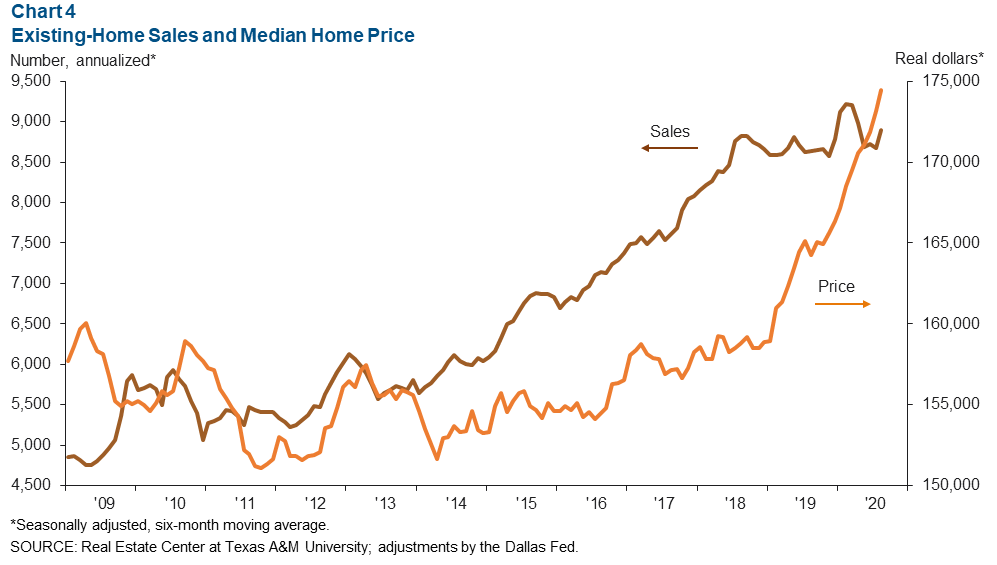 Industrial Production and Maquiladora Activity
The U.S. industrial production index increased from 101.0 to 101.4 from July to August but was down 7.7 percent on a year-over-year basis (Chart 5). Mexico's industrial production index also increased on a monthly basis in July, moving from 84.7 to 90.6, but was down 11.6 percent compared with a year prior. The Institute for Supply Management manufacturing index grew for the fourth consecutive month, rising from 54.2 in July to 56.0 in August. August's figure indicates continued recovery in the manufacturing sector; it was the first full month of operations as supply chains restarted and employees returned to work after COVID-19 restrictions were eased. U.S. and Mexican production and manufacturing trends are important to the local economy because of cross-border manufacturing relationships.
Across the border, Juárez manufacturing employment continued to slow. Juárez maquiladora jobs totaled 268,568 in June, down 3.8 percent from a year earlier, according to the Instituto Nacional de Estadística y Geografía. U.S. auto and light-truck production was 10.6 million units in August, 0.7 percent higher than August 2019's production figure of 10.5 million. Meanwhile, monthly auto sales rose to 15.2 million in August, 11.1 percent below sales of 17.1 million from a year prior. Auto sales are closely linked to the local economy because roughly half of maquiladoras in Juárez are auto related.
NOTE: Data may not match previously published numbers due to revisions. The El Paso metropolitan statistical area includes El Paso and Hudspeth counties.
About El Paso Economic Indicators
Questions can be addressed to Keighton Hines at keighton.hines@dal.frb.org. El Paso Economic Indicators is released on the fourth Wednesday of every month.