Houston Economic Indicators

August 29, 2017
Note: The data and analysis in this report are based on information available prior to Hurricane Harvey making landfall in Texas.

The Houston economy continued to expand at a moderate pace through July. Bankruptcy filings, which are a lagging indicator of business conditions, increased markedly in the first half of the year. Leading indicators continue to suggest modest to moderate job growth going forward. Overall, the outlook for the Houston economy remains positive.
Business-Cycle Index
The Houston Business-Cycle Index has grown at an annual rate of 2.7 percent since December, slightly below its historical average of 3.2 percent (Chart 1). Job losses in July brought the three-month growth rate down from 4.3 percent in June to 1.3 percent in July. On the whole, the index suggests that economic activity in Houston passed a turning point at the beginning of the year and has been expanding at a modest pace.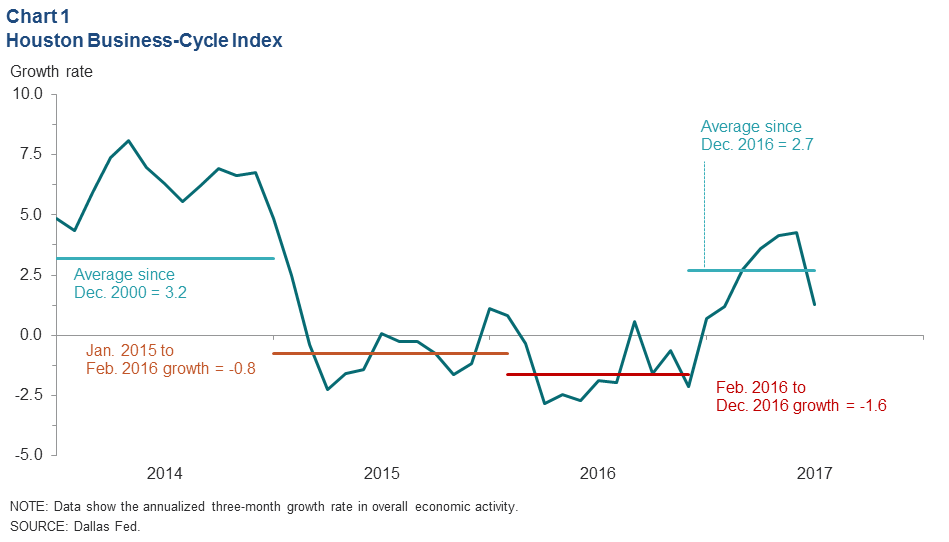 Employment
Houston employment growth was a healthy 2.4 percent (41,195 jobs) from December 2016 to July 2017 after a slight upward first-quarter revision (Chart 2). Job growth slowed markedly in the most recent data, however, growing at an annual rate of 1.2 percent (9,000) over the three months ending in July. Growth over that time came principally from education and health services (6,606) and manufacturing (3,706). Job losses came from construction (4,479) and trade, transportation and utilities (4,250).
The Houston unemployment rate was 4.8 percent in July, down from 5 percent in June, and 0.5 percentage points below its year-to-date average. The July unemployment rate was 4.3 in Texas and 4.3 percent in the U.S.
Bankruptcies
Business bankruptcy filings in Texas' Southern District (mostly filings in Houston) surged in early 2016 in the wake of the collapse in crude oil prices in 2015. Filings moderated in the second half of 2016 and then surged again in the first half of 2017, rising to an average of 104 filings a month from May 2017 to July 2017—the highest three-month average since April 2010 (Chart 3). While disconcerting, turning points in bankruptcy filings tend to lag behind turning points in broader measures of the economy like the Houston Business-Cycle Index.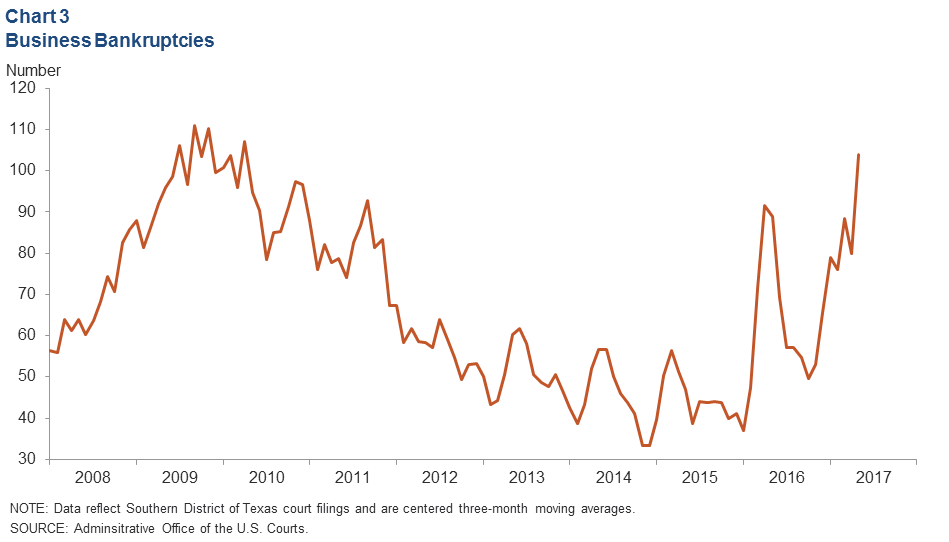 Service Sector Jobs
Growth Continues but at Slower Pace
Service sector jobs grew at an annual pace of 1.4 percent (9,002) over the three months ending in July (Chart 4). Growth was centered in professional, scientific and related jobs (3,110) and food services and drinking places (2,120). Job losses were focused in transportation (2,120) and wholesale trade (1,483). The 1.4 percent pace is a slowdown from earlier in the year, particularly for jobs in employment services (staffing firms), which was growing at a nearly record pace earlier in the year.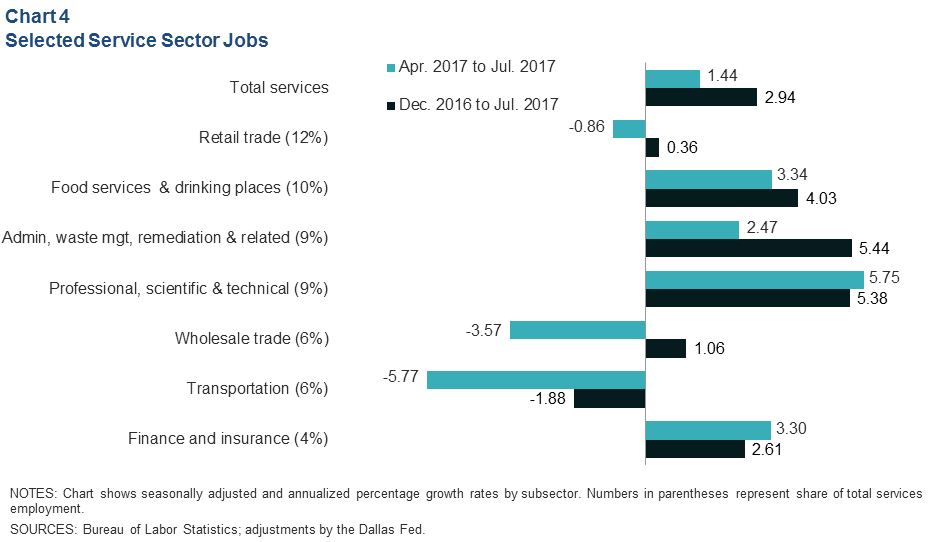 Health Care Employment Strong
Health care and social assistance job growth accelerated in the most recent three months relative to the year-to-date rate, and the category is again growing above its historical average (Chart 5). Ambulatory health (physicians' offices, dentists, minor emergency clinics) has been the driving force behind the growth this year as hospitals and other health employers (senior living facilities, chiropractors) have reduced head counts.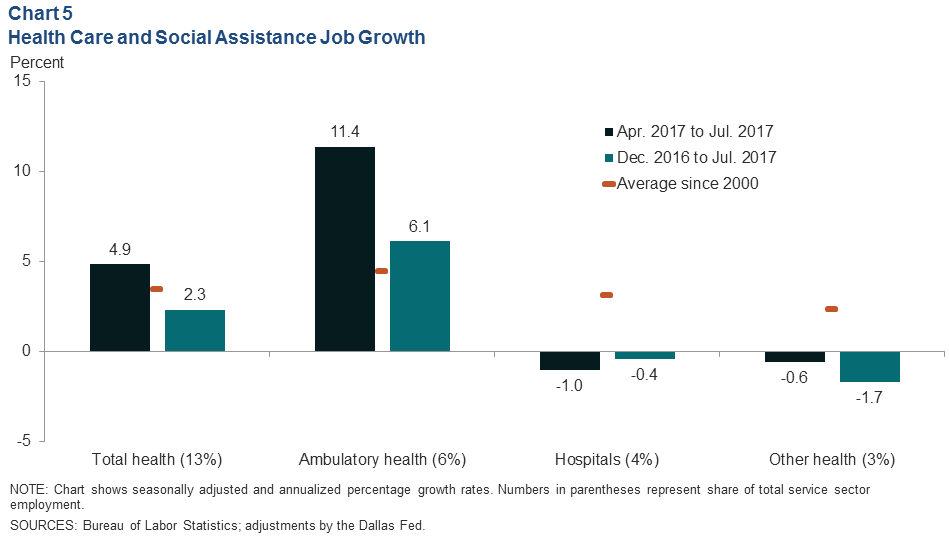 Leading Indicators
U.S., Texas Indexes Move Up
Forward-looking data continued to signal a healthy outlook in July (Chart 6). The U.S. leading index grew twice as fast from December 2016 to July 2017 as it did in the seven prior months. These improvements suggest that the broader U.S. economy could provide a tailwind to Houston job growth in the second half of 2017.
The Texas index of leading indicators also extended its upward trend in July, growing at an annual 4.5 percent rate in the first seven months of 2017, compared with 1.1 percent in the prior seven months. The recent increases would historically suggest stronger job growth in Houston over the next three to five months.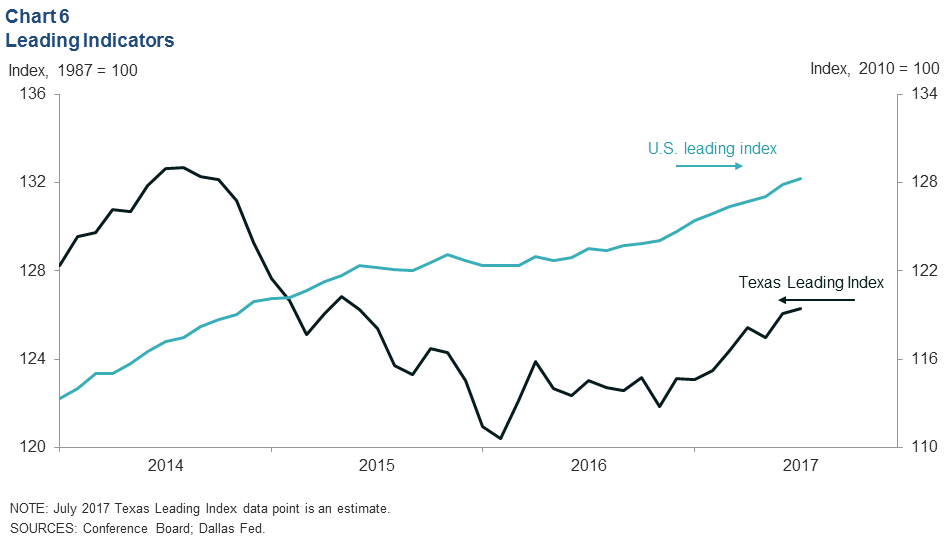 Houston PMI Shows Continued Expansion
The Houston Purchasing Managers Index was flat in July at 51.8—its 10th consecutive month above 50 (Chart 7). (Values above 50 indicate an expanding economy, and values below 50 indicate contraction.) The engineering and construction industry logged its fifth straight month of contraction, and the oil and gas industry noted a worsening outlook. Overall, index data were supportive of modest job growth in Houston over the next two to four months.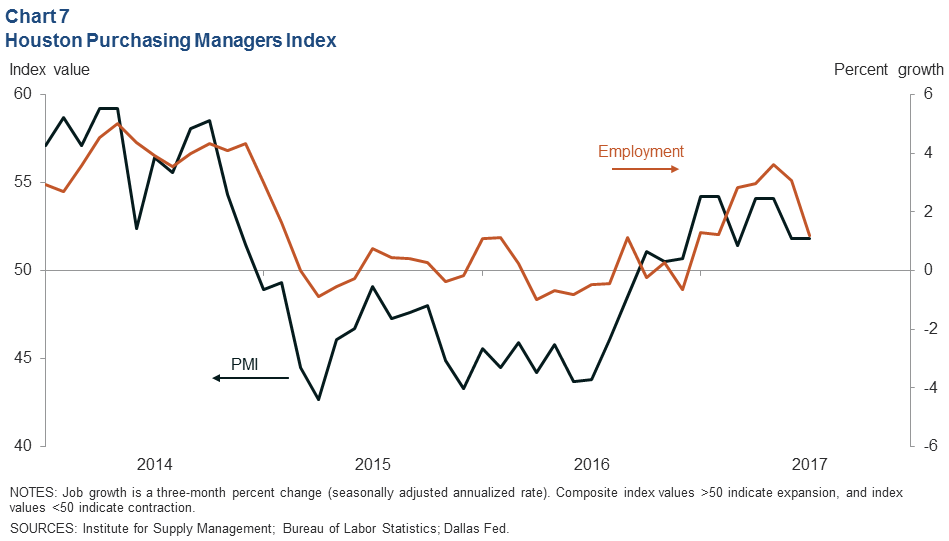 NOTE: Data may not match previously published numbers due to revisions.
About Houston Economic Indicators
Questions can be addressed to Jesse Thompson at jesse.thompson@dal.frb.org. Houston Economic Indicators is posted on the second Monday after monthly Houston-area employment data are released.