Houston Economic Indicators

September 26, 2017
The Houston economy continued to expand at a modest, but slower, pace through August. The business-cycle index and employment data were weaker, and the energy industry provided less of a boost to Houston over the summer. Hitting at the end of August, Hurricane Harvey was not included in the jobs data for August, which counts jobs on the payroll that included the 12th day of the month. However, analysis by the Dallas Fed suggests that while Harvey's impact will be felt keenly, Houston and the Texas Gulf Coast are expected to recover quickly. Overall, while the near-term outlook is uncertain, the medium-term outlook remains positive.
Business-Cycle Index
The Houston Business-Cycle Index has grown at an annual rate of 2.6 percent since December, below its historical average of 3.2 percent but much stronger than in 2016 (Chart 1). August job numbers helped pull the three-month growth rate down from 1.3 percent in July to 0.4 percent in August. Overall, the index suggests that economic activity in Houston has been expanding at a modest pace this year but has been slowing the past few months.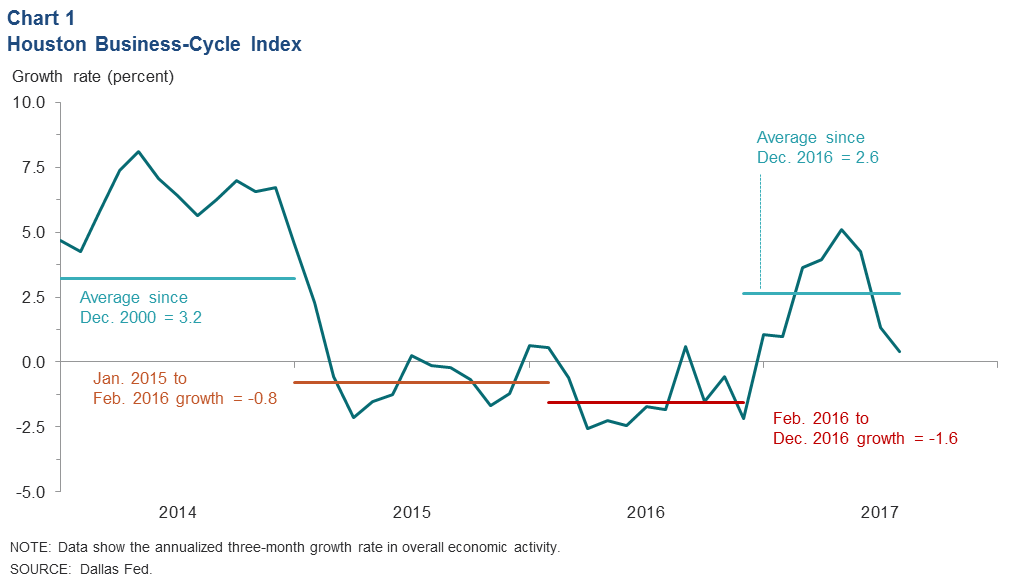 Employment
Jobs Growth Slows
Houston employment grew 2.1 percent (42,233 jobs) from December 2016 to August 2017, on par with its historical average growth rate (Chart 2). However, job growth has been slowing. Employment rose at an annual rate of 0.6 percent (4,900) over the three months ending in August. Education and health services (6,529), leisure and hospitality (1,960), and manufacturing (1,488) grew strongly. Most of the job losses over that time came from construction (2,673) and trade, transportation and utilities (1,466).
The Houston unemployment rate increased to 5 percent in August from a revised 4.6 percent in July but was on par with the average rate over the past six months. The August unemployment rate was 4.2 percent in Texas and 4.4 percent in the U.S.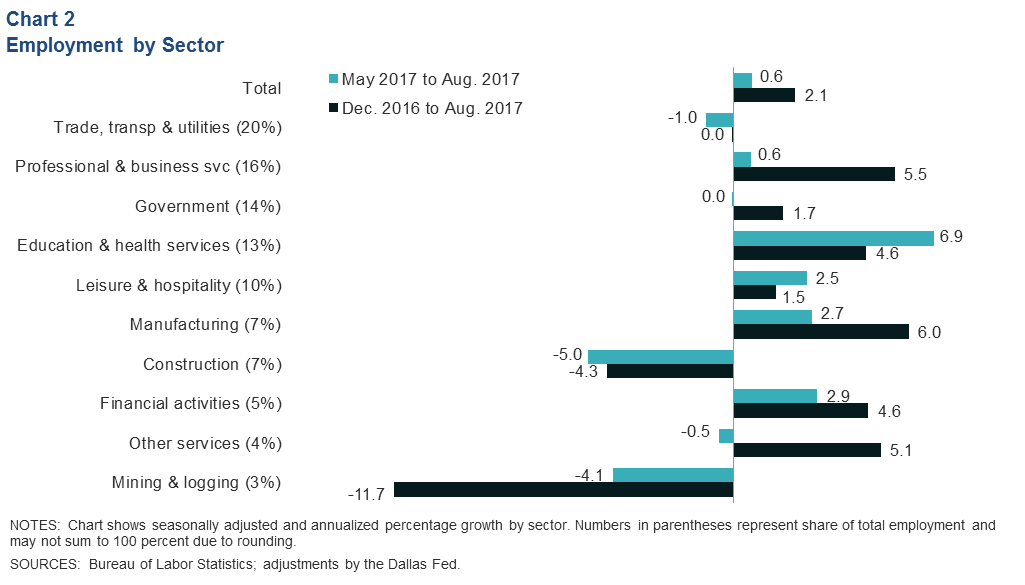 Goods and Services Job Growth Diverges
Employment in the goods and services sectors diverged in recent data. Service sector job growth slowed to an annualized 1.4 percent for the three months ending in August, down from the 3.3 percent annual growth rate that marked the first half of 2017 (Chart 3). This slowdown was concentrated in trade and professional services. Goods-producing jobs dropped at an annualized rate of 2.8 percent over the most recent three months after having rocketed back to solid growth numbers in the second quarter of 2017, driven by mining-related jobs.
Data since the second quarter are still subject to substantial revision, but these readings suggest a broad-based slowing of job growth over the summer months.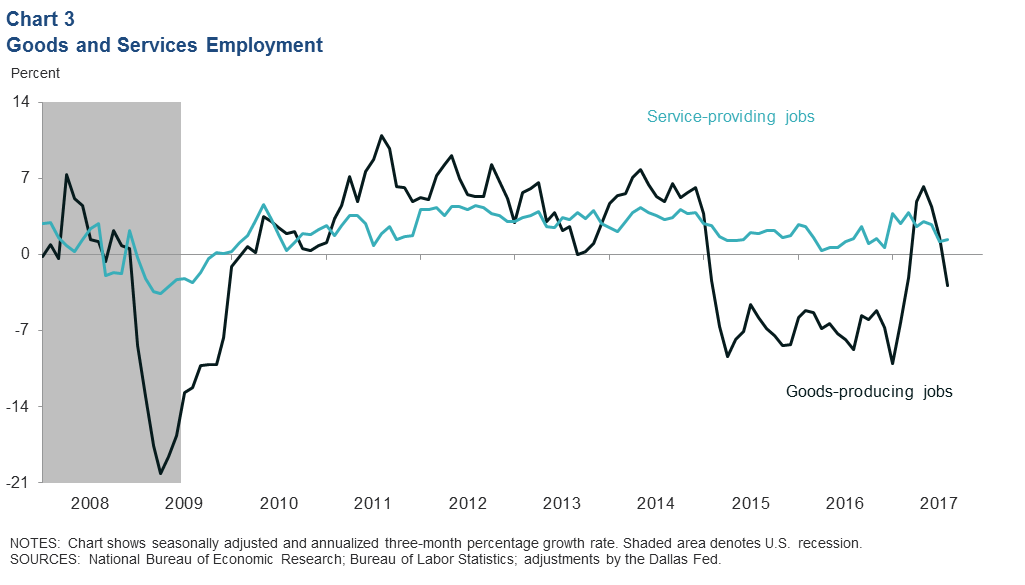 Oil and Gas
Hurricanes Distort Recent Activity
After two years of losses, the mining-related job count expanded from January through June 2017 (Chart 4). Changes in job growth in these sectors usually lag behind changes in the rig count, but both flattened over the summer as drilling activity in the U.S. pushed the limits of what recent and expected prices could support. West Texas Intermediate crude oil (WTI) has traded between $45 and $55 over most of the past year, but it tested the bottom of that range in June and July.
Weekly data for both energy prices and drilling activity have been temporarily distorted by Hurricanes Harvey and Irma. Winds, rain and flooding forced some activity in the Gulf of Mexico and the Eagle Ford to temporarily shut down. Texas ports, refining and chemical production had to partially or entirely shut down for Hurricane Harvey as well, and the loss of processing and export capacity pushed down U.S. crude prices and affected drilling operations in the Permian Basin and elsewhere.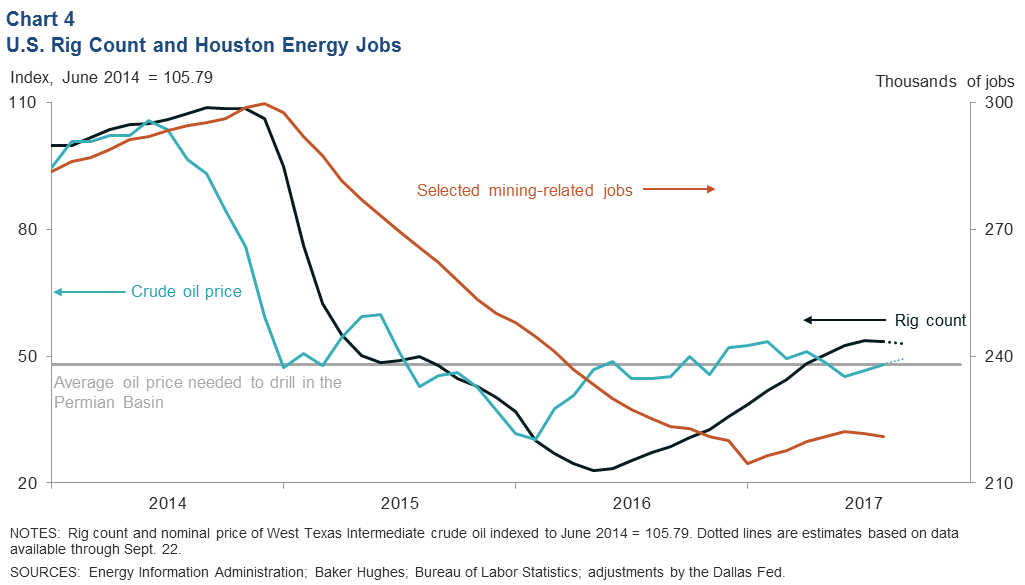 Mining-Related Employment Flattens
Mining-related employment was effectively flat over the three months ending in August (Chart 5). Jobs in support activities for mining (mostly oilfield services firms) were up sharply on an annual basis over that time, but that growth was met by job losses from extraction and energy-related manufacturing. Fabricated metals and support activities for mining are highly cyclical and tend to respond quickly to changes in the rig count.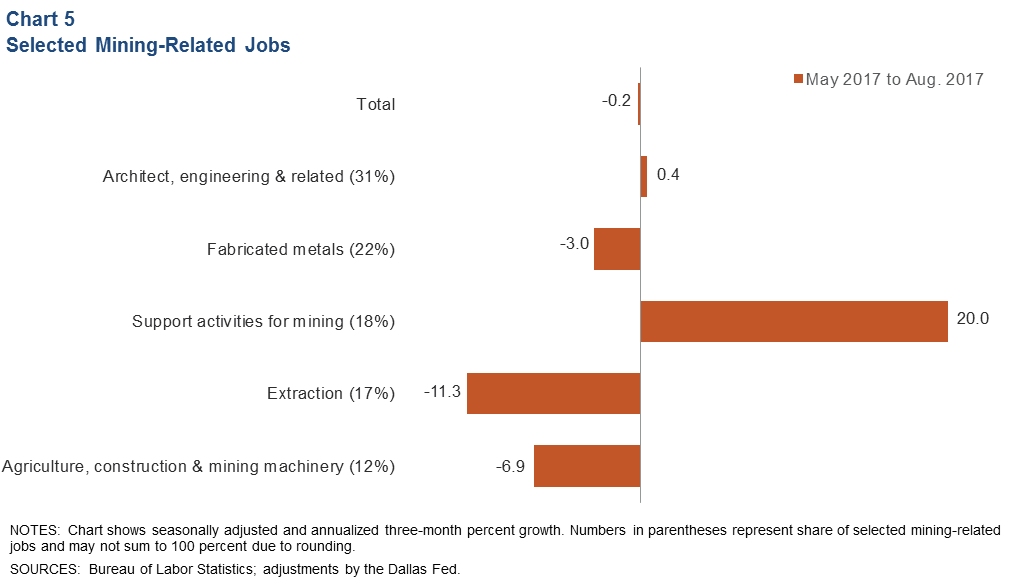 Fuel Prices Jump After Storm Disrupts Refining
The shutdown of refinery capacity that pushed down the price of WTI the past few weeks also pushed motor fuel prices up. The weekly retail price of regular gasoline rose 36 cents per gallon in Houston as Hurricane Harvey forced many refineries to temporarily shut down (Chart 6). The week after landfall, U.S. refinery utilization was down 18.9 percentage points compared with the week prior to the hurricane. Refinery utilization after Hurricanes Katrina and Rita struck the Gulf Coast fell by smaller amounts and was already recovering one week after landfall. As Texas refineries and ports return to normal operations in the coming weeks, all else being equal, the increased production should put downward pressure on gasoline prices.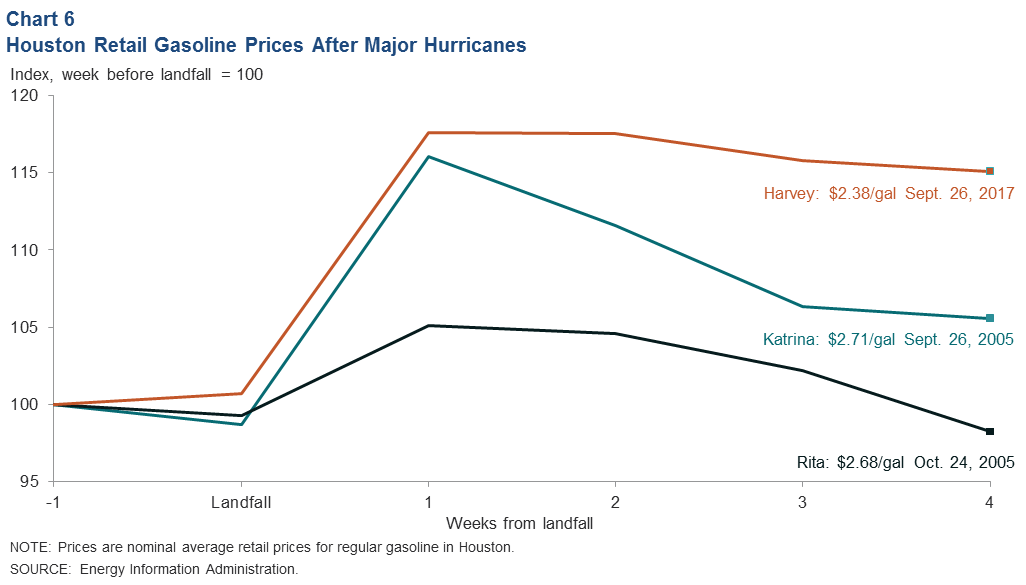 Hurricane Harvey
As the impacts of Hurricane Harvey are tabulated, greater clarity will emerge as to the path of recovery. Texas Department of Public Safety data indicate that 248,923 single-family homes in Gulf Coast metropolitan areas were impacted by the storm, and the Insurance Institute of Texas recently estimated that there were over $20 billion of insured losses to homes and vehicles.
A recent analysis by the Dallas Fed suggests that the impact to Texas Gulf Coast employment (88 percent of which is in the Houston metro area) is likely to be significant—but short lived (Chart 7). Employment is expected to bounce back, with jobs growing over 1.7 percent in the second half of 2017. That's faster than the 1.5 percent annual rate that might have been expected based on data prior to the hurricane.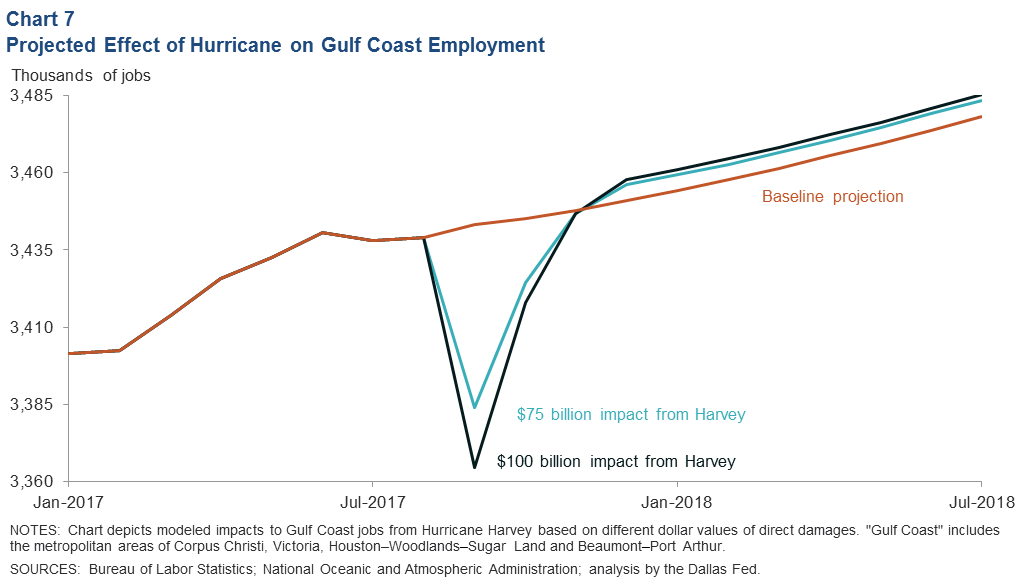 NOTE: Data may not match previously published numbers due to revisions.
About Houston Economic Indicators
Questions can be addressed to Jesse Thompson at jesse.thompson@dal.frb.org. Houston Economic Indicators is posted on the second Monday after monthly Houston-area employment data are released.