Houston Economic Indicators

October 31, 2017
Hurricane Harvey significantly affected economic activity in Houston at the end of August and through a good portion of September. Available data indicate that recovery is well underway for some sectors. Home sales rebounded in September, and refining and petrochemical facilities are operating at normal rates. While signs that Houston's economy was weakening heading into the fall warrant attention over the next few months, the medium-term outlook for Houston remains positive.
Business-Cycle Index
Recent revisions to the Houston Business-Cycle Index caused the year-to-date growth rate through August to be revised down from an annualized 2.6 percent to 2.4 percent (Chart 1). However, the index had begun contracting slightly over the summer due to weak jobs data. In September, the effect of Hurricane Harvey on employment drove the growth rate of the index sharply negative, similar to what happened after Hurricane Ike in 2008. However, the effects of Hurricane Ike are somewhat difficult to discern from those of the Great Recession and the late-2008 collapse in commodity prices.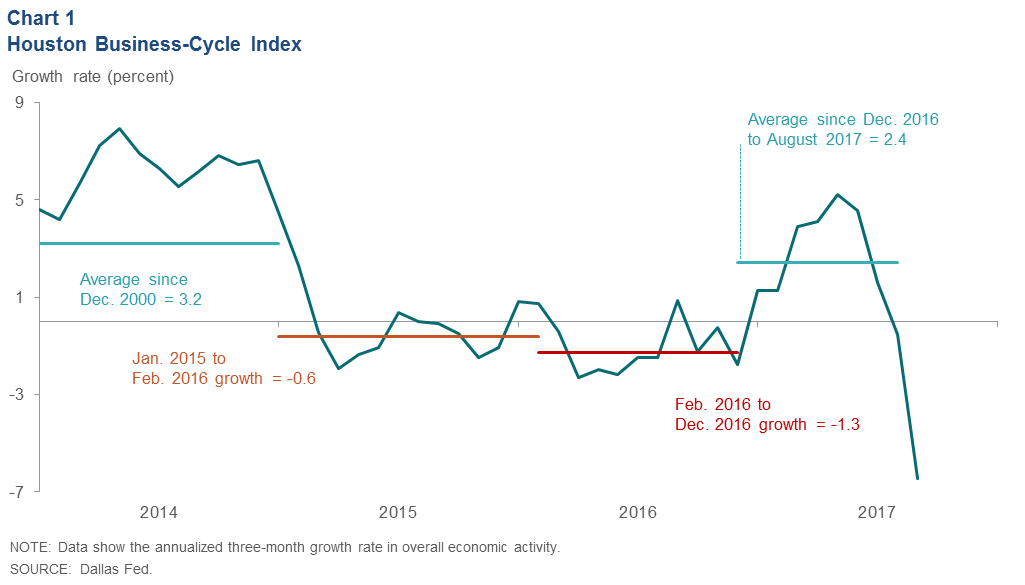 Employment
Downward revisions to payroll employment that came with the September data resulted in Houston growing at an annual rate of 1.9 percent from December 2016 to August 2017, down from the 2.1 percent reported last month (Chart 2). Over that time, most sectors were experiencing modest growth with the exception of construction, which peaked in January 2016. Hurricane Harvey sent most sectors into contraction for the month of September, as employment data are measured on the 12th of the month. Leisure and hospitality in particular saw hefty estimated job losses of 10,721, mostly in restaurants, bars and related services employment. Education and health services (4,963 jobs) and professional and business services (3,013) sectors saw the bulk of the remaining declines. Financial activities (1,642), mining (519) and manufacturing (120) were sources of job growth in September.
Construction and Real Estate
Construction Jobs Retreat, Should Rebound
Construction employment has been retreating for nearly two years as the boom in commercial real estate construction and in petrochemical construction has moved past its peak. Through August, construction job losses had accelerated to an annual rate of 6 percent (Chart 3). Initial estimates for September 2017 indicate construction payrolls fell an annualized 12.1 percent (2,197 jobs) after the hurricane. As repairs get underway for the thousands of affected homes and businesses, construction employment demand should rise sharply. For reference, Houston lost 2,610 construction jobs in September 2008 after Hurricane Ike, and the metro area recovered nearly all of those jobs the following month.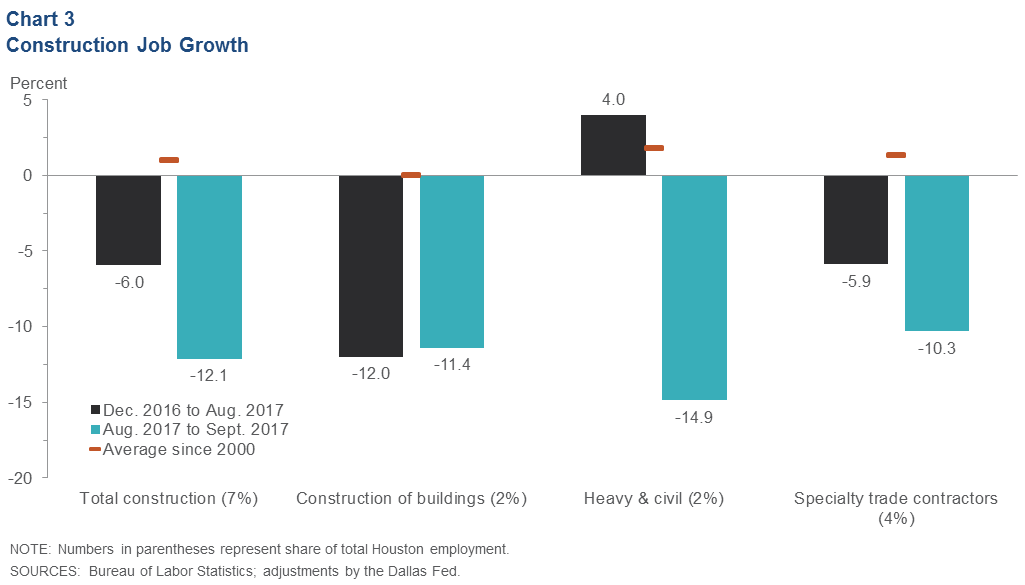 Existing-Home Sales Recover Quickly
Home sales fell in August as flooding and rainfall suppressed buying activity toward the end of the month (Chart 4). September home sales bounced back as homebuyers were able to resume normal activity, which caused the inventory of homes for sale to dip below four months. Traditionally, price pressures are considered balanced when the inventory number is closer to six months. The median price of homes sold increased as well in September.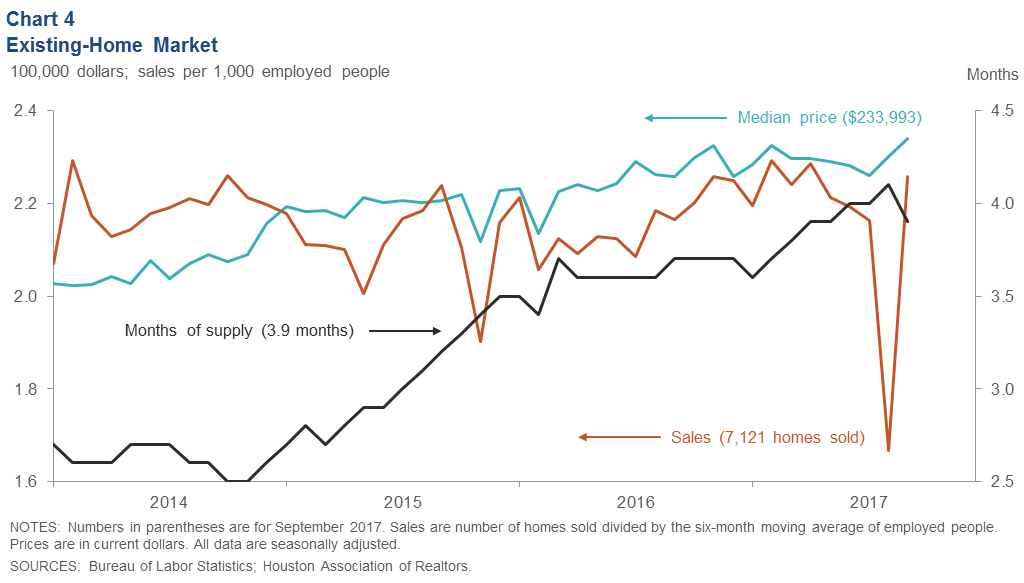 International Trade
Trade Volume Increases
Data for May to July indicated healthy growth in total trade volume (total weight) in the Houston–Galveston customs district compared with the prior three months (February through April) (Chart 5). This is despite erosion in the value of goods moving through the port due in part to weak oil prices in the first half of the summer. Exports contributed more to total trade volume growth than imports over this time, but they also contributed more to the drop in the value of traded goods.
The value of the dollar continued to weaken relative to Texas' trade partners over the summer (data inverted in the chart).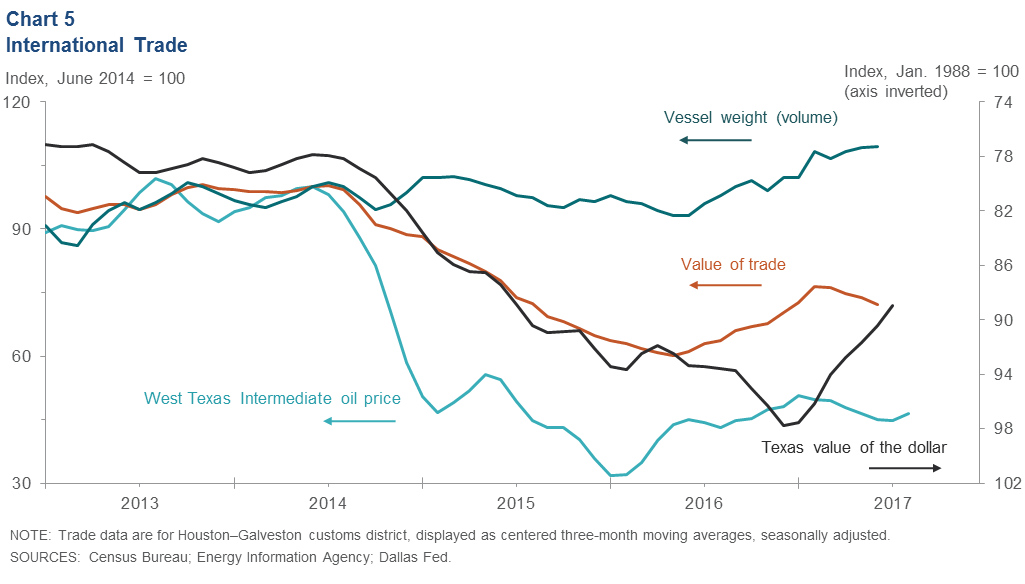 Refining and Petrochemicals Recover Quickly
Although trade data for September and October are not available yet, activity at Texas water ports is recovering after being disrupted by Hurricane Harvey. The Texas Gulf Coast is home to nearly 30 percent of the nation's refining capacity and nearly three-quarters of its basic petrochemical capacity. Most of these facilities rely on ports and port infrastructure to move intermediate and final products. Weekly data on U.S. chemical railcar loadings and Gulf Coast refinery utilization indicate that Hurricane Harvey impacted activity in Houston's refining and petrochemical industries. However, both industries have recovered quickly thanks to relatively little damage from flooding (Chart 6). These industries account for a disproportionate share of activity at Texas ports.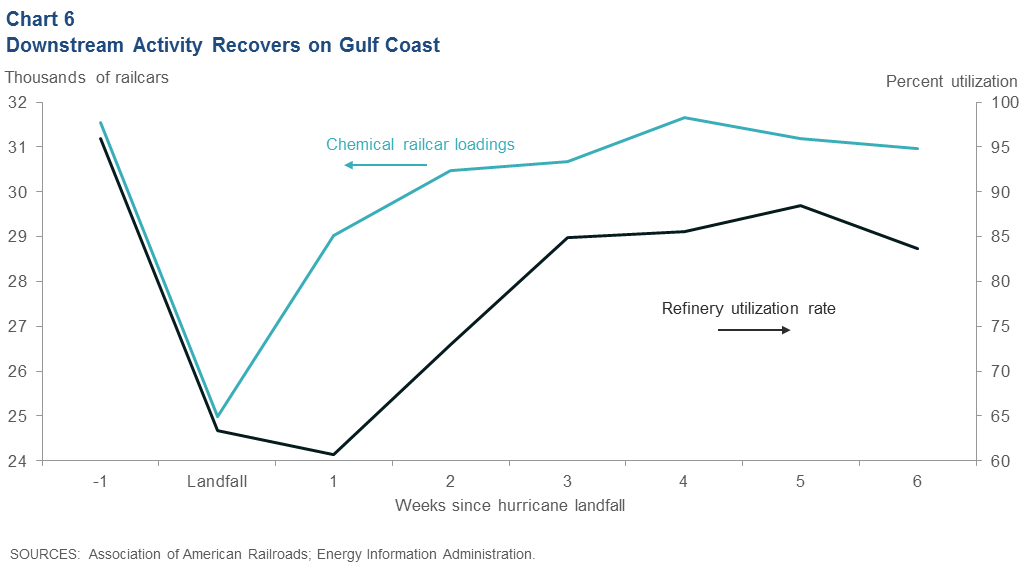 NOTE: Data may not match previously published numbers due to revisions.
About Houston Economic Indicators
Questions can be addressed to Jesse Thompson at jesse.thompson@dal.frb.org. Houston Economic Indicators is posted on the second Monday after monthly Houston-area employment data are released.