Houston Economic Indicators

November 30, 2017
Recovery from Hurricane Harvey was evident in October data. Employment bounced back, job ads improved, and leading indexes were neutral to positive for job growth ahead. Taken together, the outlook for Houston is positive.
Business-Cycle Index
Growth in the Houston Business-Cycle Index—a real-time proxy for changes in economic activity such as income and output—bounced back to essentially zero in October from a Harvey-induced decline in September. With essentially no growth, October data bring the year-to-date growth rate down from 2.4 percent in August to 2.2 percent (Chart 1).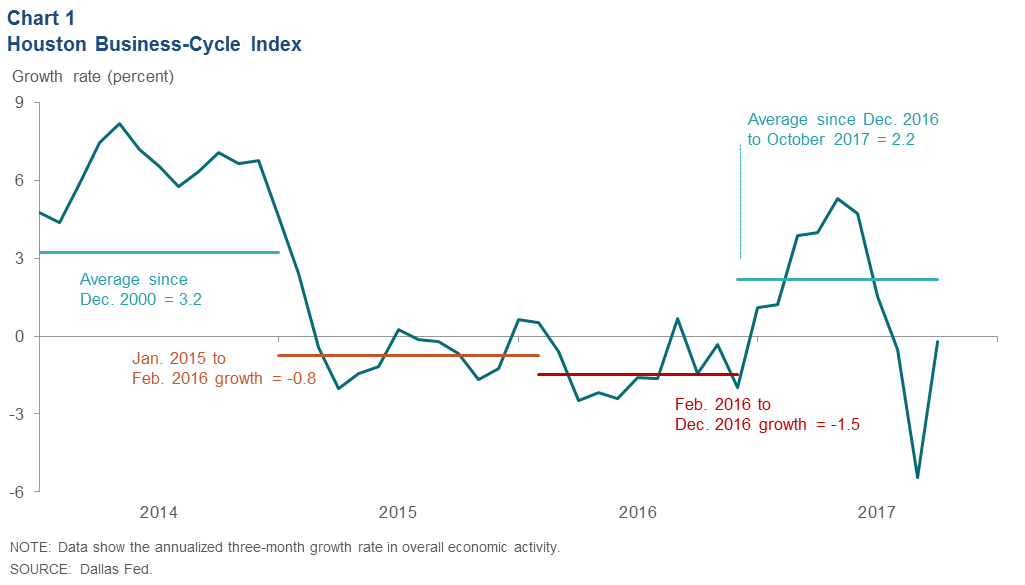 Employment
September employment data initially saw a net loss of 22,000 jobs as a result of Hurricane Harvey. Revised data released in November reduced that estimate to a net decline of 18,700 jobs. Furthermore, the metro added back 23,000 jobs in October, a 9.6 percent annual growth rate. Manufacturing, mining and logging, and other services (such as auto mechanics or laundromats) were the only supersectors to log declines in October (Chart 2).
Incorporating the October bounce-back and downward benchmark revisions to second quarter growth, Houston added jobs at an annual rate of 1.4 percent from December 2016 through October 2017, slightly slower than the 1.9 percent rate that was seen through August 2017. Most sectors experienced modest growth over the course of the year with the exception of construction, which peaked in January 2016, and mining which began trending down in May.
The unemployment rate in Houston was 4.5 percent in October, 0.6 percentage points below the September level and below the six-month average rate of 4.9 percent. The October drop in unemployment came amid an 18,800-person drop in the labor force, a decline that may be partly related to Hurricane Harvey but extends a trend that began in May. For comparison, the unemployment rate in Texas was 3.9 percent in October, and the U.S. unemployment rate was 4.1 percent.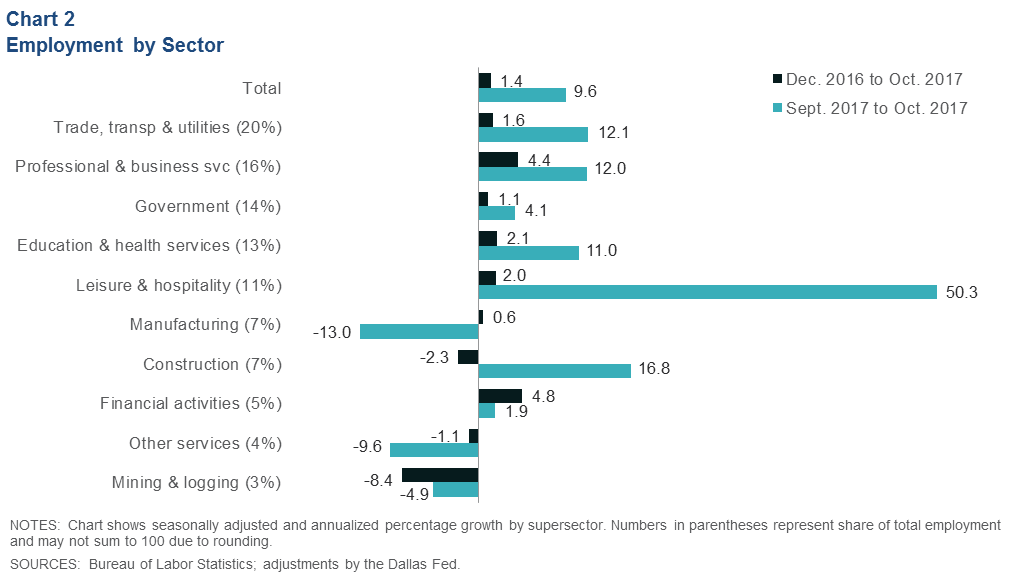 Business Bankruptcies
Bankruptcy filings are a lagging indicator of the economy and tend to rise after the business cycle has already returned to expansion from contraction. Business bankruptcy filings in Texas' southern district (mostly filings in Houston) remained elevated on average for the three months ending in September, though disruptions from the hurricane may have kept the number of filings elevated (Chart 3). Related data on oil and gas company bankruptcies from Haynes and Boone LLP indicate that while energy bankruptcies filed in Texas' southern district continue to inch up, the number is a small share of total filings.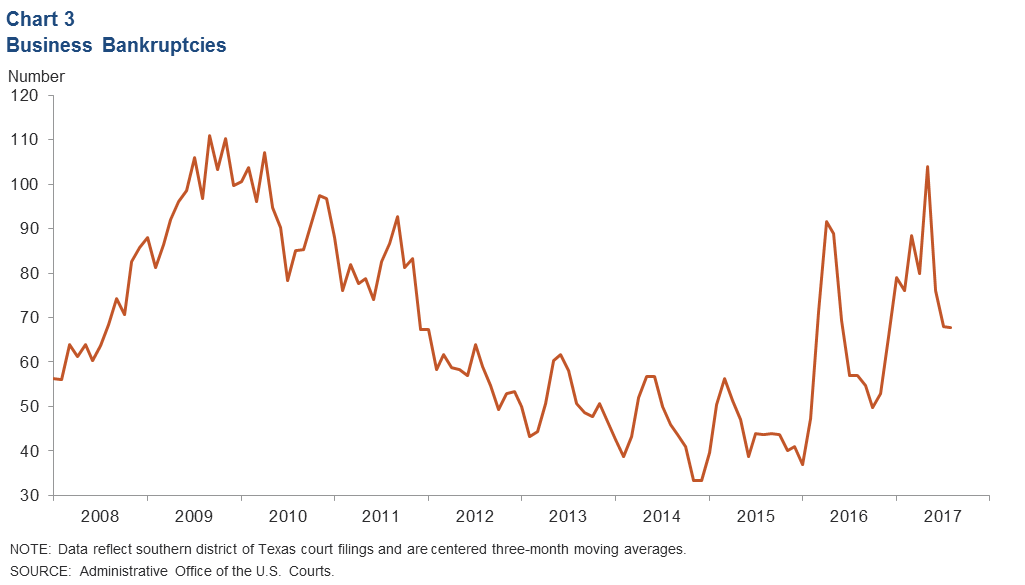 Leading Indicators
Help-Wanted Ads Tick Up Slightly
A number of indicators that tend to have a leading relationship with Houston job growth improved last month. Post-Harvey job ads surged for all occupational categories in October, offsetting three consecutive months of declines. On a moving-average basis, help-wanted advertising grew only slightly over the four months ending in October (Chart 4). Over those four months, ads for construction and maintenance occupations were up 30 percent, likely due to flood-related repairs. Sales and office occupations, however, saw the largest absolute increase in job ads over that time.
U.S. and Texas Leading Indexes Signal Growth
The Conference Board's index of leading indicators for the U.S. ticked up strongly in the October release, suggesting the broader U.S. economy will pick up over the winter months (Chart 5). This is positive for Houston and suggests regional growth will get a bit of a tailwind from the national economy. Changes in the U.S. index are most strongly correlated with Houston job growth five to seven months into the future.
The Texas Leading Index (TLI) also ticked up in October, driven by components such as Texas help-wanted advertising, drilling well permits and oil prices. As a key component of the Dallas Fed employment forecast and designed to help forecast turning points in the Texas economy, the TLI is positively correlated with Houston employment growth one to six months into the future.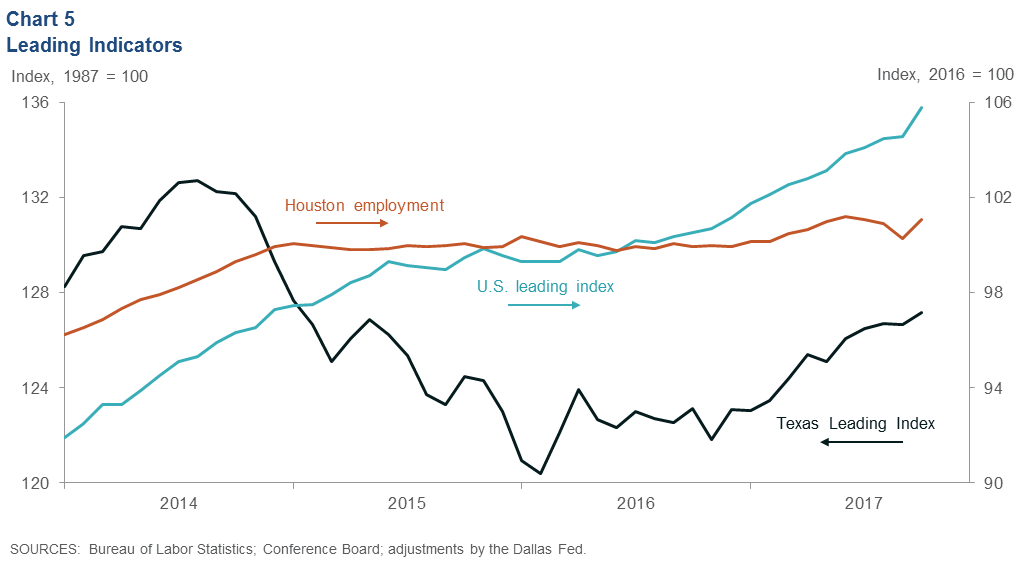 Purchasing Managers Index Neutral for Growth
The Houston Purchasing Managers Index ticked up to 49.3 in October as supply managers in the area noted ongoing recovery from Hurricane Harvey (Chart 6). Slightly below the "neutral" value of 50, the index is signaling only a modest contraction in economic activity for the Houston region. The index has a strong leading relationship with Houston job growth one to four months into the future. Four of the eight components in the series are signaling expansion—including the key production index, which has a stronger relationship with Houston job growth than the aggregate index. The other components are new orders, employment, purchases, prices paid, lead times, purchased inventory and finished goods inventory.
NOTE: Data may not match previously published numbers due to revisions.
About Houston Economic Indicators
Questions can be addressed to Jesse Thompson at jesse.thompson@dal.frb.org. Houston Economic Indicators is posted on the second Monday after monthly Houston-area employment data are released.