San Antonio Economic Indicators

November 22, 2019
San Antonio's economy grew strongly in October. The San Antonio Business-Cycle Index expanded at its fastest rate in six years. Job growth was robust, particularly within the construction and leisure and hospitality industries. Wages continued to climb, and home sales increased in the third quarter.
Business-Cycle Index
The San Antonio Business-Cycle Index—a broad measure of economic activity in the metro—expanded at an annualized 5.9 percent pace in October, the fastest since April 2014 and nearly double its long-term trend of 3.0 percent (Chart 1). Job growth, lower unemployment rates and increased retail sales are all indicative of the continued strength of the San Antonio economy.
Labor Market
Unemployment Near Historical Lows
Tight labor markets persist in San Antonio. The metro and state unemployment rates held at 3.0 and 3.4 percent, respectively, while the nation's rate ticked up but remained historically low at 3.6 percent in October (Chart 2). In the three months ending in October, San Antonio's labor force growth shot up to 10 percent on an annualized basis. That compares with an annualized 2.88 percent for the year, well above the state's 1.54 percent growth.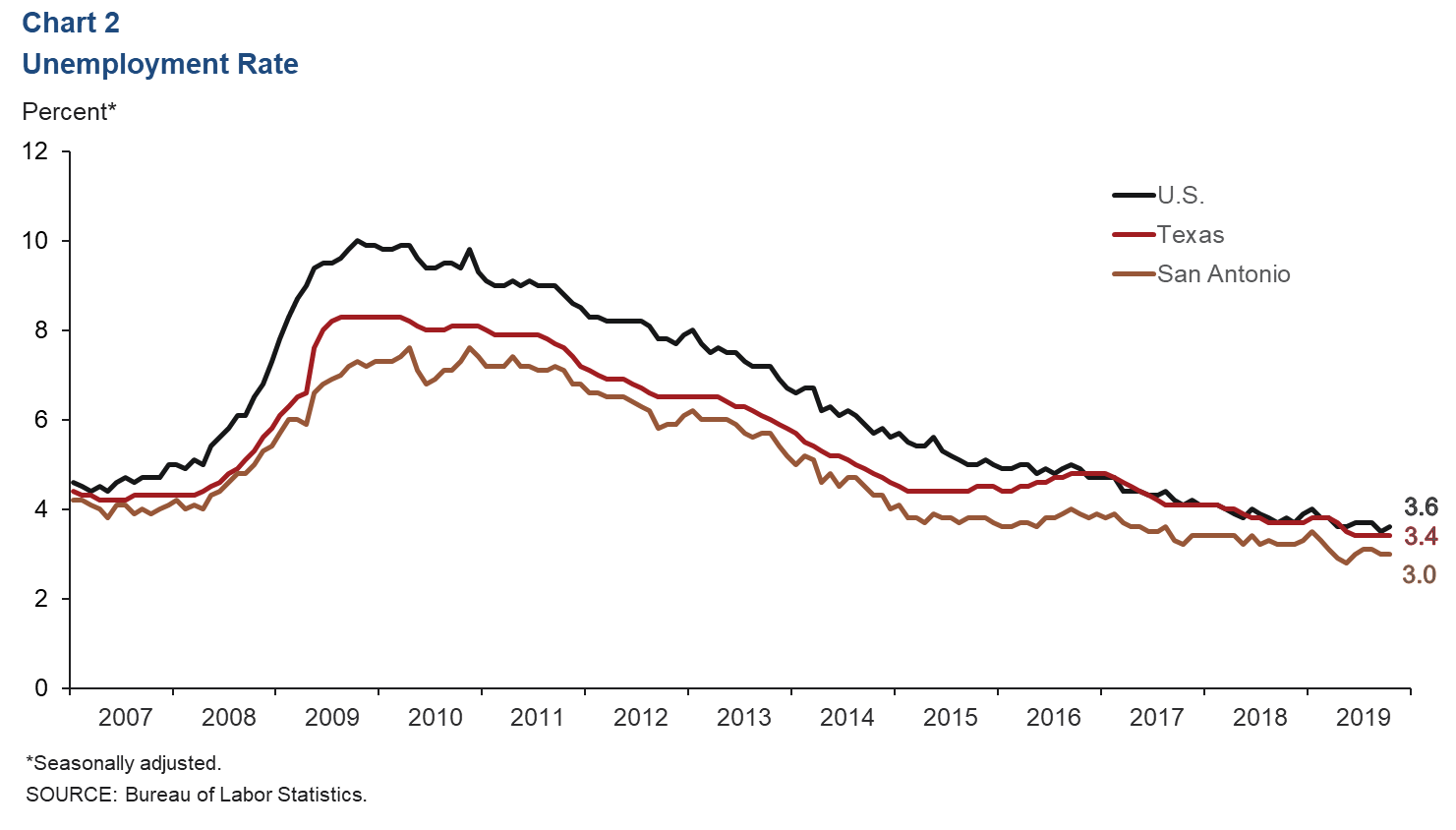 Recent Job Growth Robust
The metro added jobs at a strong 6.2 percent annualized rate in the three months ending in October (Chart 3). Growth during this period was broad based across sectors. Construction continued to lead job expansion with a substantial 19.9 percent increase (2,700 net jobs). Leisure and hospitality added the most net jobs at 4,500 (a 13.8 percent gain), and professional and business services added 4,100 jobs (11.9 percent). So far this year, employment has increased at a strong 2.8 percent pace, boosted by a recent benchmark revision that raised second-quarter growth from 0.4 to 1.4 percent.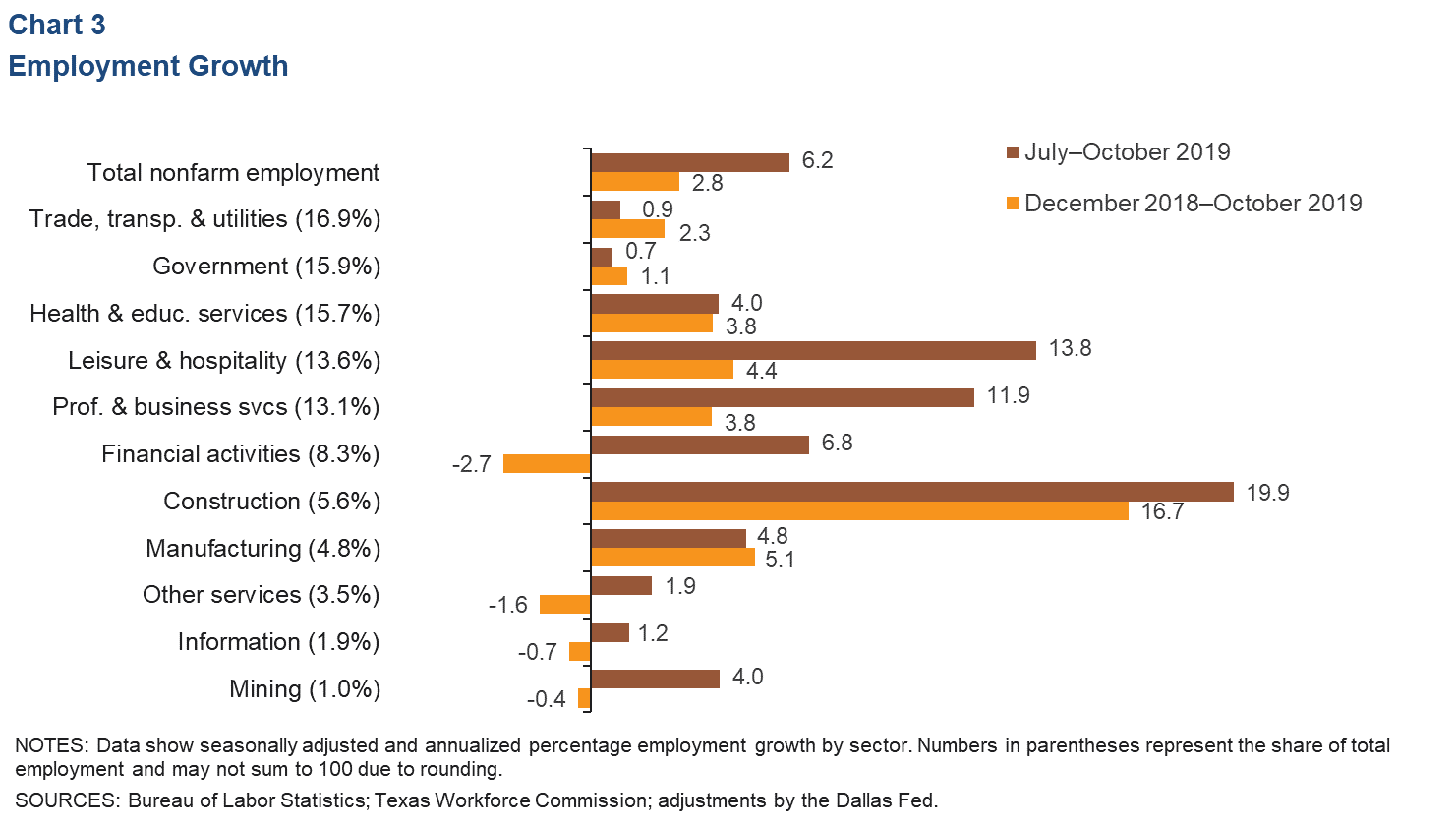 Metro Wages Continue to Rise
The three-month average for private sector hourly wages in San Antonio increased to $24.64 in October (Chart 4). Metro wages are up 3.2 percent year over year, above the Texas and U.S. gains of 0.5 and 3.1 percent, respectively.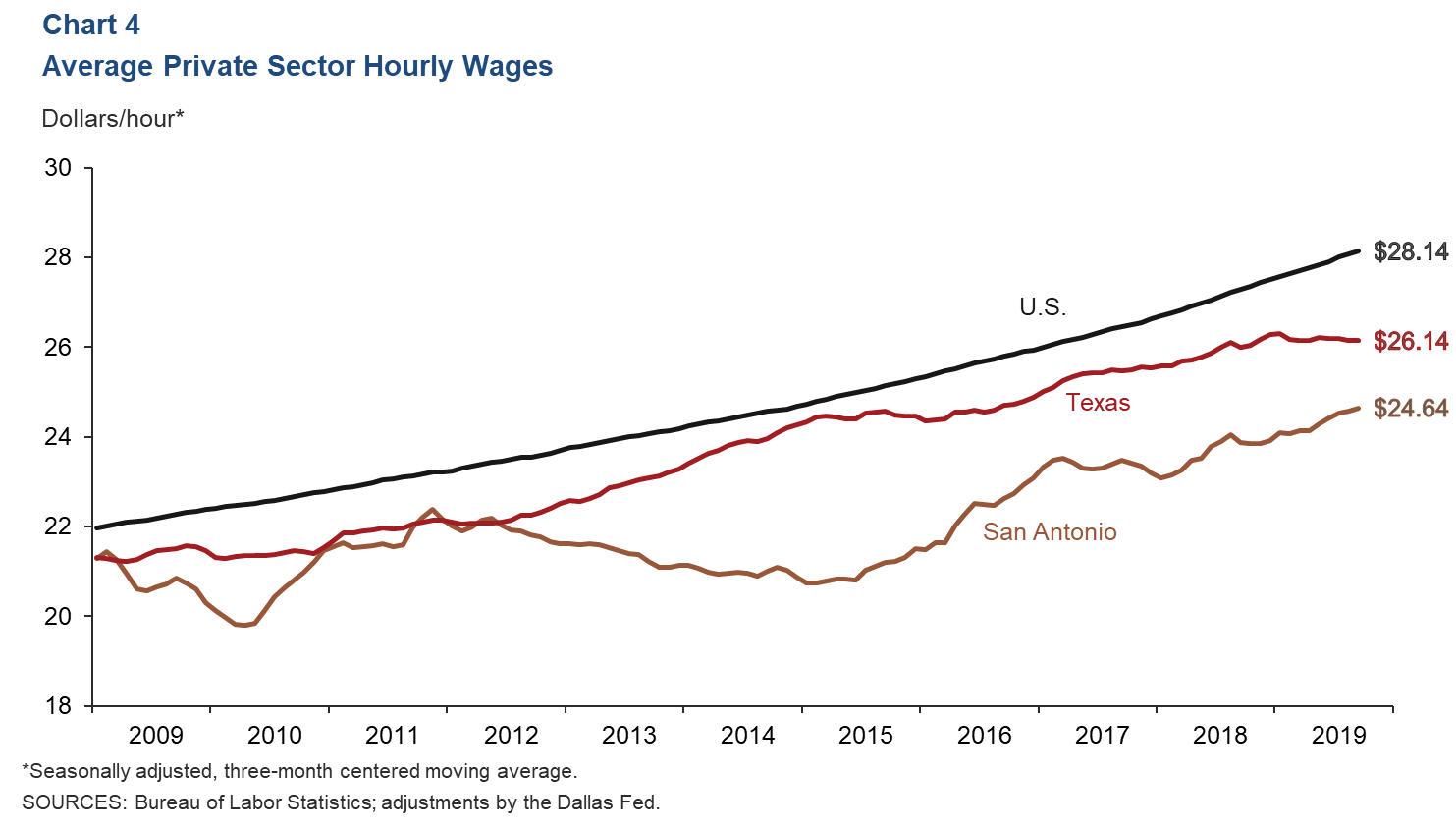 Home Sales
Existing-home sales in the metro increased 3.0 percent from the second to third quarter, 1.0 percentage points higher than the same metric for the state (Chart 5). Relative to the same period last year, year-to-date sales are up 4.1 percent in the metro and 2.3 percent in the state. As of September, the median sales price of a home stood at $235,322 in San Antonio and $243,711 in Texas.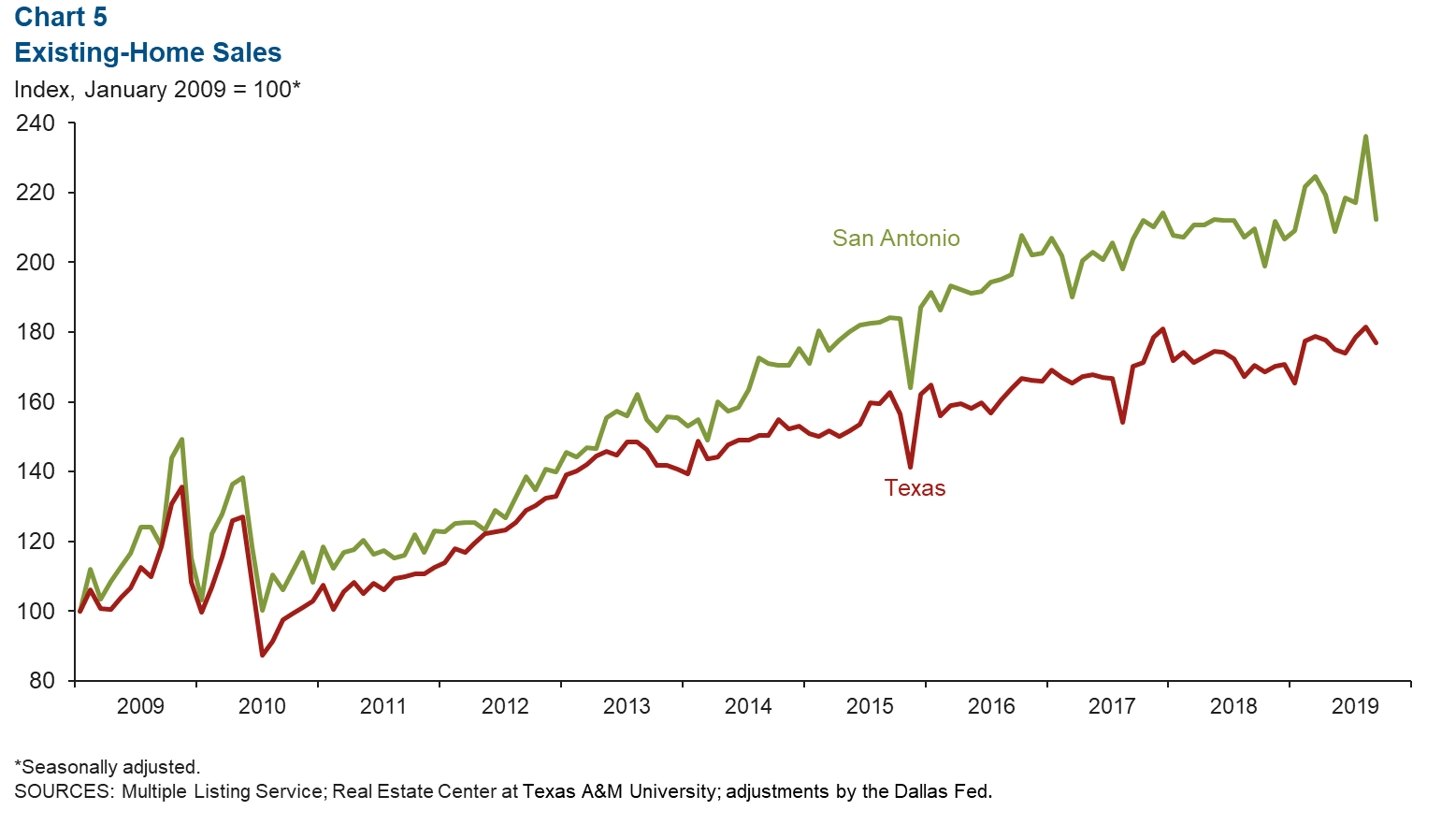 Stock Prices
Share prices of public companies with a large presence in San Antonio have posted mixed performances so far in 2019. An index of these firms has decreased 9.3 percent since November 2018, while the S&P 500 index has increased 16 percent. Year to date, local firms' stock prices have increased 10.1 percent, although this lags behind the S&P 500's 24.5 percent rise (Chart 6). From Oct. 31 to Nov. 19, the local index was flat, while the S&P 500 rose 2.7 percent. Performance by industry was mixed for San Antonio firms over the most recent period.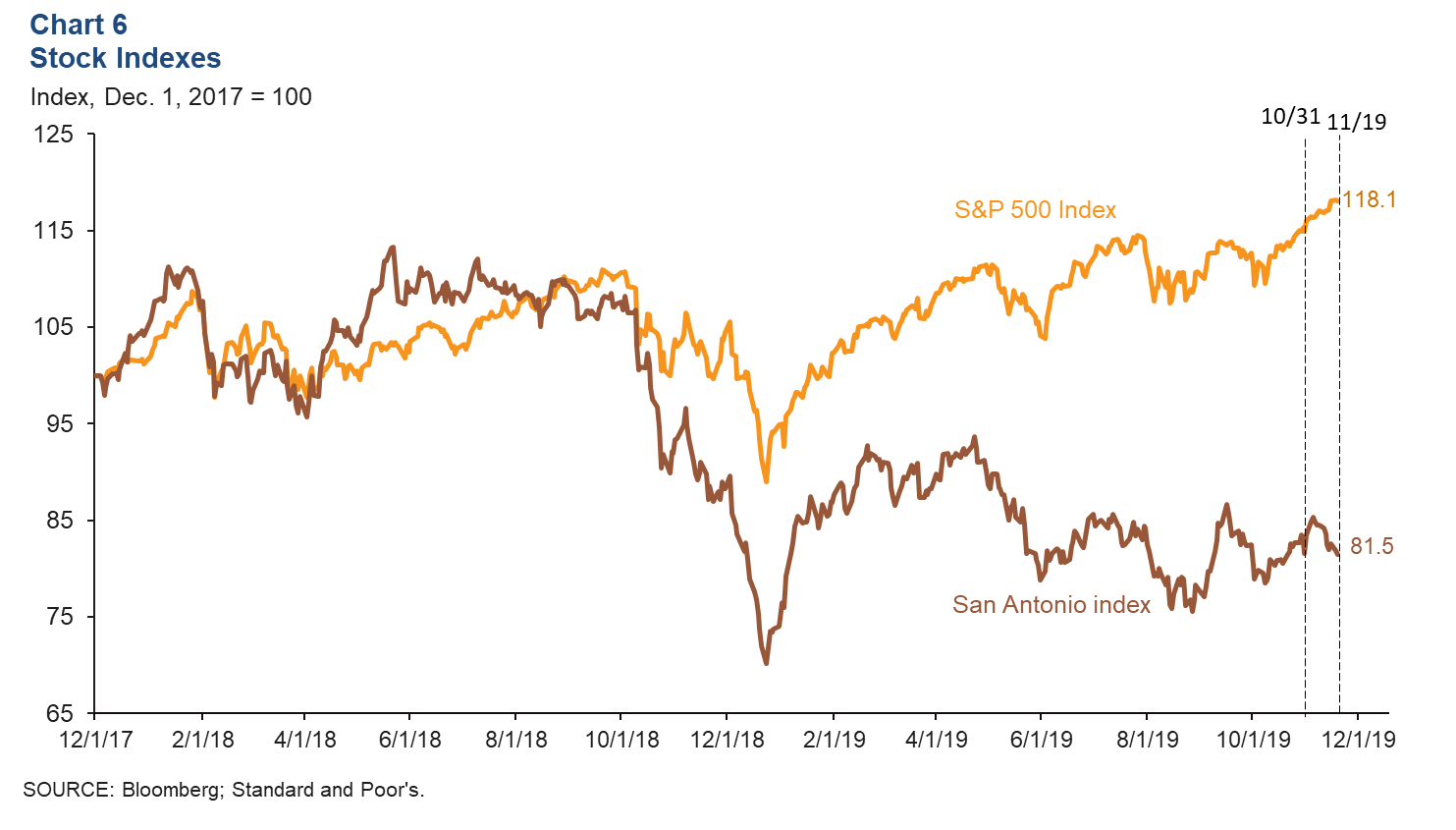 NOTE: Data may not match previously published numbers due to revisions.
About San Antonio Economic Indicators
Questions can be addressed to Judy Teng at judy.teng@dal.frb.org. San Antonio Economic Indicators is published every month on the Thursday after state and metro employment data are released.