San Antonio Economic Indicators

May 29, 2020
San Antonio's economy contracted further in April as a result of the impacts of COVID-19. The San Antonio Business-Cycle Index declined at a historical pace. The unemployment rate continued to increase, and payrolls declined. However, more-recent data on weekly initial claims for unemployment insurance suggest a sharp reduction in job losses. Home sales activity declined for the second consecutive month. In May, stock prices of San Antonio-based companies posted increases.
Business-Cycle Index
The San Antonio Business-Cycle Index—a broad measure of economic activity in the metro—declined an annualized 79.4 percent in April, the largest contraction since the index began in 1978 (Chart 1). Weakness in the index was attributed to the recent surge in the unemployment rate and drastic job losses.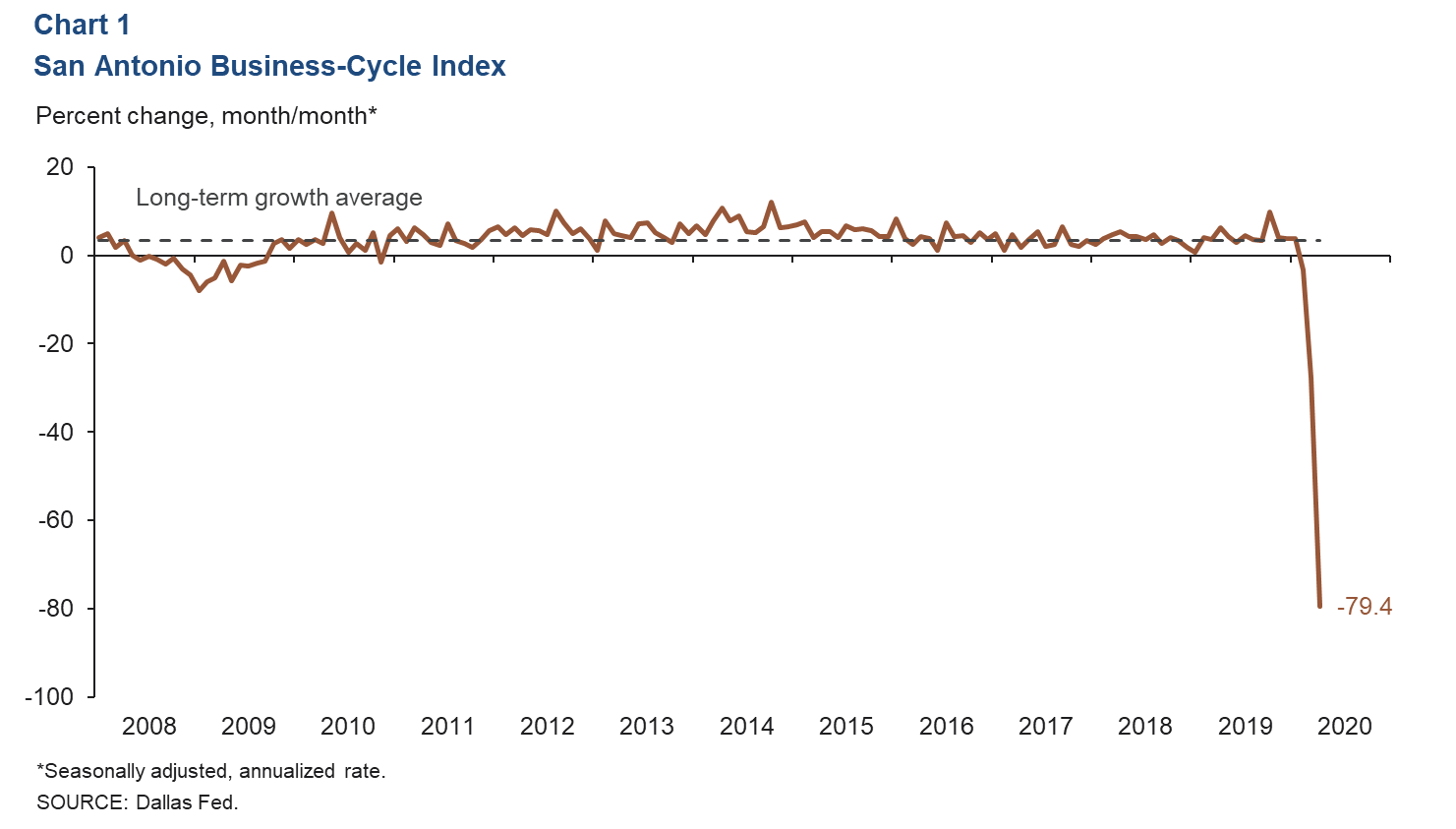 Labor Market
Unemployment Rate Surges
The metro unemployment rate swelled to a record 12.3 percent in April, while the Texas and U.S. rates rose to 12.8 and 14.7 percent, respectively (Chart 2).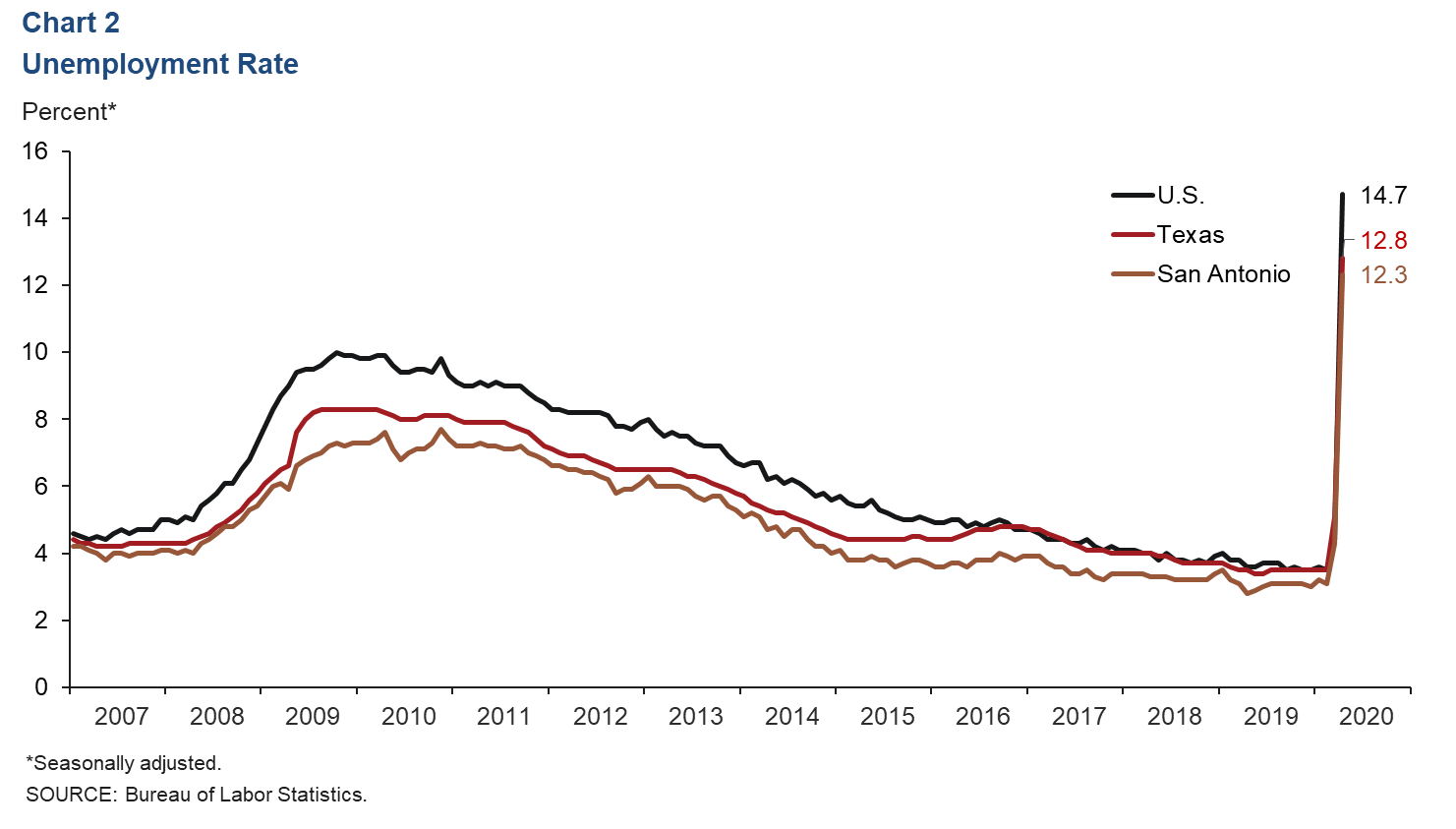 Unemployment Claims Begin to Slow
Initial claims for unemployment insurance benefits totaled 7,441 for the week ending May 16—the lowest since the week of March 14, indicating a marked reduction in job losses. A total of 123,699 initial claims were filed from March 7 to May 16, which represents 13.0 percent of the labor force in Bexar County (Chart 3). At the state level, an aggregate of 2.1 million initial claims (15.3 percent of the labor force) were filed during the same period.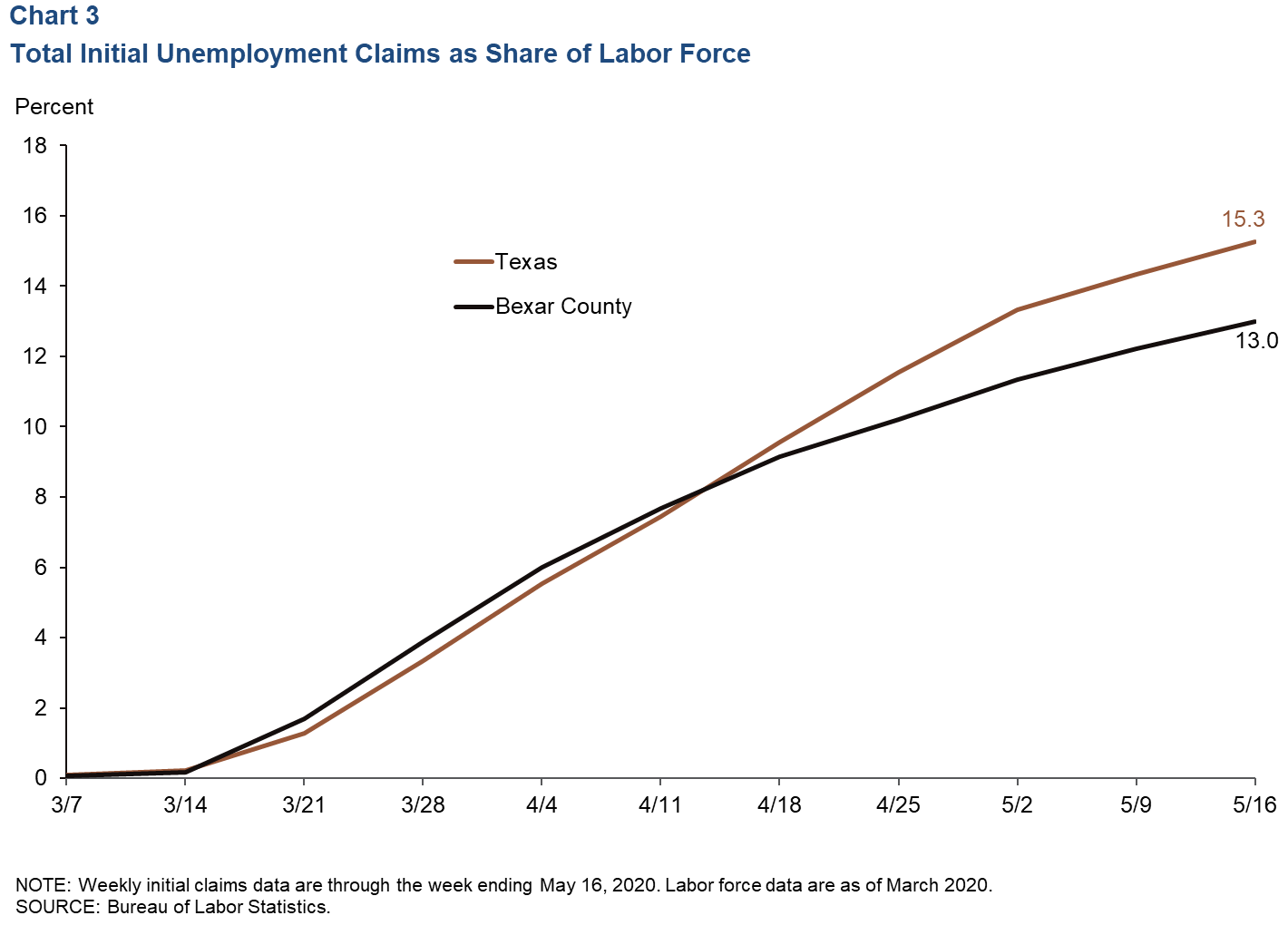 All Sectors See Job Declines
San Antonio net payrolls contracted an annualized 36.1 percent in the three months ending in April (Chart 4). All sectors experienced losses. The leisure and hospitality sector saw the largest employment declines at an annualized 89.3 percent (-61,000 jobs, not annualized). Other services (such as automotive repair and maintenance, barber shops, funeral homes and religious organizations) fell 52.9 percent (-6,850 jobs), health and education services dropped 37.4 percent (-18,980 jobs) and professional and business services fell 31.2 percent (-12,920 jobs).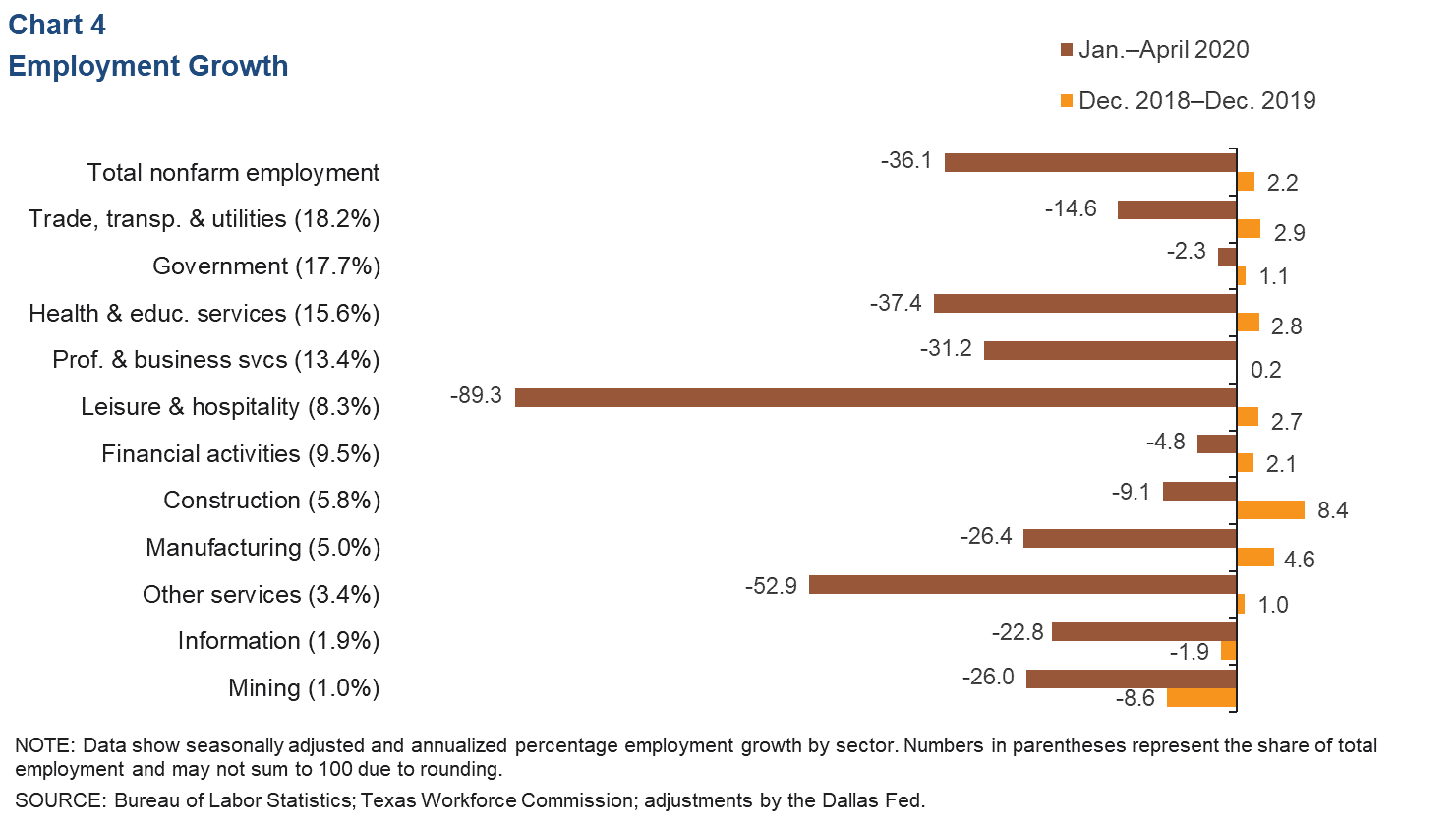 Real Estate
April existing-home sales declined 12.9 percent in the metro and 17.7 percent in the state (Chart 5). Home sales in San Antonio were 3.4 percent higher in the first four months of the year than in the same period last year, and Texas sales were higher by 1.1 percent over that time. In April, the median price of homes sold was $239,789 in San Antonio, up 5.7 percent from a year ago, and $247,199 in Texas, up 3.7 percent.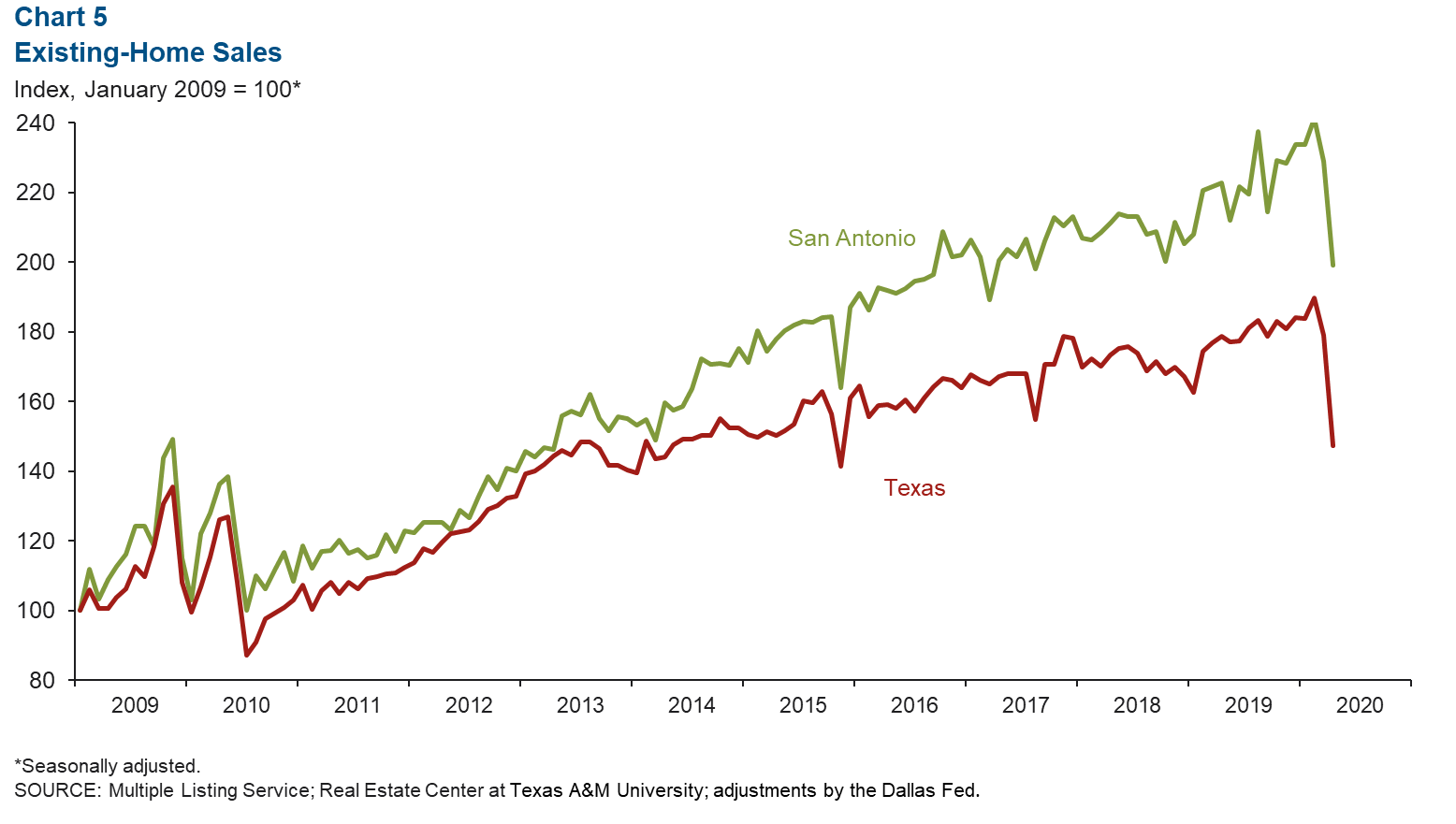 Stock Prices
Stock prices of San Antonio-based companies posted a 25.0 percent increase from April 22 to May 27, while the S&P 500 rose 8.4 percent during the same period (Chart 6). Firms in all industries saw stock values recover.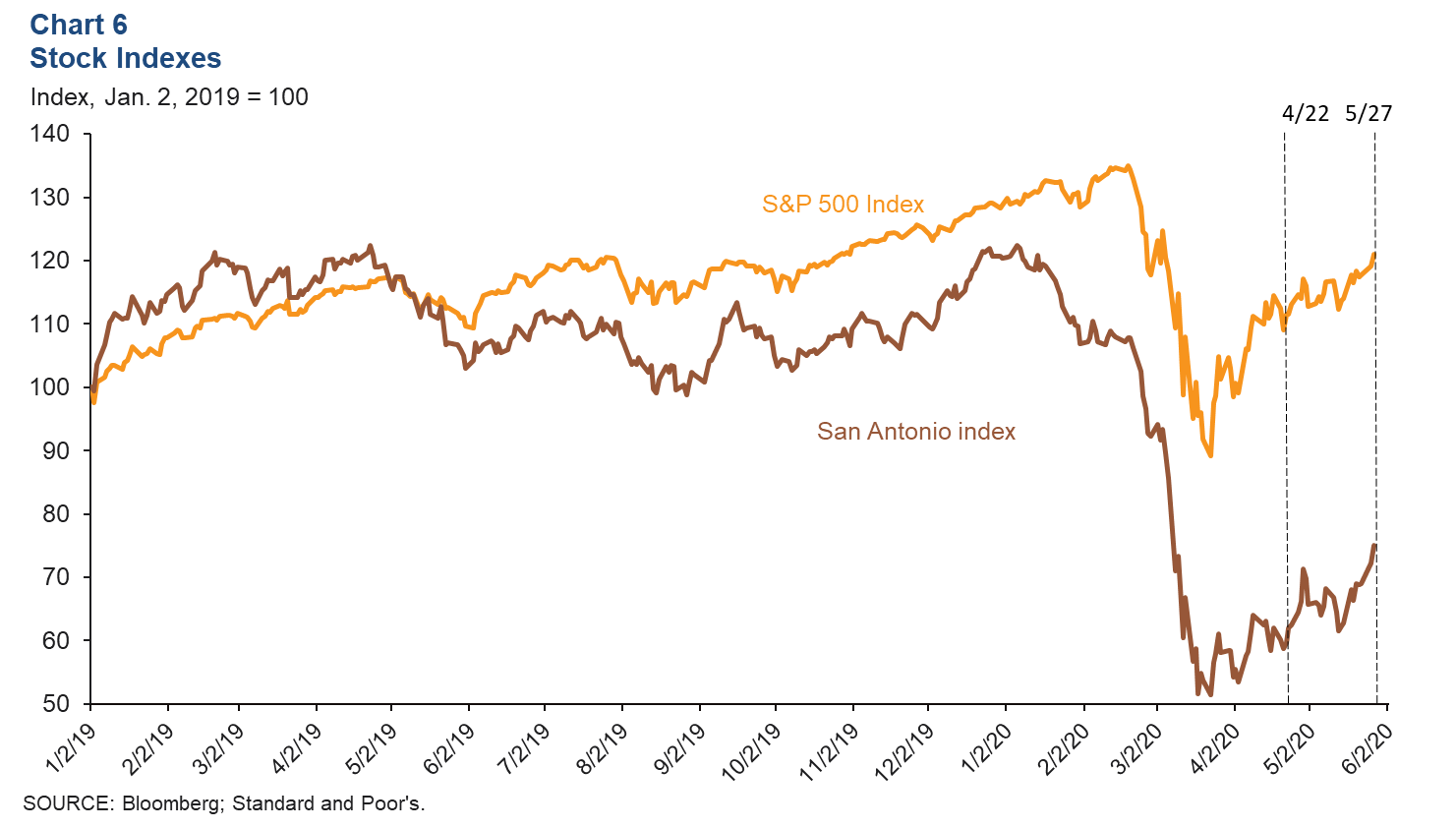 NOTE: Data may not match previously published numbers due to revisions.
About San Antonio Economic Indicators
Questions can be addressed to Judy Teng at judy.teng@dal.frb.org. San Antonio Economic Indicators is published every month on the Thursday after state and metro employment data are released.