San Antonio Economic Indicators

July 23, 2020
The San Antonio Business-Cycle Index climbed for the second consecutive month after a severe contraction in March and April. The local unemployment rate declined further, and while net jobs increased in June, the second quarter posted job losses in all sectors. Local consumer spending has improved significantly since mid-April but remains below pre-COVID-19 levels. Home sales improved in June, and stock prices of San Antonio-based companies increased for the majority of July.
Business-Cycle Index
The San Antonio Business-Cycle Index—a broad measure of economic activity in the metro—increased an annualized 70.2 percent in June, the largest expansion since the index began in 1978 (Chart 1). Strength in the index was attributed to a lower unemployment rate and job gains in June.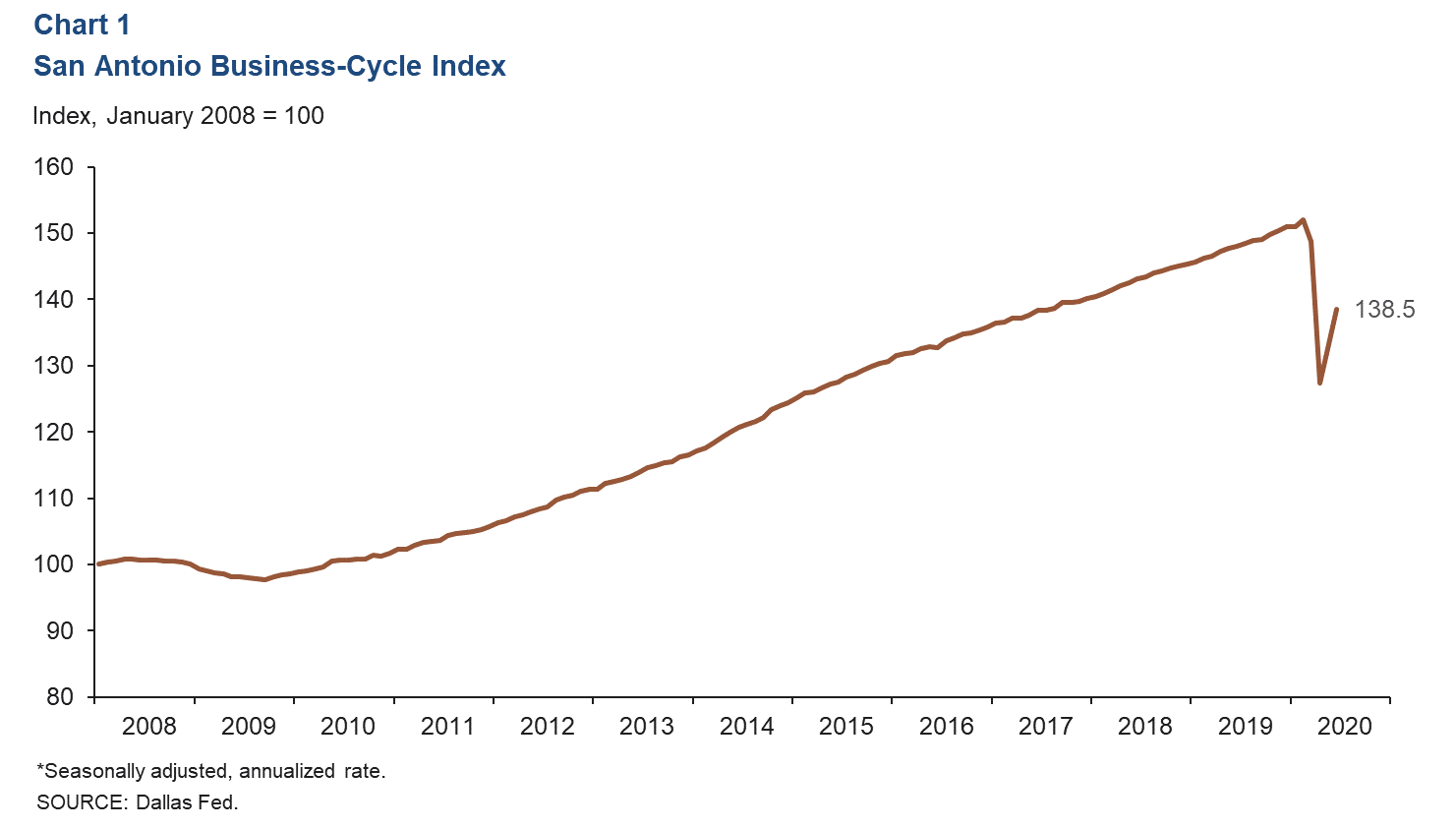 Labor Market
Unemployment Rate Declines Further
The metro unemployment rate fell to a still-elevated 7.3 percent in June, lower than the state's 8.6 percent and the nation's 11.1 percent (Chart 2).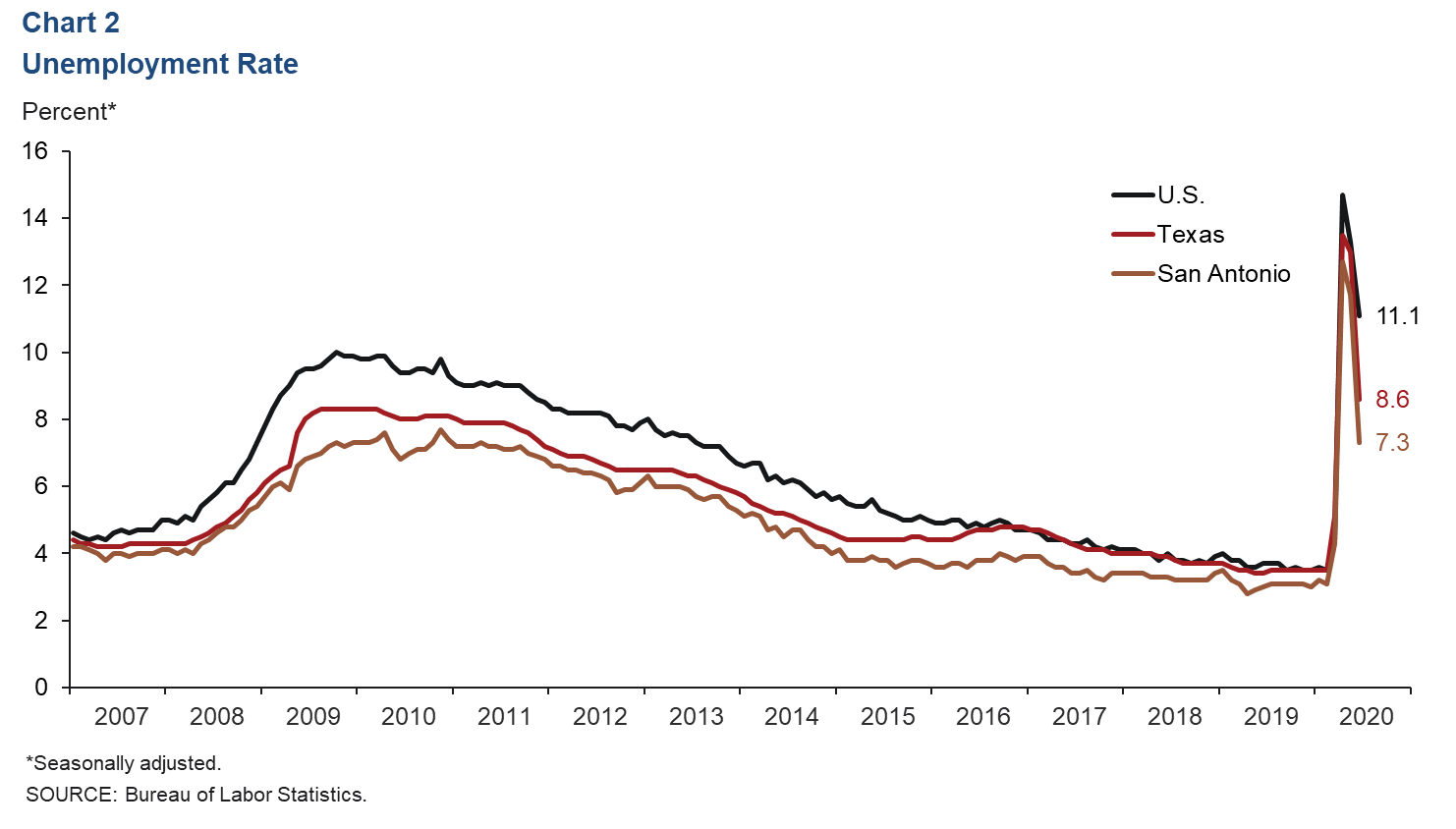 Second-Quarter Employment Down in All Sectors
While employment increased in June, San Antonio net jobs contracted an annualized 18.1 percent in the three months ending in June (Chart 3). All sectors experienced losses. The mining sector shed the most jobs, declining an annualized 40.1 percent (-1,210 jobs, nonannualized). This was followed by a 35.1 percent (-4,220 jobs) decline in the other services sector (jobs such as automotive repair and maintenance, barber shops, funeral homes and religious organizations). Leisure and hospitality fell 30.6 percent (-12,000 jobs) and health and education services decreased 25.6 percent (-11,900 jobs).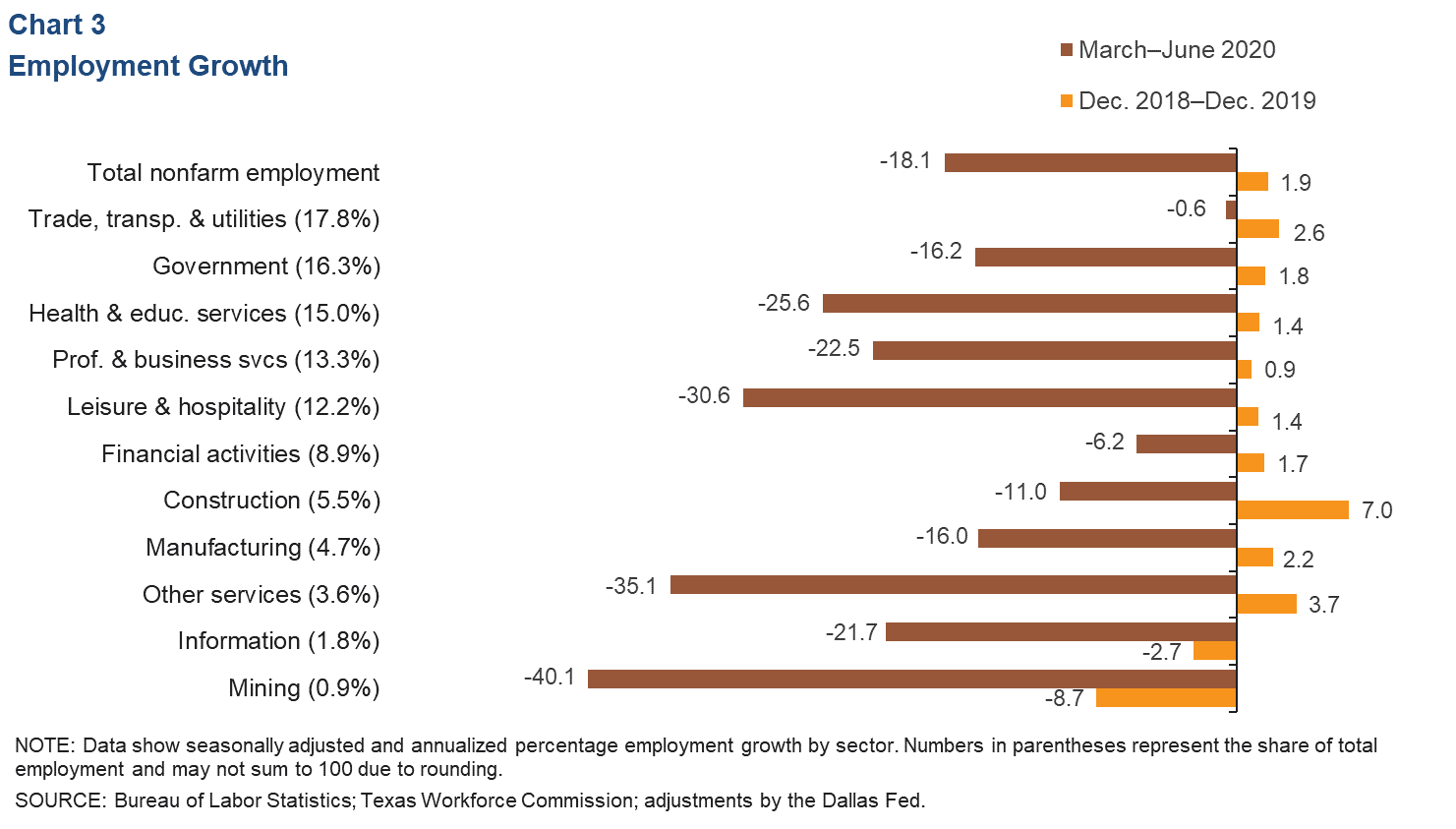 Consumer Spending
Since early April, consumer spending (measured by credit and debit card spending) in Bexar County generally has increased, although as the number of COVID-19 cases has grown since mid-June, sales have weakened somewhat. As of July 8, spending in Bexar County was down 9.0 percent relative to January 2020 and was down 7.7 percent in the state (Chart 4).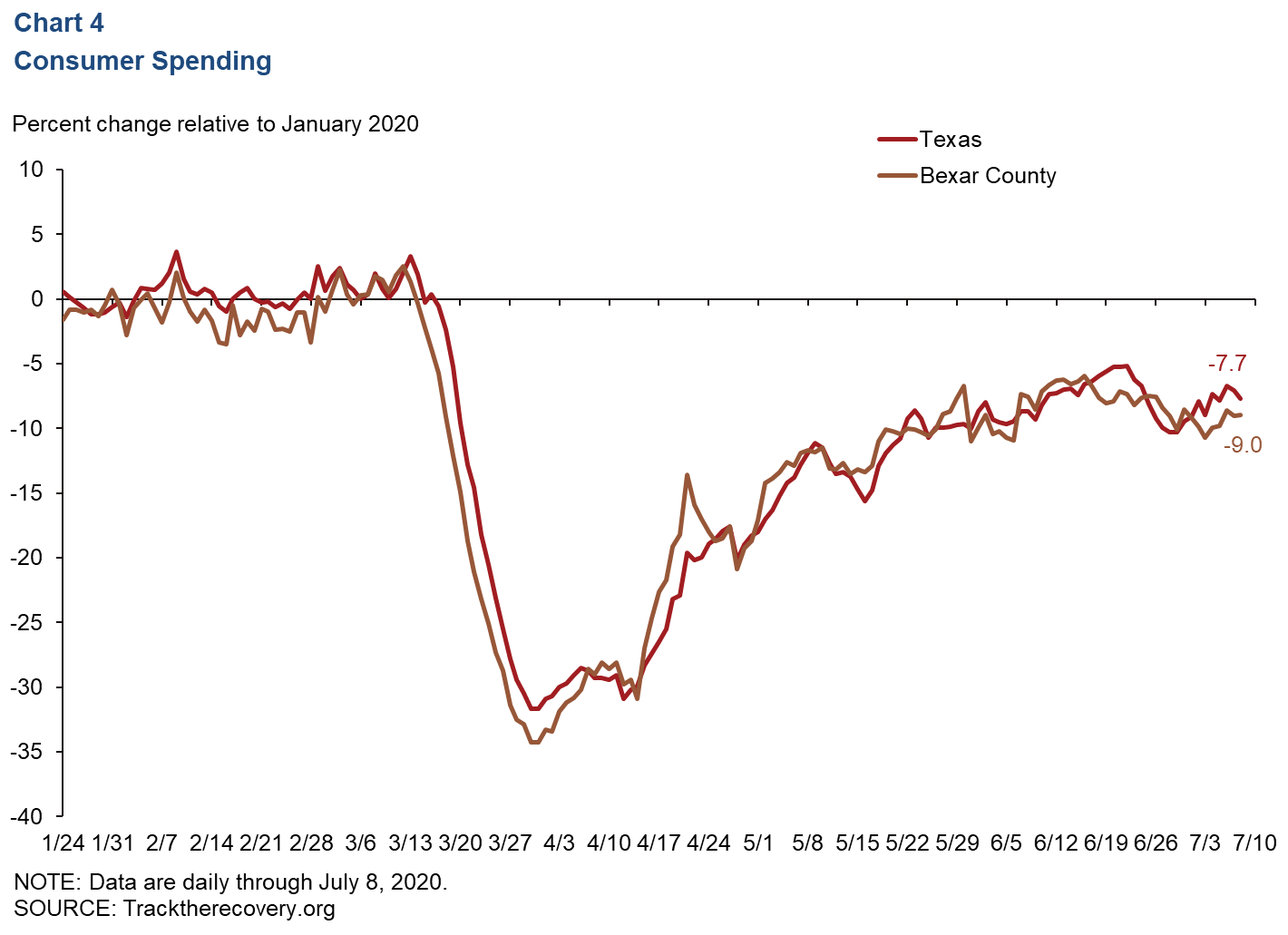 Real Estate
June existing-home sales increased 16.7 percent in San Antonio and declined 25.0 percent in Texas (Chart 5). Home sales in San Antonio were 1.6 percent higher in the first half of 2020 relative to the same time last year, while Texas sales were 1.5 percent lower over the same period. The median price of homes sold in June was $239,890 in San Antonio—up 4.2 percent from a year ago—and $248,852 in Texas, up 3.4 percent.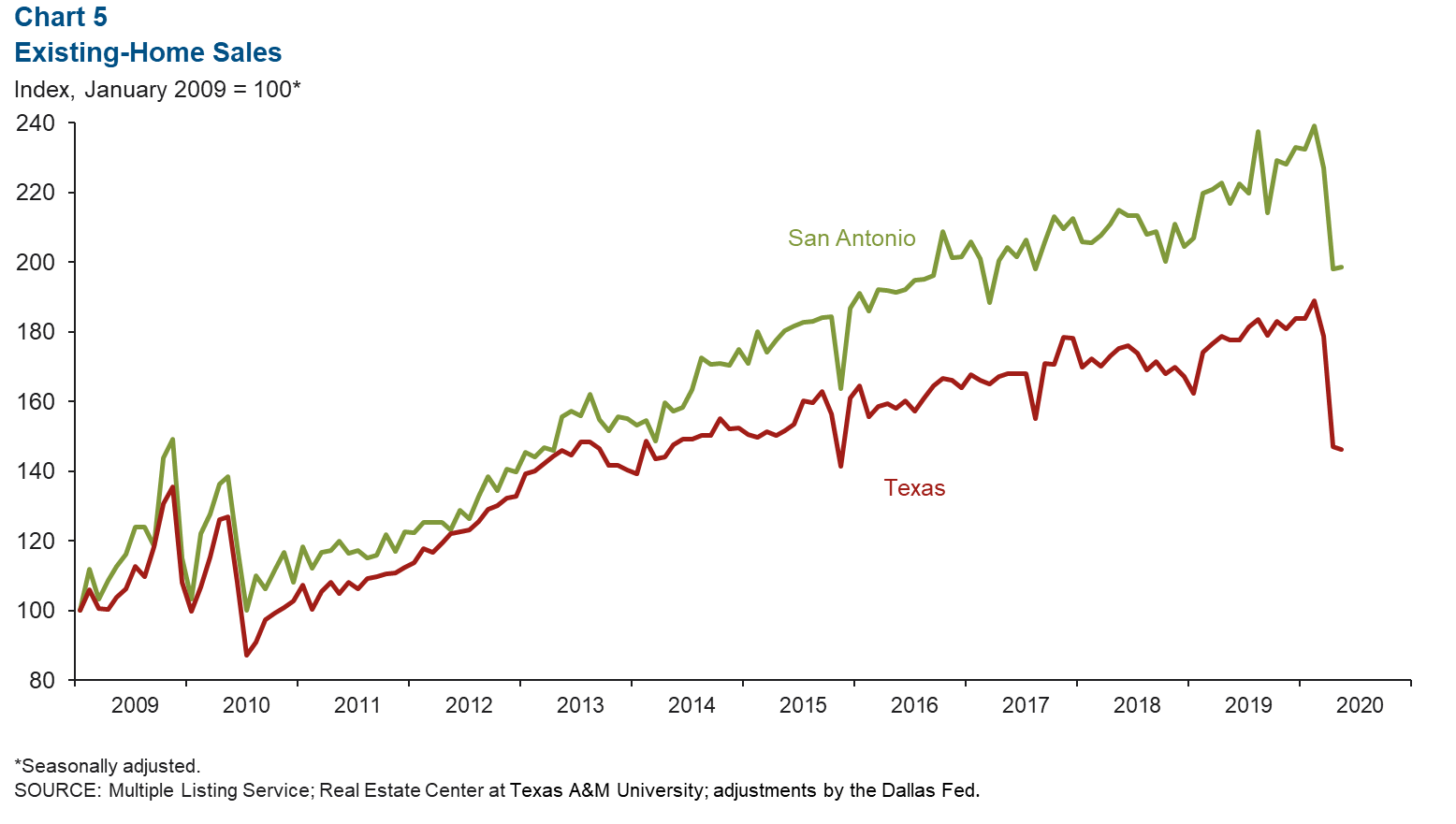 Stock Prices
Stock prices of San Antonio-based companies expanded 5.9 percent from June 24 to July 21, while the S&P 500 rose 6.9 percent during the same period (Chart 6). Firms in finance posted gains in stock value, while those in manufacturing and communications experienced mixed performance. Energy and food service companies saw declines.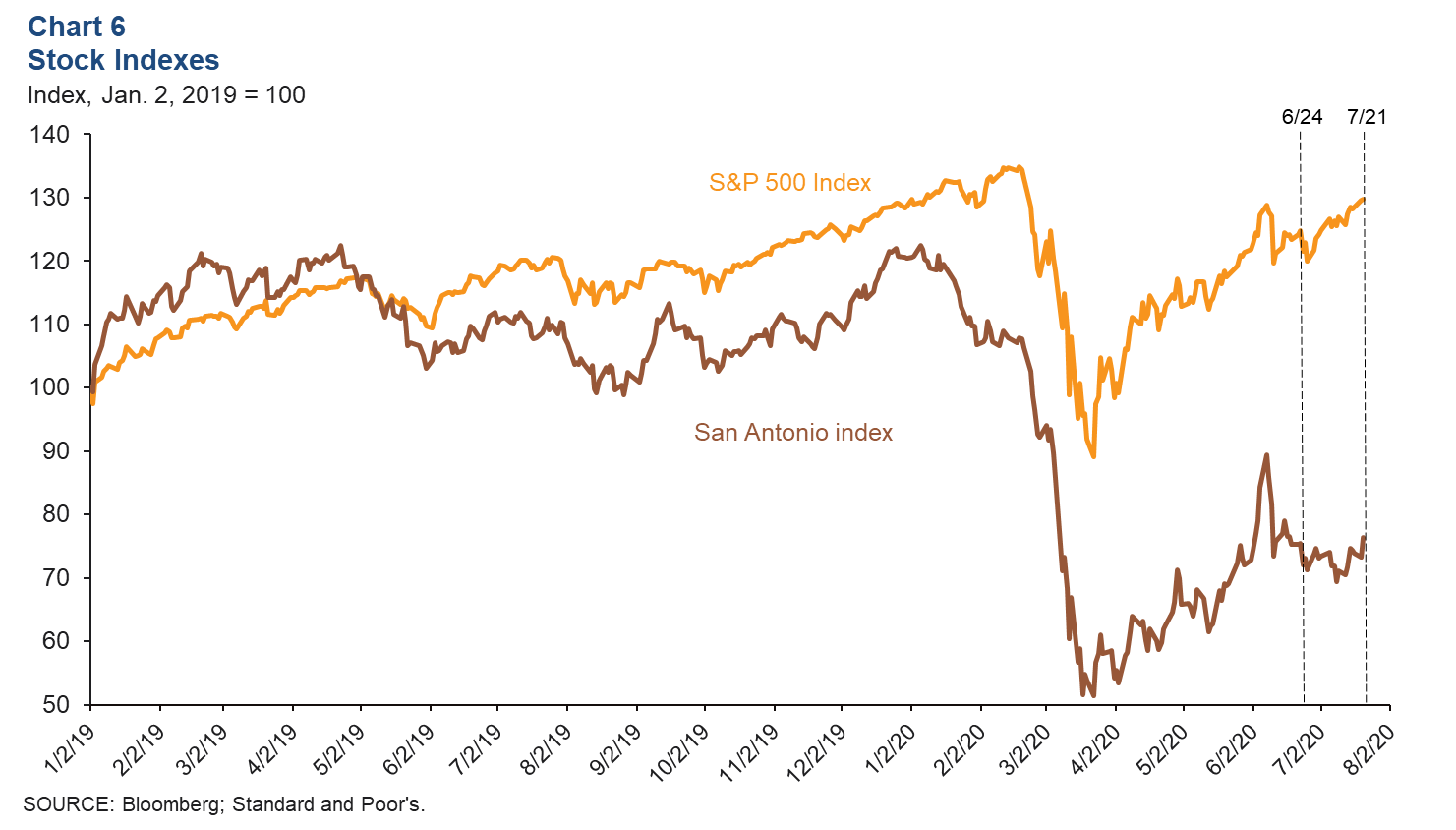 NOTE: Data may not match previously published numbers due to revisions.
About San Antonio Economic Indicators
Questions can be addressed to Judy Teng at judy.teng@dal.frb.org. San Antonio Economic Indicators is published every month on the Thursday after state and metro employment data are released.