San Antonio Economic Indicators

September 22, 2017
The San Antonio economy accelerated in August. The San Antonio Business-Cycle Index expanded at its fastest pace since 2016, as the area unemployment rate held flat but job growth surged. New data on median household income show San Antonio slightly outpaced the state in growth last year.
Business-Cycle Index
The San Antonio Business-Cycle Index expanded at a 4.3 percent annualized rate in August, its fastest pace in eight months and well above the long-term 3.2 percent average (Chart 1). August's strong job growth of 7.6 percent was the primary driver of gains in the index.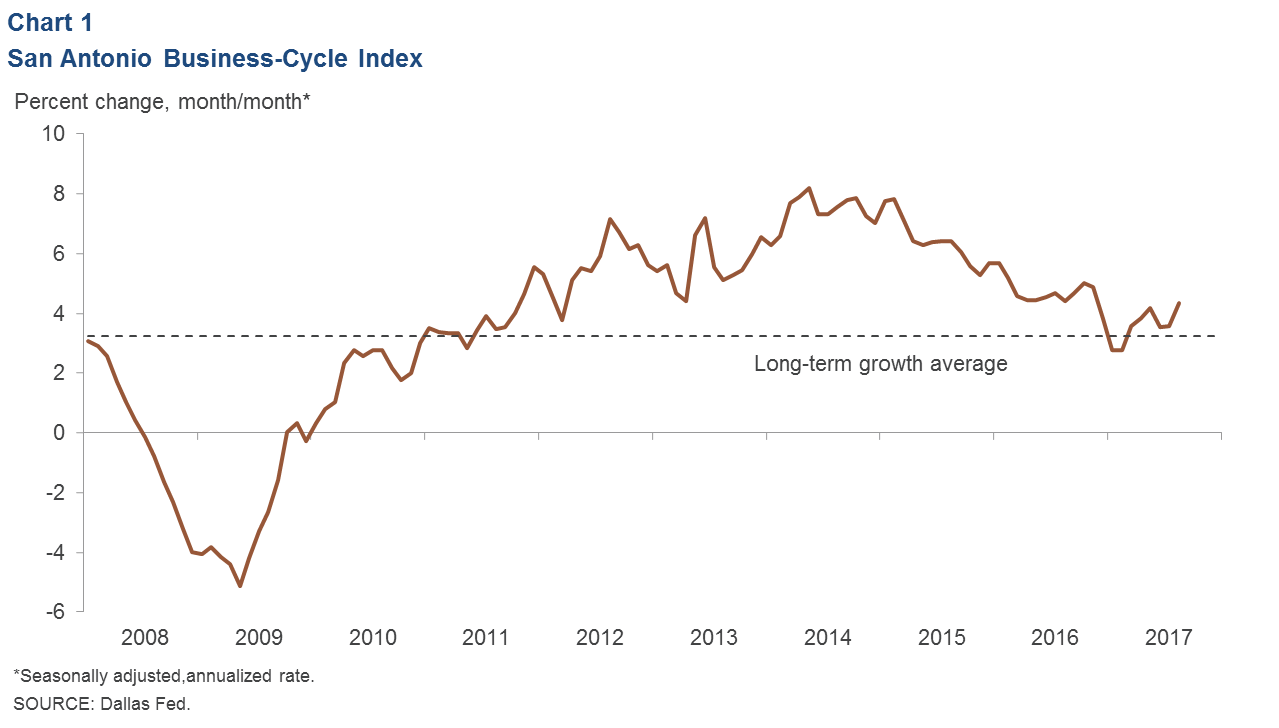 Labor Market
Unemployment Rate Holds Steady
The San Antonio unemployment rate held steady at a low 4.1 percent in August (Chart 2). This remains below the state rate of 4.2 percent and the national rate of 4.4 percent. The local labor force has grown at an annualized 2.3 percent year to date, close to the area's long-term average.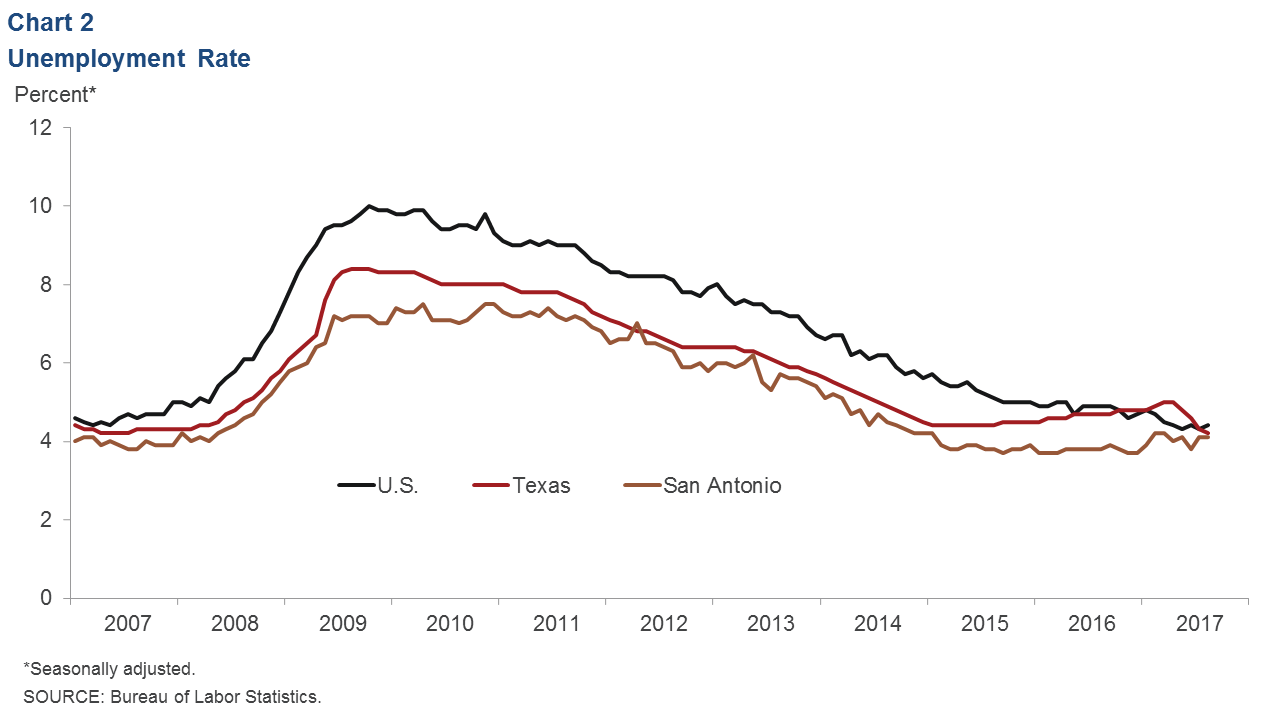 Job Growth Strengthens
San Antonio jobs increased at a healthy 3.6 percent annualized rate over the three months through August (Chart 3). Growth was broad based across industries with some exceptions: leisure and hospitality shed jobs over the summer; information continued to decline; and other services, which includes auto repair and related jobs, fell slightly. Mining and financial services employment led overall growth among the major industries, followed closely by construction. Health care, manufacturing, and professional and business services added jobs at a healthy pace. Trade, transportation and utilities, though still weak, saw a slight recovery in the retail sector, which aided overall growth.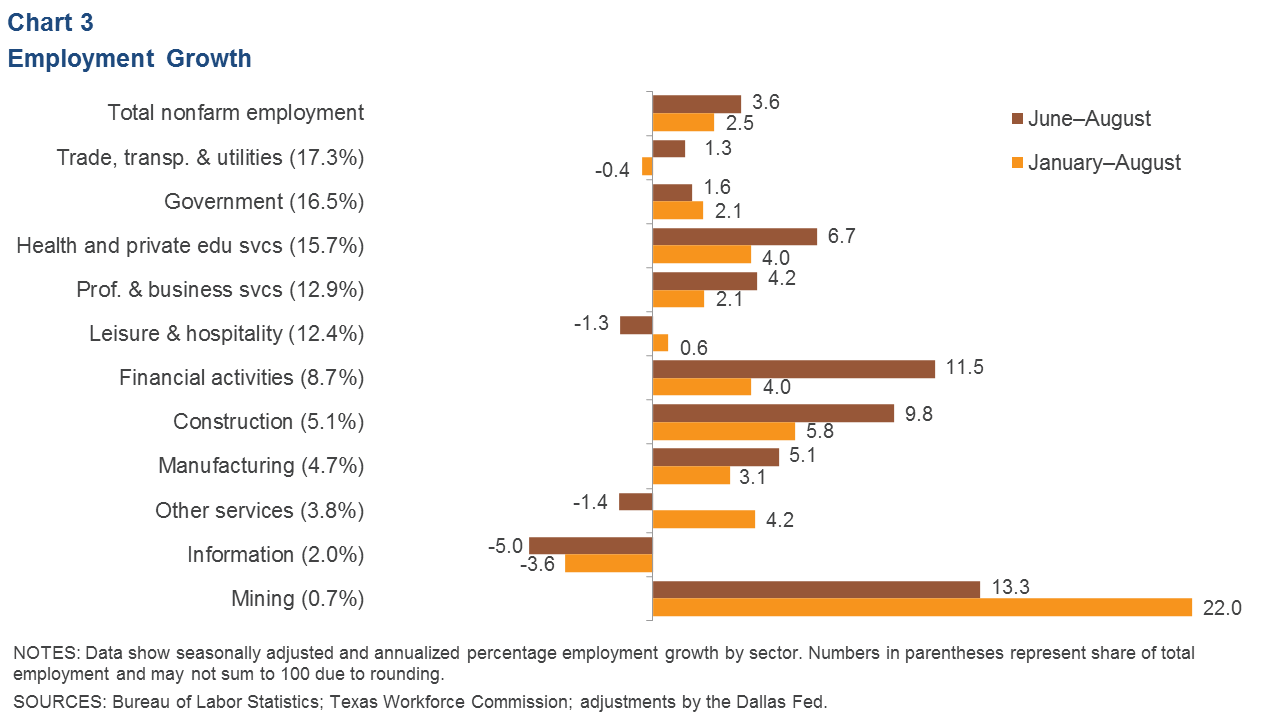 Real Estate
The San Antonio real median home price fell slightly in July to $205,538, below the state median price of $219,838 (Chart 4). Year over year, the area median price rose just 0.2 percent, compared with a 3.9 percent increase in Texas. Demand remained strong, however, as home sales surged to their highest level this year and inventories fell to a low 3.4 months' supply.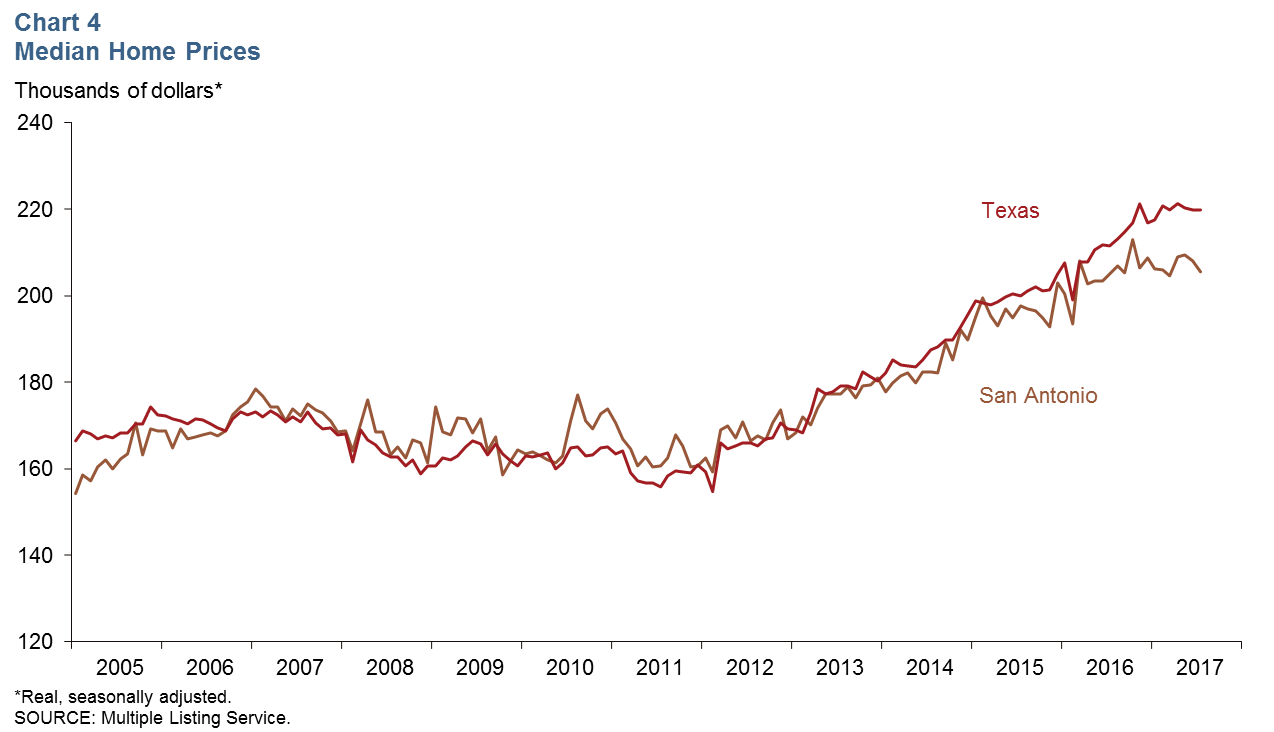 Household Income
San Antonio real median household incomes increased by 1.9 percent in 2016 to $56,105 (Chart 5). This is a slightly faster pace than the state's 1.6 percent increase, although the Texas median income remains slightly higher at $56,565. Since 2011, the San Antonio median household income has underperformed the state, growing at 2.2 percent on average compared with Texas' 3.1 percent.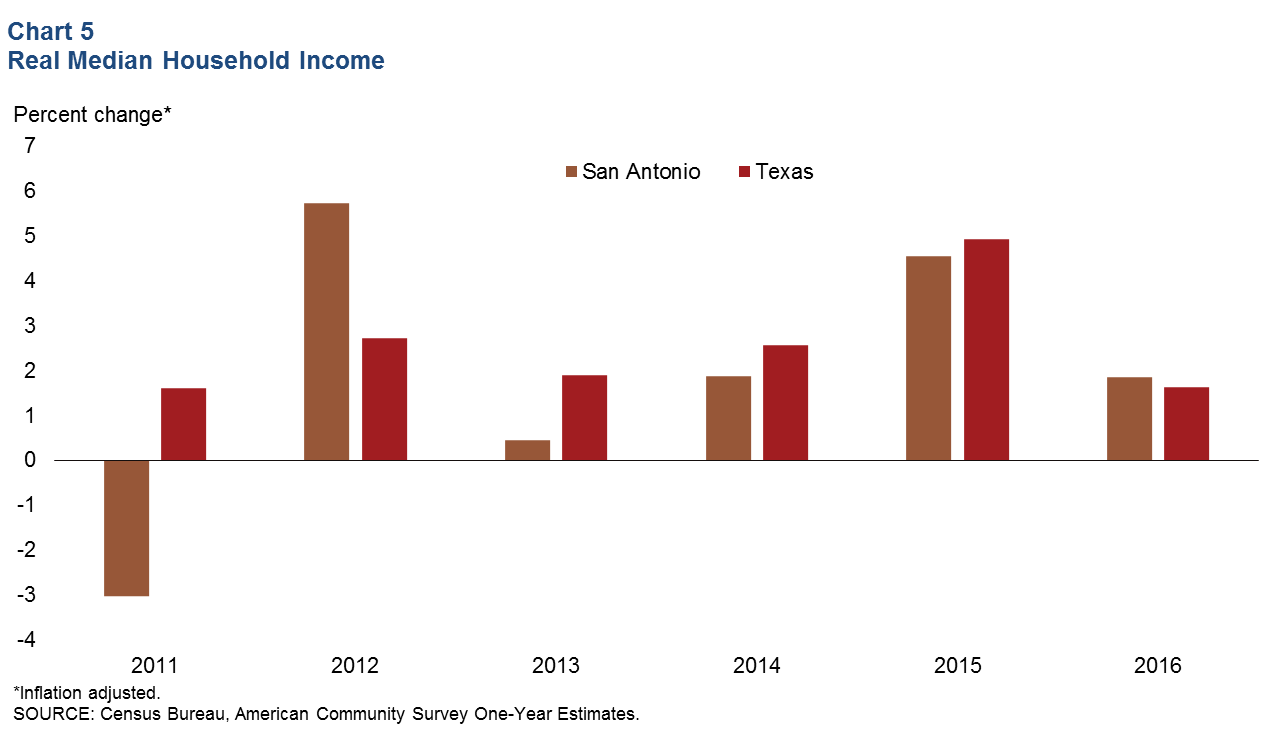 Stock Index
Stock prices of companies with a significant presence in San Antonio rose by 7.1 percent from Aug. 18 to Sept. 14, well above the 2.9 percent growth in the S&P 500 over the same time (Chart 6). Gains were broad based, with energy, finance and manufacturing firms in particular seeing strong increases in their share prices. Food services and communications firms were a slight drag on the index.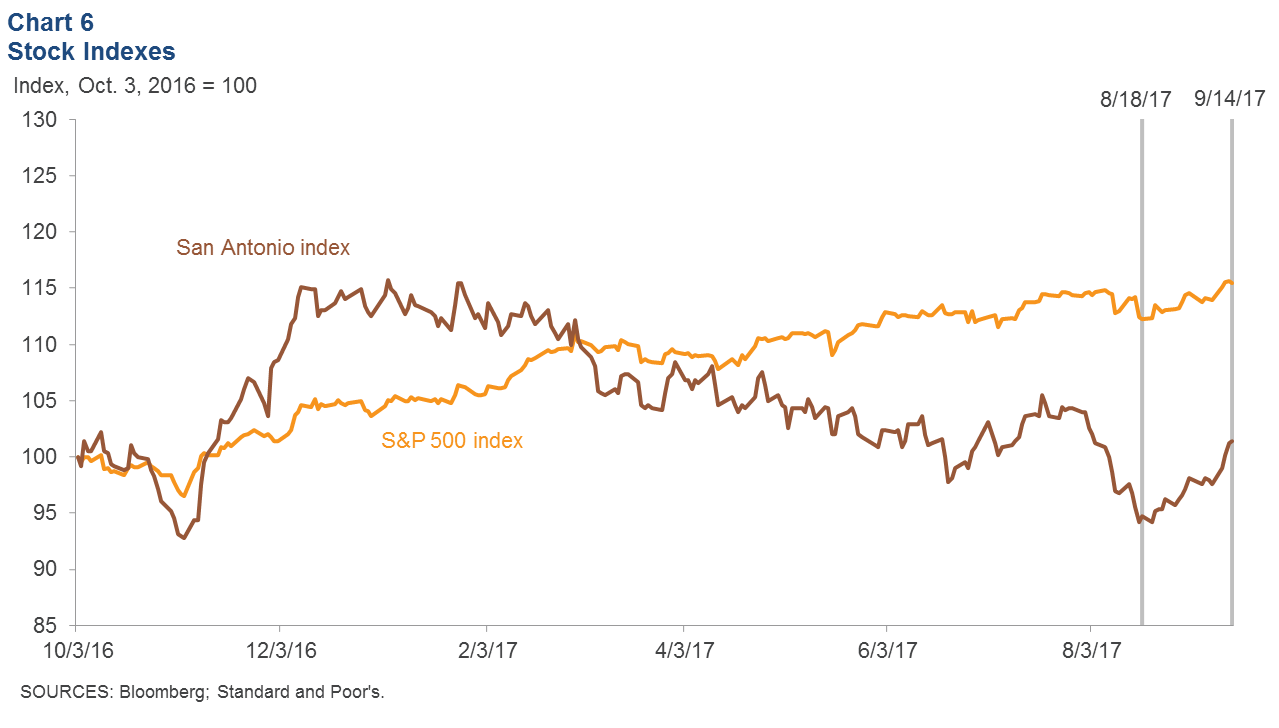 NOTE: Data may not match previously published numbers due to revisions.
About San Antonio Economic Indicators
Questions can be addressed to Christopher Slijk at christopher.slijk@dal.frb.org. San Antonio Economic Indicators is published every month on the Thursday after state and metro employment data are released.