San Antonio Economic Indicators

October 26, 2017
The San Antonio economy continued to grow at a brisk pace in September. The San Antonio Business-Cycle Index expanded above trend, as jobs grew moderately and the area unemployment rate declined. Recently released data for 2016 gross domestic product (GDP) show that San Antonio grew at a steady pace. With further upward revisions to August employment data, year-to-date job growth in San Antonio has outpaced Texas' other major metro areas at 2.8 percent.
Business-Cycle Index
Business-Cycle Index Grows Above Trend
The San Antonio Business-Cycle Index expanded at a 5.0 percent annualized rate in September, well above its 3.2 percent long-term rate (Chart 1). September job growth was robust, which, along with a decline in the unemployment rate, propelled strong growth in the index.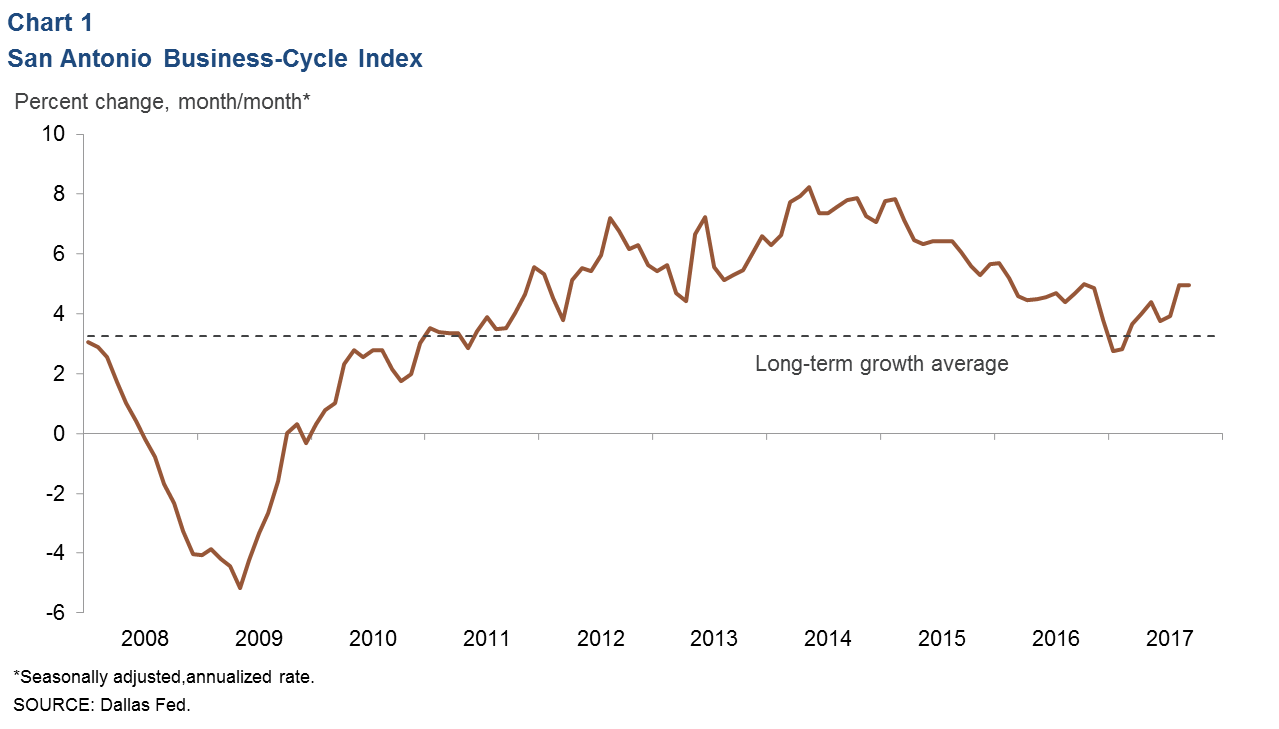 Metro Business-Cycle Index Components Mostly Positive
San Antonio economic indicators point toward strong regional growth in September (Table 1). Unlike state and national job growth, which declined due to the impacts of the recent hurricanes, San Antonio saw a healthy 3.5 percent annualized increase in employment. The unemployment rate declined to 3.9 percent in September, slightly below the state rate of 4.0 and national rate of 4.2 percent. First-quarter inflation-adjusted retail sales showed a decline in retail activity of 1.6 percent, mirroring the weakness seen this year in retail employment. However, total wages paid rose a sharp 5.2 percent, well above the pace in Texas and the U.S.
Table 1: Business-Cycle Index Components
San Antonio
(percent)

Texas
(percent)

U.S.
(percent)

Annualized job growth (Sept.)

3.5

-0.4

-0.3

Unemployment rate (Sept.)

3.9

4.0

4.2

Year-over-year change in real retail sales (2017:Q1)*

-1.6

0.7

2.4

Year-over-year change in real wages paid (2017:Q1)*

5.2

-0.1

0.8

*Most recent data available for San Antonio.
SOURCES: Bureau of Labor Statistics; Bureau of Economic Analysis; Texas Comptroller of Public Accounts; adjustments by the Dallas Fed.
Labor Market
San Antonio jobs increased at a 4.5 percent annualized rate over the third quarter (Chart 2). Growth has been mostly positive across industries, with the largest driver being leisure and hospitality employment, which added 4,450 jobs. Manufacturing and health care were also significant contributors, accelerating significantly from more moderate growth earlier in the year. Government, particularly at the federal level, and construction also expanded robustly. Areas of weakness included information and other services, which saw sharp declines. Retail trade was also a moderate drag on growth and led the decline in trade, transportation and utilities, while financial activities and professional and business services were flat.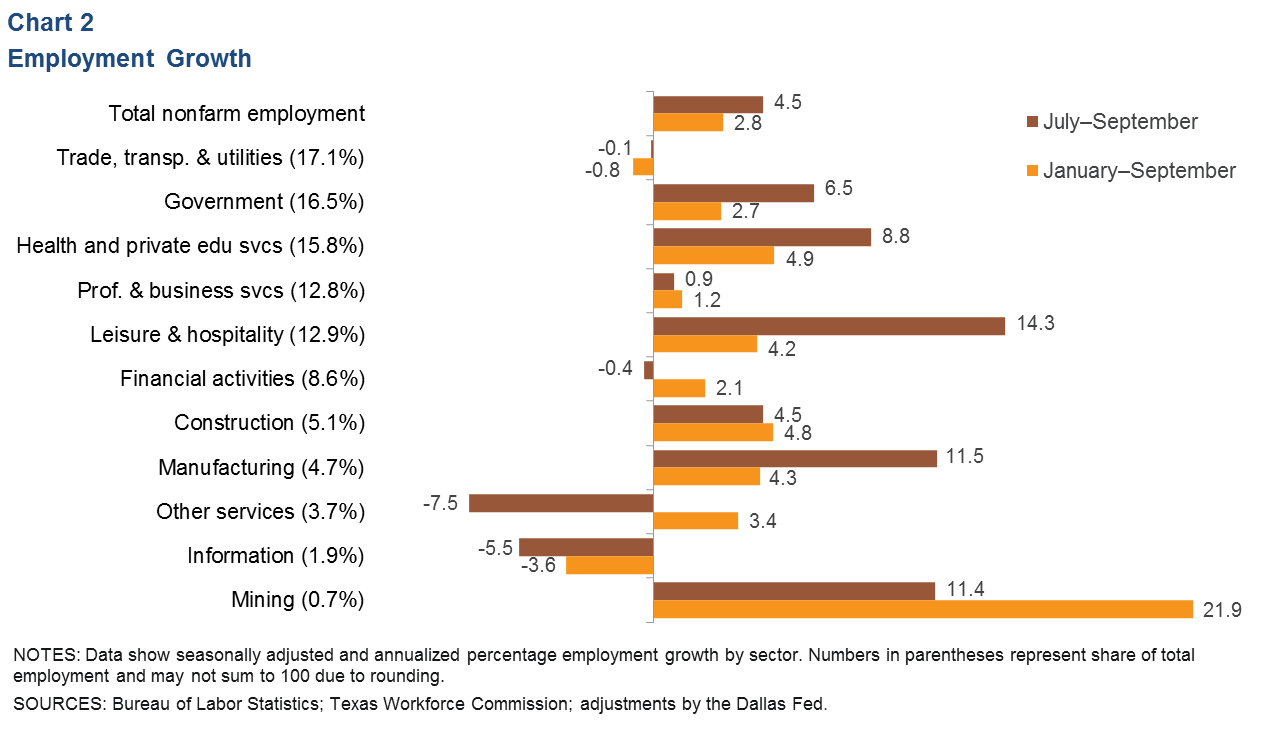 Real Gross Domestic Product
San Antonio inflation-adjusted GDP grew at a moderate 3.2 percent in 2016, in line with its long-term average (Chart 3). This contrasts with the state as a whole, which grew just 0.4 percent due primarily to the weakness in the oil and gas industry. San Antonio output growth was led by manufacturing, real estate and information services. While no major sectors saw a decline, leisure and hospitality and government grew well below the metro average.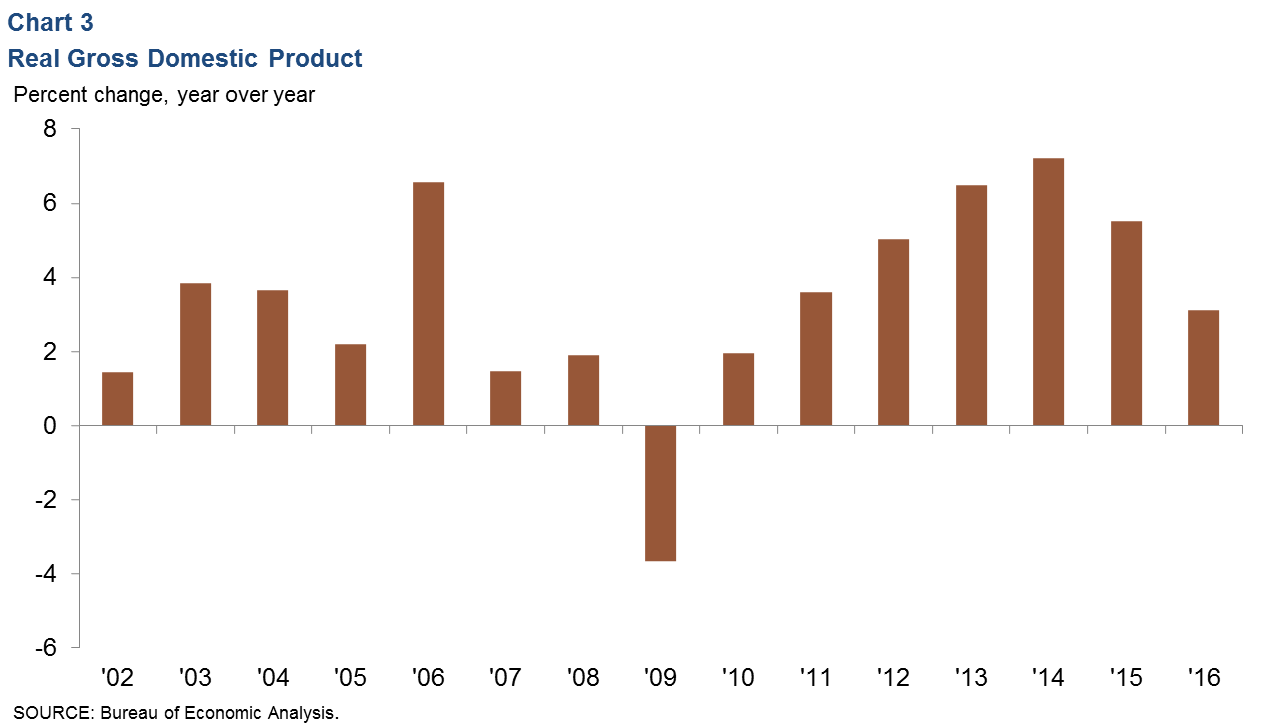 Real Estate
Permits for new single-family home construction in San Antonio picked up moderately over the three months through August even as they slipped for the state overall (Chart 4). Year-over-year growth is up 17 percent in San Antonio compared with just 7.6 percent for Texas. Home inventories remained at a tight 3.6 months' supply in September, while existing-home sales remained near all-time highs.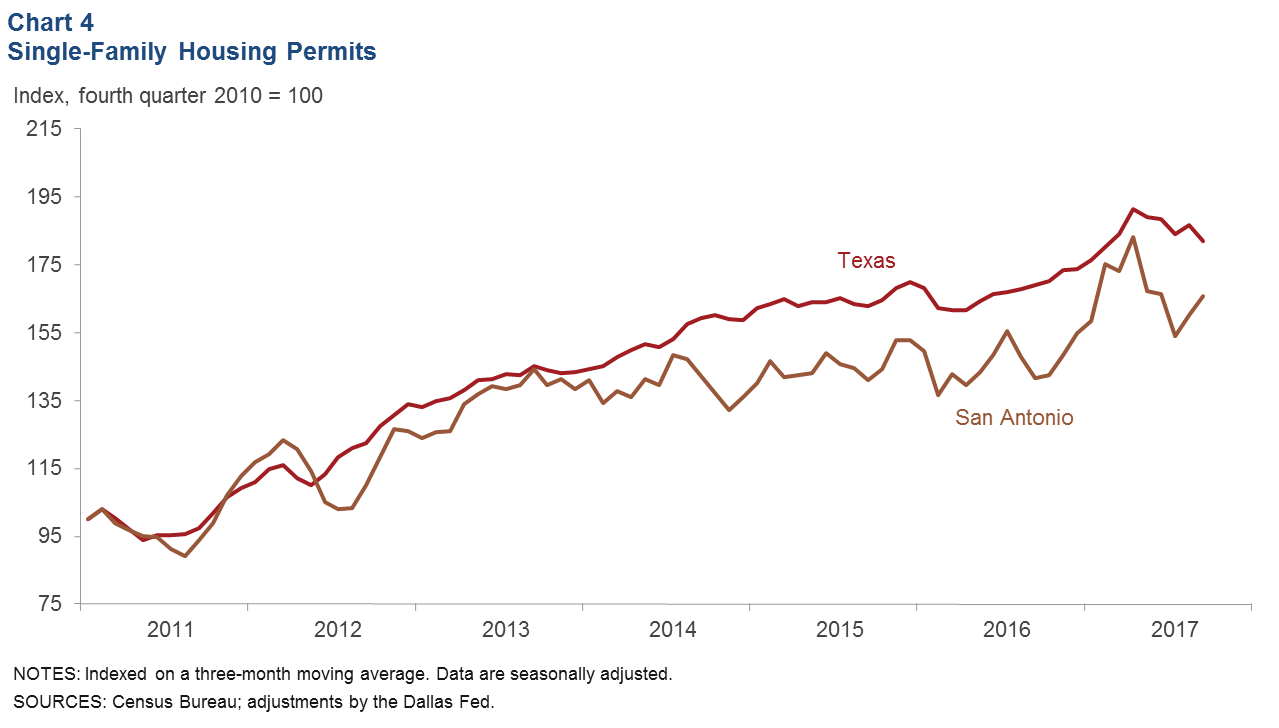 Stock Index
Stock prices of companies with a significant presence in San Antonio picked up by 4.9 percent from Sept. 14 to Oct. 24, compared with a 2.9 percent rise in the S&P 500 over this time (Chart 5). Gains were broad based, with manufacturing, energy refining and financial firms leading growth. Performance was mixed among oil and gas producers and food services firms.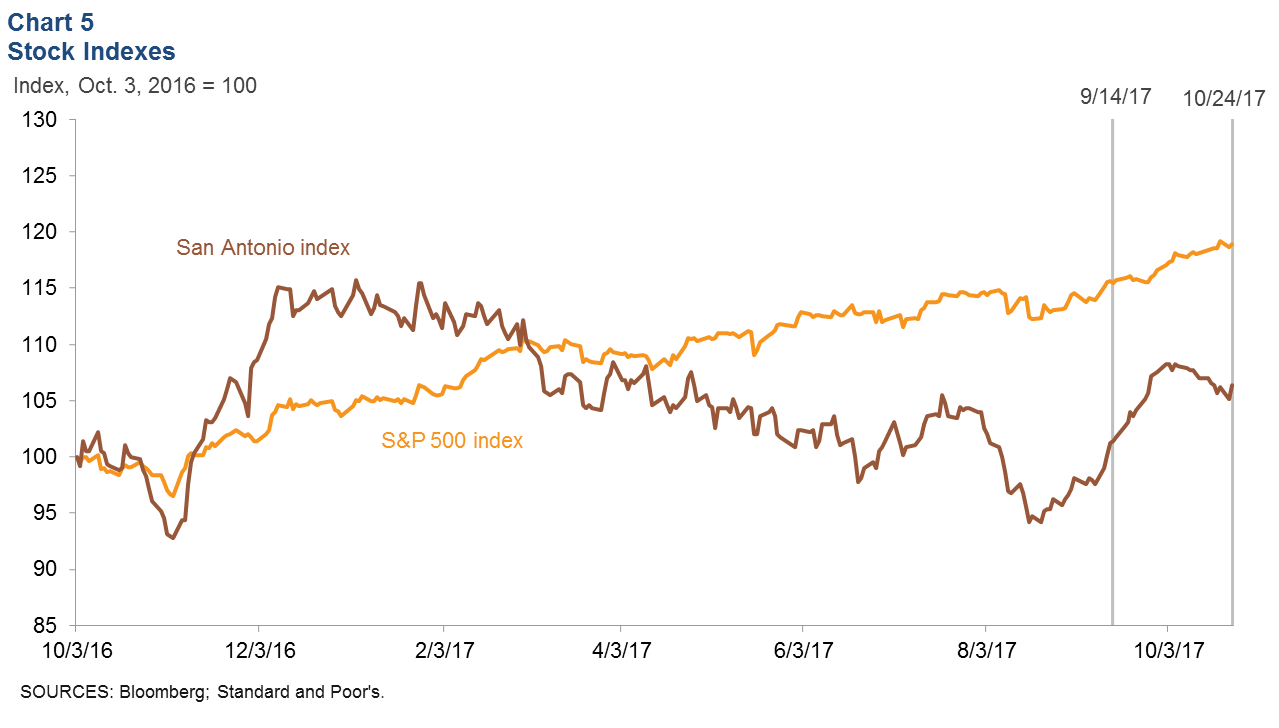 NOTE: Data may not match previously published numbers due to revisions.
About San Antonio Economic Indicators
Questions can be addressed to Christopher Slijk at christopher.slijk@dal.frb.org. San Antonio Economic Indicators is published every month on the Thursday after state and metro employment data are released.