San Antonio Economic Indicators

November 24, 2017
The San Antonio economy grew at a steady pace in October. The San Antonio Business-Cycle Index expanded above trend as jobs surged and the area unemployment rate declined to a 16-year low. Strong employment growth in recent months suggests that the San Antonio index will finish the year at or above last year's pace.
Business-Cycle Index
The San Antonio Business-Cycle Index expanded at a 6.4 percent annualized rate in October, accelerating from 5.1 percent in September (Chart 1). October job growth was strong, increasing at an annual rate of 4.8 percent, while the unemployment rate continued to fall. Year-to-date growth in the index is 4.4 percent, well above the long-term average of 3.0 percent.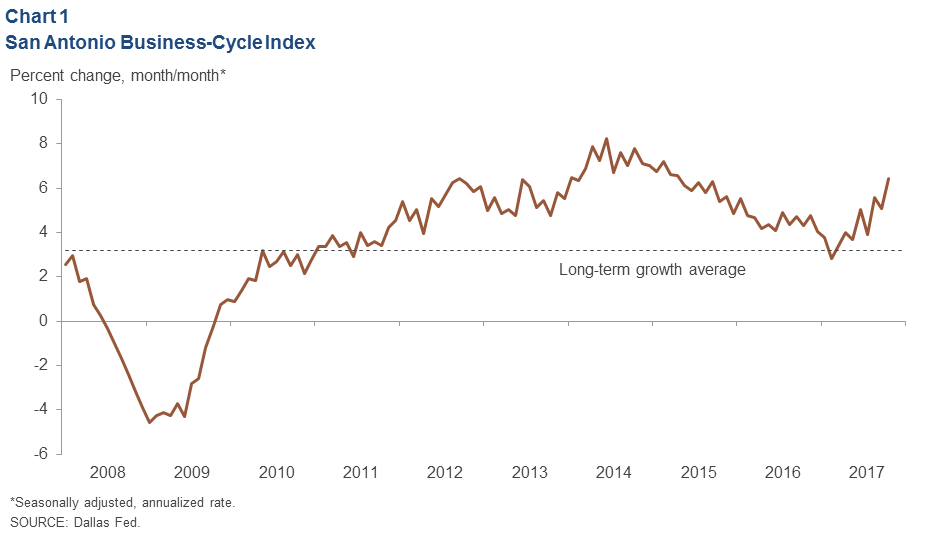 Labor Market
Unemployment Plummets
The San Antonio unemployment rate declined from 4.0 in September to 3.6 percent in October (Chart 2), the lowest level since December 2000. Meanwhile, state unemployment hit 3.9 percent, an all-time low since the data series began in 1975, and the U.S. followed closely behind at 4.1 percent. Although the labor force declined slightly in October, it has grown 2.3 percent so far this year. The year-to-date figure is above the area's long-term average and well above the state's 0.6 percent growth.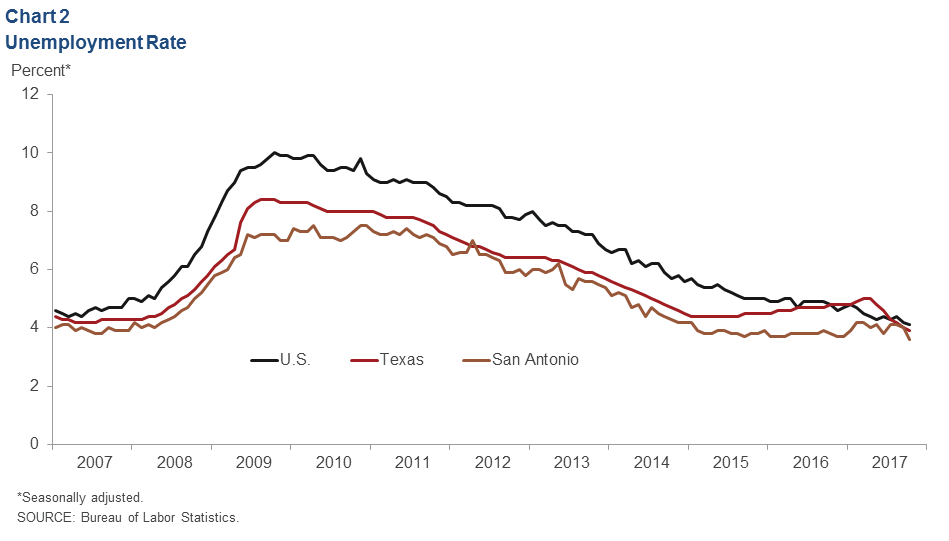 Employment Strengthens
San Antonio employment increased at a 6.0 percent annualized rate over the three months through October (Chart 3). Growth has been mostly positive across industries, although manufacturing employment declined recently. Leisure and hospitality employment surged to its fastest pace of growth since data became available in 1990, primarily driven by accommodation employment. Construction job growth also boomed due to growth in specialty trade contractors and new building construction. Health care, mining and government jobs also grew at a robust pace.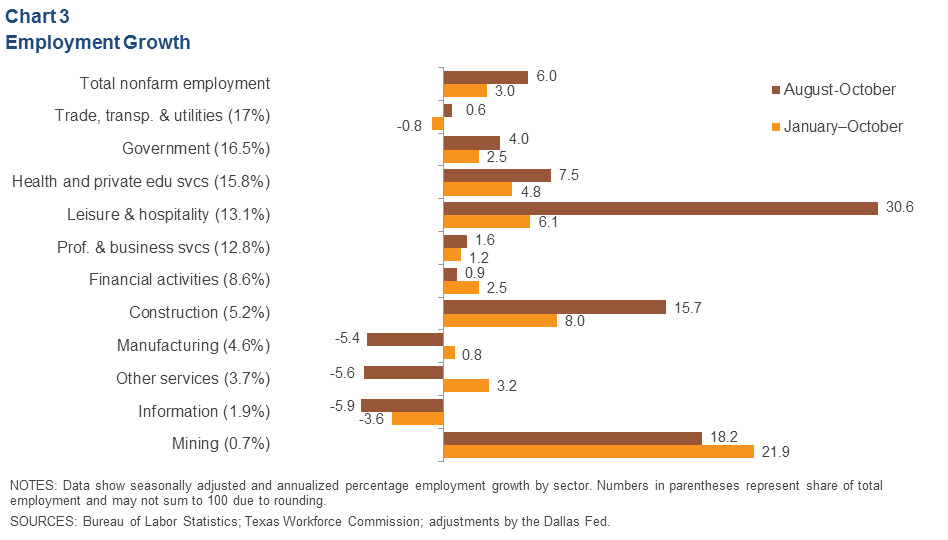 Hourly Earnings
Average hourly earnings in the private sector rose to their highest levels since just prior to the recession, with the three-month average at $23.65 in October (Chart 4). While the wage is well below the averages for the state and nation, San Antonio's 4.1 percent year-over-year growth is higher than the 3.3 percent for Texas and 2.6 percent for the U.S.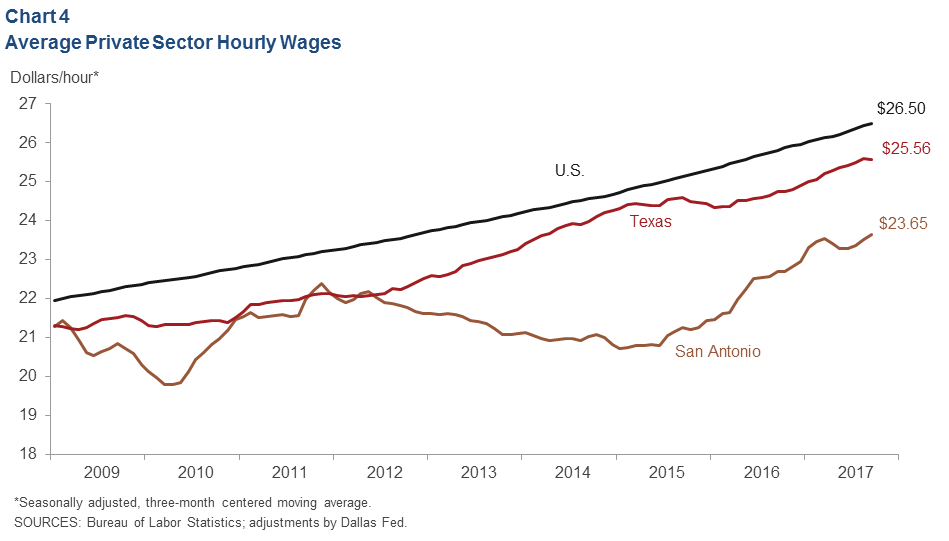 Housing Market
San Antonio's home affordability was flat in the third quarter. The percentage of homes sold that a median-income family could afford was 59.1, compared with 59.3 in the second quarter (Chart 5). Meanwhile, the national affordability rate was slightly lower at 58.3 percent. San Antonio home inventories inched up to 3.6 months' supply, below the state's 3.8 months and well below the six months considered a balanced market. Home prices and sales remained near all-time highs.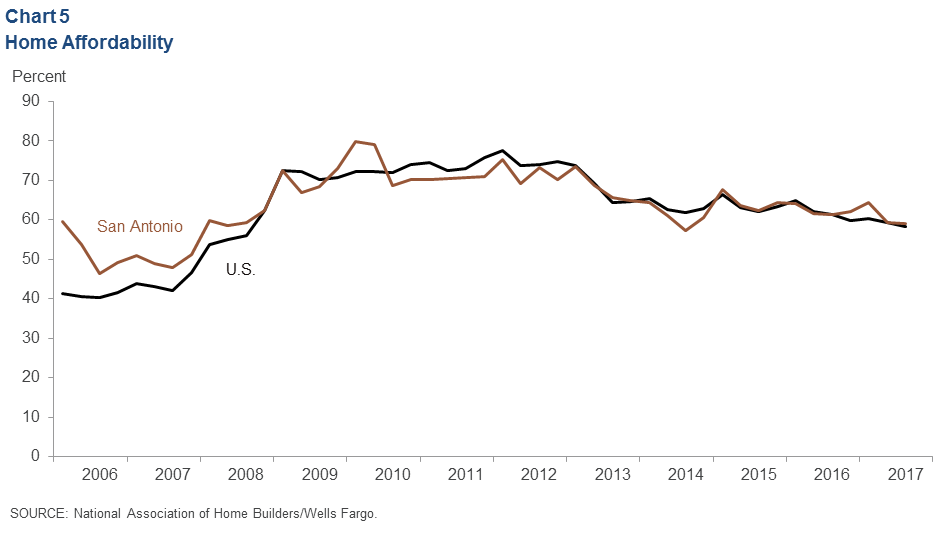 San Antonio Stocks
Stock prices of companies with a significant presence in San Antonio inched up 0.6 percent from Oct. 16 to Nov. 17, a gain similar to the 0.8 percent rise in the S&P 500 (Chart 6). Performance was mixed across industries, with advances in food services, manufacturing, and oil and gas production firms offset by declines in communications, finance and refining firms.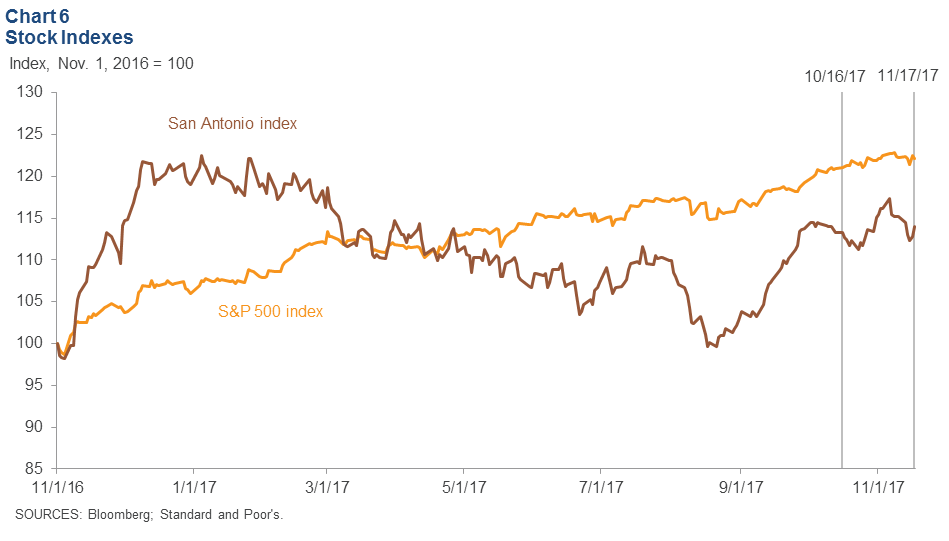 NOTE: Data may not match previously published numbers due to revisions.
About San Antonio Economic Indicators
Questions can be addressed to Christopher Slijk at christopher.slijk@dal.frb.org. San Antonio Economic Indicators is published every month on the Thursday after state and metro employment data are released.