San Antonio Economic Indicators

December 28, 2017
The San Antonio economy continued to grow at a steady pace in November. The San Antonio Business-Cycle Index expanded above trend as jobs grew and the area unemployment rate stayed at a very low level. Recent economic momentum suggests that San Antonio will take 2017's strong pace of growth into 2018.
Business-Cycle Index
The San Antonio Business-Cycle Index expanded at a 5.2 percent annualized rate in November, slowing from 5.4 percent in October (Chart 1). November job growth was moderate at 2.8 percent, and the unemployment was flat at a low level. Taking into account first-half revisions to employment data, year-to-date growth in the index was revised down slightly to 4.2 percent, a level that remains well above the long-term average of 3.1 percent.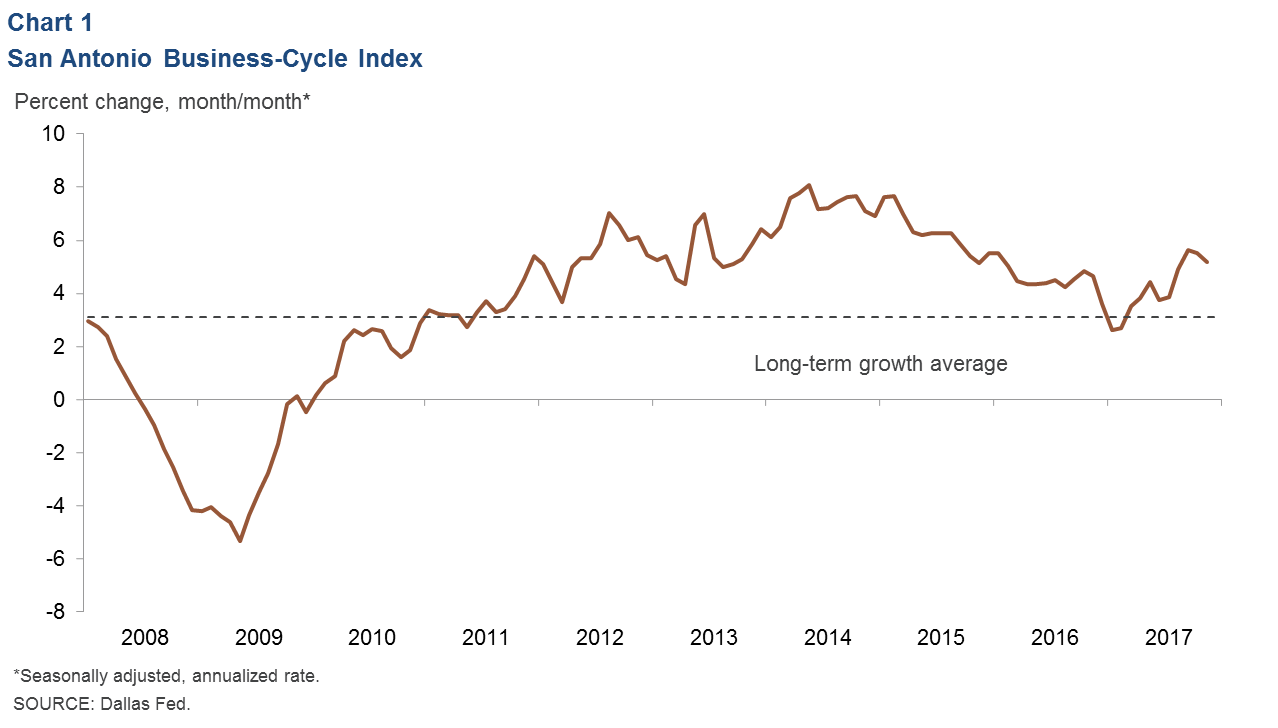 Labor Market
Unemployment Rate Remains Low
The San Antonio unemployment rate held steady at 3.8 percent in November, down from a recent high of 4.1 percent in August (Chart 2). Meanwhile, the state rate continued to decline and reached 3.8 percent—the lowest rate since the data began in 1975. The U.S. rate held steady at 4.1 percent.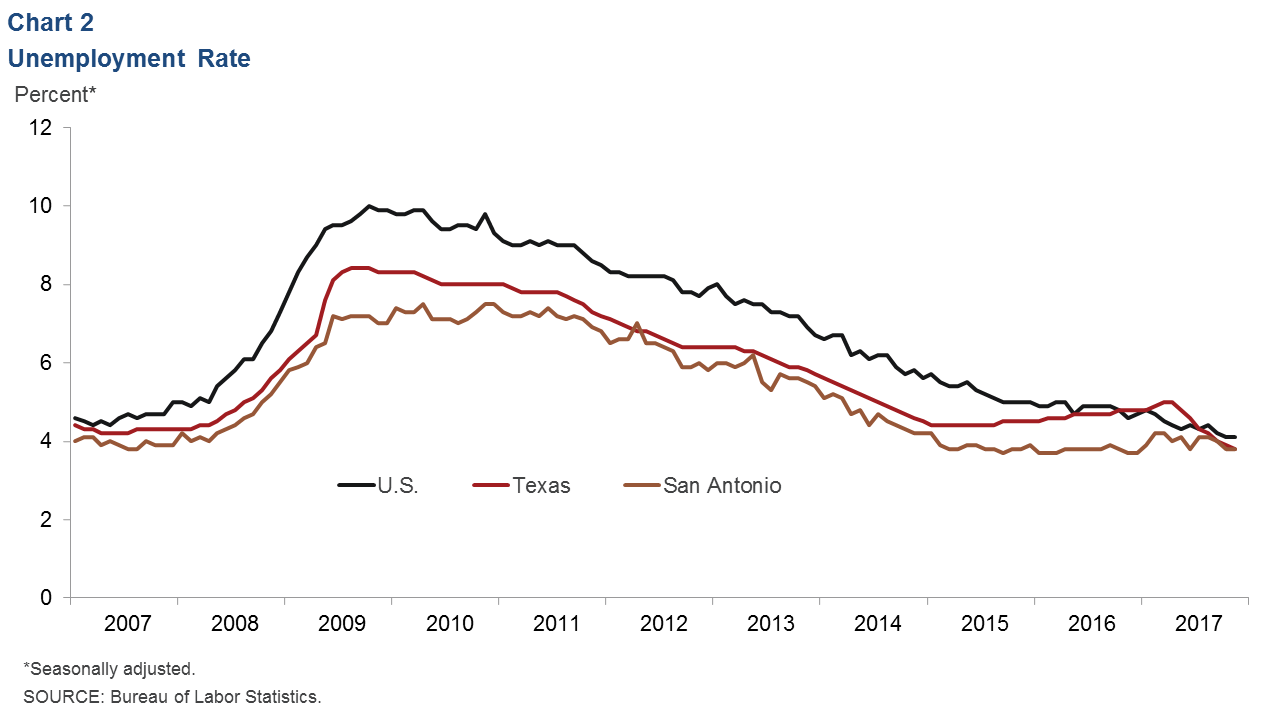 Leisure and Hospitality Leads Job Growth
San Antonio jobs increased at a 3.9 percent annualized rate over the three months through November (Chart 3). Growth was mixed across industries, with some smaller sectors such as information, manufacturing, financial activities and other services seeing declines. Leisure and hospitality posted the largest increase, adding 5,400 jobs, as accommodation and hospitality services growth remained strong following Hurricane Harvey. Construction and mining also grew at a rapid rate. Large industries such as health care and government grew at a moderate pace.
The Dallas Fed's second-quarter early benchmark revised San Antonio job growth downward in the first half of the year, from 2.0 percent to 1.7 percent.
Long-Term Growth Unaffected by Oil and Gas
Over the past decade, San Antonio jobs have generally grown at a faster pace than the state rate, averaging 2.1 percent, compared with Texas' 1.6 percent (Chart 4). This is predominantly due to the relative stability of San Antonio's core industries during state and national economic downturns. In the face of the 2015–16 oil bust, the region continued to add jobs at a 2.9 percent rate despite its proximity to the Eagle Ford Shale, which saw a sharp decline in drilling rigs. The rise in the rig count from 35 in October 2016 to 98 in May 2017, along with the subsequent decline to 77 in November, similarly had little direct impact on regional job growth.
Housing Market
San Antonio's median home price was $213,524 in October, near its all-time high of $215,180 a year earlier (Chart 5). Price appreciation has been slower than in the state overall, however, as the Texas median home price reached a new high of $226,123. Total home sales in the metro reached a new peak, while inventories remained lean compared with the long-term average.
San Antonio Stocks
Stock prices of companies with a significant presence in San Antonio surged 7.2 percent from Nov. 17 to Dec. 26, nearly twice the pace of the S&P 500, which rose 3.9 percent (Chart 6). Oil and gas exploration, pipeline and refining companies led the gains. Food services, communications and retail firms also saw growth. Performance among finance and manufacturing firms was more mixed.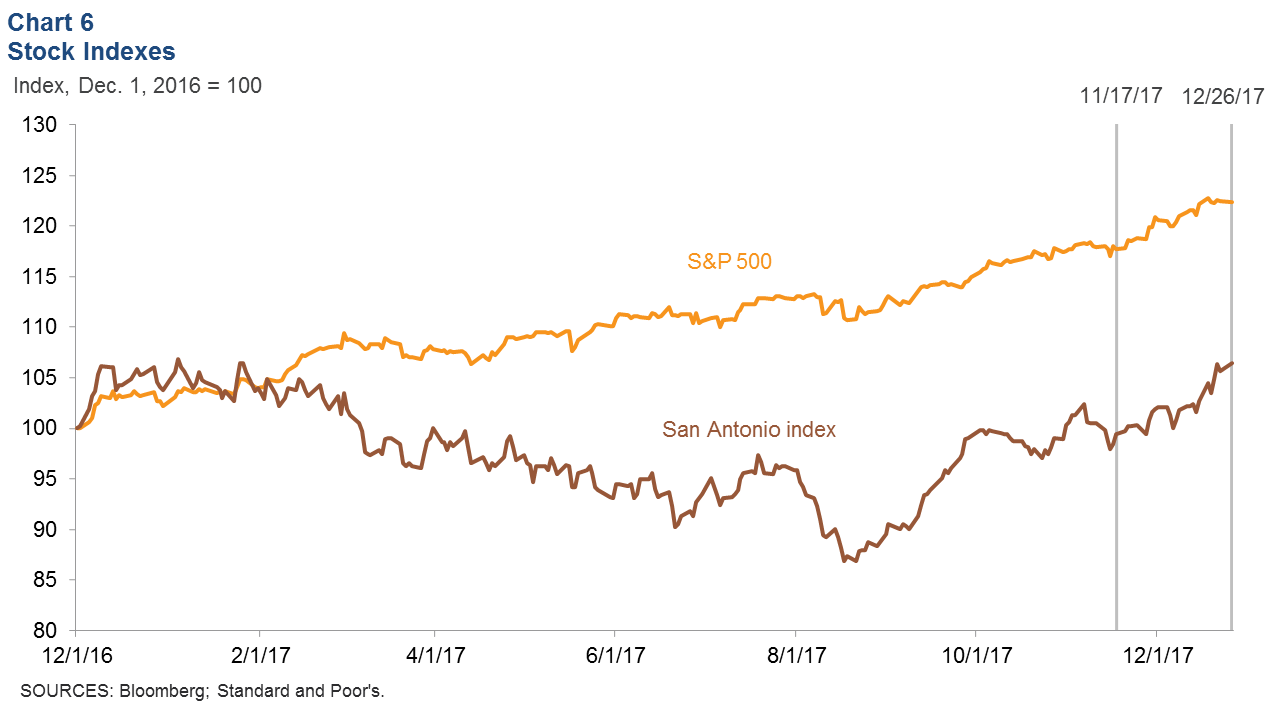 NOTE: Data may not match previously published numbers due to revisions.
About San Antonio Economic Indicators
Questions can be addressed to Christopher Slijk at christopher.slijk@dal.frb.org. San Antonio Economic Indicators is published every month on the Thursday after state and metro employment data are released.