Southern New Mexico Economic Indicators

Third Quarter 2021
The Las Cruces economy's recovery from the pandemic-induced recession stumbled in August. Payrolls contracted sharply after seven consecutive months of growth, and mobility and consumer spending in Doña Ana County lagged behind the rest of southern New Mexico. Monthly trade volumes continue to trend below prepandemic levels and were down year over year in July. The monthly rig count rose, and daily oil production in New Mexico reached a new high.
Labor Market
The Las Cruces labor market contracted an annualized 10.3 percent, or by 656 jobs, in August (Chart 1). Losses were particularly acute in education and health services (270 jobs), government (269) and leisure and hospitality (140). Jobs gains were recorded in trade, transportation and utilities (82), construction (35) and manufacturing (27).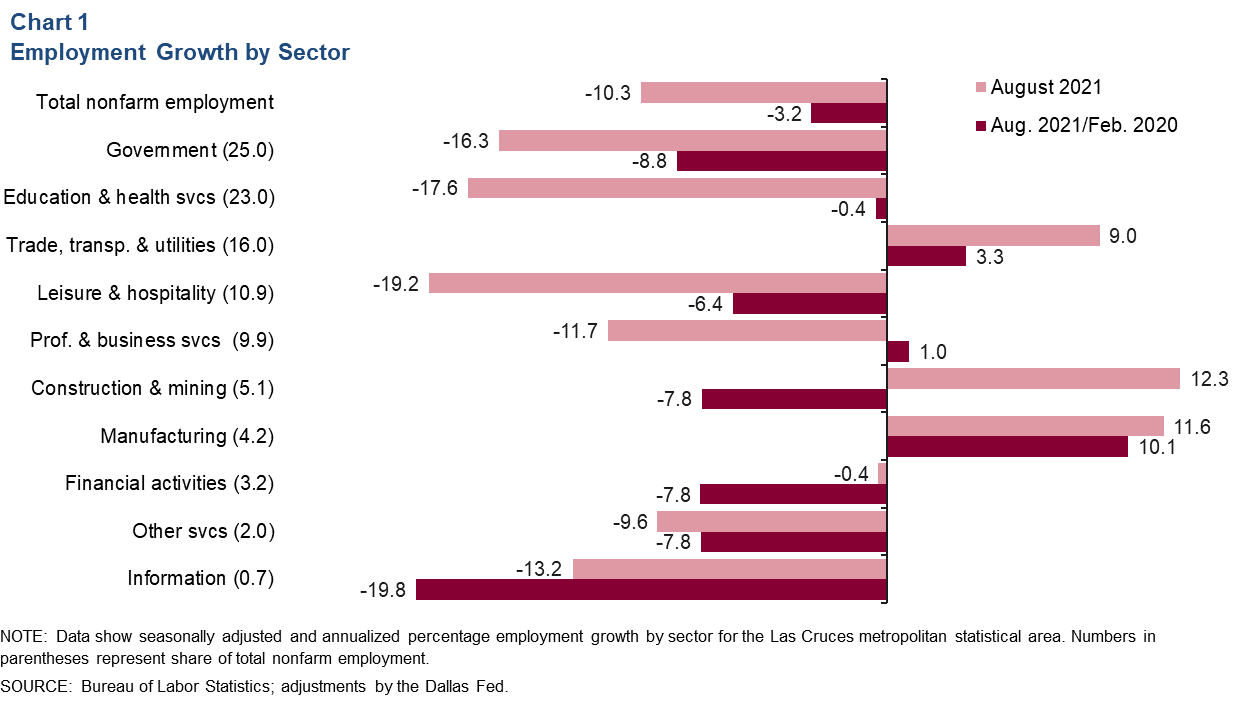 Since the onset of the pandemic, Las Cruces payrolls have fallen 3.2 percent, or by 2,347 jobs, through August 2021. Sectors that experienced major job losses included government (1,738 jobs), leisure and hospitality (539) and construction (307). The trade, transportation and utilities sector and manufacturing expanded during this period, adding 371 and 277 jobs, respectively.
The southern New Mexico unemployment rate stood at 6.4 percent in August, down from 6.7 percent a month prior. Luna County's unemployment rate was the highest in southern New Mexico at 16.1 percent, while Curry County's rate was the lowest at 4.2 percent. Meanwhile, the unemployment rate in Las Cruces fell from 7.5 percent in July to 6.5 percent in August. New Mexico's unemployment rate fell from 7.6 percent in July to 7.2 percent in August.
Google Community Mobility Report
Google mobility data for Doña Ana County showed signs of acceleration in mid-September. As of Sept. 25, Doña Ana mobility relative to January 2020 was down 16.9 percent. The reading is an improvement from -20.6 percent on Sept. 1 and is similar to that of the state, which was down 18.6 percent relative to prepandemic mobility. Mobility was down only 13.3 percent in southern New Mexico (excluding Doña Ana) compared with prepandemic levels (Chart 2).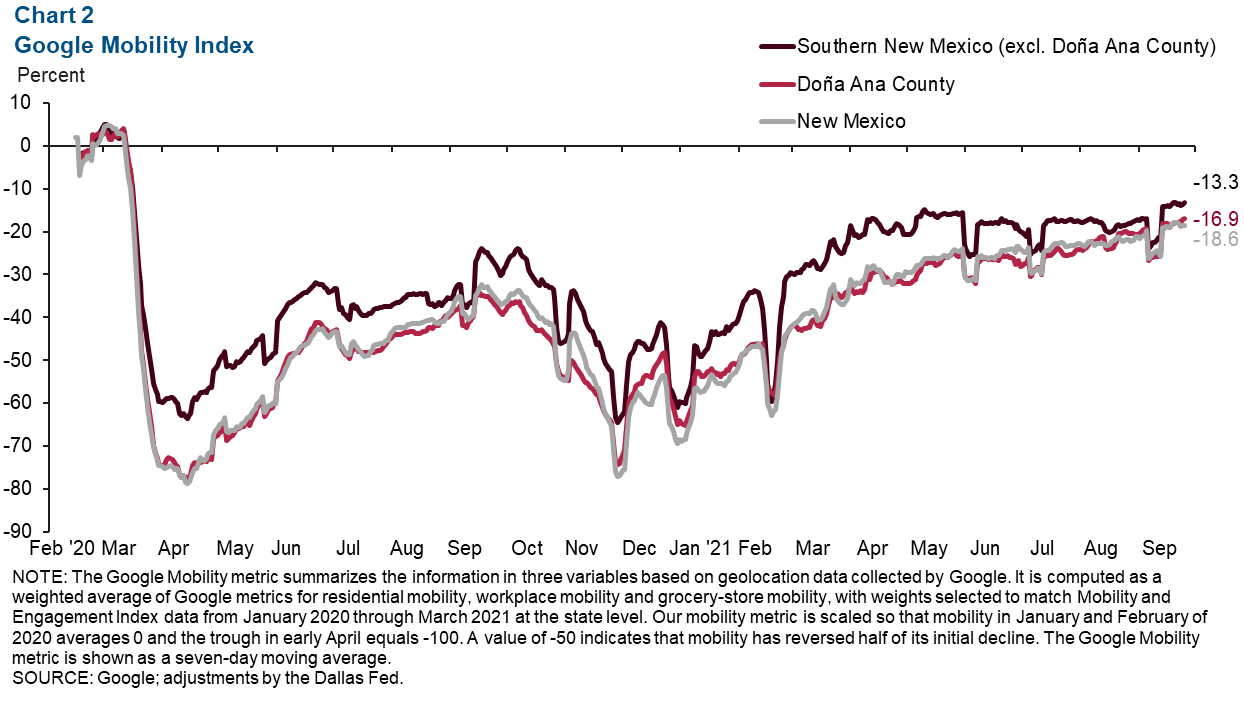 Consumer Spending
Doña Ana County consumer spending (as measured by credit and debit card spending) has recovered and is above January 2020 levels (Chart 3). However, as of Sept. 19, spending in the county relative to January 2020 was up only 4.1 percent compared with an increase of 22.9 percent in southern New Mexico (excluding Doña Ana County) and 18.1 percent in New Mexico.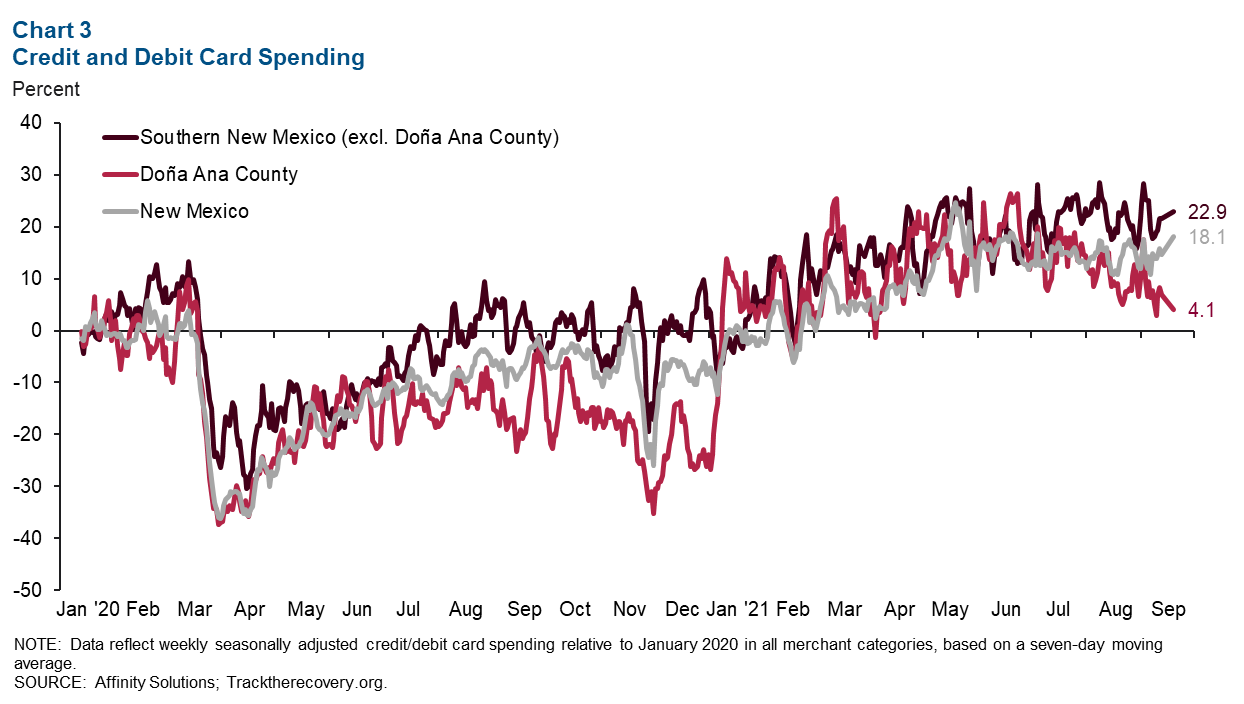 Santa Teresa Port Trade
In July, annualized total trade in southern New Mexico was $28.9 billion, 0.8 percent below a year prior and 6.8 percent below February 2020 (Chart 4). The decline in total trade was driven by a year-over-year decrease of 5.8 percent in exports, while imports were up 3.4 percent. Exports were $12.5 billion, while imports equaled $16.4 billion in July.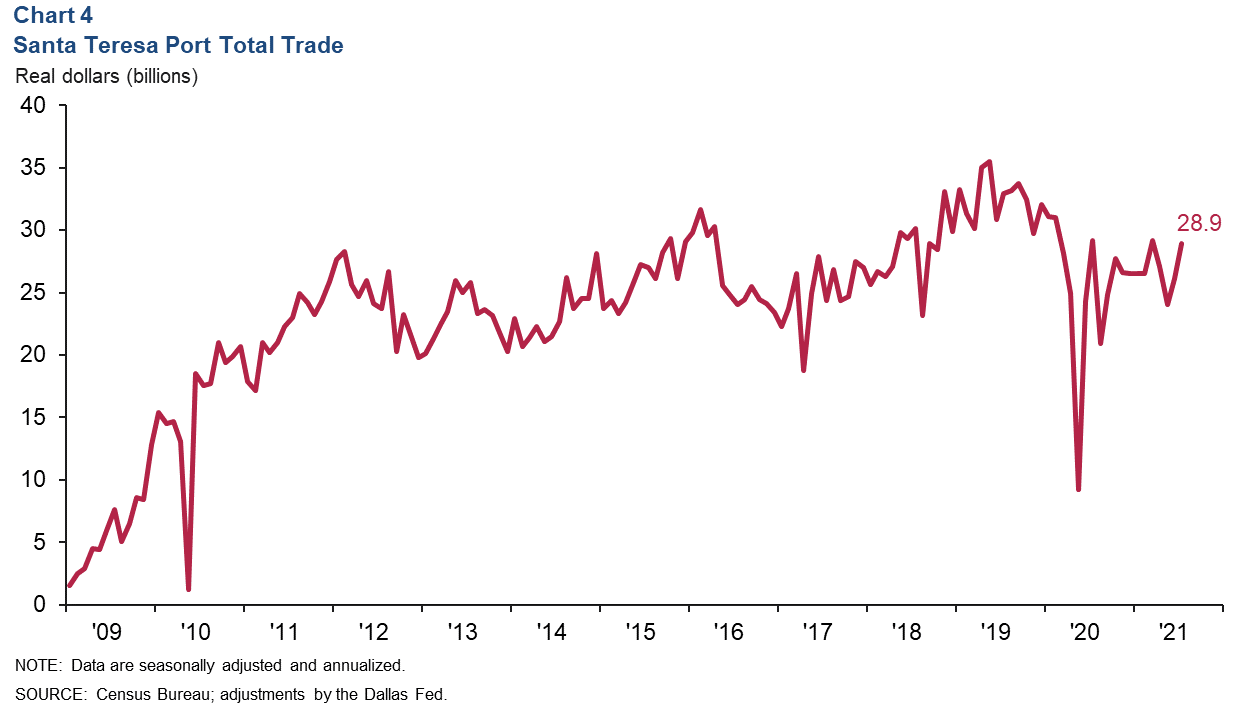 Commodity Markets
Rig Count, Oil Production Increase
The rig count rose from 80 to 83 in August, and oil production volumes climbed 2.7 percent from June to July to a historical high of 1.32 million barrels per day (Chart 5).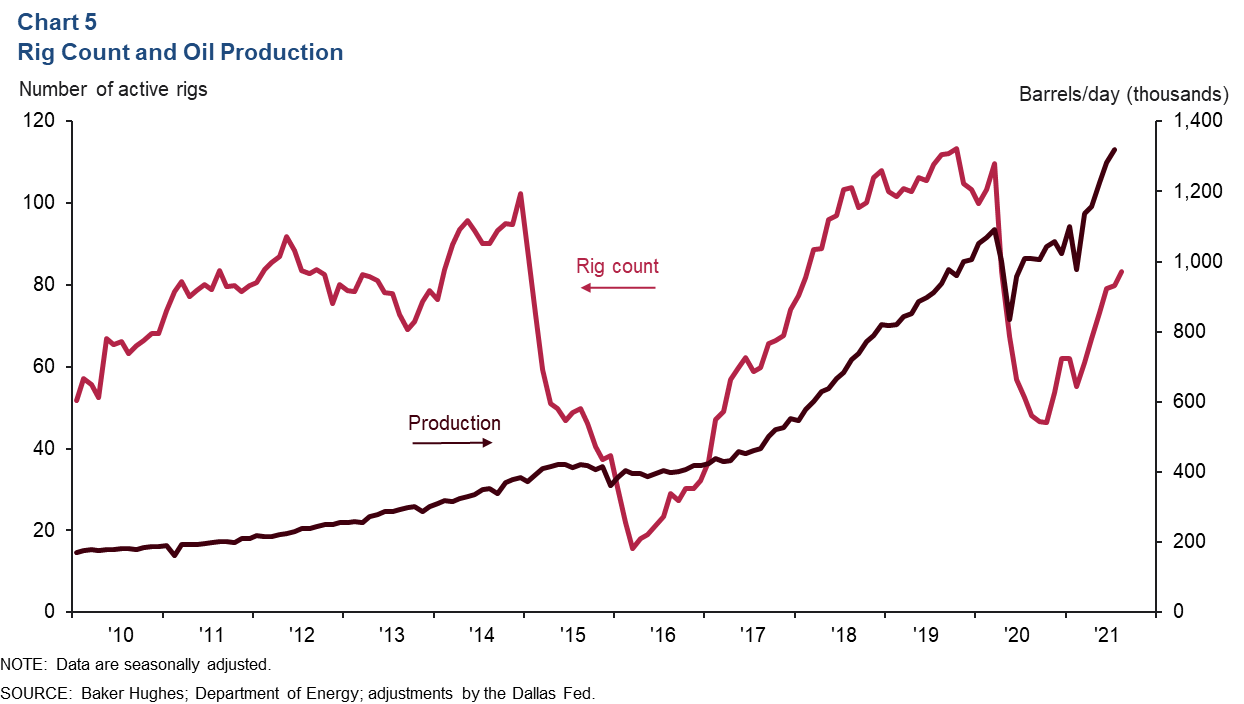 Potash Prices Rise, Copper Dips
In addition to oil and natural gas, southern New Mexico's economy is dependent on other commodities, such as potash, copper and silver. Potash prices increased from $205.86 per metric ton in July to $221.19 in August (Chart 6). Copper prices fell from $9,621 per metric ton in July to $9,549 in August.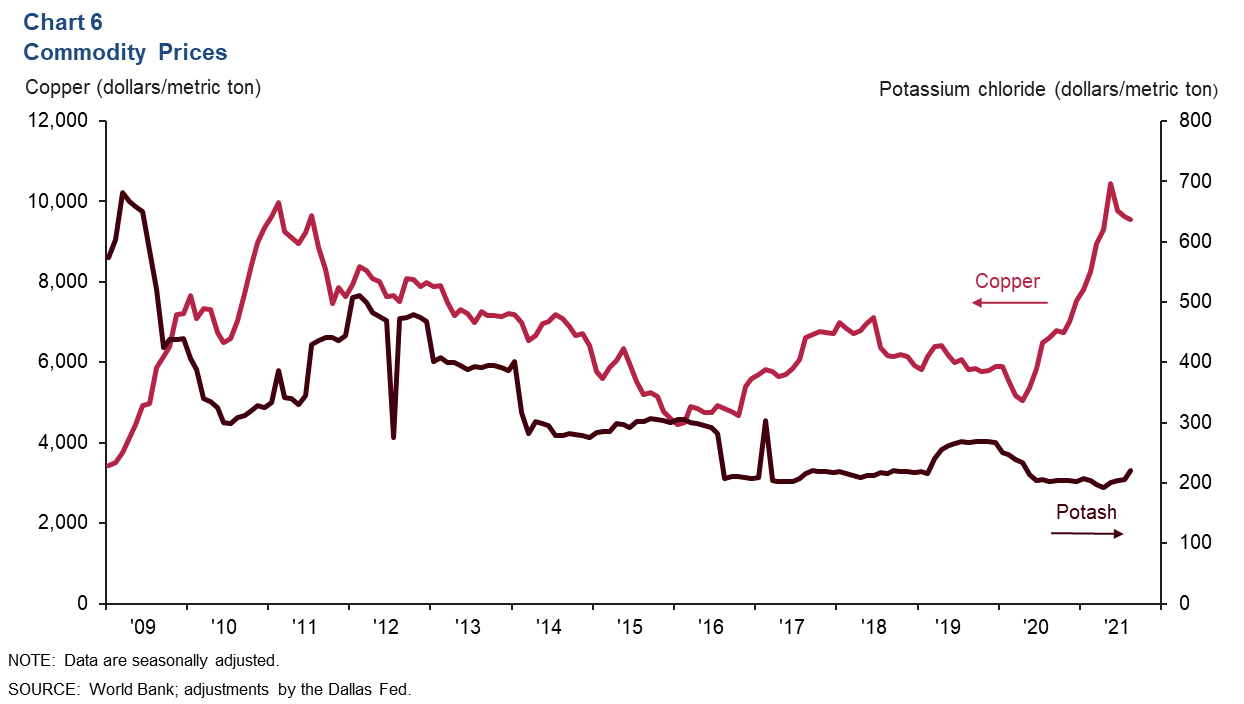 NOTES: Data may not match previously published numbers due to revisions. All New Mexico counties within the Federal Reserve's Eleventh District are counted as part of southern New Mexico. Las Cruces is excluded from southern New Mexico to better gauge unemployment levels outside the region's largest population center.
About Southern New Mexico Economic Indicators
Questions can be addressed to Keighton Hines at Keighton.Hines@dal.frb.org. Southern New Mexico Economic Indicators is released quarterly.