Southern New Mexico Economic Indicators

Third Quarter 2017
Employment in Las Cruces remained relatively unchanged in the first nine months of the year. Home sales continue to show strength, and prices have ticked up. Trade through Santa Teresa has rebounded from a year ago, driven by gains in both imports and exports.
Labor Market
Unemployment Rates Vary Widely
The unemployment rate in Las Cruces rate stood at 6.9 percent in September, up from 6.7 percent in June (Chart 1). Southern New Mexico's unemployment rate was unchanged at 6.5 percent, and the state's rate dipped to 6.2 percent. Unemployment rates in southern New Mexico continue to vary widely, ranging from a low of 5.0 percent (Curry County) to a high of 14.0 percent (Luna County).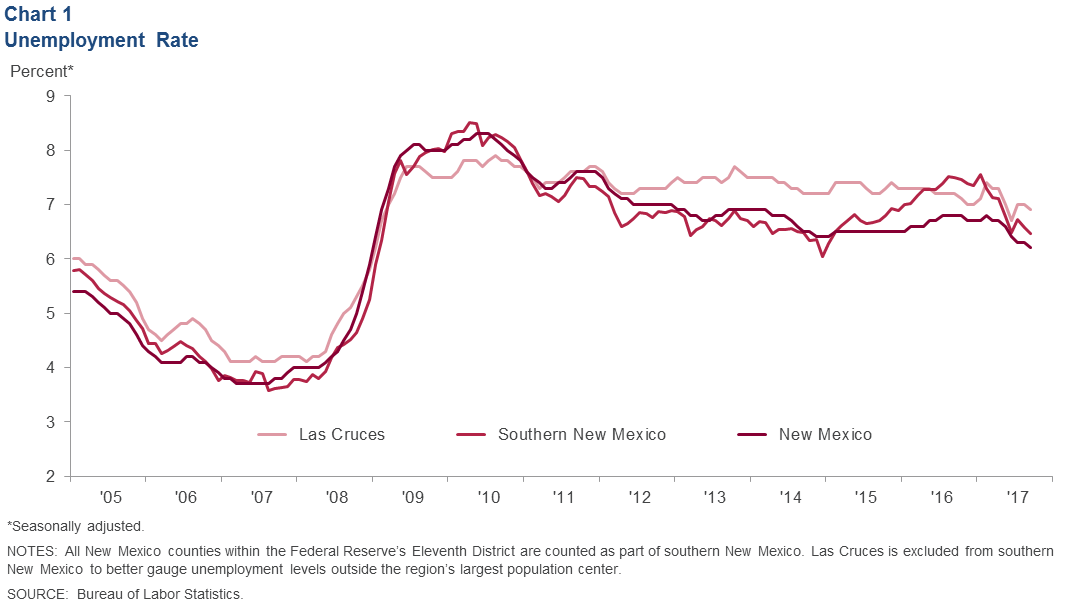 Employment Growth Little Changed
Employment in Las Cruces and New Mexico has remained relatively unchanged over the year (Chart 2). Both Las Cruces and the state have been hurt by declines in government, a main sector for both economies. In the first nine months of the year, Las Cruces lost 340 jobs. Over the same time, New Mexico employment inched up at an annualized rate of 0.3 percent (2,100 jobs).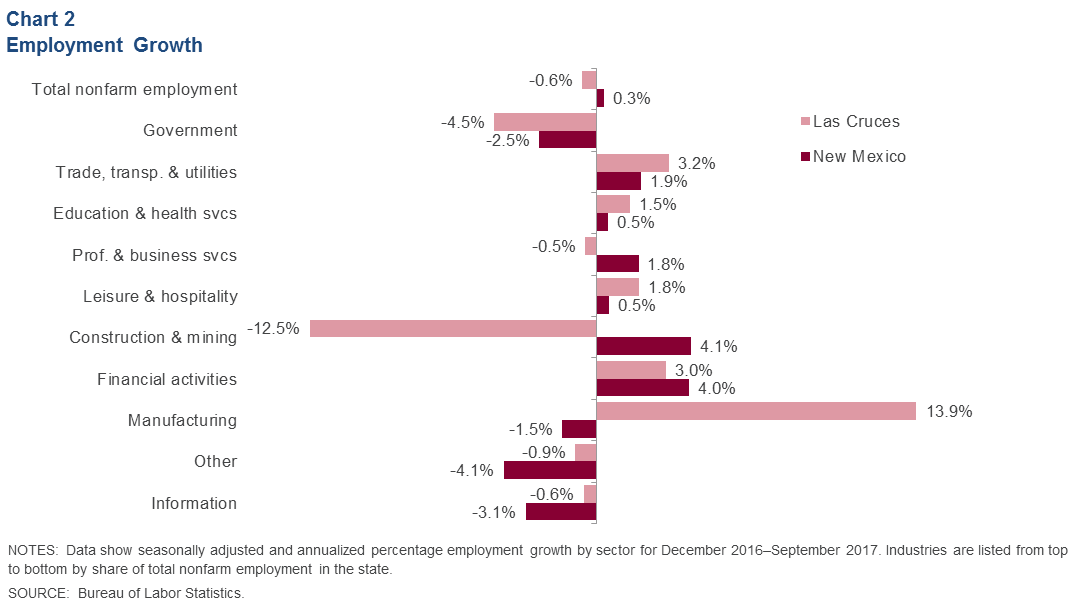 Housing Market
Doña Ana County home sales rose 1.3 percent in the third quarter to an annualized rate of 1,756 (Chart 3). Compared with a year earlier, sales are up 3.7 percent. As home sales have grown, so has the median price. In September, the median price stood at $172,005, up 0.9 percent from June and 4.7 percent from last September.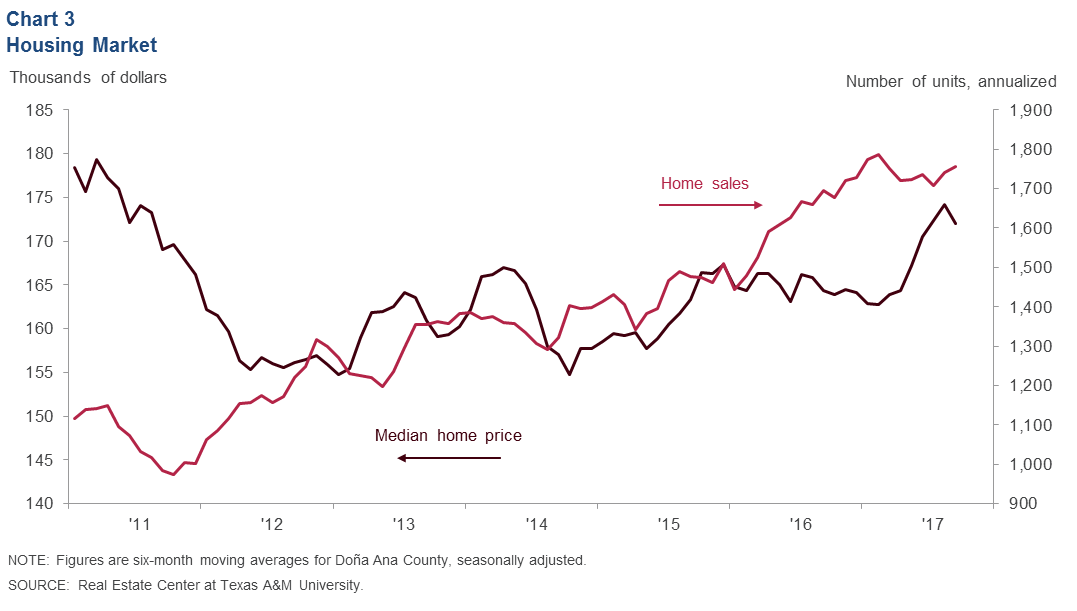 Santa Teresa Port Trade
Annualized total trade through the Santa Teresa port of entry totaled over $23.7 billion in August, up 9.3 percent from a year earlier (Chart 4). Imports rose 4.7 percent to an annualized rate of $12.5 billion, and exports climbed 15 percent to $11.2 billion.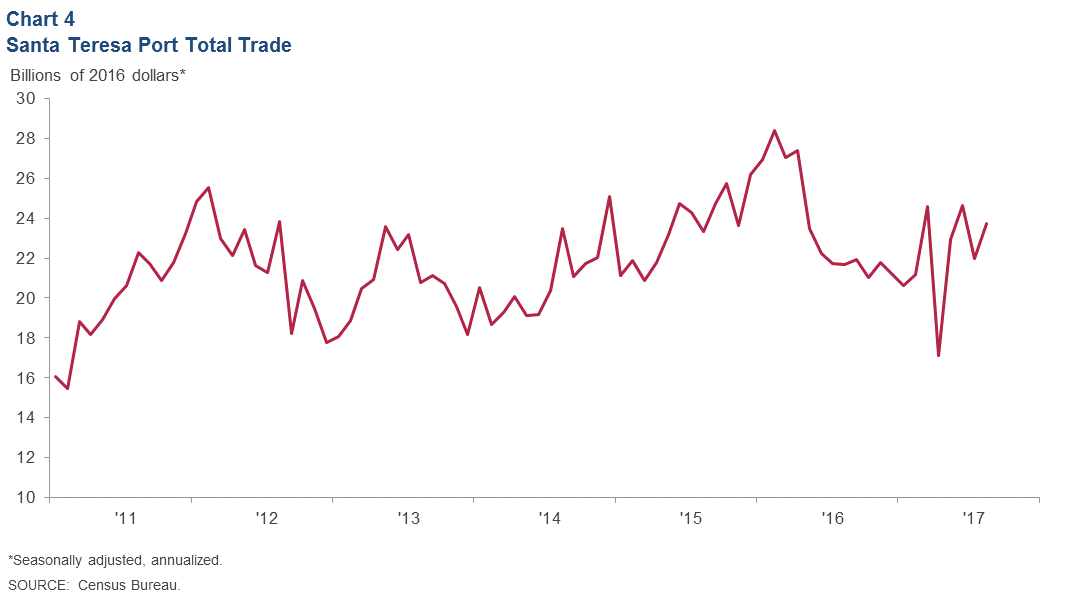 Commodity Markets
Rig Count, Production Rise with Prices
The average price per barrel of West Texas Intermediate crude oil rose to $51.56 in October from $49.83 in September. The improvement in energy prices has led to an increase in both the rig count and production (Chart 5). In October, the New Mexico rig count stood at 68, up from 32 a year earlier. Meanwhile, crude oil production also continued to climb, totaling over 462,000 barrels per day in August, up from 395,000 barrels in August 2016.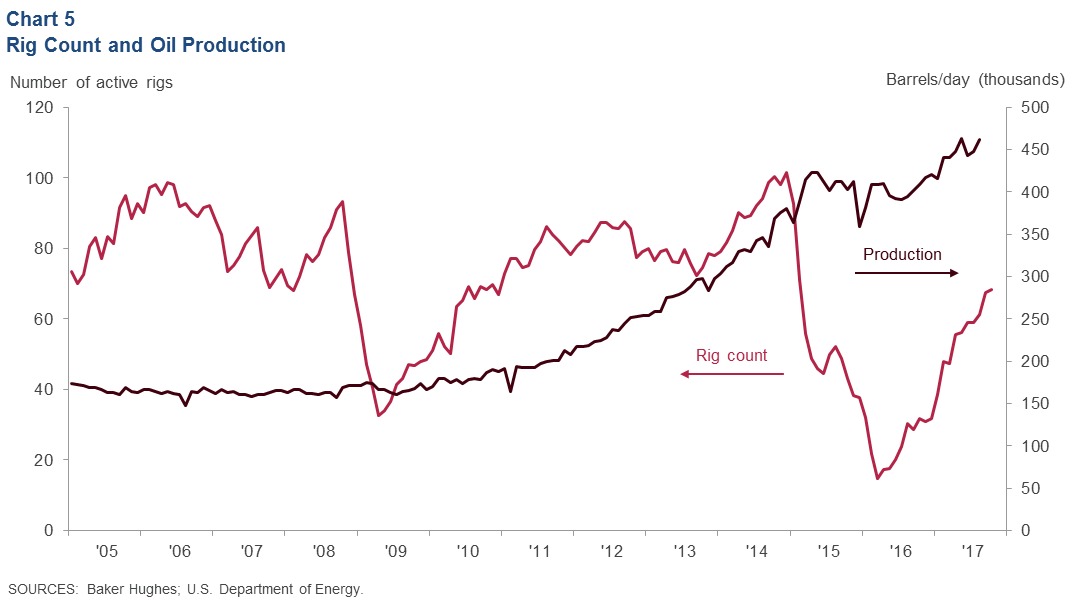 Potash Prices Stable, Copper Rebounds
In addition to oil and natural gas, southern New Mexico's economy is dependent on other commodities, such as potash, copper and silver (Chart 6). According to the New Mexico Energy, Minerals and Natural Resources Department, the state ranked first in domestic potash production in 2015. Potash prices rose sharply during the global recession of 2007, fell sharply in 2009 and dropped even further in 2013 with the end of the potash cartel's agreement. Prices have been stable over the past year and stood at $222.00 per metric ton as of October 2017. Copper prices have rebounded in the past few months, averaging $6,807.60 per metric ton in October, up over 40 percent from a year ago. Prices are the highest they have been since 2015.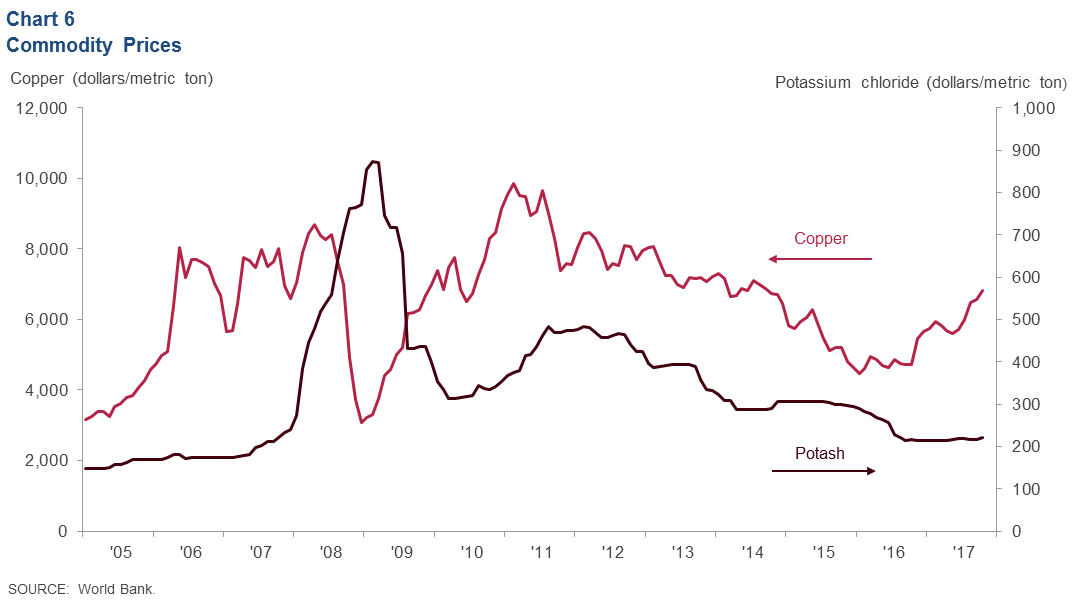 NOTES: Data may not match previously published numbers due to revisions. All New Mexico counties within the Federal Reserve's Eleventh District are counted as part of southern New Mexico. Las Cruces is excluded from southern New Mexico to better gauge unemployment levels outside the region's largest population center.
About Southern New Mexico Economic Indicators
Questions can be addressed to Marycruz De León at marycruz.deleon@dal.frb.org. Southern New Mexico Economic Indicators is released quarterly.