Texas Economic Indicators

March 25, 2019
Texas economic indicators pointed to moderate economic growth in February. Job growth was near its long-run average, and unemployment remained low. The Texas Leading Index improved. Oil prices have been gradually rising since the beginning of the year, though the rig count has been falling. Construction spending slumped in the month, but existing-home sales improved.
Labor Market
Employment Growth Varied Across Metros, Industries
Texas employment expanded an annualized 1.8 percent in February, following downwardly revised January growth of 2.0 percent (Chart 1). Year-to-date employment growth of 1.9 percent slightly trails the state's long-run growth of 2.0 percent. The Dallas Fed's Texas Employment Forecast predicts 1.5 percent job growth in 2019 (December/December), with an 80 percent confidence band of 0.2 percent to 2.8 percent.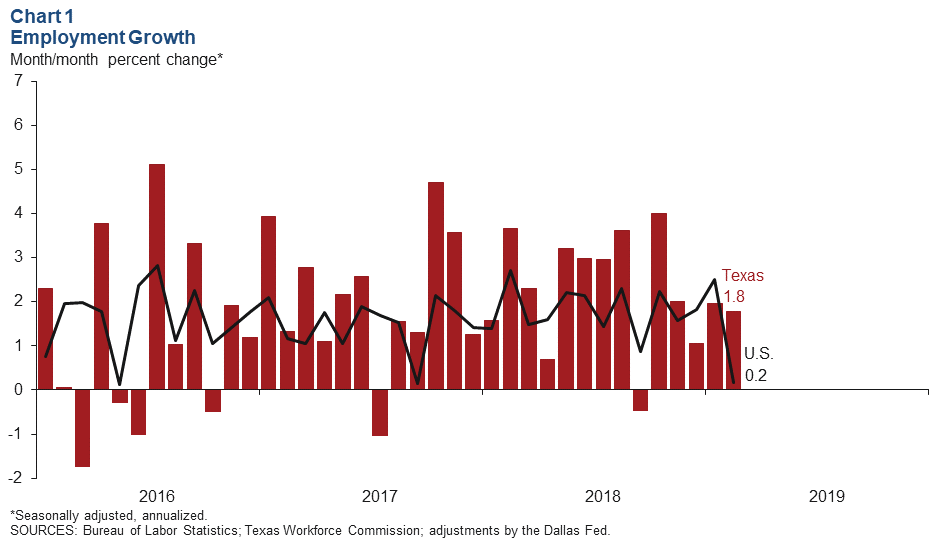 Most major Texas metros added jobs in February. While Fort Worth and El Paso shed jobs, Austin, Dallas and Houston expanded payrolls at a robust pace—6.6 percent, 5.7 percent and 4.3 percent, respectively. San Antonio's employment rose 1.3 percent and McAllen's rose 0.2 percent.
Job growth across major sectors was mixed in February. The oil and gas sector declined the most, shedding 11.6 percent of jobs, while leisure and hospitality saw the fastest growth at 5.7 percent. Overall, service-providing employment rose 2.1 percent in the month, and goods-producing employment inched up 0.2 percent.
Unemployment Rate Remains Near Historical Low
The Texas unemployment rate held steady at 3.8 percent in February, matching the U.S. rate (Chart 2). Both are well below their long-run averages, indicating continued labor market tightness. Unemployment rates dipped in all of the state's major metros. McAllen's 6.5 percent unemployment was the highest among the major metros, and Austin's 3.0 percent was the lowest.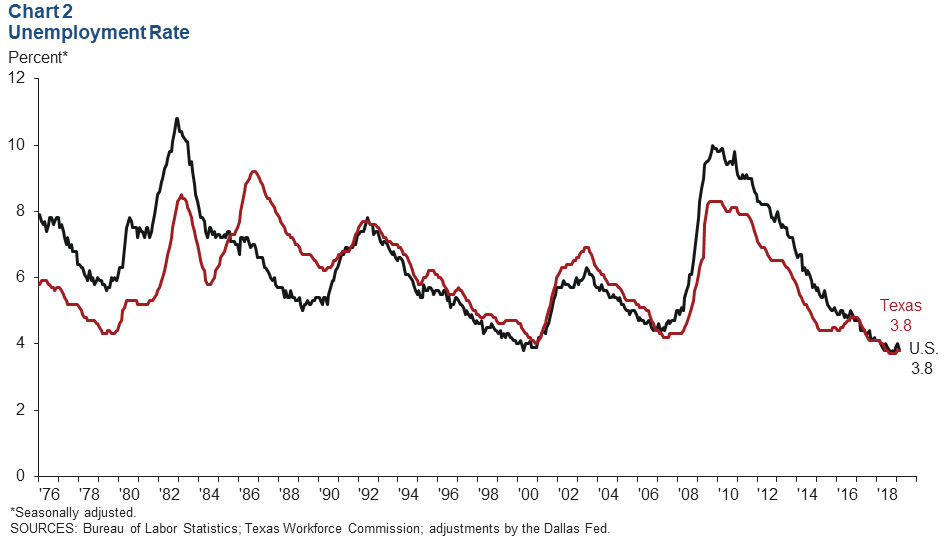 Texas Leading Index
The Texas Leading Index, which is used to estimate the Dallas Fed's Texas Employment Forecast, sheds light on the future of the state's economy. The index improved in February, and the three-month change was softer but positive (Chart 3). Among the index's components, the Texas value of the dollar, oil prices and initial unemployment claims dampened the index's three-month growth, while the other components contributed positively.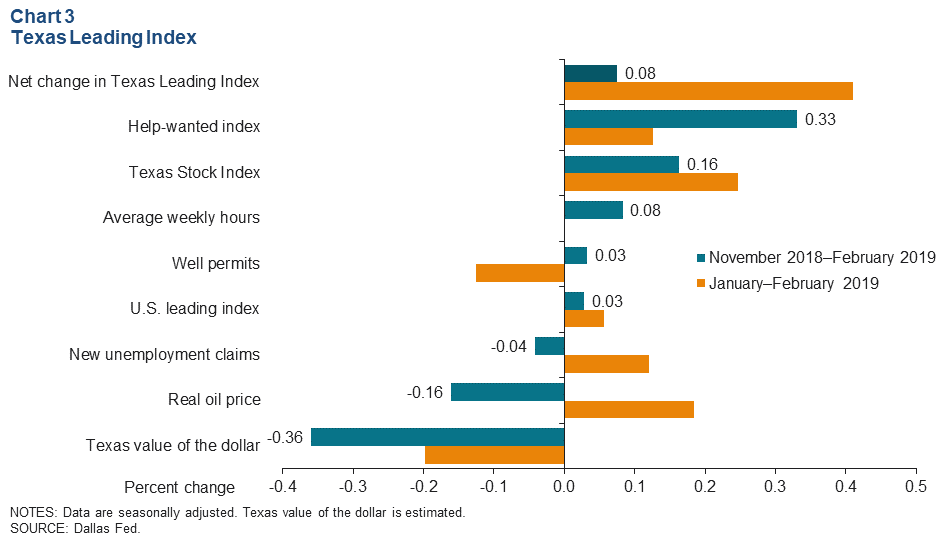 Energy
The Texas rig count slid to 497 in the week ending March 22, marking the 11th consecutive week of decline (Chart 4). Oil prices edged up to $59.44 per barrel in the week but remained below their 2018 average of $65.02.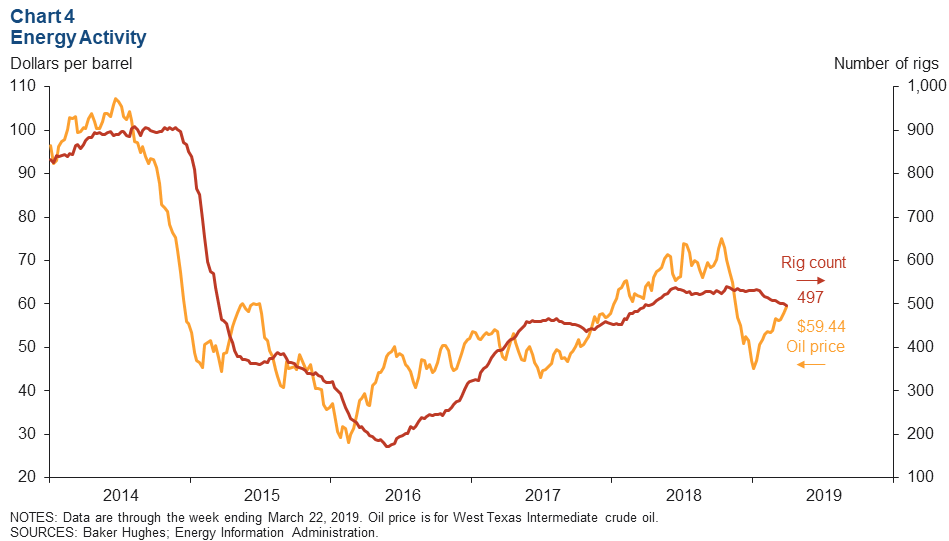 Real Estate
Construction Spending Weakens
Texas construction spending declined 8.6 percent in February, and the five-month moving average dropped 4.6 percent (Chart 5). The five-month moving average of nonbuilding construction contracted 10.6 percent, residential construction dipped 2.7 percent, and nonresidential building spending inched up 1.5 percent. Texas construction spending remains 12.4 percent above its long-run (January 2000–December 2018) average.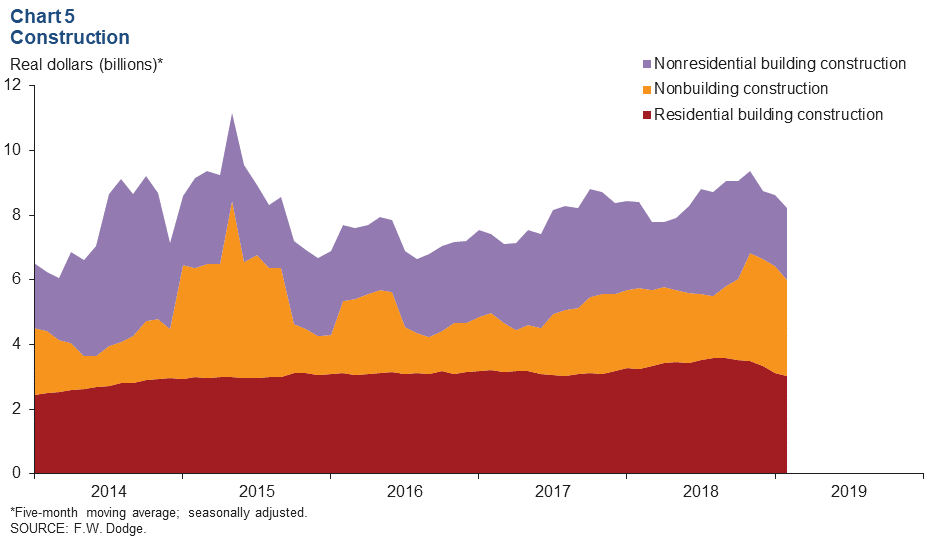 Single-Family Home Sales Strengthen Across Price Ranges
Texas single-family existing-home sales increased 7.4 percent in February, and the expansion was widespread across price ranges (Chart 6). This growth follows a January decline in home sales, and sales have dipped 1.2 percent year to date compared with the same period in 2018. Sales of homes priced over $499,999 rose 11.9 percent in February—the most among the price points—followed by 10.9 percent growth in homes priced between $300,000 and $399,999. In the first two months of the year, compared with the same period last year, home sales under $150,000 dropped 10.6 percent, and sales between $150,000 and $199,999 and above $400,000 were down as well. Home inventories across most price ranges are below the six months of supply considered a balanced market, and they are tightest for lower-priced homes.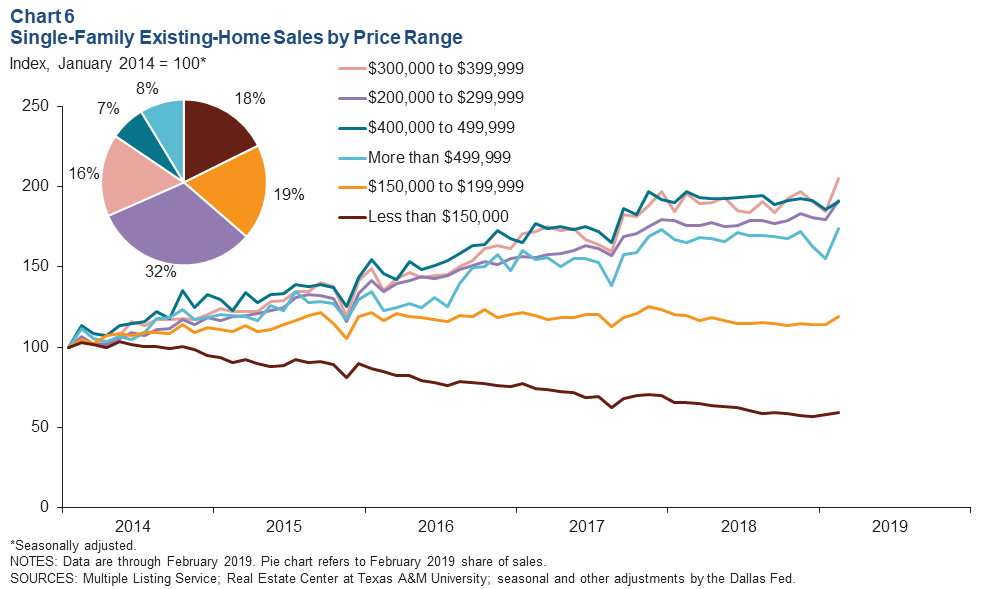 NOTE: Data may not match previously published numbers due to revisions.
About Texas Economic Indicators
Questions can be addressed to Stephanie Gullo at stephanie.gullo@dal.frb.org. Texas Economic Indicators is published every month on the Monday after Texas employment data are released.