Texas Economic Indicators

April 23, 2019
Texas economic indicators pointed to moderate expansion in March. Job growth outpaced its long-run average, and unemployment remained low. Growth in the Texas Business-Cycle Index continued to slow but remained above its long-run trend. The Dallas Fed's Texas Business Outlook Surveys indicated softening business sentiment and outlooks, particularly in services. The state's exports dipped in February.
Labor Market
Employment Expands in Most Major Metros
Texas employment expanded an annualized 2.2 percent in March, exceeding its long-term 2.0 percent growth (Chart 1). The March figure boosted year-to-date employment growth to 2.1 percent. The Dallas Fed's Texas Employment Forecast shifted up, predicting 1.8 percent job growth in 2019 (December/December), with an 80 percent confidence band of 0.6 percent to 3.0 percent. The Texas unemployment rate held steady at 3.8 percent in March, matching the U.S. rate, and unemployment dipped in all of the state's major metros.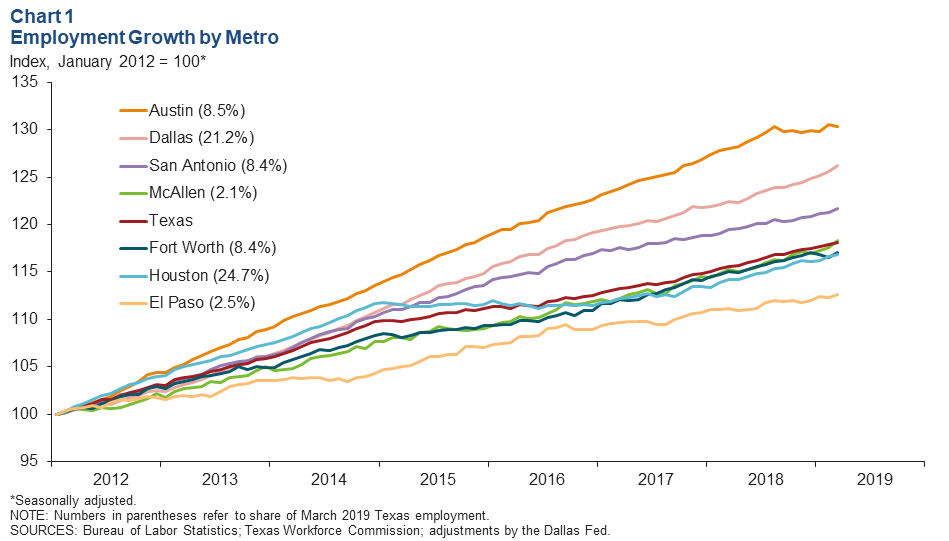 Most major Texas metros added jobs in March, though Austin employment dipped 1.1 percent after outpacing other metros' growth considerably in recent years. McAllen's 7.4 percent job growth led the major metros in March, followed by Dallas' 6.0 percent and Fort Worth's 5.5 percent growth.
Job Growth in Service-Providing Sector Outpaces Goods-Producing Sector
Employment growth was mixed across sectors in March. Oil and gas employment dropped 11.0 percent, and employment in the trade, transportation and utilities, manufacturing, and professional and business services sectors also dipped. Leisure and hospitality jobs expanded the most (9.9 percent), followed by other services (8.6 percent) and construction (7.1 percent). Overall, service-providing employment rose 2.5 percent in the month, while goods-producing employment grew 0.8 percent (Chart 2).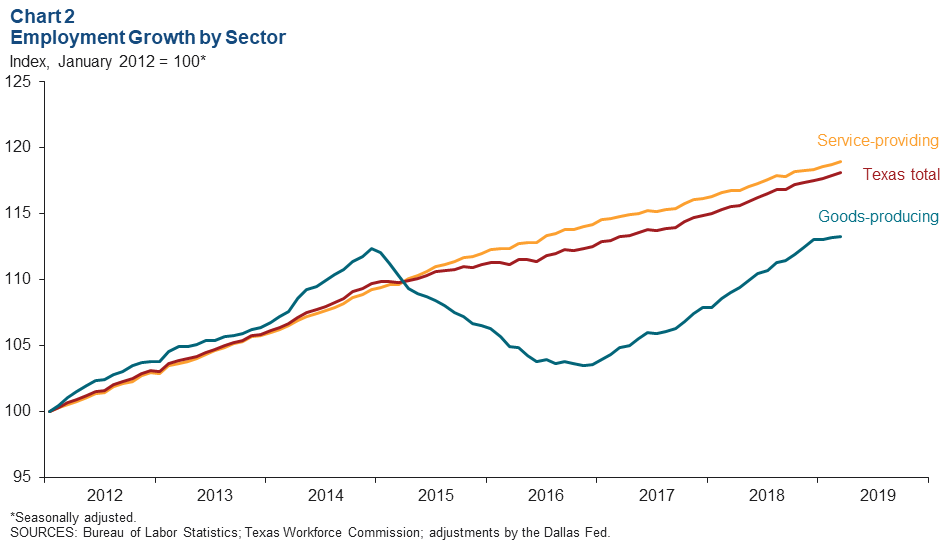 Texas Business-Cycle Index
The Texas Business-Cycle Index, a composite of state payroll employment, the unemployment rate and gross state product, measures underlying economic activity in Texas. This index increased an annualized 3.9 percent in March (Chart 3). Its growth rate has slowed for nine consecutive months after rising for more than two straight years.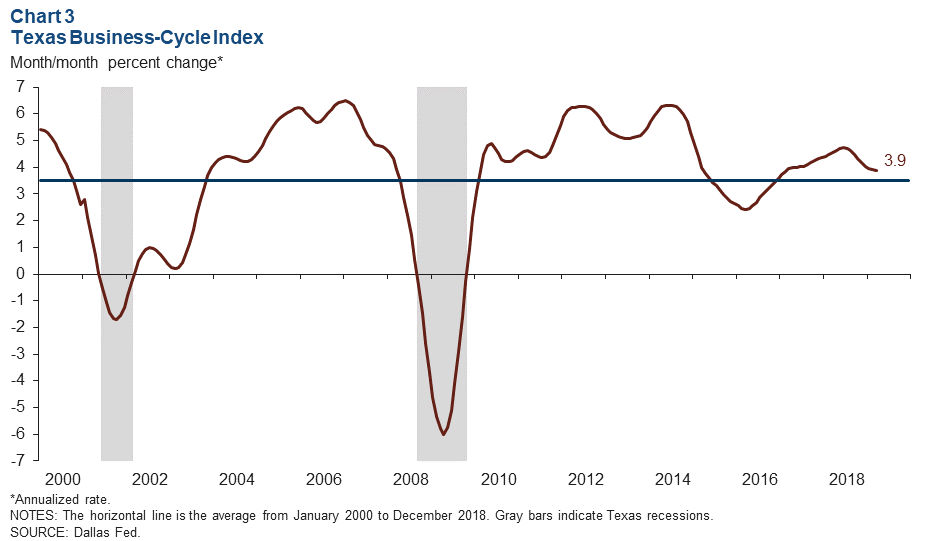 Texas Business Outlook Surveys
Firms See Mixed Growth in Activity
The three surveys' headline indexes were mixed in March, but the three-month moving averages of each were positive (Chart 4). The revenue index of the services survey remained positive but declined, suggesting slower growth in service-sector revenue in March. The more volatile sales index of the retail survey turned slightly negative, indicating a slight dip in retail sales. The production index of the manufacturing survey ticked up, suggesting rising factory production.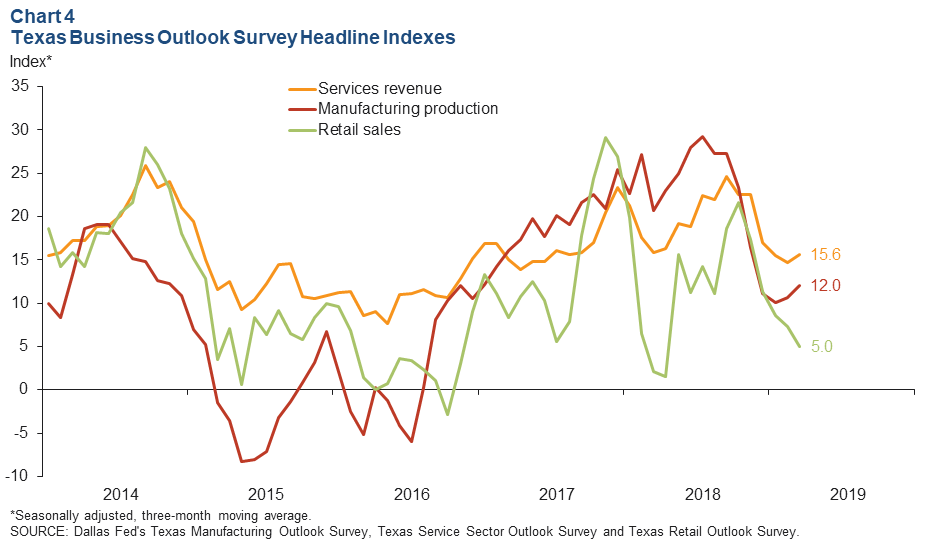 Firms Report Softening Business Conditions
The Dallas Fed's services and retail outlook surveys pointed to worsening business sentiment in March, as their general business activity indexes were negative (Chart 5). The manufacturing general business activity index fell but remained positive, suggesting that manufacturers' sentiment improved at a slower pace than last month.
Exports
Texas exports dipped 1.1 percent in February (Chart 6). This is similar to the 1.2 percent drop for the U.S. (excluding Texas). In the first two months of 2019, compared with the same period in 2018, state's exports have grown 8.8 percent. Among major export destinations, exports to Europe have risen the most year to date compared with the same period last year (38.4 percent), followed by Asia excluding China (29.3 percent), Central America and the Caribbean (20.0 percent), Africa (8.3 percent) and South America (7.7 percent). The state's exports to Mexico, its largest export destination, were flat at 0.1 percent, while exports to Canada inched down 0.8 percent, and exports to China plummeted 52.7 percent.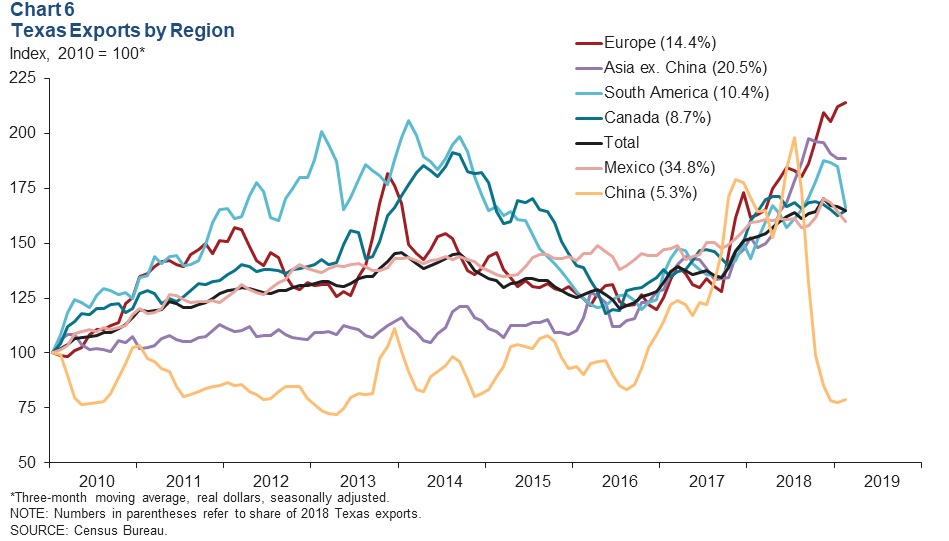 NOTE: Data may not match previously published numbers due to revisions.
About Texas Economic Indicators
Questions can be addressed to Stephanie Gullo at stephanie.gullo@dal.frb.org. Texas Economic Indicators is published every month on the Monday after Texas employment data are released.