Texas Economic Indicators

June 25, 2019
Texas economic indicators pointed to continued moderate expansion in May. The state posted solid job growth and record-low unemployment, indicating that labor markets remain tight. However, the Texas Leading Index, oil prices, rig counts and existing-home sales edged down. Exports picked up in April.
Labor Market
Employment Expands at Moderate Pace
Texas employment expanded an annualized 2.1 percent in May, following upwardly revised growth of 3.1 percent in April (Chart 1). The state added jobs at a 2.3 percent annualized rate year to date. The Dallas Fed's Texas Employment Forecast predicts 2.3 percent job growth in 2019 (December/December), with an 80 percent confidence band of 1.4 percent to 3.2 percent.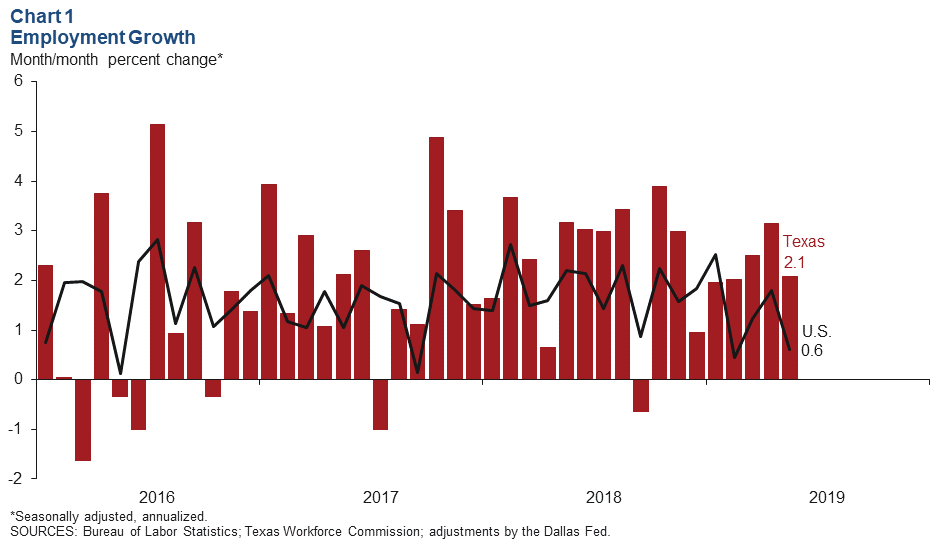 Employment gains were mostly widespread across industries in the month; only manufacturing, leisure and hospitality and oil and gas employment dipped, and all three sectors have added jobs year to date. Other services and professional and business services added jobs at over a 5 percent annualized rate in May. Only the information sector shed jobs year to date.
May job growth was broad based across Texas' major metros, with the exception of San Antonio. Austin's 7.0 percent growth led the major metros in the month, followed by El Paso's 3.8 percent growth.
Unemployment Hits Record Low
The Texas unemployment rate dipped to 3.5 percent in May, setting a new record low in the four-decade history of the series (Chart 2). The U.S. unemployment rate was flat at 3.6 percent, its lowest level since 1969.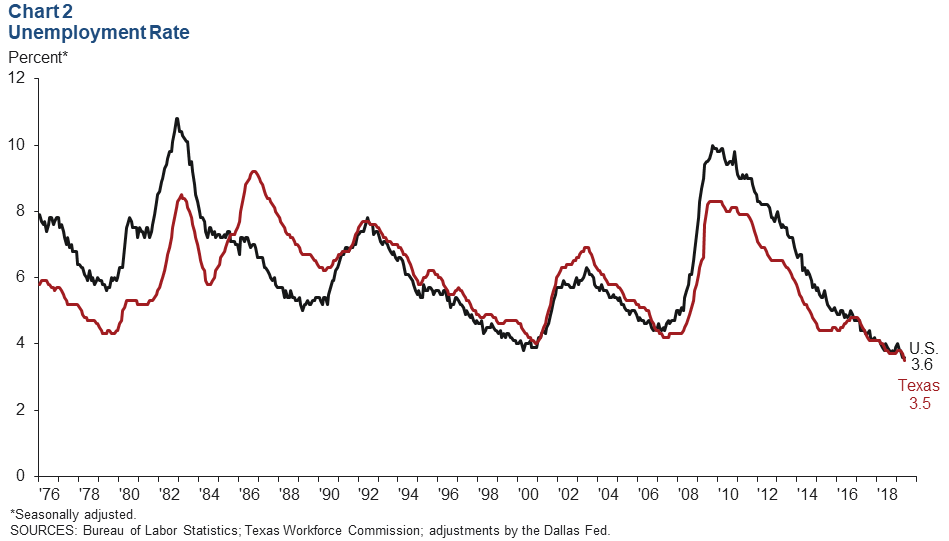 Texas Leading Index
The Texas Leading Index, a composite of eight indicators that tend to change direction before the overall economy does, sheds light on the future of the state's economy. In May, the estimated value of the index dipped 0.4 percent, though the three-month change was 0.2 percent (Chart 3). The Texas stock index was the largest drag on the index in May, while average weekly hours was the most significant positive contributor.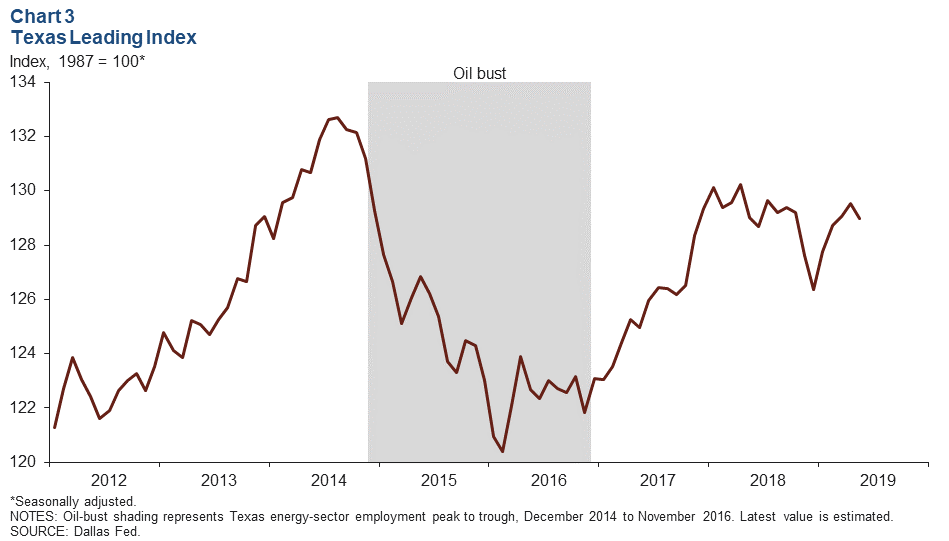 Energy
Oil prices improved after four weeks of declines, rising to $54.75 per barrel in the week ended June 21—27.1 percent lower than the 2018 high of $75.13 (Chart 4). Still, prices remain above the $49.96 per barrel needed on average to profitably drill a new well, according to firms responding to the Dallas Fed's Energy Survey. Natural gas prices inched down in the week to $2.40, 18.8 percent below their year-ago levels. Texas lost four rigs, dragging the rig count to 463—14.3 percent below the state's post-oil-bust high of 540 rigs.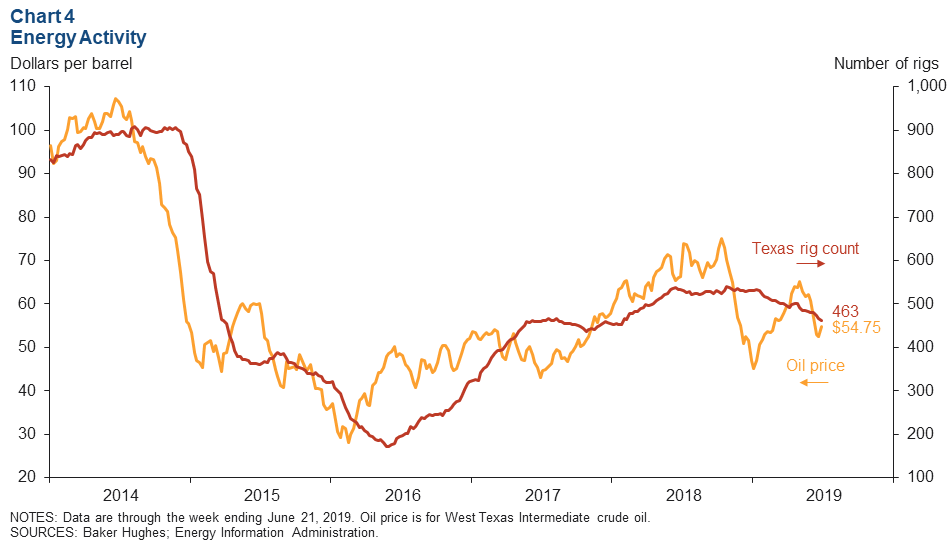 Exports
Texas exports strengthened 3.1 percent in April, while exports from the rest of the U.S. inched down 1.9 percent (Chart 5). In the first four months of 2019, the state's exports have grown 6.5 percent compared with the same period in 2018. Texas agricultural exports and mining exports rebounded in the month, while manufacturing exports edged down. Exports to Canada surged 14.7 percent in the month, and exports to Central America and the Caribbean, Europe, China, South America, and Asia excluding China also expanded, while exports to Africa and Mexico declined. This year through April, compared with the same period last year, exports to Asia excluding China surged 32.8 percent, followed by exports to Europe (19.8 percent), Central America and the Caribbean (19.2 percent), Africa (4.4 percent), South America (3.6 percent) and Canada (2.0 percent). In contrast, exports to Mexico edged down 0.2 percent, and exports to China collapsed 52.8 percent, likely due to tariffs.
Housing
Texas existing-home sales contracted for the second month in May, but the five-month moving average edged up 0.2 percent (Chart 6). This year through May, Texas existing-homes sales are up 1.1 percent from the same period last year. Over the same period, sales expanded 3.4 percent in San Antonio, 3.0 percent in Austin and 0.5 percent in Fort Worth but declined 0.5 percent in Houston and 1.4 percent in Dallas.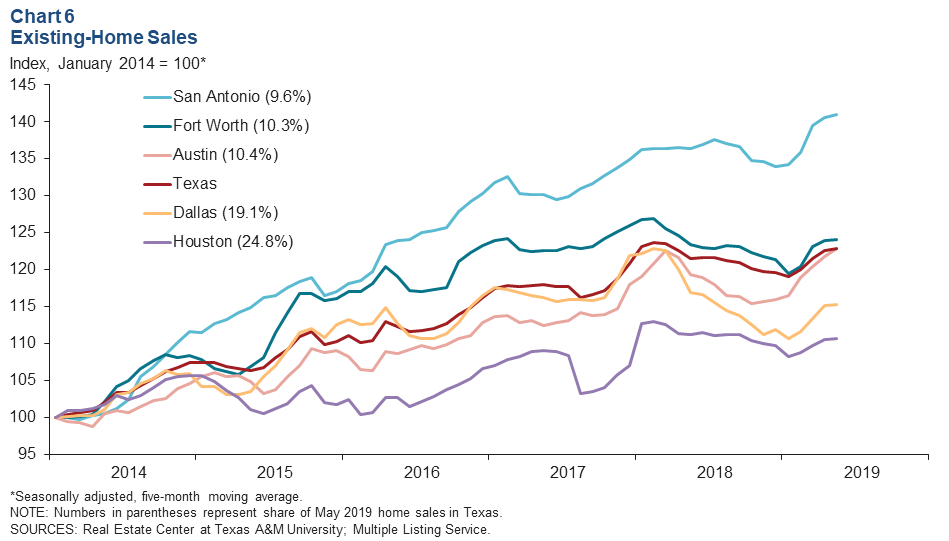 NOTE: Data may not match previously published numbers due to revisions.
About Texas Economic Indicators
Questions can be addressed to Stephanie Gullo at stephanie.gullo@dal.frb.org. Texas Economic Indicators is published every month on the Monday after Texas employment data are released.