Texas Economic Indicators

July 23, 2019
Texas' economic expansion continues to advance. The state posted robust job growth in June, and the unemployment rate dropped to a new record low, indicating further tightening in labor markets. Results of the Texas Business Outlook Surveys showed services revenue and manufacturing production picked up in June, though company outlooks were mixed. Texas exports held steady in May.
Labor Market
Employment Expands at Healthy Pace
Texas employment grew an annualized 3.9 percent in June, following upwardly revised growth of 2.5 percent in May. The Dallas Fed's Texas Employment Forecast predicts 2.5 percent job growth this year (December/December), with an 80 percent confidence band of 1.7 percent to 3.3 percent.
Job growth was widespread across most industries in June; only payrolls in professional and business services and energy sectors slipped. Year to date, Texas employment has expanded a solid 2.7 percent, with payrolls growing 2.6 percent in the service sector and 3.0 percent in goods-producing industries. Employment growth in the goods sector has been supported by strong growth in construction employment, which rose 6.0 percent in the first half of 2019 (Chart 1). Job gains in manufacturing were sluggish at 0.9 percent, while energy payrolls contracted (1.8 percent) in the first half of the year.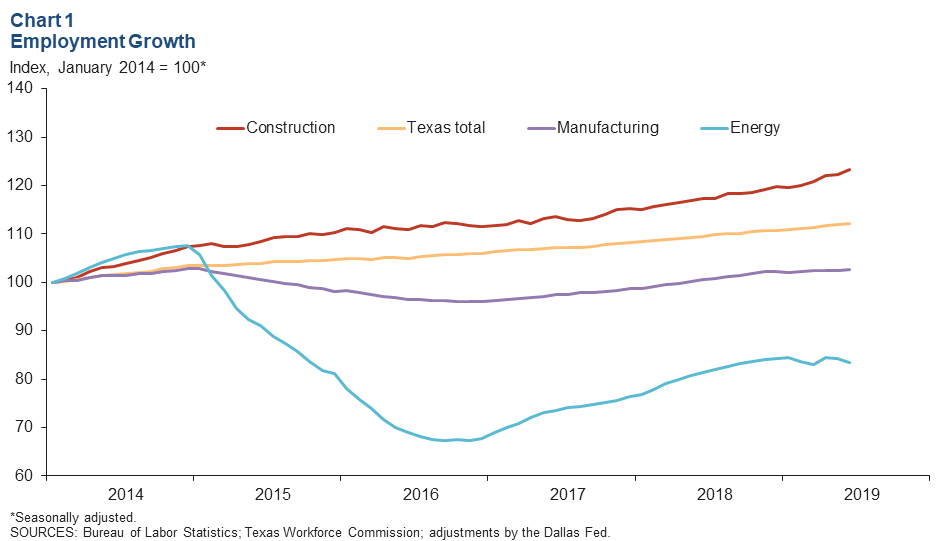 Job growth in June was widespread across major metros. Fort Worth posted the strongest monthly increase, though it has seen the slowest growth among the large metros so far this year.
Unemployment Hits Another Record Low
For the second month in a row, the Texas unemployment rate set a record low for the series that dates back to 1976, dropping to 3.4 percent in June (Chart 2). Across all major metros, unemployment remained well below its long-run and 2018 averages.
Texas Business Outlook Surveys
Headline Indexes Improve in June
Both the manufacturing production and services revenue indexes expanded at a faster rate in June than May, according to the Texas Business Outlook Survey (TBOS) results (Chart 3). Despite this uptick, the headline indexes are below their postrecession averages.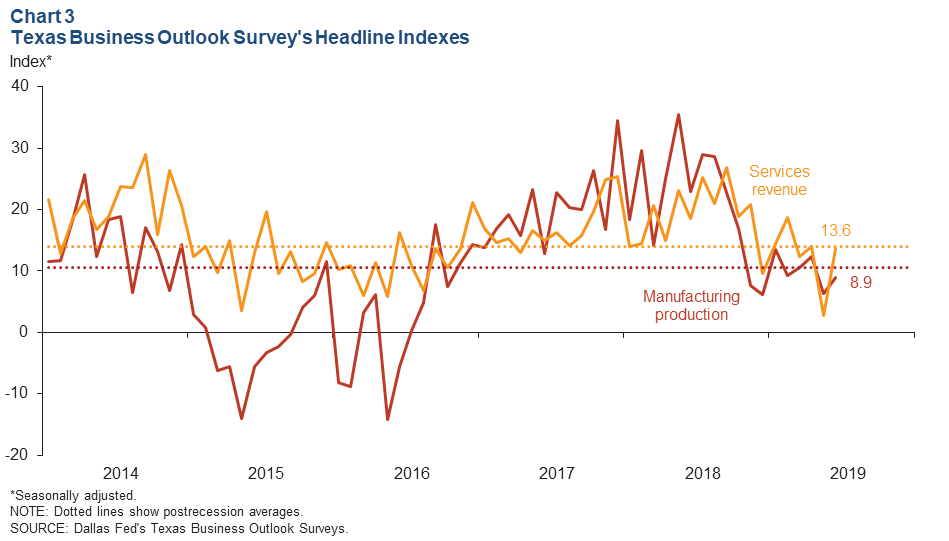 Heightened Uncertainty Continues amid Weak Outlooks
Company outlooks for the service and manufacturing sectors were mixed in June, according to the TBOS surveys. The service sector company outlook index turned positive, indicative of an improved outlook (Chart 4). By contrast, the manufacturing company outlook index dipped further into negative territory, suggesting pessimism in outlooks.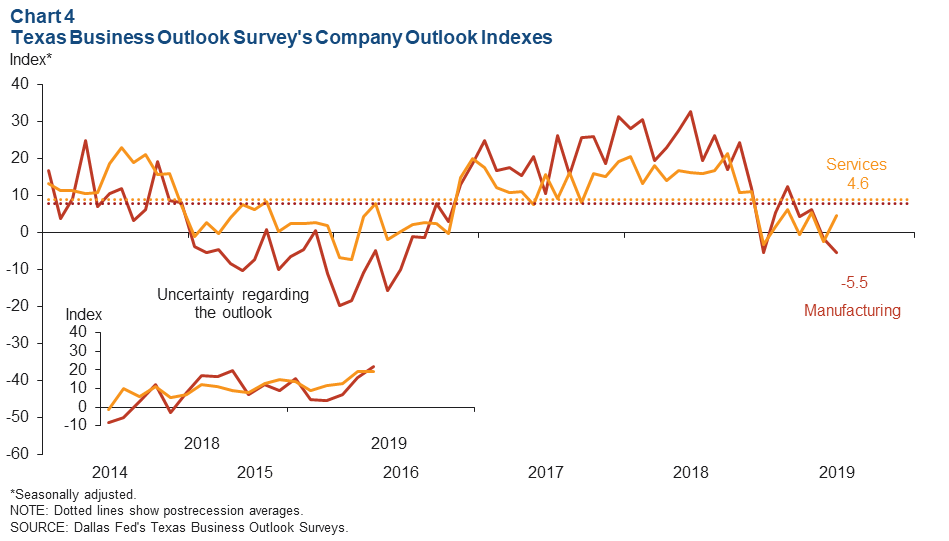 Uncertainty in outlooks remained elevated in June. The uncertainty index for the manufacturing survey rose to its highest level since the series began in January 2018. The outlook uncertainty index for the service sector was roughly unchanged in June.
Exports
Exports from Texas inched up 0.1 percent in May, while exports from the rest of the U.S. climbed 2.0 percent (Chart 5). Texas agriculture exports rose 5.2 percent in the month and manufacturing edged up 0.5 percent, while oil and gas exports dropped 1.4 percent. So far in 2019, total Texas exports are up 5.8 percent compared with the first five months of 2018. Over the same period, agriculture exports dropped 10.9 percent and manufacturing exports slipped 0.5 percent, while oil and gas exports rose strongly (39.4 percent).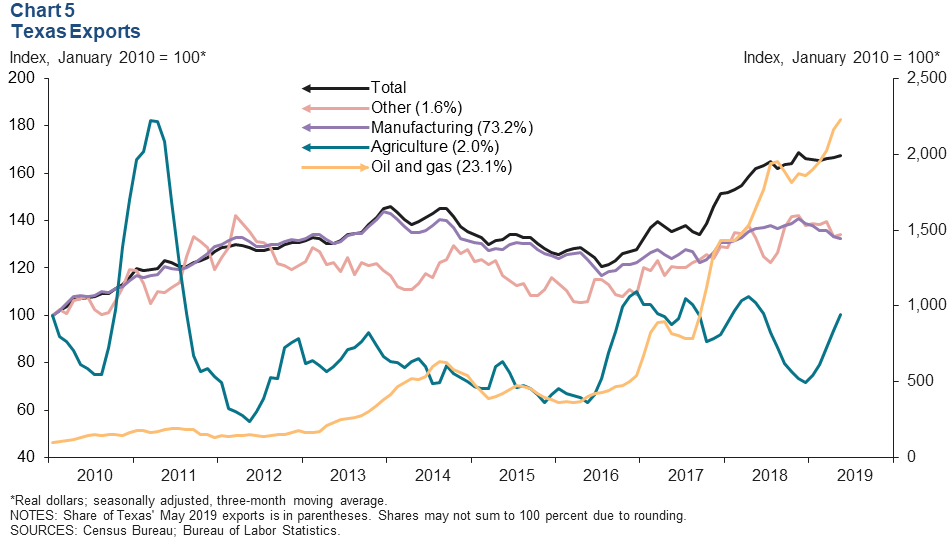 Housing
Texas existing-home sales dipped 0.8 percent in June. Inventories remained tight at 3.8 months, around the level they have been most of this year (Chart 6). In June, inventories fell in San Antonio, Dallas and Austin but remained steady in Houston and Fort Worth. In the first half of 2019, inventories were little changed across major metros, though Austin's supply ticked down from 2.8 months in January to 2.4 in June. Inventories in Austin are the tightest among the major metros, while Houston has the highest levels at 4.0 months. Inventories in all the major metros are well below the six-month supply considered balanced.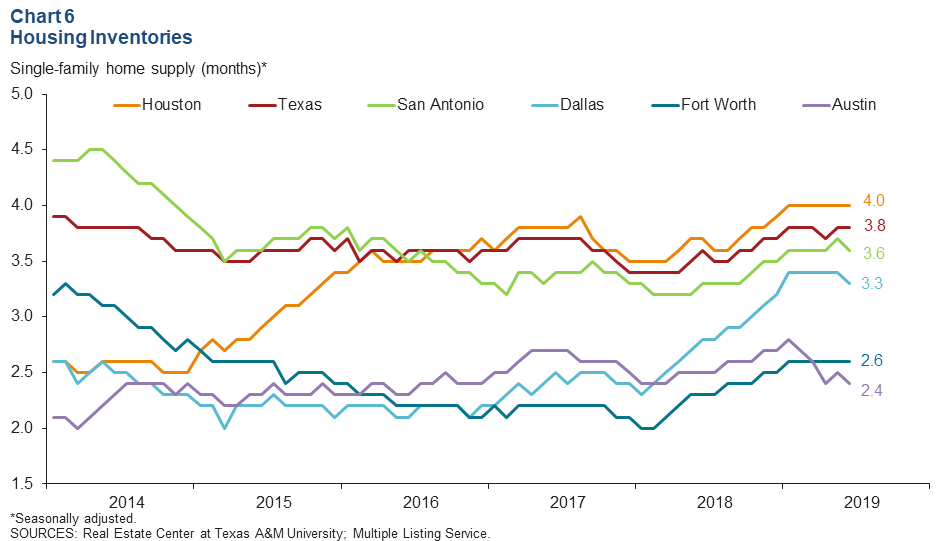 NOTE: Data may not match previously published numbers due to revisions.
About Texas Economic Indicators
Questions can be addressed to Carlee Crocker at carlee.crocker@dal.frb.org. Texas Economic Indicators is published every month on the Monday after Texas employment data are released.