Texas Economic Indicators

November 20, 2019
The Texas economy continues to grow at a moderate pace. Job growth ticked up in October, and the September growth rate was revised up. The unemployment rate remained at a record low, indicating continued tightness in the labor market. The Texas Leading Index edged up, and firms responding to the Texas Business Outlook Surveys reported increases in capital expenditures on net. September existing-home sales were steady. Electricity generated in Texas perked up in August, though electricity generated from renewable resources slipped.
Labor Market
Job Growth Strengthens in October
Texas employment grew an annualized 2.5 percent in October, following an upwardly revised 1.1 percent in September (Chart 1). North Texas job markets saw a weak month in October; both Dallas and Fort Worth shed jobs. Growth in Houston was similar to year-to-date growth, while all other major metros saw robust growth in October. San Antonio payrolls in particular surged, expanding an annualized 11.3 percent, while McAllen and Austin payrolls grew 7.9 percent and 6.2 percent, respectively.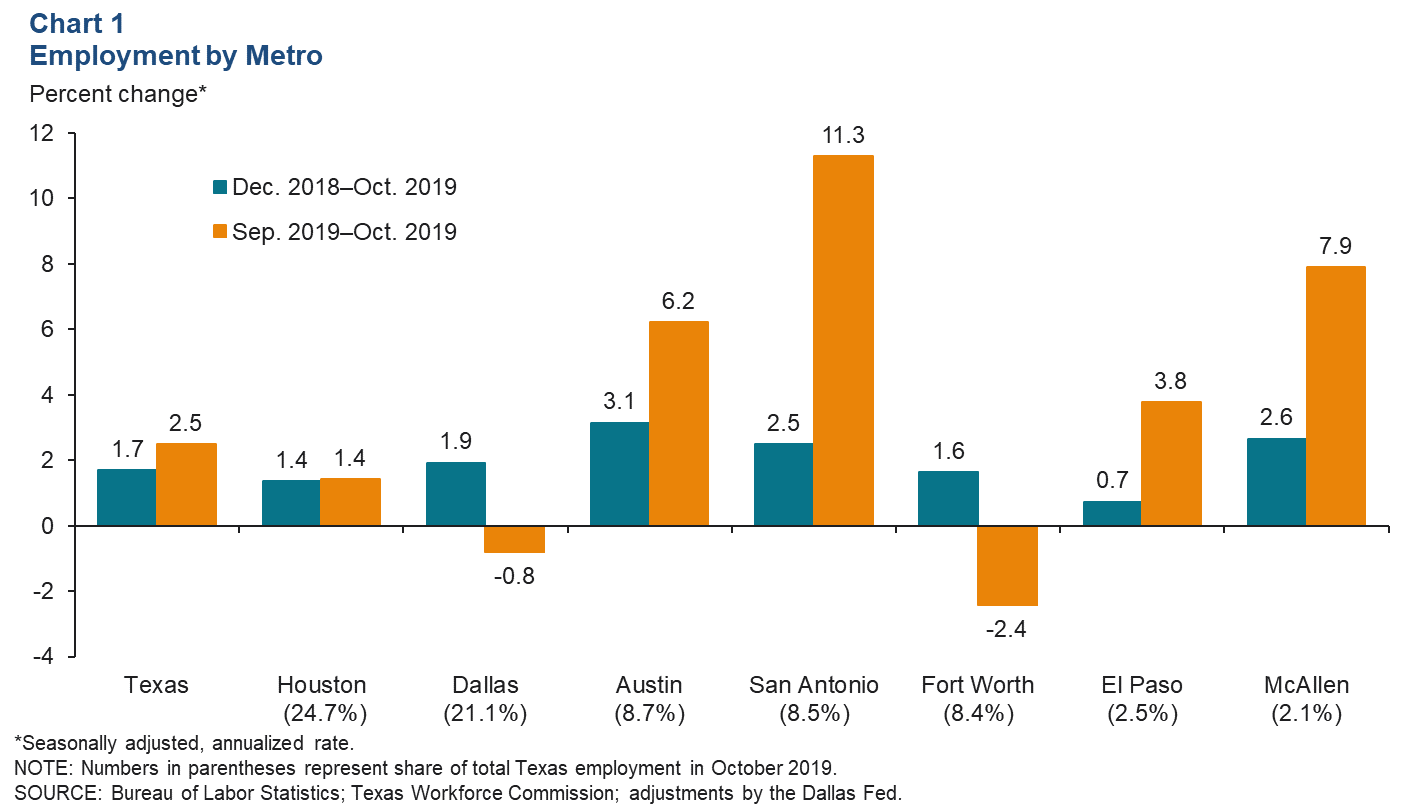 October job growth was above Texas' long-run average of 2.1 percent following two months of below-trend growth. U.S. payrolls also expanded during the month, though growth slipped below the Texas rate after surpassing it in September. The Dallas Fed's Texas Employment Forecast predicts 2.1 percent job growth this year (December/December), with an 80 percent confidence band of 1.8 percent to 2.4 percent.
Texas Unemployment Remains at Record Low
The Texas unemployment rate held steady at 3.4 percent for a fifth month in a row, indicating continued tightness in the labor market (Chart 2). The U.S. unemployment rate ticked up in October to 3.6 percent after dipping in September to a 50-year low.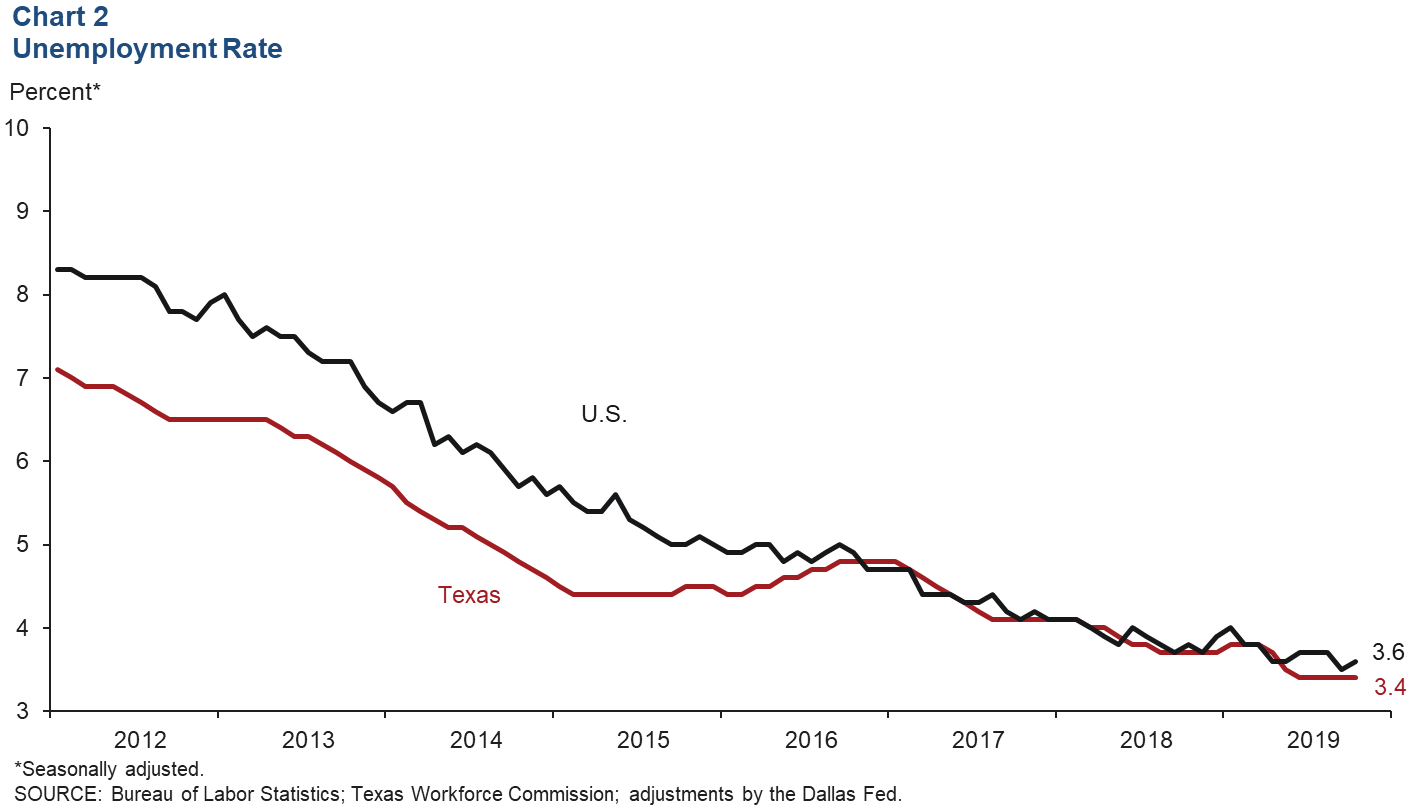 Texas Leading Index
The Texas Leading Index, which is used to estimate the Dallas Fed's Texas Employment Forecast, sheds light on the future of the state's economy. In October, the index increased about 0.1 percent after falling for two months (Chart 3). The help-wanted index, real oil price and Texas stock index were all a drag on the index; the U.S. leading index, well permits, Texas value of the dollar, new unemployment claims and average weekly hours all contributed positively in the month. After dipping during the 2015-16 oil bust, the leading index started to recover to prebust highs but has trended flat to down since.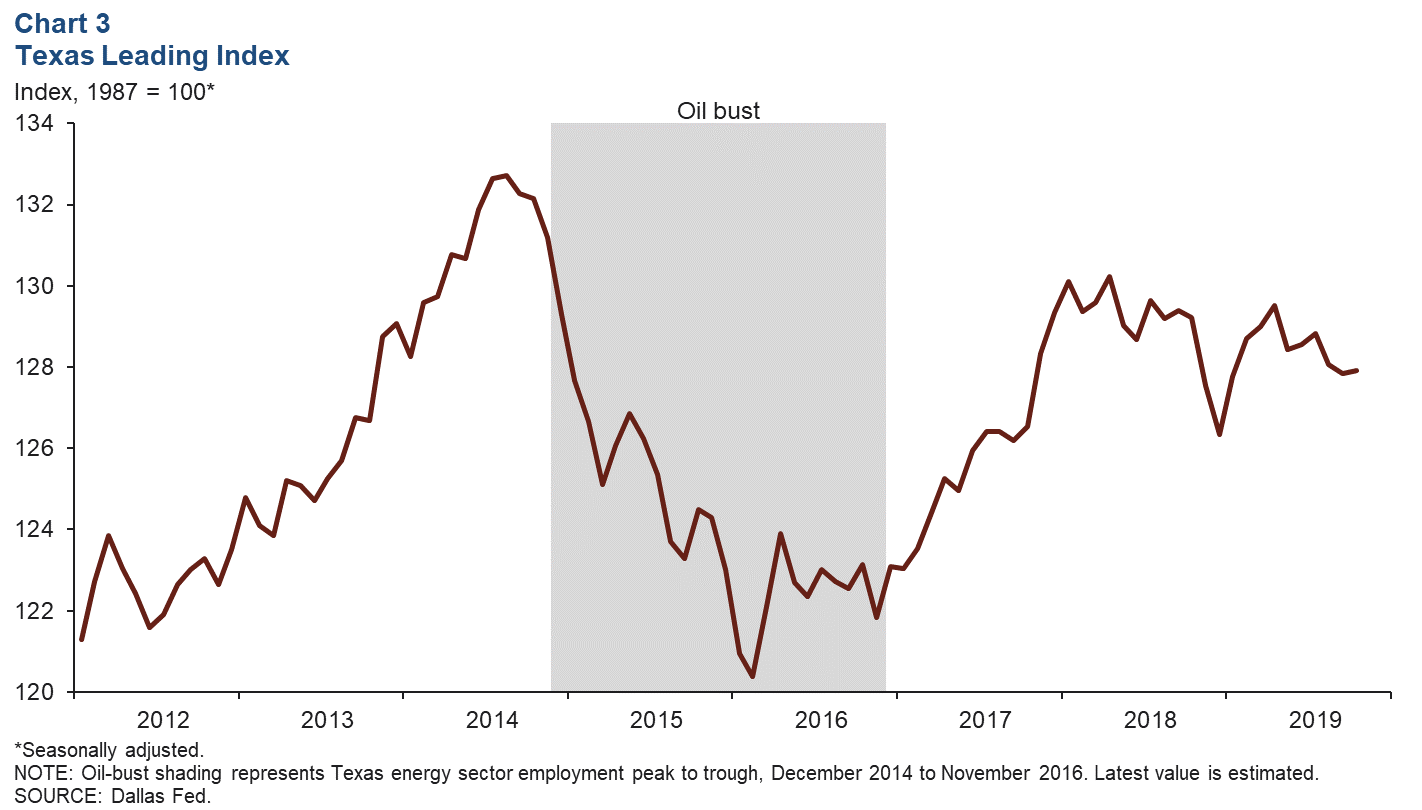 Texas Business Outlook Surveys
In October, the capital expenditure indexes remained positive for all of the Texas Business Outlook Surveys, indicating continued investment (Chart 4). A positive reading means that more survey respondents reported increasing capital investments than decreasing, likely suggesting positive outlooks on net. In October, the three-month average for the service sector and retail survey capital expenditure indexes jumped to 13.3 and 8.0, respectively. The manufacturing capital expenditures index edged down to 10.7.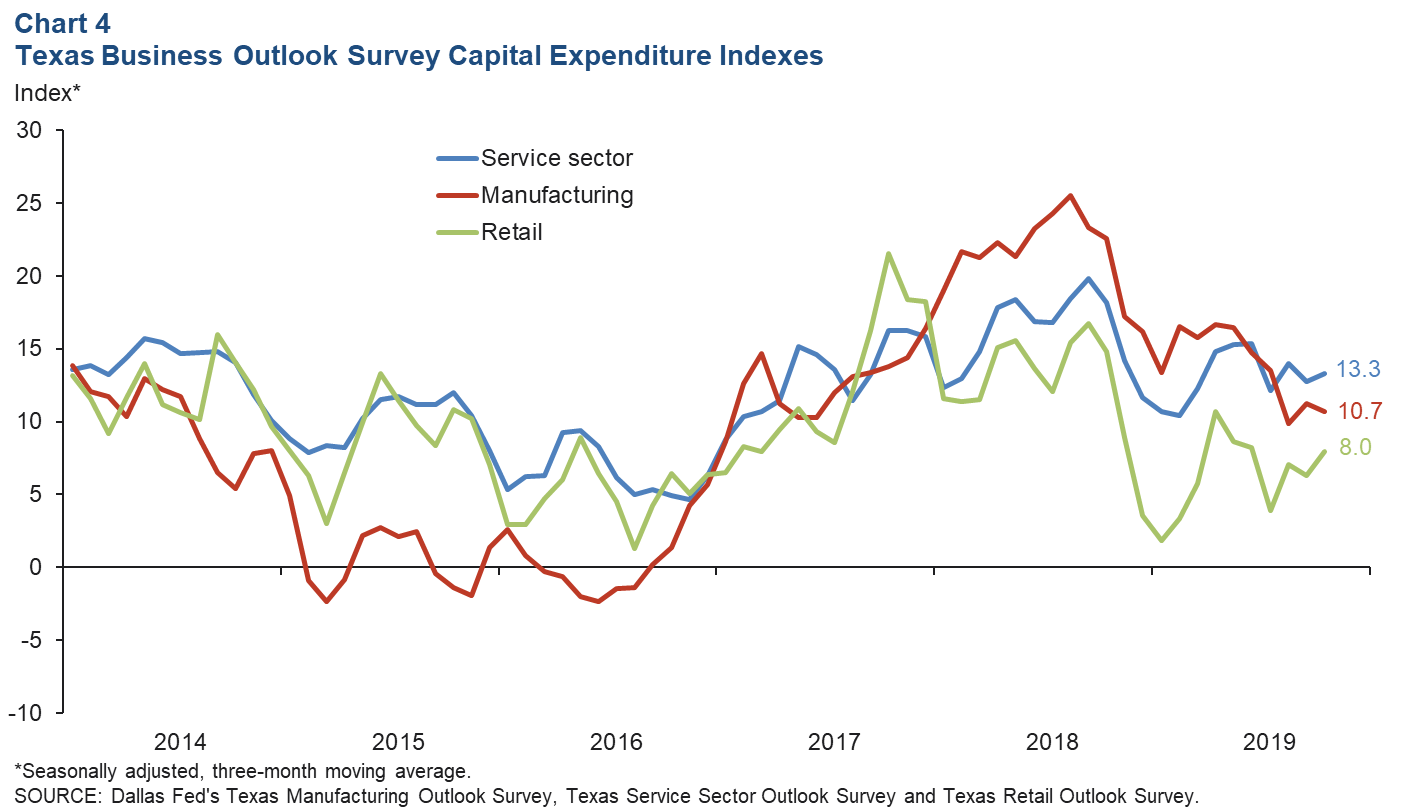 Energy
Texas is the nation's top generator of electricity from renewable fuels, excluding hydroelectricity. Electricity produced from renewables peaked in April 2019 and has been trending down since. Still, in August, it provided 14.1 percent of electricity generated in Texas (Chart 5). In particular, wind energy, which accounts for 91.3 percent of renewable generation (excluding hydroelectricity), ticked down to 6.5 billion kilowatts (kW) in August from 6.8 billion kW in July. Total electricity generation in Texas edged up in August despite the slowdown in renewable production. This is due to a sharp increase in natural gas and other generation, which includes other gas production. Nuclear and coal generation stayed mostly flat, while petroleum dipped.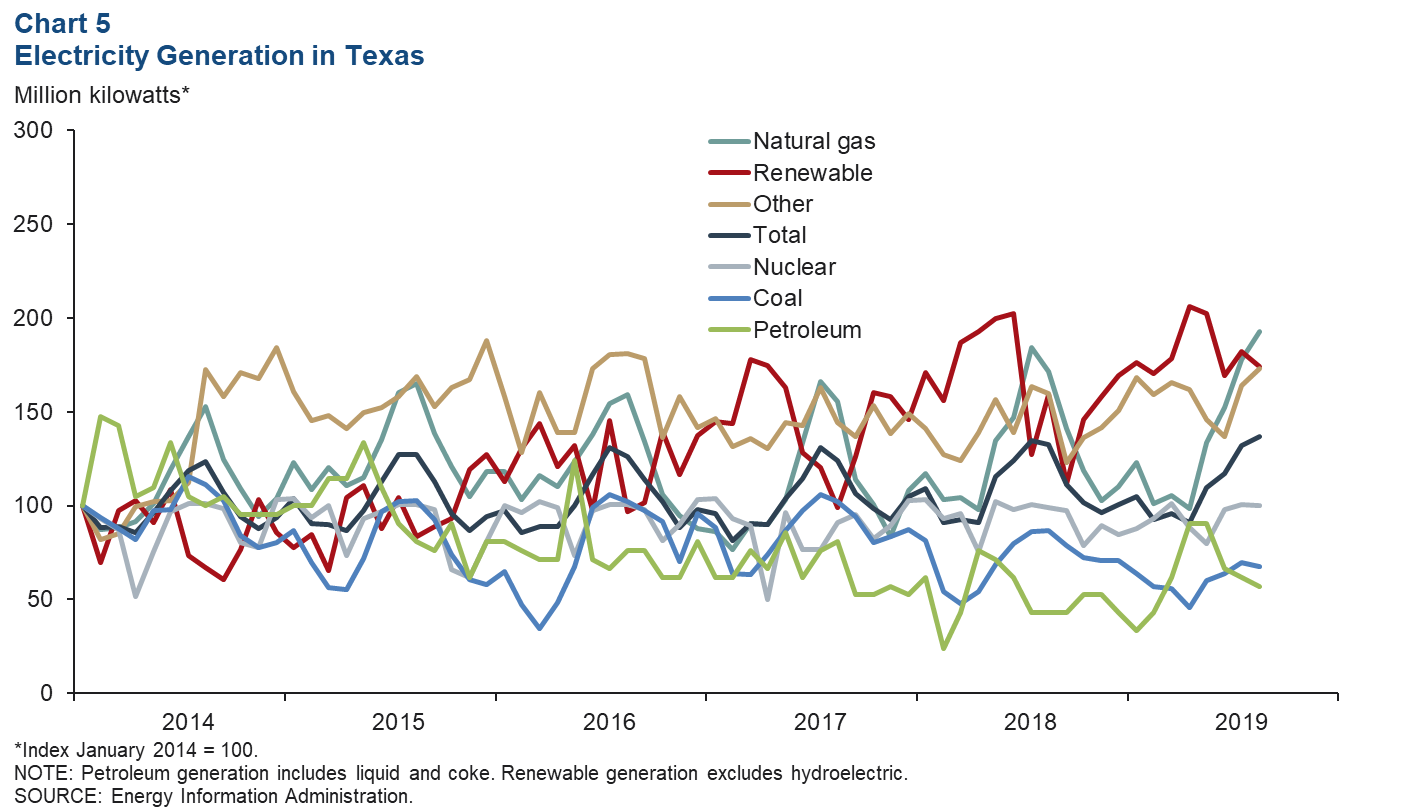 Data for hydroelectric generation in Texas is lagged relative to the rest of the data. In July (the most recent month available), total renewable generation including hydroelectricity for Texas measured 7.5 billion kW, or 15.5 percent of the state's electricity.
Housing
The five-month moving average of Texas existing-home sales held fairly steady in September (Chart 6). Among the major metros, existing-home sales saw mixed growth. Sales in Dallas inched up, while those in Austin remained mostly flat. Fort Worth, Houston and San Antonio existing-home sales ebbed during the month.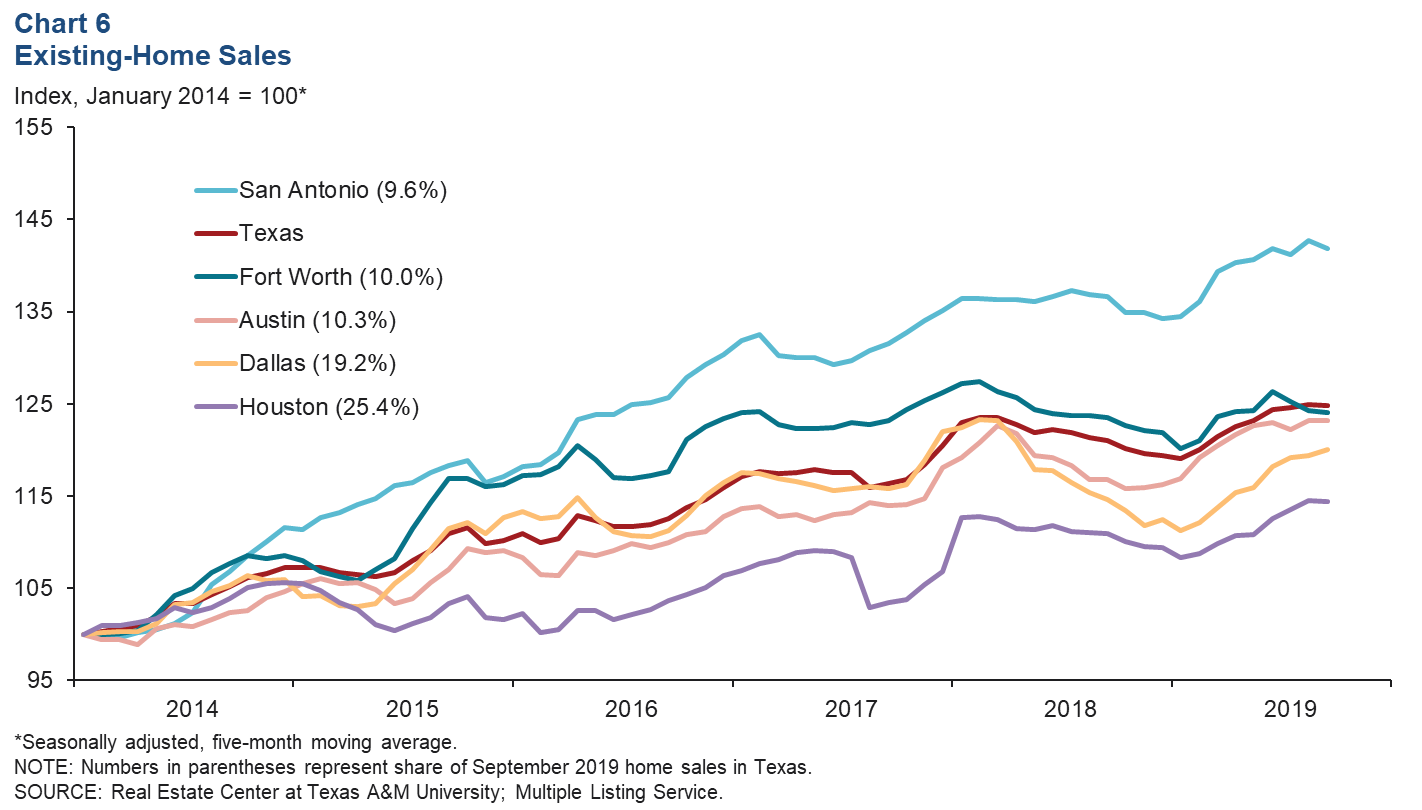 Existing-home sales in Houston alone made up over a quarter of sales in Texas in September; the five aforementioned metros accounted for almost 75 percent of sales in the state.
NOTE: Data may not match previously published numbers due to revisions.
About Texas Economic Indicators
Questions can be addressed to Carlee Crocker at carlee.crocker@dal.frb.org. Texas Economic Indicators is published every month on the Monday after Texas employment data are released.