Texas Economic Indicators

December 31, 2019
The Texas economy continues to grow at a healthy pace. Job growth ticked up in November, and the October growth rate was revised up. The unemployment rate remained at a record low, indicating continued tightness in the labor market. The Texas Business-Cycle Index rose, and firms responding to the Texas Manufacturing Outlook Survey reported increased production on net. Texas crude oil production grew through mid-December, while Texas exports fell in October.
Labor Market
Job Growth Strengthens in November
Texas employment grew an annualized 4.0 percent in November, following an upwardly revised 3.3 percent in October (Chart 1). November growth was strongest in construction and other services, with manufacturing and education and health also posting solid growth. In November, only the oil and gas and information sectors shed jobs. So far in 2019, oil and gas has shed jobs at a 2.7 percent annualized rate, and other services has seen a slight decline of 0.3 percent.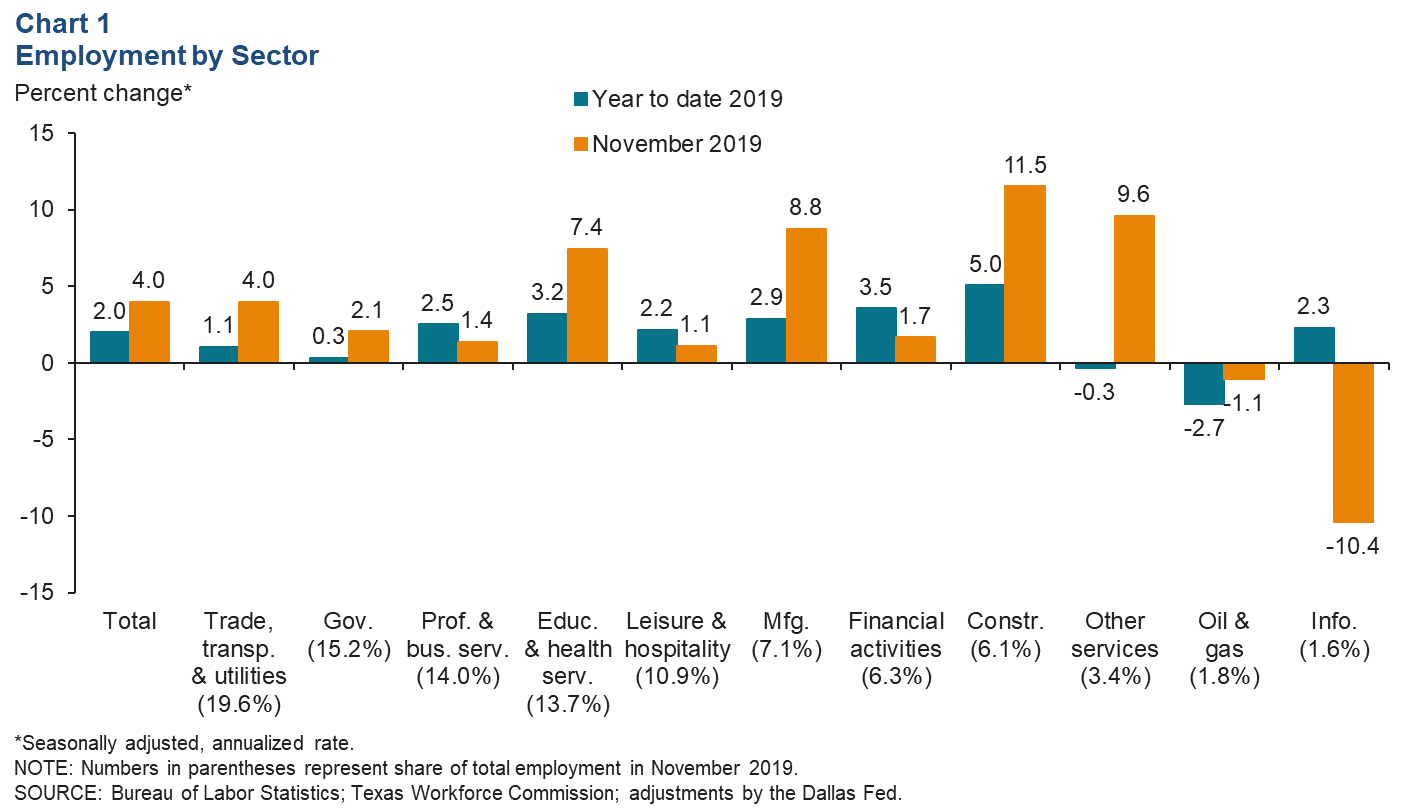 U.S. payrolls also expanded during the month, though at half the rate for Texas. The Dallas Fed's Texas Employment Forecast predicts 1.9 percent job growth this year (December/December), with an 80 percent confidence band of 1.6 percent to 2.2 percent.
Unemployment Remains at Record Low
The Texas unemployment rate held steady at 3.4 percent for the sixth month in a row, indicating continued tightness in the labor market. Among the major metros, Austin has had the lowest unemployment rate since mid-2010 and continued that trend in November at 2.7 percent (Chart 2). El Paso and Houston both exhibited the highest unemployment rate at 3.8 percent. The U.S. unemployment rate ticked back down to 3.5 percent in November, hitting a 50-year low for the second time in three months.
Texas Business-Cycle Index
The Texas Business-Cycle Index, a composite of the unemployment rate, state payroll employment and gross state product, measures underlying economic activity in the state. This index grew an annualized 4.8 percent in November, accelerating for the eighth straight month after nearly a year of slowing growth from mid-2018 to early 2019 (Chart 3).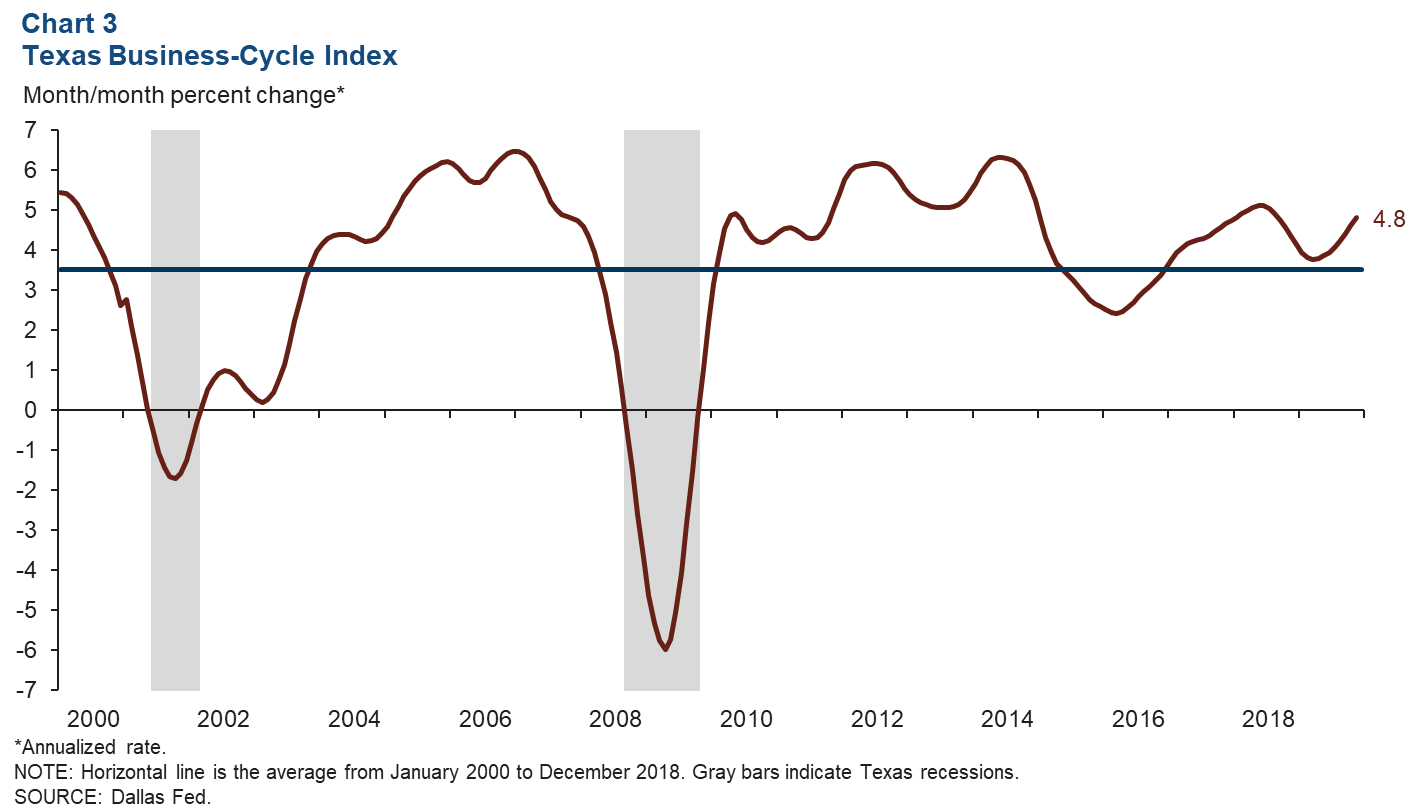 Texas Manufacturing Outlook Survey
In December, the three-month moving average of the Texas Manufacturing Outlook Survey's current and future production indexes remained positive, indicating continued growth (Chart 4). A positive reading means that more survey respondents reported increasing production than decreasing, suggesting expansion in activity on net. The current production index showed moderate growth, rising from -2.4 to 3.6 in the month. The future production index increased from 31.3 to 36.9 in December, indicating a slight pickup in growth in expected production six months out. Overall, although manufacturers saw slow production growth in the month, they expect it to accelerate over the next six months.
Energy
Changes in rigs counts are often seen as a leading indicator for the energy industry. The number of rigs in use determines the number of wells drilled, suggestive of the industry's near-term outlook. Rig counts have trended down since the end of 2018 and are now at their lowest level since March 2017 (Chart 5). Only looking at the rig count, however, doesn't reveal the full picture. As the Texas rig count has slipped, crude oil production in Texas has steadily climbed, suggesting that part of the rig count decline is due to increased efficiency instead of a pessimistic industry outlook.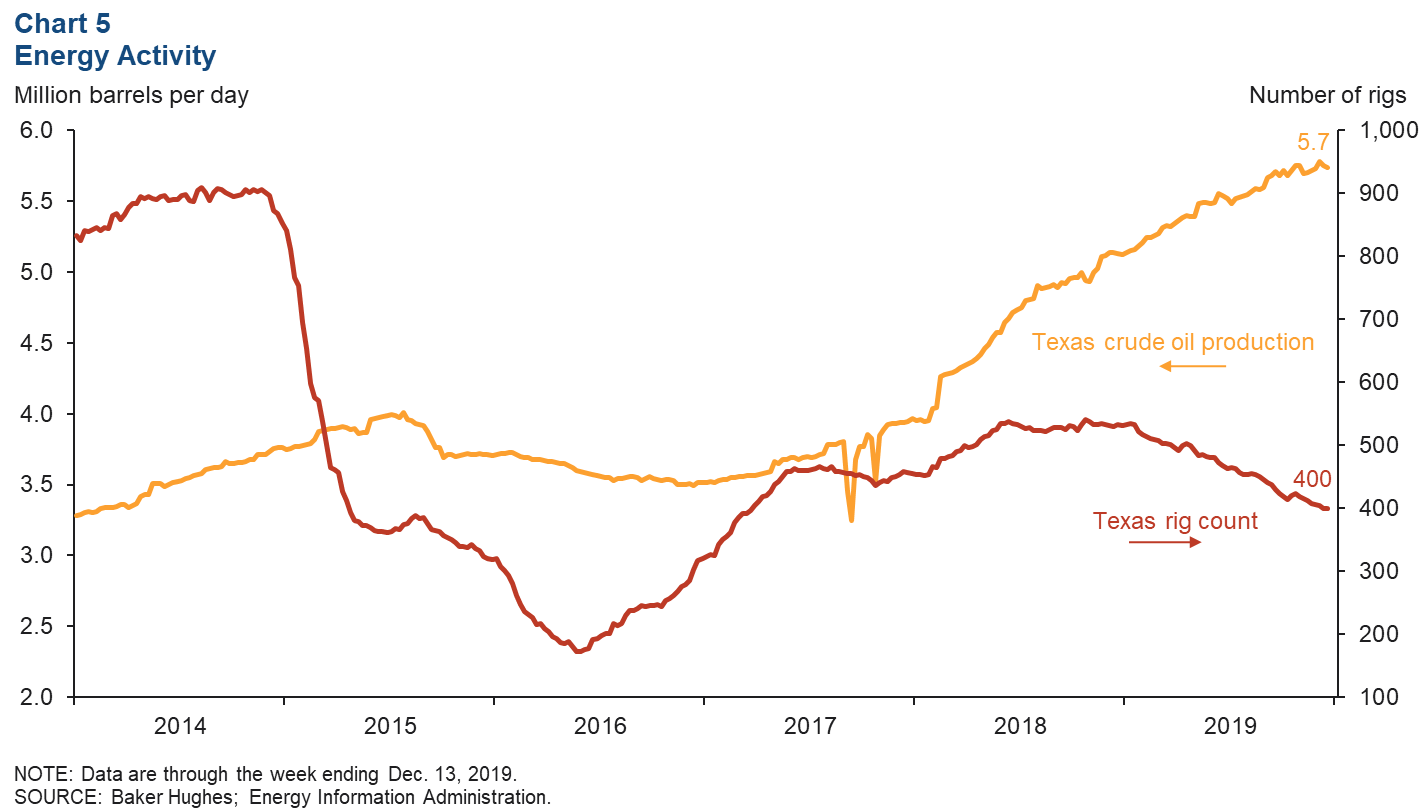 Exports
Texas exports fell 1.6 percent in October, marking the second month in a row they have declined (Chart 6). Exports to China in particular fell, dropping 28.0 percent in September and 25.7 percent in October. This happened amid several developments in the trade negotiations between the U.S. and China—for example, the Chinese implementation of tariffs on more than $75 billion of U.S. goods at the end of August. Exports to the rest of Asia held steady in October. Texas exports to Europe surged in 2019, jumping 27.2 percent so far this year.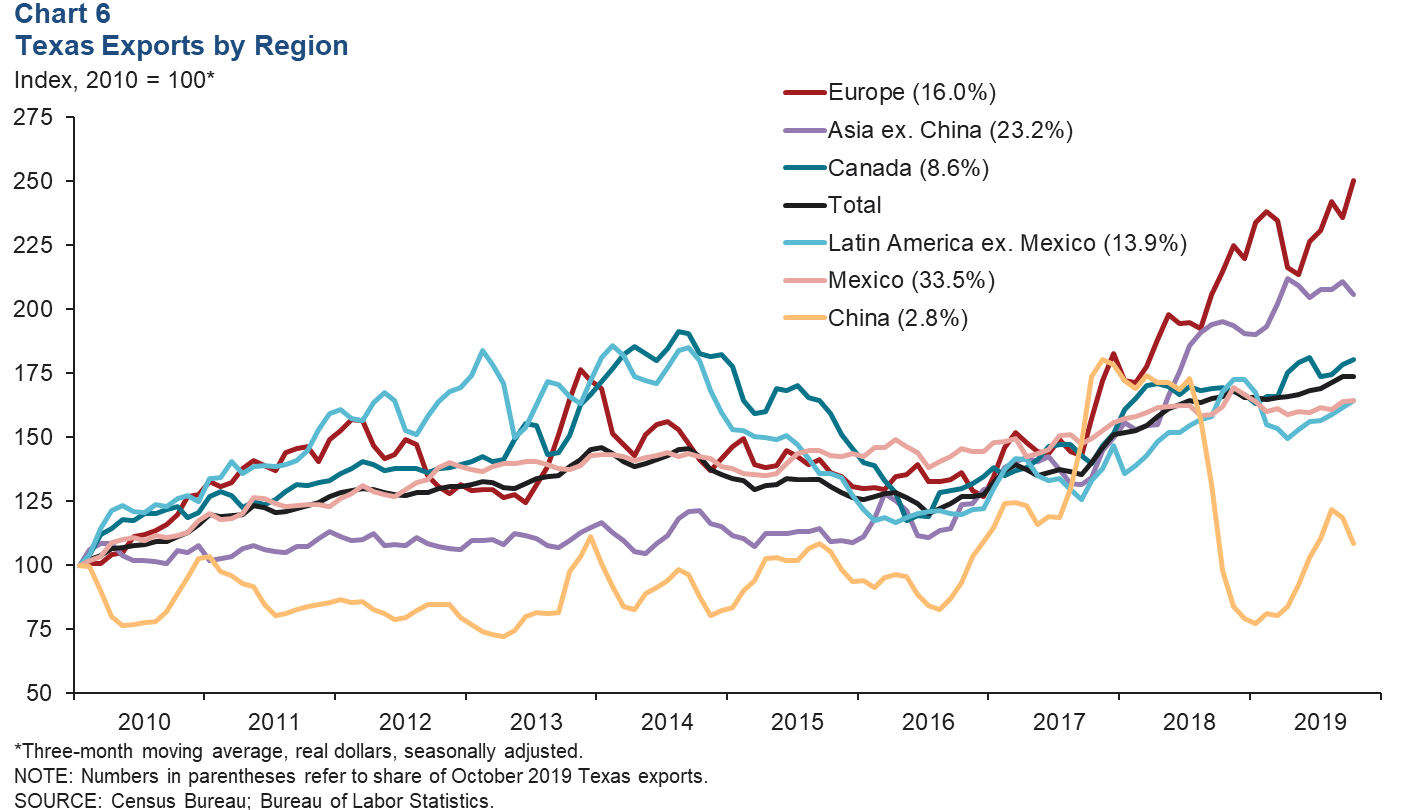 NOTE: Data may not match previously published numbers due to revisions.
About Texas Economic Indicators
Questions can be addressed to Carlee Crocker at carlee.crocker@dal.frb.org. Texas Economic Indicators is published every month on the Monday after Texas employment data are released.