Texas Economic Indicators

August 21, 2017
The Texas economy continued to expand in July. Job growth was somewhat soft in the month, and unemployment declined. The Texas Business Outlook Surveys suggested continued growth in the manufacturing and service sectors, and company outlooks remained optimistic. The Texas Leading Index edged up in July.
Employment
Texas employment growth softened to an annualized 1.0 percent in July after accelerating for four straight months (Chart 1). Year to date, Texas employment has grown an annualized 2.5 percent. The Dallas Fed's Texas Employment Forecast suggests 2.6 percent job growth in 2017 (December/December).
Payrolls in Austin, Houston and San Antonio contracted in July, while employment in Dallas and Fort Worth expanded. Employment in the financial activities sector posted the fastest growth at an annualized 8.8 percent in the month, while construction employment experienced the steepest decline at 6.1 percent.
Texas' unemployment rate fell to 4.3 percent in July, its lowest level since early 2008. U.S. unemployment also dipped to 4.3 percent.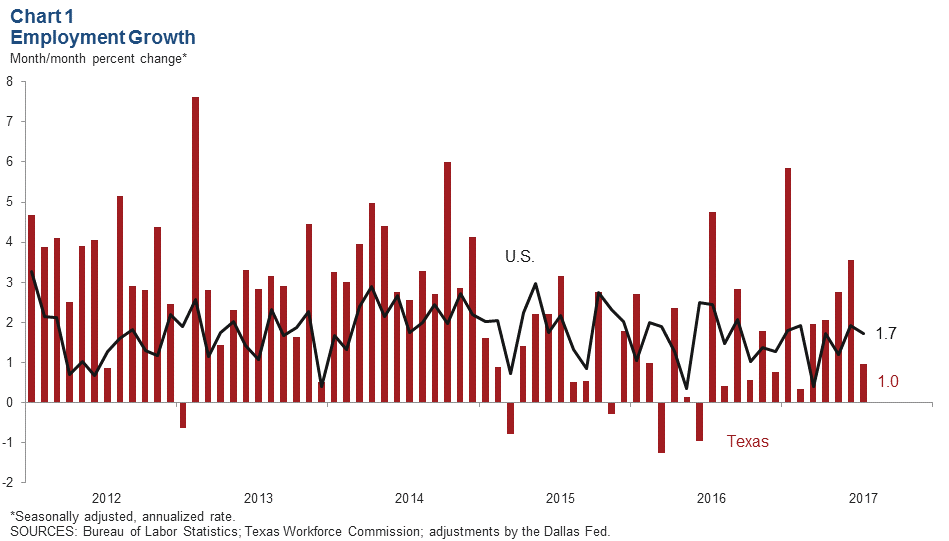 Texas Business Outlook Survey Indexes
The Dallas Fed's Texas Business Outlook Surveys indicated accelerating growth in factory production and service sector revenue in July, but a decline in retail sales.
Company outlooks continued to reflect optimism across sectors. The three-month moving average of the company outlook index for manufacturing reached a multiyear high in early 2017 and remained elevated in July (Chart 2). The three-month moving averages of the company outlook indexes for the service and retail outlook surveys remained positive but have declined from the highs seen earlier in the year.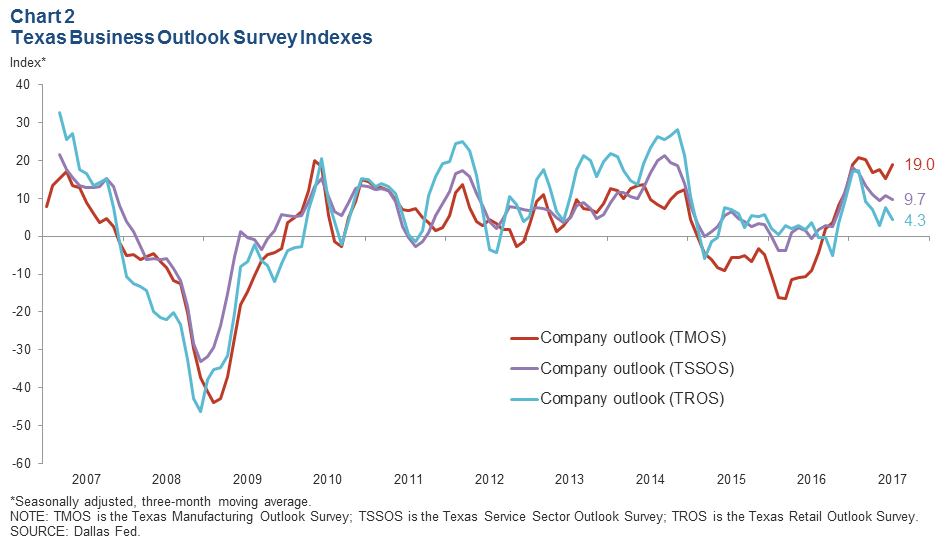 Texas Leading Index
The Texas Leading Index, a composite of eight indicators that tend to change direction before the overall economy does, sheds light on the future of the state's economy. In July, the estimated value of the index ticked up 0.15 percent, and three-month growth was 0.69 percent (Chart 3).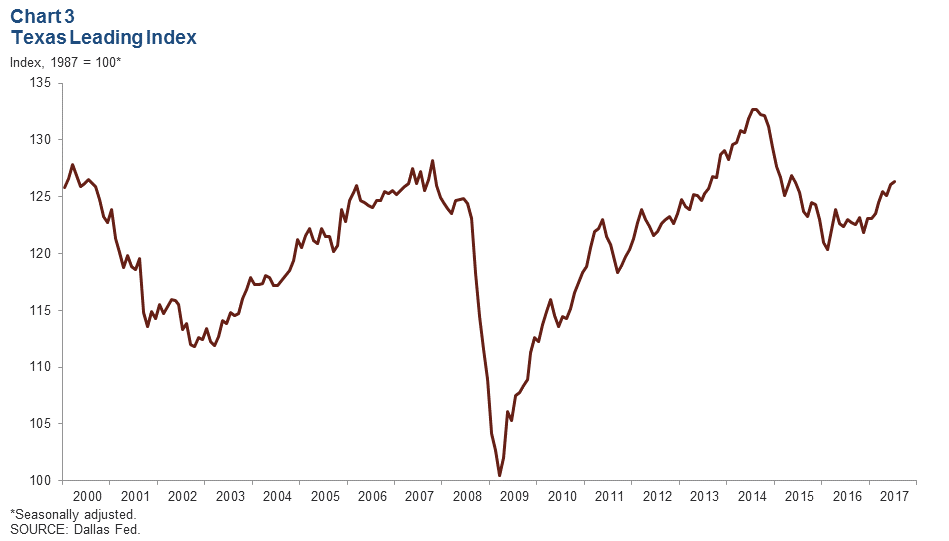 Exports
Texas exports declined 1.5 percent in the second quarter following an 8.2 percent increase in the first quarter (Chart 4). Whereas exports to Mexico—Texas's largest trading partner—declined 2.2 percent, exports to Canada and Asia expanded 6.8 percent and 1.7 percent, respectively. Exports of computers and electronics, which accounted for 19.4 percent of Texas exports in second quarter 2017, expanded 7.3 percent in the second quarter. The mining and oil and gas sectors's exports—together representing 18.8 percent of Texas exports—dropped 14.8 percent each. Despite the second-quarter decline, monthly data show Texas exports expanded 3.1 percent in June.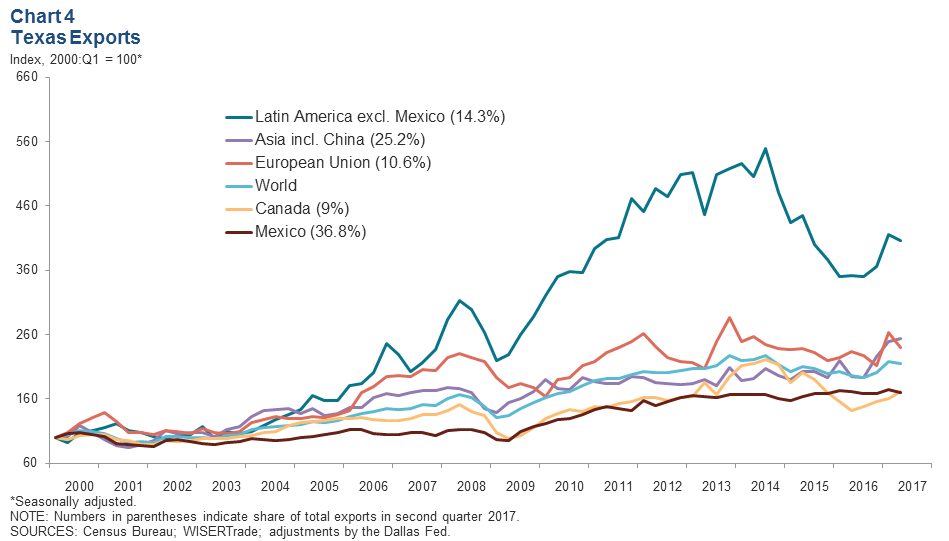 Oil Production by Basin
Texas crude oil production, representing 37.4 percent of all U.S. production in May, increased 5.7 percent in May and was 7.5 percent higher than May 2016. Daily oil production in the Permian Basin was 18.1 percent above year-ago levels in May, and the Energy Information Administration forecasts production to reach 2.6 million barrels per day by September (Chart 5). Daily production in the Eagle Ford is 1.3 percent above May 2016 levels and is forecast to reach 1.4 million barrels per day by September.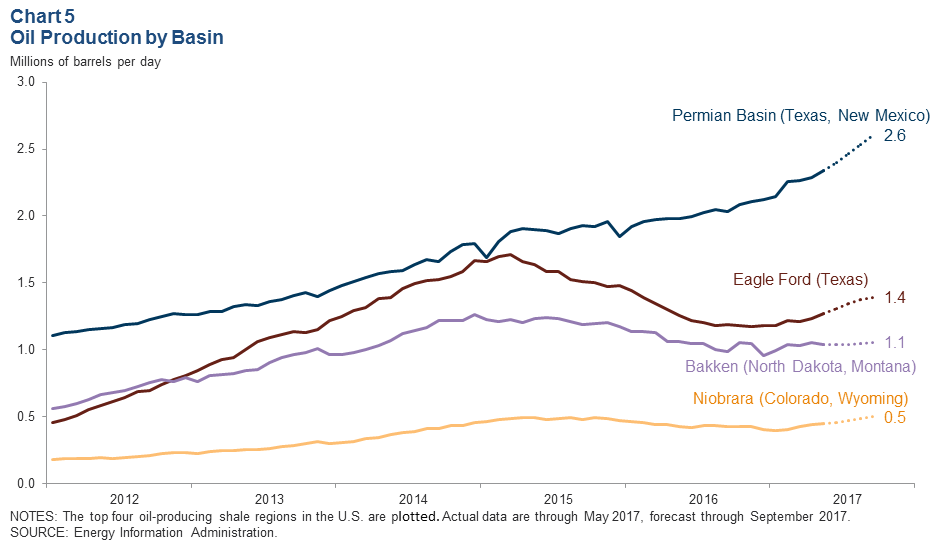 Existing-Home Sales
Texas existing-home sales dipped 0.9 percent in June, but the five-month moving average held steady (Chart 6). The five-month moving average of home sales rose in Austin and Houston, held steady in Fort Worth and dipped in Dallas and San Antonio in June.
Home sales in Texas are 5.1 percent higher in the first half of the year compared with the same period in 2016. Year-to-date sales are ahead of the same period last year in all the major Texas metros, with Houston posting the strongest growth at 6.4 percent.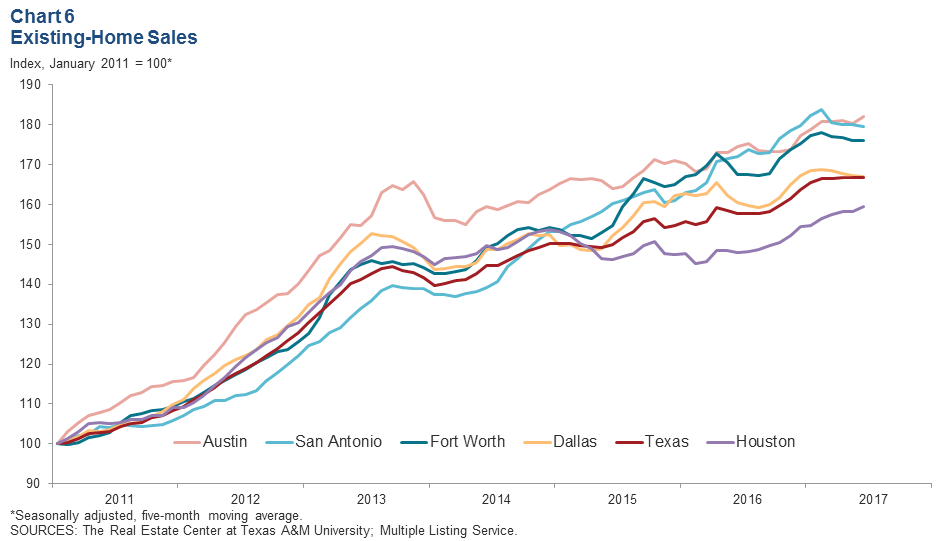 NOTE: Data may not match previously published numbers due to revisions.
About Texas Economic Indicators
Questions can be addressed to Stephanie Gullo at stephanie.gullo@dal.frb.org. Texas Economic Indicators is published every month on the Monday after Texas employment data are released.