Texas Economic Indicators

September 18, 2017
The Texas economy expanded in August. Employment rose and unemployment declined. The impact of Hurricane Harvey (which made landfall in Texas on Aug. 25) was not reflected in the August employment figures, as payroll data are typically collected around the 12th day of the month. The Texas Business Outlook Surveys suggested continued growth.
Labor Market
Employment Growth Picks Up in August
Texas employment growth strengthened to an annualized 2.0 percent in August, outpacing the nation's 1.3 percent increase. Faster growth in August was in part due to a rebound in government payrolls. Year to date, Texas employment has grown at a solid 2.6 percent annual rate (Chart 1). The Dallas Fed's Texas Employment Forecast suggests 2.6 percent job growth in 2017 (December/December).
Employment in the energy sector posted the fastest growth at an annualized 9.9 percent in the month, while the information sector and other services sector experienced steep declines. Besides a decline in information services employment, payrolls in most sectors have expanded year to date.
Employment growth across Texas major metros was mixed in August. However, employment has expanded in all major metros year to date.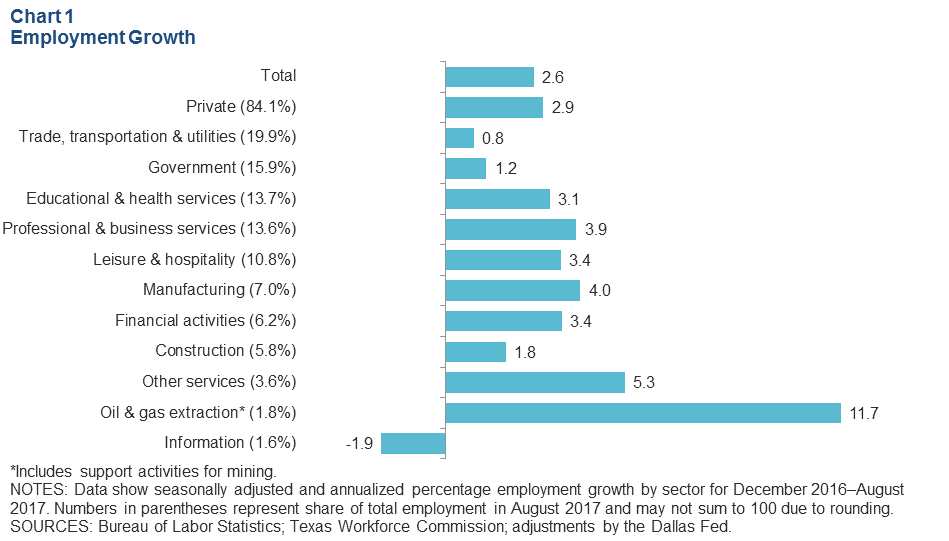 Unemployment Dips
Texas' unemployment rate fell to 4.2 percent in August, its lowest level since July 2007 and lower than the U.S. unemployment rate of 4.4 percent (Chart 2).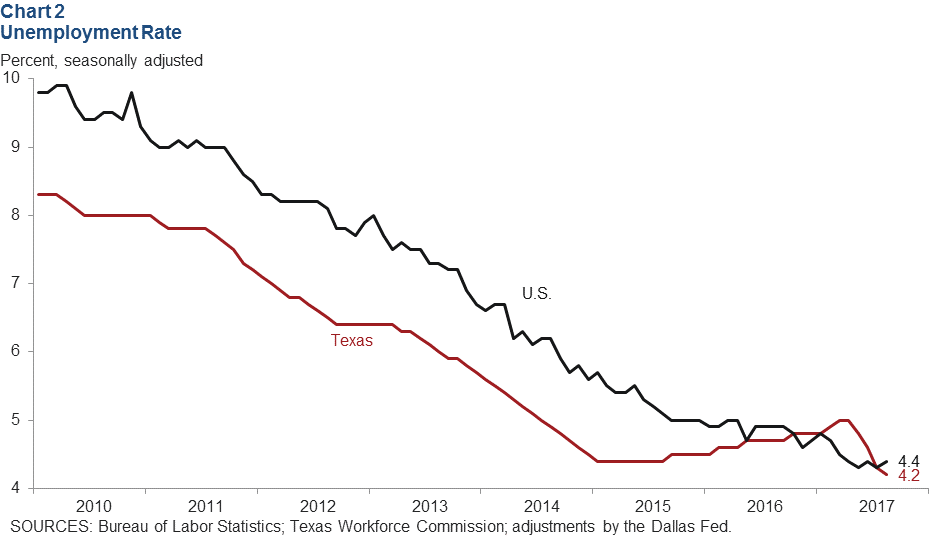 Initial Unemployment Claims Spike
Initial unemployment claims in Texas jumped the week ending Sept. 2 as a result of Hurricane Harvey and remained elevated the week ending Sept. 9 (Chart 3). Over 65,000 initial jobless claims were filed the week of the hurricane, up nearly five times the 2017 pre-Harvey weekly average of about 13,900. Claims remain elevated at 62,000 the week of Sept. 9.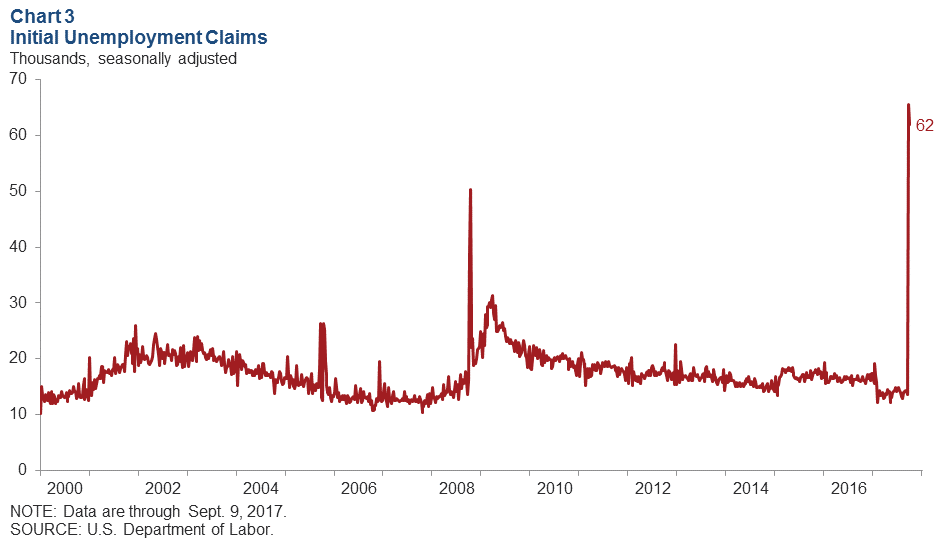 Texas Business Outlook Survey Indexes
The Dallas Fed's Texas Business Outlook Surveys indicated continued expansion in August. The headline indexes for the manufacturing, service and retail sectors remained positive and above their 2016 averages. The three-month moving average of the manufacturing sector wages and benefits index strengthened to 22.9 in August, its highest level since late 2014. The three-month moving average of the service sector wages and benefits index ticked down to 16.8, while its retail component edged up to 15.5 (Chart 4).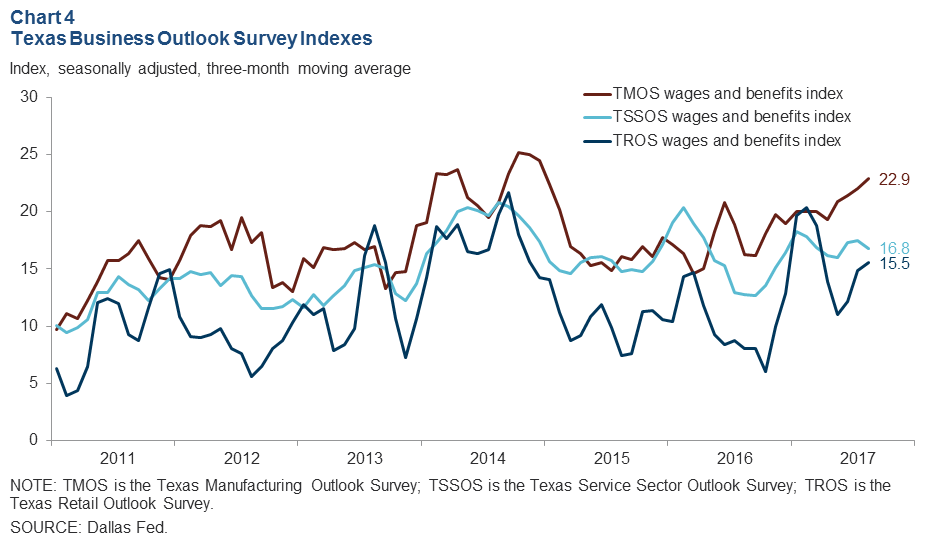 Energy Sector Activity
The price of West Texas Intermediate crude oil rose to $49.07 per barrel the week of Sept. 15, 3.3 percent above levels seen four weeks earlier (Chart 5). The price of natural gas was $2.95 per million Btu, 1.4 percent above levels four weeks earlier. The weekly rig count inched down to 452 and is slightly below levels seen four weeks ago. Energy firms reported in the August Beige Book that they expected "the rig count to remain flat or fall slightly through year-end."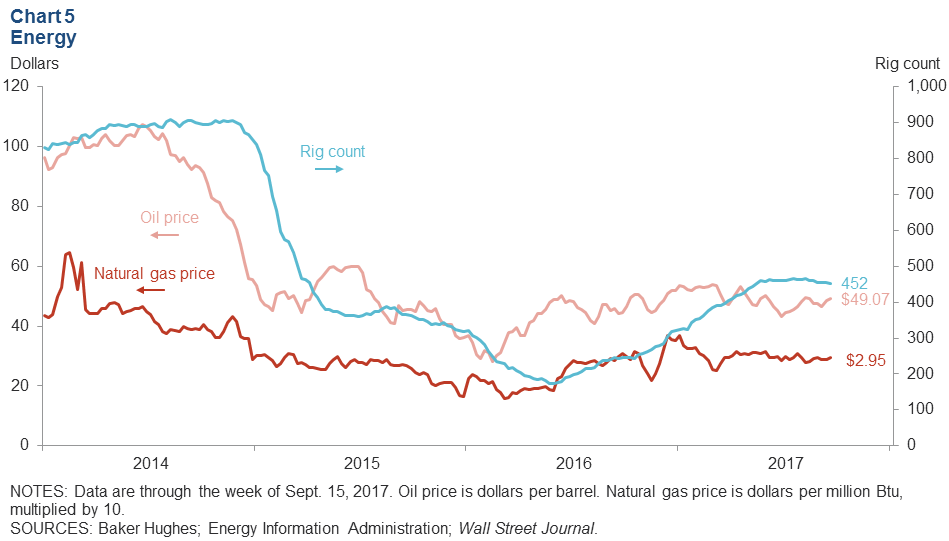 Single-Family Housing Permits
Texas single-family housing permits dipped in July, but the five-month moving average inched up (Chart 6). Through July, Texas single-family permits are up 14.1 percent compared with the same period in 2016. Looking at the five-month moving averages, permits fell the most in El Paso among the major metros at 5.6 percent. The averages for San Antonio and Austin also dipped in July, while Houston and DFW edged up. Through July, single-family permit issuance in all major metros is higher compared with the same period last year, with Houston seeing the slowest increase at 14.6 percent, and DFW the fastest at 20.2 percent.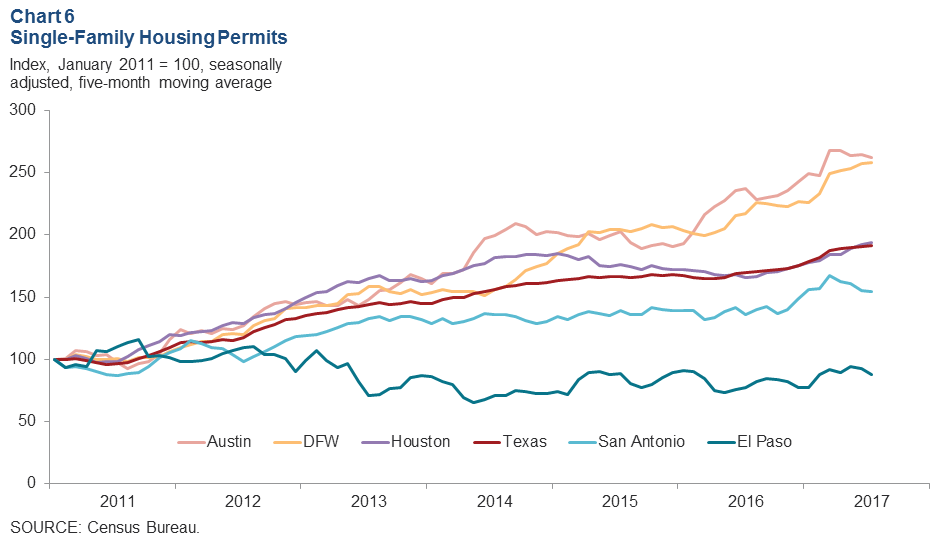 NOTE: Data may not match previously published numbers due to revisions.
About Texas Economic Indicators
Questions can be addressed to Stephanie Gullo at stephanie.gullo@dal.frb.org. Texas Economic Indicators is published every month on the Monday after Texas employment data are released.