Texas Economic Indicators

November 21, 2017
The Texas economy strengthened in October. The state posted strong job gains, and the unemployment rate fell to a record low. Firms responding to the Dallas Fed's Texas Business Outlook Surveys reported accelerating growth in production, revenue and sales as well as continued optimism in the outlooks.
Labor Market
Texas employment expanded an annualized 6.4 percent in October, outpacing the nation's 2.2 percent growth (Chart 1). Year to date, Texas employment has grown at a 2.7 percent annual rate. The Dallas Fed's Texas Employment Forecast suggests 2.6 percent job growth in 2017 (December/December). The Texas unemployment rate dipped to 3.9 percent—its lowest point in the history of the series, which dates back to 1976. Unemployment also ticked down in all of Texas' major metros and in the U.S. in October.
Payroll expansion was broad based across the major metros in October, with Houston employment surging 9.5 percent following a 7.2 percent decline in September. Employment has expanded in all Texas major metros year to date, with San Antonio leading at 3.0 percent.
Service sector employment has grown 2.4 percent this year through October, and goods sector employment is up 4.3 percent. Employment has expanded in all major sectors this year except information services, where it has declined 2.4 percent. Payrolls in oil and gas have increased the most at an annualized 13.1 percent year to date.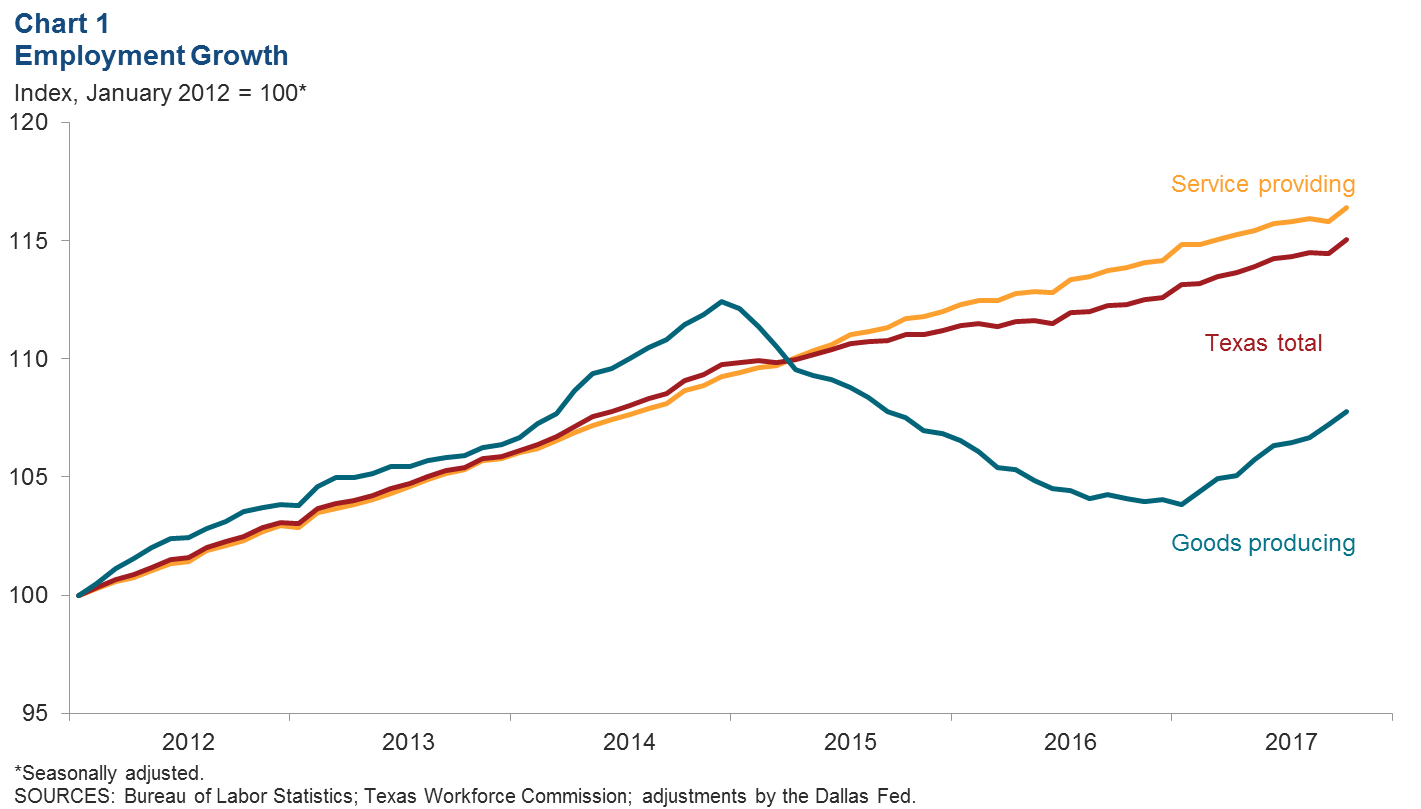 Texas Business-Cycle Index
The Dallas Fed's Texas Business-Cycle Index reflects continued expansion in the state's economy (Chart 2). The index rose an annualized 5.8 percent in October, well above its long-run average of 3.9 percent. Growth in the index has accelerated each month since mid-2016.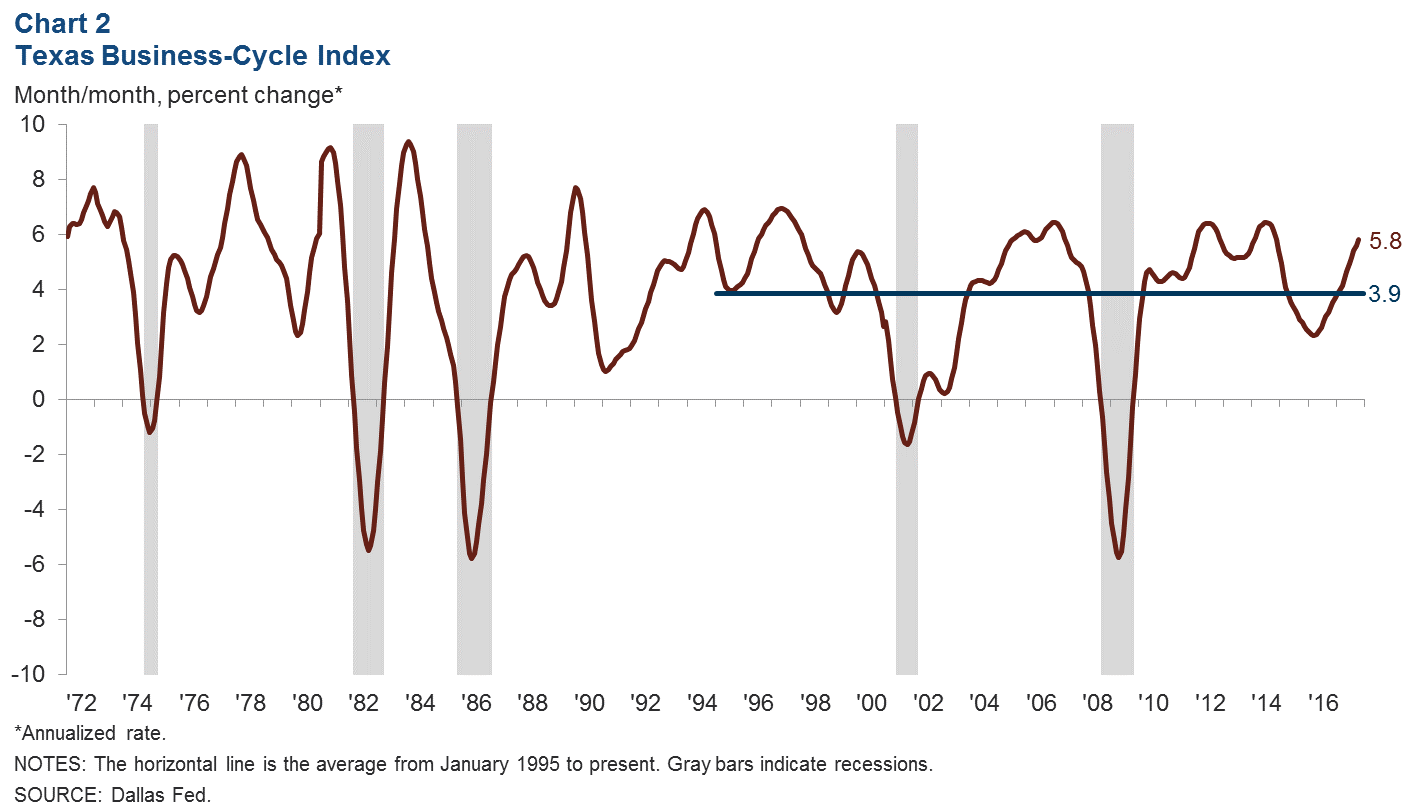 Texas Business Outlook Survey Indexes
The three-month moving averages of the Dallas Fed's Texas Business Outlook Surveys indicated accelerating growth in factory production, service sector revenue and retail sales in October. The three-month moving average of the manufacturing production index rose to its highest level in over 10 years, and the moving averages for the headline indexes in all three surveys were above their long-term trends.
Outlooks continued to reflect optimism across sectors (Chart 3). The three-month moving average of the company outlook index for manufacturing reached a postrecession high in September and held steady in October, while the three-month moving average of the service sector and retail company outlook indexes ticked up in October and remained elevated compared with their long-run averages.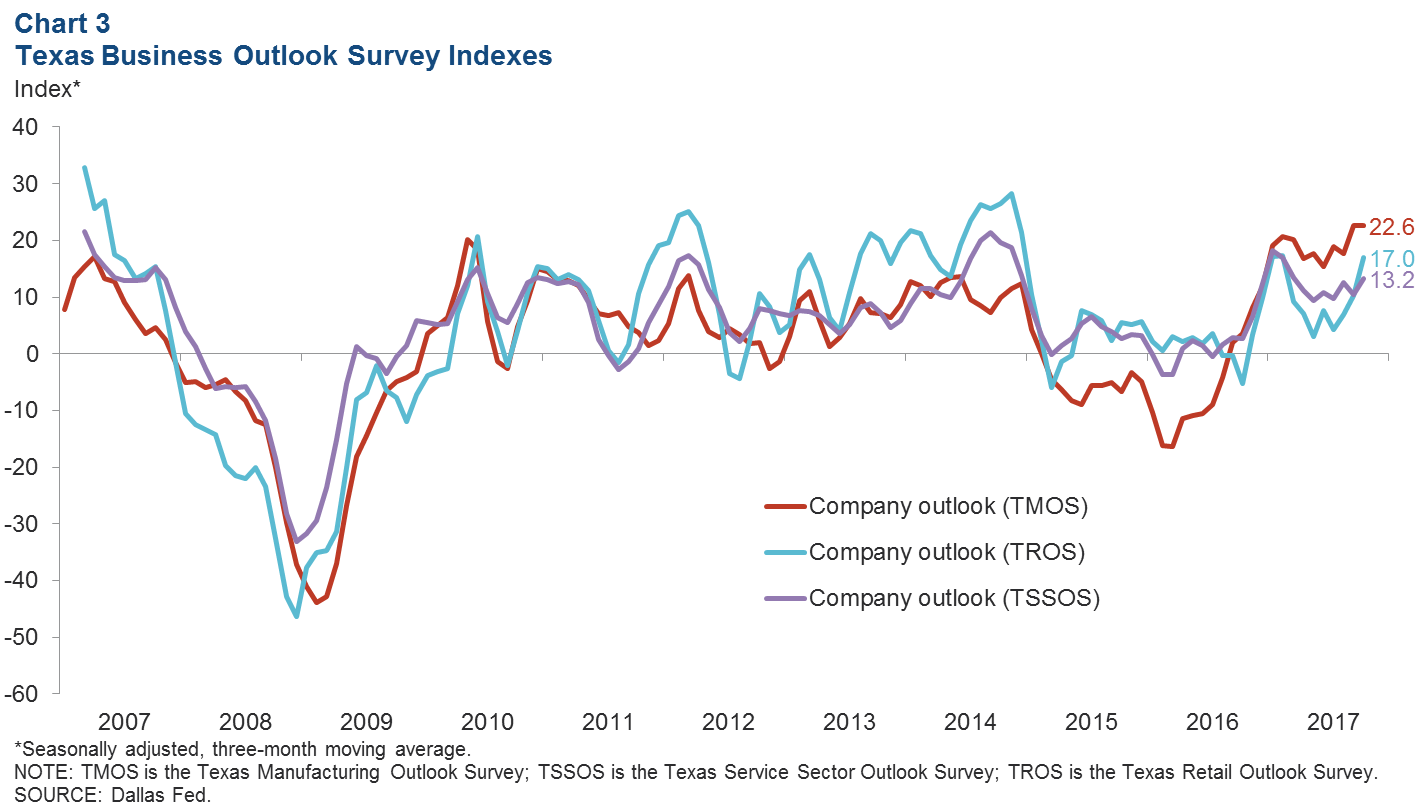 Energy Sector
West Texas Intermediate crude oil dropped the week of Nov. 17 to $55.89 per barrel but remained 8.0 percent above levels seen four weeks earlier (Chart 4). Natural gas was $3.08 per million Btu, 8.9 percent above levels four weeks earlier. The weekly rig count is at 449 after reaching a post-oil-bust peak in August of 466 rigs.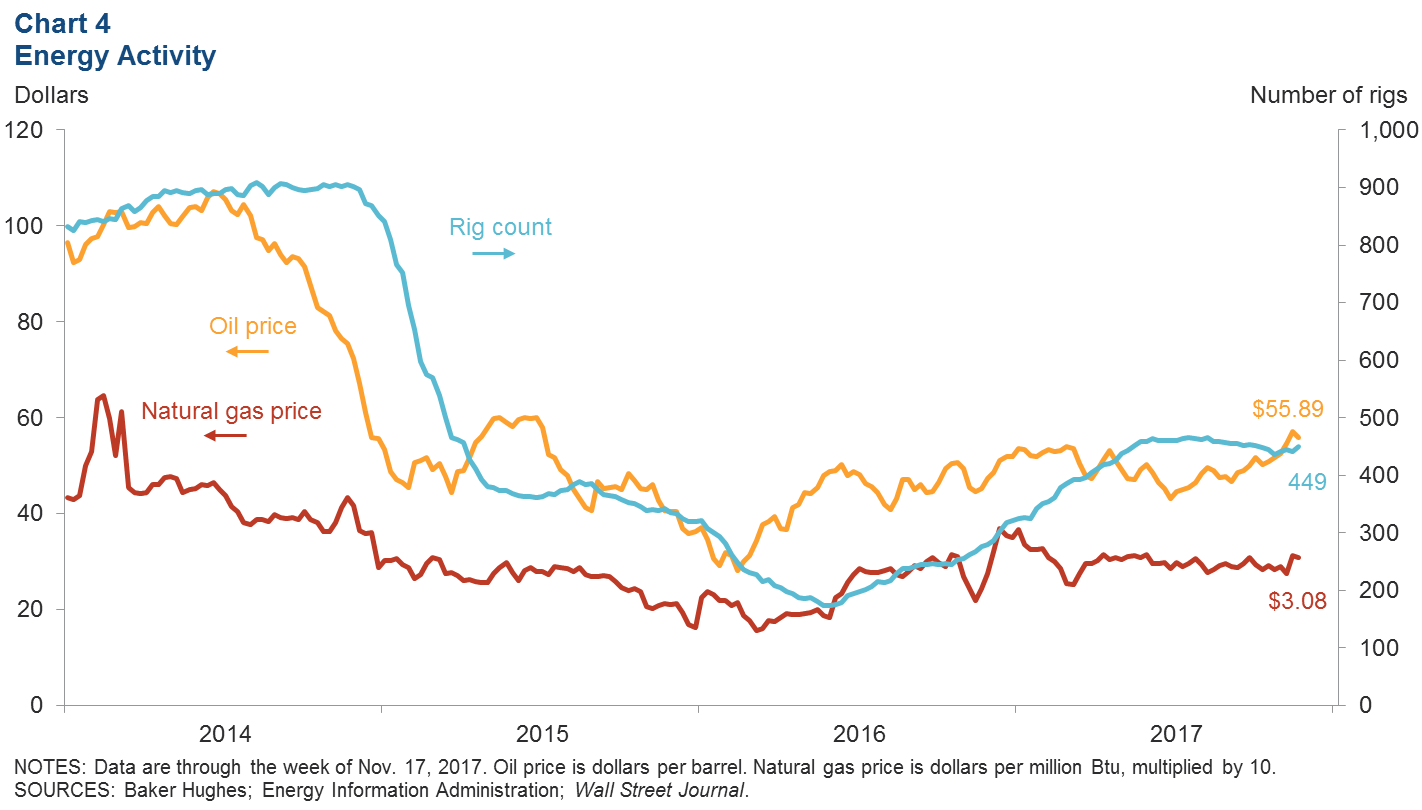 Exports
Texas exports rose 4.2 percent in September, while U.S. exports edged down 0.3 percent. Year to date, Texas exports are 8.3 percent higher and U.S. exports are up 3.6 percent compared with the same period in 2016.
Even so, Texas exports declined 1.9 percent in the third quarter (Chart 5). Exports to Mexico—Texas' largest trading partner—ticked up 0.9 percent, and exports to China rose 14.2 percent. Exports to other world regions dropped during the quarter.
Exports of computers and electronics—Texas' largest export sector—fell 10.8 percent in the third quarter. Exports of petroleum and coal—the state's second-largest export sector—declined 2.8 percent.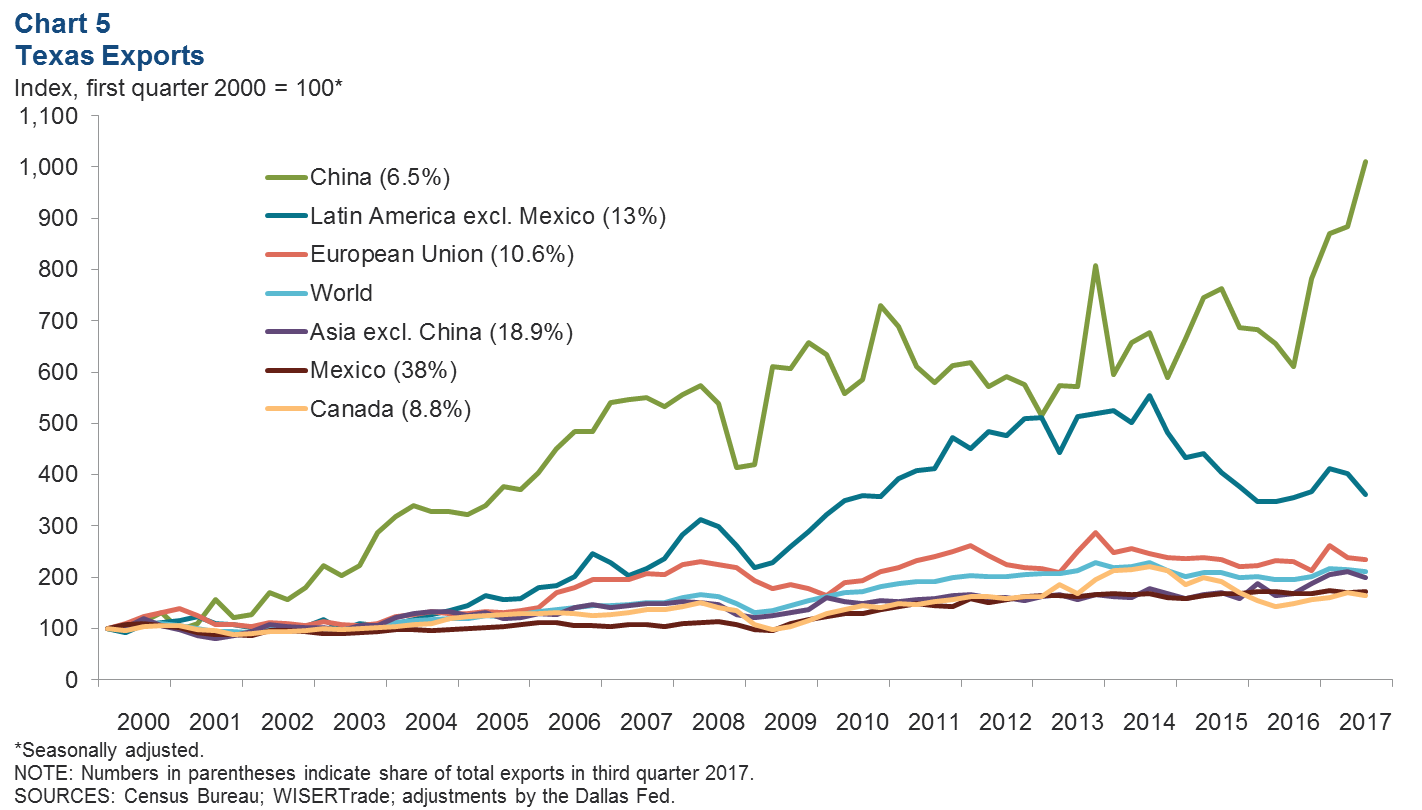 Housing Market
The Texas real median home price was $225,085 in September—3.9 percent above year-ago levels and 0.3 percent above August levels (Chart 6). Home prices in Austin and Houston ticked up in the month, while they edged down in Dallas, Fort Worth and San Antonio. Fort Worth's median home price in September posted the fastest year-over-year increase among the major metros at 7.4 percent, followed by Dallas at 5.5 percent.
Texas existing-home sales rose 9.5 percent in September, and the five-month moving average held steady. Home sales in Texas are 4.1 percent higher in the first nine months of the year compared with the same period in 2016. Year-to-date sales are ahead of the same period last year in all the major Texas metros, with Houston posting the slowest growth at 2.6 percent.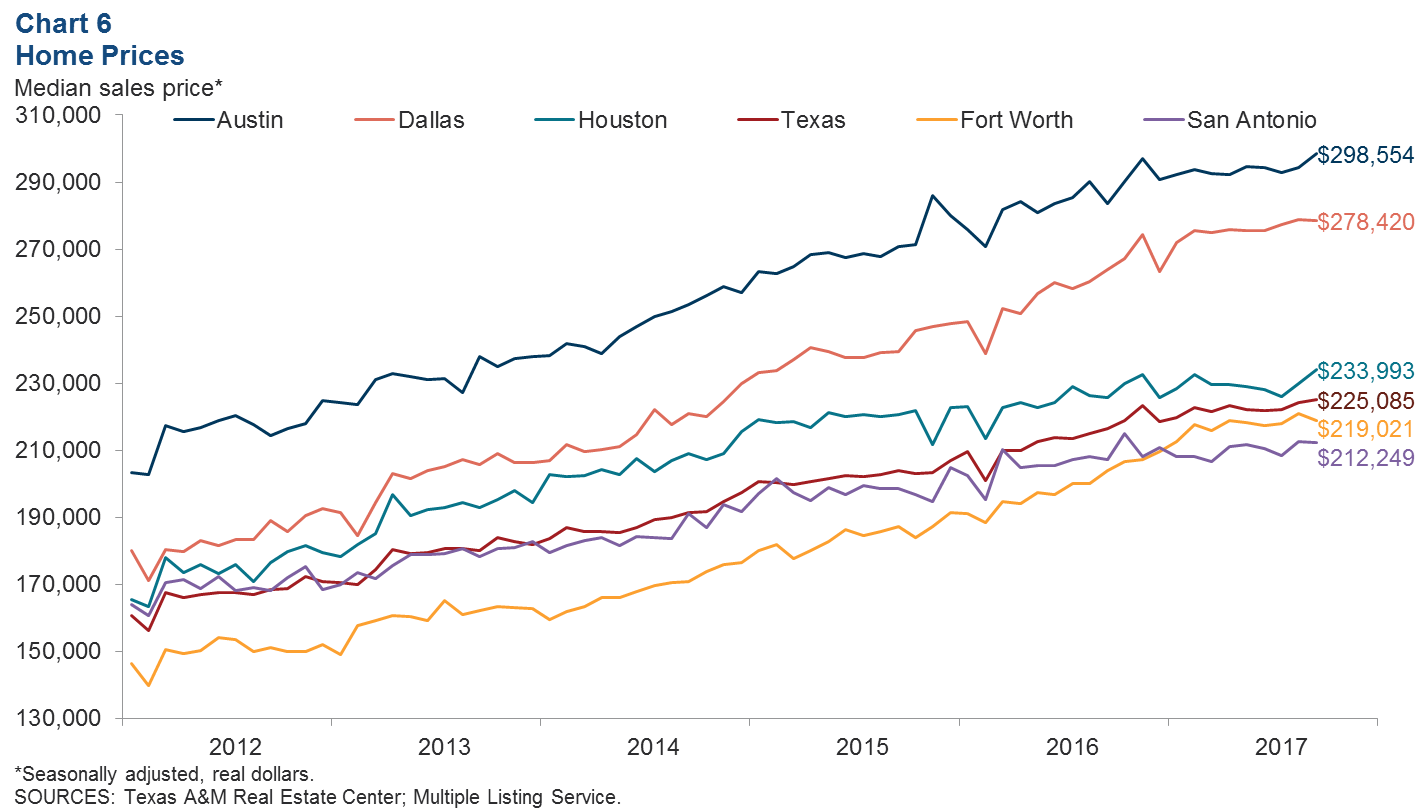 NOTE: Data may not match previously published numbers due to revisions.
About Texas Economic Indicators
Questions can be addressed to Stephanie Gullo at stephanie.gullo@dal.frb.org. Texas Economic Indicators is published every month on the Monday after Texas employment data are released.