Economic Development and Human Capital
Dallas County Promise Puts Higher Education—and Higher Earning Potential—Within Students' Reach
March 05, 2020
A few years ago, as a high school student at Kathlyn Joy Gilliam Collegiate Academy in Dallas, Vanessa Larez thought her options for attending a four-year college were limited.
A daughter of Mexican immigrants, Larez made good grades at Gilliam and graduated with an associate degree made possible by the Dallas Independent School District academy's early-college program in partnership with the Dallas County Community College District (DCCCD). But while her parents supported and encouraged her, they didn't attend college in the U.S. and couldn't help Larez with the application process.
With guidance from a school adviser, she applied at and was accepted to several universities. But attending any of them would have required taking out substantial loans. Though she was well-prepared academically, the financial burden of paying for college remained a barrier.
Around this time, Larez's adviser let her know about Dallas County Promise, a new tuition-assistance program that could help her college dreams become a reality. She was accepted to a Promise partner institution and soon found herself at a place she never thought her path would take her: Southern Methodist University.
Educational Attainment Matters
Larez's story embodies many of the challenges faced by high school students across the nation. Programs like Dallas County Promise are important in today's economy as postsecondary education becomes increasingly necessary. We know that as education levels increase, earnings are also likely to increase (Chart 1).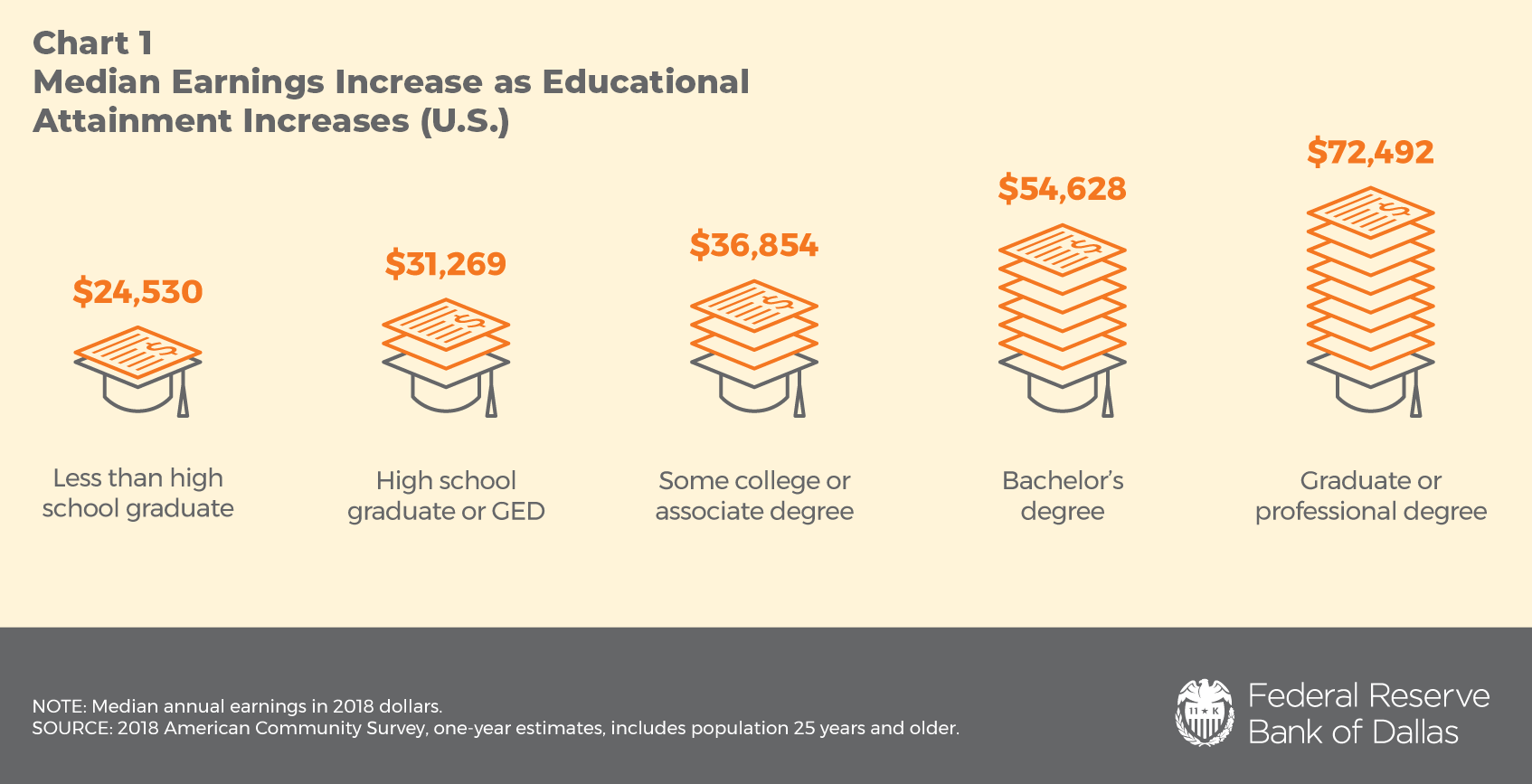 Though higher education is essential for today's youth to thrive in tomorrow's workforce, challenges associated with family income level, the skills gap, language barriers, geographic location and the college admission process can get in the way. This conundrum has wider economic impacts. In Dallas County, only 36.4 percent of adults have a two- or four-year degree,[1] yet 58 percent of jobs require an education beyond high school.[2]
Program Provides College Access and Support
Across the country, communities are seeking ways to reduce the structural barriers to education. This has meant not only improving college readiness, but also improving access to education after high school and supporting students after enrollment to help ensure they complete their degrees.
Dallas County Promise, launched in 2018 by the Commit Partnership, DCCCD, University of North Texas at Dallas and SMU, has been working to meet all of these objectives as one of 300 Promise partnerships nationwide. It is also part of 60x30TX, a statewide initiative designed to ensure that 60 percent of Texans age 25–34 have a degree by 2030.
Dallas County Promise brings together school districts, colleges, universities, employers and communities to help participating students access higher education, graduate from college and begin careers. It guarantees free tuition for all students at any DCCCD campus, with options for direct and transfer scholarships to participating universities. The program began by identifying the high schools in Dallas County where students are most likely to struggle with access. These schools primarily serve students of color.
Eric Ban, managing director for Dallas County Promise, describes how it works: "The philosophy is, when you're selected as a high school, all means all. And all those students in the high school—regardless of income, GPA or citizenship status—have a guaranteed free-tuition pathway through the first two years of college. … If you look at the research and feedback from families, the No. 1 issue regarding higher education is affordability."
"Without the program, I wouldn't have had as many opportunities and options."
— Vanessa Larez
Free tuition doesn't solve every problem for students from traditionally underserved communities, Ban said. Dallas County Promise is about access and affordability, but also engagement and retention. College and university partners provide success coaching to help guide and support students on their college and career journeys. "The community college system has launched an initiative where our navigators build relationships with students, send them reminders and help them access services like transportation, food and housing. And through a new emergency aid program, students have access to help when life gets in the way," commented Chemene Crawford, associate vice chancellor of DCCCD.
Program Takes Off
Now in its third year, Dallas County Promise is growing rapidly. It went from serving 31 high schools in 2017–18 to 43 schools in 2018–19 and 57 schools in the current year. The program reaches over 21,000 seniors in those 57 schools, in which the student population is over 50 percent economically disadvantaged. The first cohort of students from the Dallas County Promise program helped boost DCCCD enrollment. The number of DCCCD students with sufficient credits and GPAs to return for a second year almost doubled from the previous year. The program has also expanded its roster of colleges and universities.
"We added Texas A&M–Commerce, Texas Woman's University, Midwestern State, Texas A&M–Texarkana and many other institutions to offer a higher volume of simpler-to-understand, tuition-free college pathways to a career. It's just a very foreign concept in higher education that a collection of colleges and universities are joining together around a vision of equitable access and excellence," said Ban. "I've spent 30 years in public education, and I've never been in an environment like we see in Dallas where the school superintendent, the community college president and chancellor, university presidents, workforce leaders and the community and government leaders are working together to solve a problem."
Larez credited Dallas County Promise with helping her achieve her college aspirations. "Without the program," she shared, "I wouldn't have had as many opportunities and options." In 2018, Larez enrolled at SMU and now studies political communications. And through connections created by the program, she interned at the Commit Partnership in 2019. She is on track to graduate in 2021.
To increase economic opportunity for more students like Larez, Promise programs are moving forward in other parts of Texas, including Harris, Bexar, Tarrant, El Paso and Tyler counties. Dallas County Promise is part of a growing learning community across the state that is demonstrating how sectors can work together to build a brighter economic future for everyone.
"Our goal is to create a community of practice to learn from each other," Ban said. "There's no magic bullet here, no one way to do things. I truly believe at the core of the work we are all focused on empowering students, families, schools and communities with information to help them make thoughtful decisions about their future. We can hope for more informed consumers of higher education and more thoughtful conversations with students and their parents about the right choices for them. We want to support communities with a real plan to produce equity in college and economic outcomes."
Notes
Author
Molly Hubbert Doyle
Community Development Advisor, Federal Reserve Bank of Dallas
The views expressed are those of the author and should not be attributed to the Federal Reserve Bank of Dallas or the Federal Reserve System.