U.S. Economy

Weekly Economic Index
The Weekly Economic Index (WEI) provides a signal of the state of the U.S. economy based on data available at a daily or weekly frequency. It represents the common component of 10 different daily and weekly series covering consumer behavior, the labor market and production. It is updated Tuesday and Thursday at 10:30 a.m. CT, using data available up to 8 a.m. CT.
August 6, 2020: Update
The WEI is currently -6.20 percent, scaled to four-quarter GDP growth, for the week ended August 1 and -7.01 percent for July 25; for reference, the WEI stood at 1.55 percent for the week ended February 29.
Today's increase in the WEI for the week of August 1 was driven by a decline in initial unemployment insurance (UI) claims (the first value below one million since the week of March 14, in non-seasonally adjusted terms) and increases in rail traffic and tax withholding, which more than offset decreases in fuel sales and electricity output. The WEI for the week of July 25 was revised downward due to the continuing UI claims release, which while lower than the prior week, still provided a more negative signal than previously available data.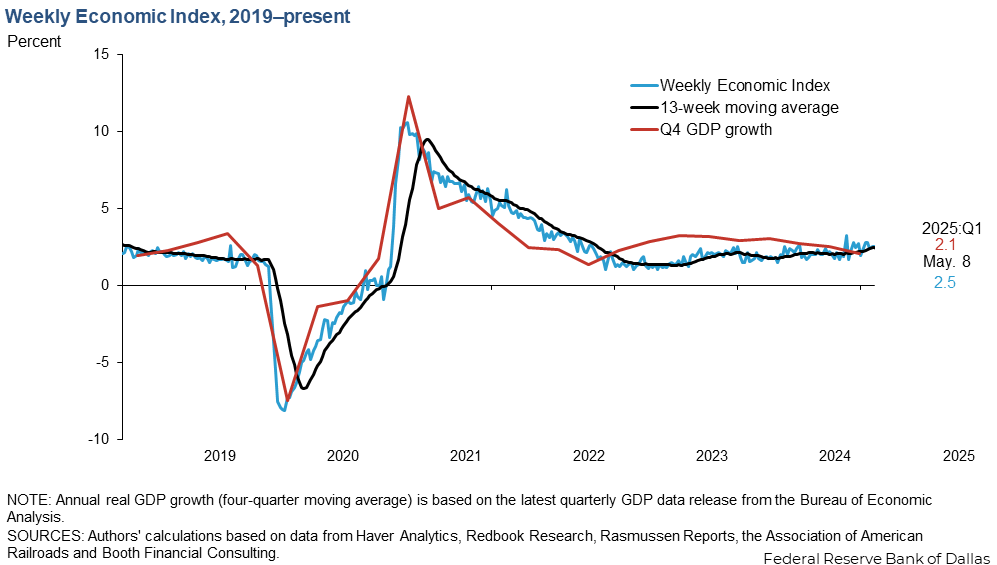 NOTES: When federal holidays occur on a publishing date or change the release schedule for the underlying data, the report is delayed by 24 hours. Data are updated at Federal Reserve Bank of New York, Federal Reserve Bank of Dallas and jimstock.org.
WEI Authors
The WEI was developed by Daniel J. Lewis, an economist at the Federal Reserve Bank of New York; Karel Mertens, senior economic policy advisor at the Federal Reserve Bank of Dallas; and James H. Stock, professor of economics at Harvard University.