Community broadband survey paves way for expanding digital access in southern New Mexico
Like millions of people across the U.S., many residents of Doña Ana County in southern New Mexico struggle to find the internet access they need for school, work and daily life. The reality of what this looks like was brought home to Shelsea Benitez, a student at New Mexico State University, when she helped gather responses for a community broadband survey last fall. She learned about barriers such as cost and availability of internet providers—and about the lengths people would go to when they needed to get online.
"There are a lot more people than I thought that don't have access to broadband," Benitez said. "Many people shared that they would access the internet through libraries or cafes. Some even admitted they would steal their neighbor's Wi-Fi."
Doña Ana County is one of several communities participating in a Federal Reserve Bank of Dallas initiative to develop and implement local broadband plans that increase access for residents, especially low-income populations. The county covers a vast, mostly rural region and has a large Spanish-speaking population. Its nearly 220,000 residents experience higher rates of poverty and lower rates of educational attainment than for New Mexico and the U.S. overall.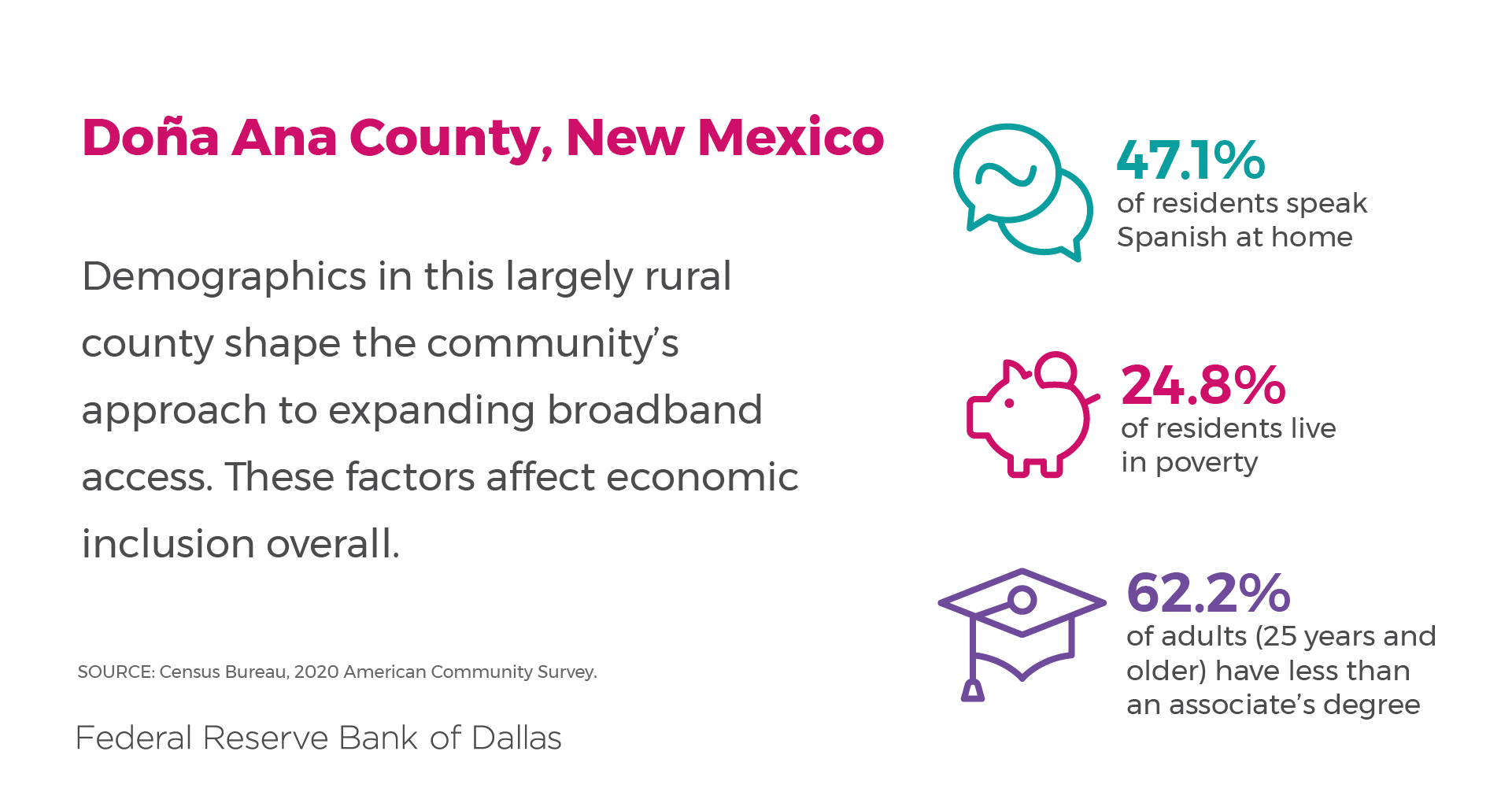 The geography and demographics of Doña Ana County have shaped the approach community leaders are taking to expand broadband access in rural areas while addressing the needs of denser population centers such as the city of Las Cruces. Their success with bringing regional stakeholders together and conducting a survey to determine local needs has provided a strong foundation for their efforts to close the digital divide.
'A broad, regionwide approach': engaging community partners in a collective effort
Residents of the county face a variety of challenges when it comes to digital inclusion.
"If you look at our population, we have lots of folks who do not have internet access at all," said Bob Bunting, Doña Ana County's cybersecurity and broadband manager. "Of those who do have internet access, it's generally not going to meet the definition of broadband."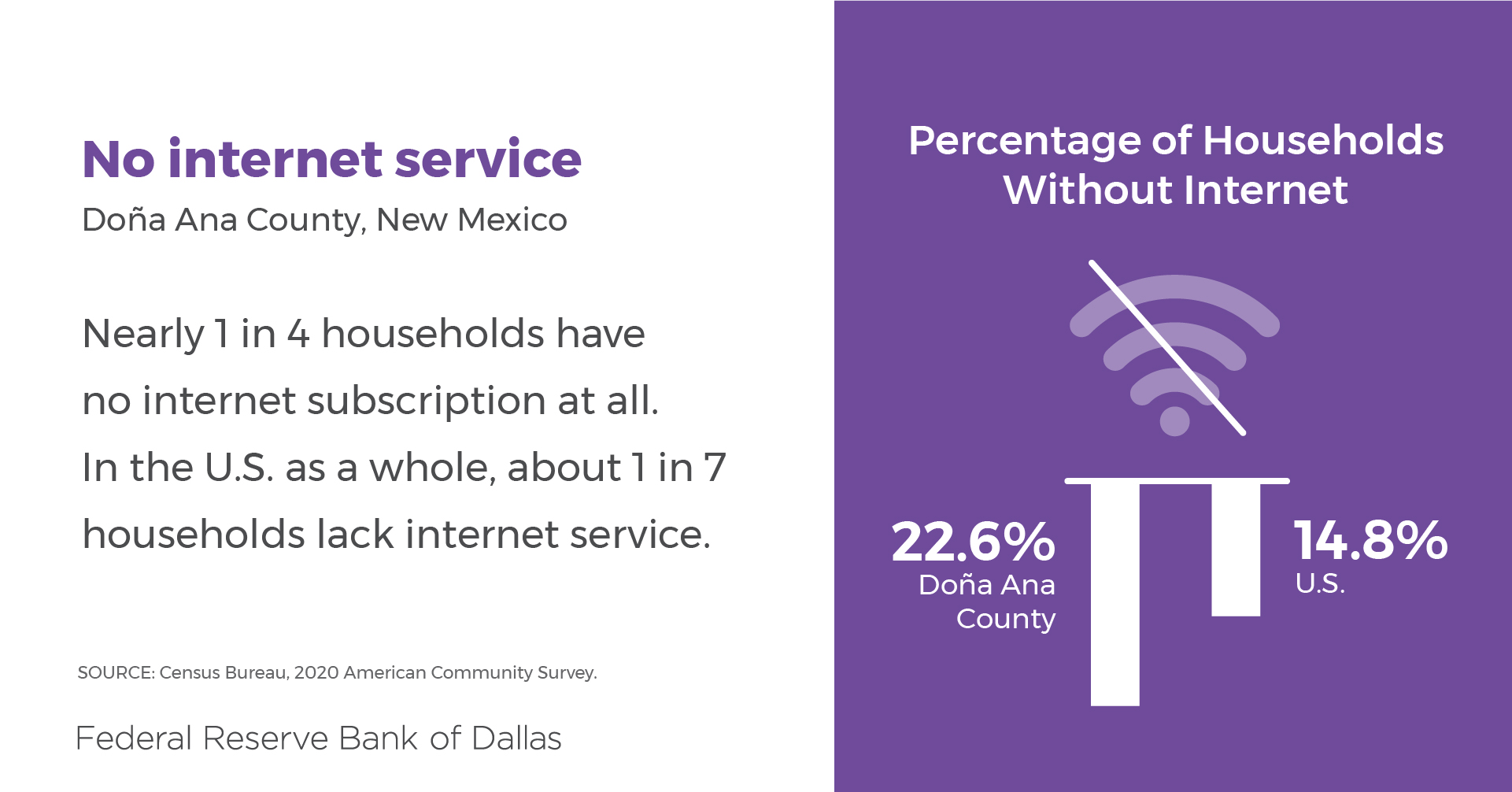 According to 2020 Census Bureau data, an estimated 22.6 percent of Doña Ana County households have no internet subscription, compared with 14.8 percent of U.S. households. For those households that have internet, the county broadband survey revealed that service is often inadequate: Download speeds for 38 percent do not meet the current Federal Communications Commission minimum broadband standard of 25 megabits per second (Mbps), and download speeds for 75 percent fall short of a new recommendation of 100 Mbps.
To address these gaps and other barriers to access, county officials recognized that a collaborative approach would be important. Doña Ana Broadband, a public-private regional partnership, was formed in fall 2020 to develop and implement a plan to increase access to affordable, efficient broadband by December 2024. Members included state and local government partners, health care providers, educational institutions, business representatives and nonprofits, among others.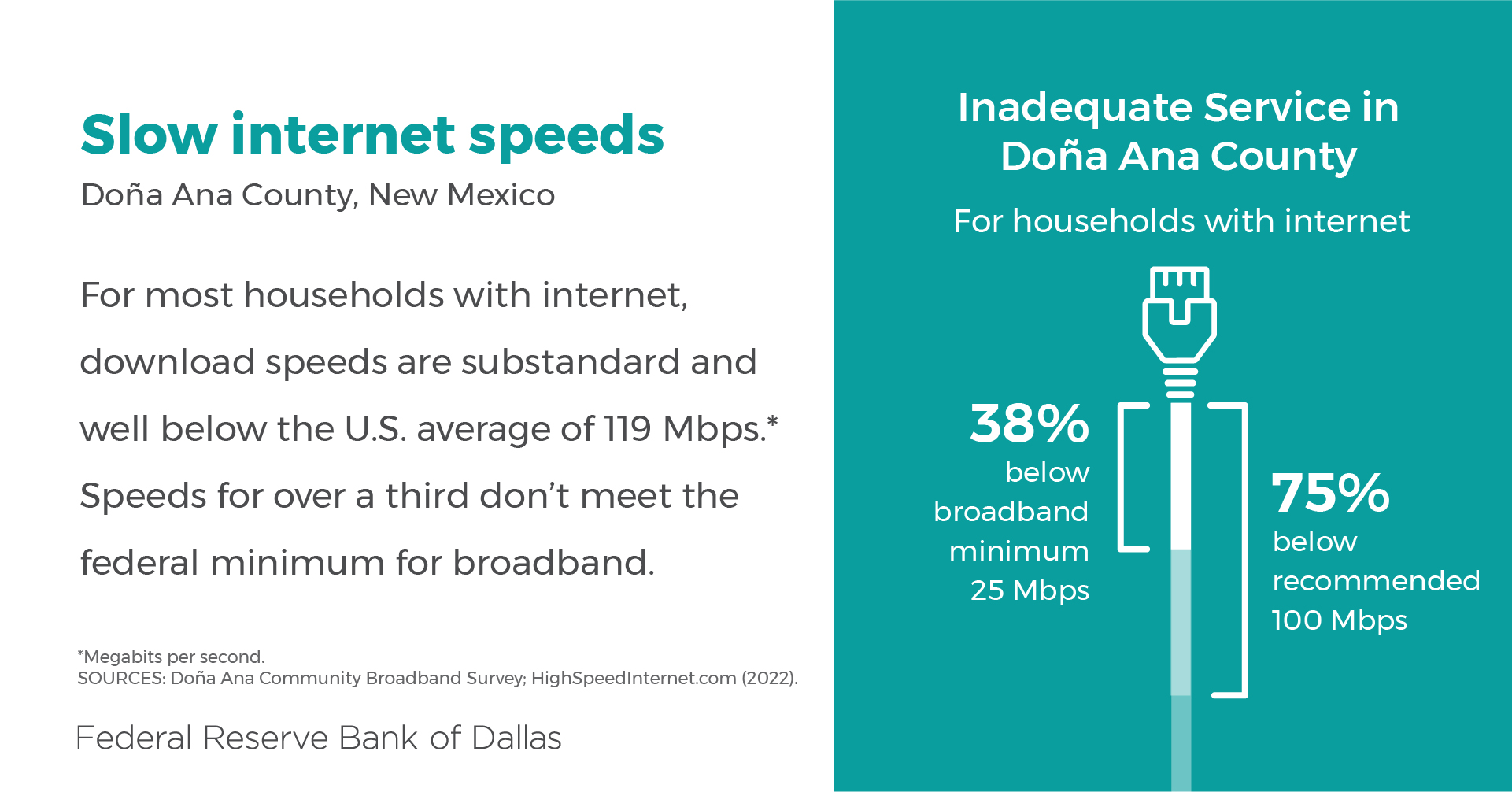 Each coalition partner embraced the value of a coordinated effort to drive an effective, comprehensive solution. Doña Ana Community College (DACC), for example, had tried several strategies at the start of the pandemic to help students gain internet access and devices to continue learning online.
"We handed out iPads and we were trying to do what we needed to, but for each institution to do those sorts of things, that's all band-aids," DACC President Monica Torres said. "What we need is a broad, regionwide approach to making sure people have access."
Encouraging survey response: Community connections reach new voices
That approach started with the community survey. To create and publicize it and encourage participation, the coalition leveraged resources of its government, education and nonprofit partners.
New Mexico's Department of Information Technology provided a survey template and an online platform for responses. A teacher from Las Cruces Public Schools translated the survey from English into Spanish to make it accessible to more of the county's residents. When the survey was ready for launch, the City of Las Cruces' communications team helped connect groups with influence in the community, such as the Rotary Club, City of Las Cruces library and elected officials.
DACC contributed to public outreach by sharing information about the survey within its network and hiring students like Benitez to help with community engagement. The students made phone calls to DACC students and local residents and businesses to encourage them to participate.
To reach more people in the most vulnerable communities, including low-income and rural residents, Bunting secured county funds to hire promotoras. Promotoras are community health workers who build supportive relationships with residents, especially Spanish-speaking residents, to share information and address community needs. Because of their established relationships, promotoras were in a unique position to connect with community members and encourage them to complete the broadband survey.
"With promotoras who [residents] trust and know, they were able to get about 1,500 answers from people who have no access," said Luce Rubio, communications coordinator for Doña Ana County. "Those were the people I was really interested in reaching to tell us why they weren't getting broadband."
In total, the coalition collected about 3,000 survey responses. This volume gives the survey findings statistical significance, providing a valuable foundation for informed decision-making.
Building support and understanding: survey informs policymakers
The survey findings provided Doña Ana County with insight from the entire community to develop a customized broadband plan. In addition, by revealing details on gaps and barriers to broadband access throughout the county, the findings helped local leaders understand the nuances of community needs.
Rubio said that, in her ongoing work for the county, she would receive questions about the scope of the need to expand access to broadband. To make informed funding and policy decisions, local officials wanted a clearer picture of all the barriers residents faced. Before the survey, Rubio said, some community leaders were unaware that, even within the city of Las Cruces, there were areas where broadband was not available. And some assumed that people without access were simply choosing to buy other things instead of paying for internet.
"The survey helped clarify how poverty was driving those decisions," Rubio said, citing the example of a low-income resident faced with a choice between paying for internet or medication. For them, she said, "It's not a matter of my prioritization. I still need broadband, but I need the medication more."
Building a blueprint for connection: Survey drives plan and funding
Moving forward, coalition leaders will incorporate the community survey results into a feasibility study that will position Doña Ana County to finalize plans and apply for funding opportunities for broadband expansion.
Once funding is obtained, Rubio said, "We will need the community's help because implementation is going to be key."
She sees that as a chance to engage residents who might have doubted whether their survey feedback would be used in a meaningful way.
"We have an opportunity here to show them: Thanks to your participation in the survey, you made this feasibility study possible. Now, here is a blueprint for what it will take in the next three to five years to connect as many people as we can. You helped make it happen, so now let's work together to implement it."
Advancing Digital Inclusion
The Dallas Fed is working with several regional digital inclusion coalitions as they develop cost-effective, long-term solutions to expand access to broadband. These partnerships serve diverse communities in urban and rural areas of Texas and southern New Mexico. Our goal is for each community to achieve a sustainable digital inclusion strategy for connecting all residents to the internet so they are better positioned to unlock their full economic potential.
This initiative allows us to better understand the barriers communities face in closing the digital divide and explore solutions that respond to local needs. As we move forward, we're sharing lessons learned to help advance digital inclusion across the region and nation.
Authors
The views expressed are those of the author and should not be attributed to the Federal Reserve Bank of Dallas or the Federal Reserve System.