Diversity, equity and inclusion
Workplace inclusion
We are building a culture where all employees feel comfortable being authentically themselves. At an early stage, we offer leadership opportunities where employees can contribute to decision-making.
Our Diversity and Inclusion Council brings together a team of employees representing diverse backgrounds, demographics and job levels. They advise senior management on diversity and inclusion issues and efforts.
Our employee resource groups foster greater understanding of and appreciation for employee diversity, as well as promote inclusivity by connecting and engaging employees around common interests and identities:
Asian/Pacific Islander
Black/African descent
Disability
Hispanic/Latinx
LGBTQ+
Multigenerational
Veterans
Women
Our employee resource groups also help employees develop their potential and build relationships, and they facilitate sharing perspectives with colleagues whose identities and cultural norms may differ from their own.
In addition, they play a role in advancing our mission by representing the employee voice on new initiatives, being an ambassador in the community or helping to advance business strategy.
For example, our employee resource groups helped lead the Dallas Fed's successful effort to be designated one of the Human Rights Campaign's "Best Places to Work for LGBTQ+ Equality."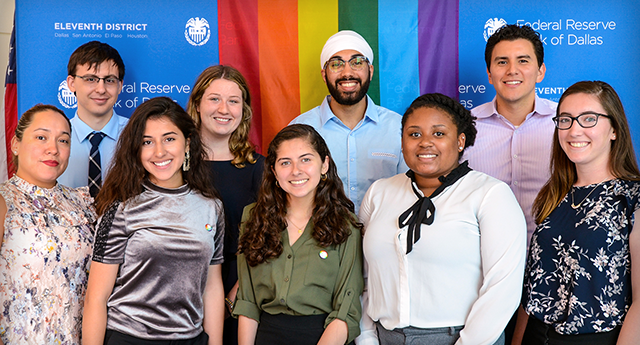 Employees share and explore our diverse cultures through heritage celebrations, speaker presentations and follow-on discussions, educational awareness programs and community volunteer service opportunities. Programs such as our ongoing Lunch Conversations series encourage employees to expand their network, challenge their thinking and engage in dialogue around themes of equity, inclusion and community.