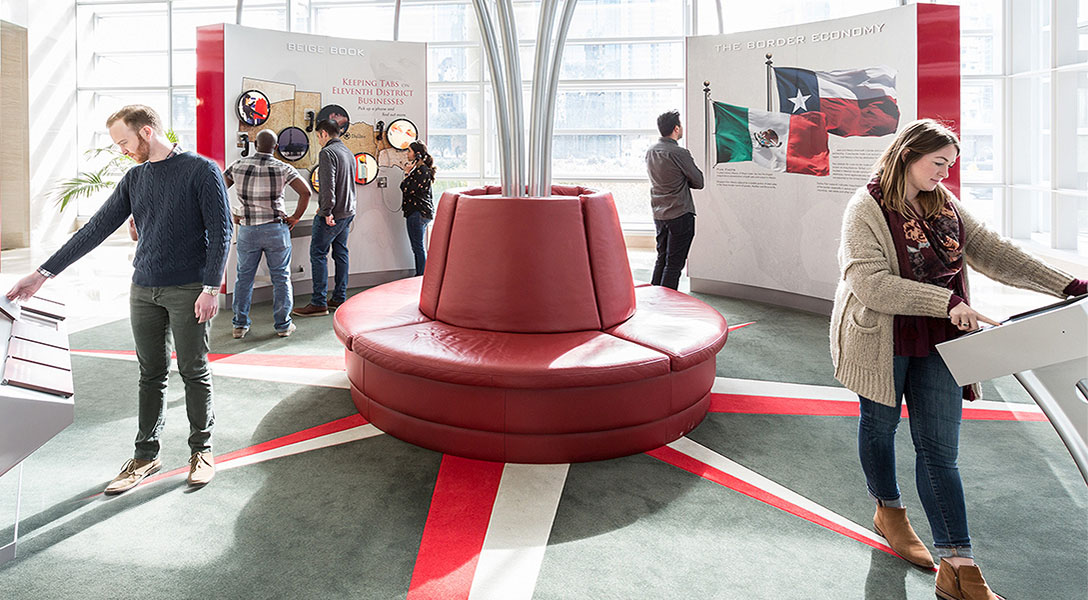 Visit us
Know before you go
All visitors are required to present valid, government-issued photo identification. International visitors must present valid passports. Children are not required to present identification but must be accompanied by a parent or guardian.
Visitors will undergo security screening upon arrival. Weapons of any kind (including pocket knives) are prohibited on premises and subject to confiscation.
The Dallas Fed reserves the right to refuse entry or remove any individual who is disruptive or does not follow our security policies.
Locations and directions
Federal Reserve Bank of Dallas
2200 N. Pearl St.
Dallas, Texas 75201
214-922-6000
Apple Maps | Google Maps
On-site parking is available only for conference attendees, scheduled tour groups and visitors with appointments. The visitor parking lot entrance is on Thomas Avenue. Public parking is also available at paid lots in the area for visitors taking self-guided tours of our exhibit.
El Paso Branch
301 E. Main St.
El Paso, TX 79901
915-521-5200
Apple Maps | Google Maps
Parking is limited, and arrangements are set on a case-by-case basis.
Houston Branch
1801 Allen Parkway
Houston, TX 77019
713-483-3000
Apple Maps | Google Maps
The vistor parking lot entrance is located on eastbound Allen Parkway. Pedestrian drop-offs are permitted only in the designated lane adjacent to the visitor lot entrance.
San Antonio Branch
Visitor terms and conditions
These terms and conditions apply to visitors to the Federal Reserve Bank of Dallas (the "Bank") and its branch locations. As the group leader, you agree to these terms and conditions on behalf of yourself and all participants in your group, including without limitation, any educators, chaperones or students in your group.
Risk acknowledgement. You acknowledge that your group may be engaging in activities that involve risk of serious illness or injury, including permanent disability and death, and severe social and economic loss which might result not only from the action of you or any person in your group, or the inaction or negligence of such persons, but also from the action, inaction, or negligence of those outside your group. You acknowledge that there may be risks involved based on the condition of the Bank premises or of any equipment, and further that there may be other risks that are not known to Bank or reasonably foreseeable at this time.
Liability release. You agree to release, waive, discharge, hold harmless and covenant not to sue the Bank, its affiliates and related organizations, and the Bank's employees, contractors, administrators, officers, directors, partners, agents, participants, sponsoring agencies, and sponsors used to conduct the visit to the Bank location (collectively, the "Releasees"). You agree to release and discharge the Releasees from any and all liability arising from any claims, demands, losses, or damages on account of illness or injury, including death or damage to property, caused or alleged to be caused in whole or in part by acts, omissions, or negligence of any Releasee.
Privacy consent. The Bank and its employees may collect personal information from you that you provide while registering for an appointment or visiting a Bank location. You consent to the Bank's use of your personal information to provide email communications (e.g. newsletter updates) or for any other purposes described in the Bank's "Privacy Notice" available at dallasfed.org.
Photographs and recording. The Bank may photograph, videotape, audiotape, or otherwise document you and your group during your visit to a Bank location, and you consent to the Bank's collection and use of such photographs or recordings without your prior inspection or approval. The Bank may publish or otherwise distribute such photographs or recordings without limitation.
In-person tours
Dallas
The Economy in Action exhibit in Dallas is open 10 a.m.-4 p.m. Monday-Friday. The exhibit is closed on Bank holidays.
Self-guided tours: Explore interactive exhibits, examine historical currency and learn about the Federal Reserve in our free walk-in experience. No reservations are required.
Guided tours are available by appointment Tuesdays and Thursdays at 10 a.m. and 2 p.m. for groups of 10-25 people, grades 7 and up. Read our group leader guide for more information on student group visits. Request guided tour Please allow a two-week lead time for requests. Same-day tour requests are not available.
A personal finance workshop is available for groups of up to 30 high school students. Workshop info
Photography is permitted in the exhibit area but is restricted in other areas.
El Paso
Guided tours are available by appointment for high school students and adults. Facility tours may include a presentation, such as an overview of the Federal Reserve or financial literacy topics. Request guided tour
Walk-in visits are not currently available.
Houston
Guided tours are booked through May 2024, and no additional requests are being taken at this time. We apologize for the inconvenience. For student groups, we would be happy to provide a virtual Fed 101 classroom presentation.
Walk-in visits are not currently available.
Photography is permitted in the exhibit area but is restricted in other areas.
San Antonio
Dallas 360 virtual tour
Can't visit the Dallas Fed in person? Tour our Economy in Action exhibit on your mobile device or computer. You'll learn about the importance of a stable and healthy financial system and the roles the Federal Reserve and the public play in the economy.
Check out the accompanying mobile guide for more ways to engage with the tour. Send us feedback when you've taken the tour.